All you need is a handful of ingredients and 20 minutes of your time to make these chewy peanut butter bars topped with a layer of caramel and chocolate ganache. A delicious homemade version of the Whatchamacallit bars!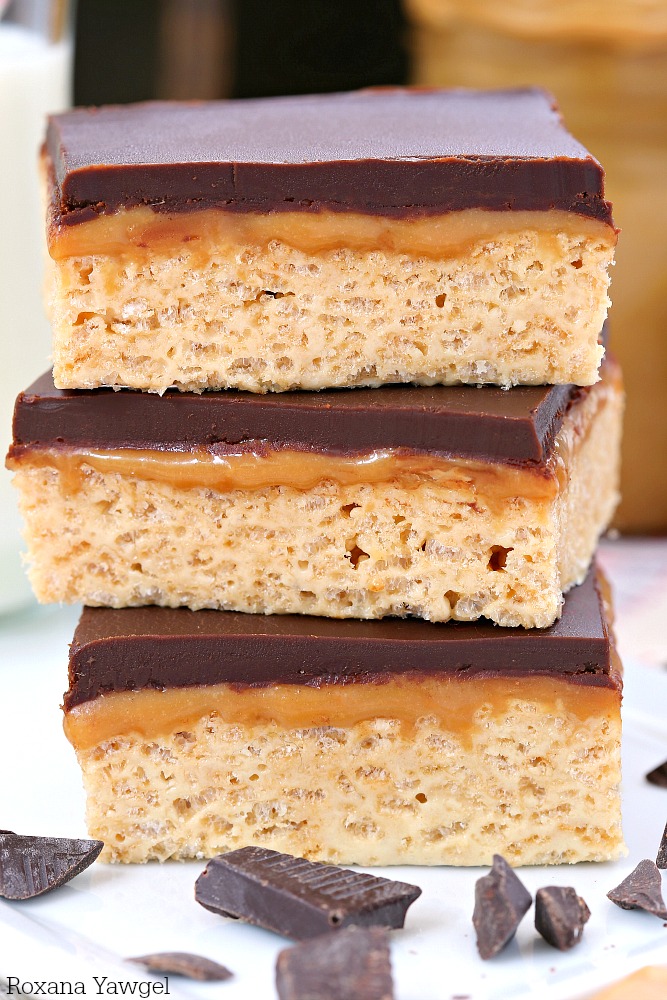 It has come to my attention you love candy bars!
The first copycat candy bars I made were these Snickers bars and you went crazy over them! I did so, so I'm not blaming you!
The second ones were Twix bars. Addictive even for the non-Twix lovers! The gooey caramel does it all the time!
And now, Whatchamacallit bars (who came up with this name?)! I hope you're ready for these irresistible bars! And you'not going to believe how easy they are to make. I have the feeling you already have all the ingredients on hand. They are pantry/fridge essentials.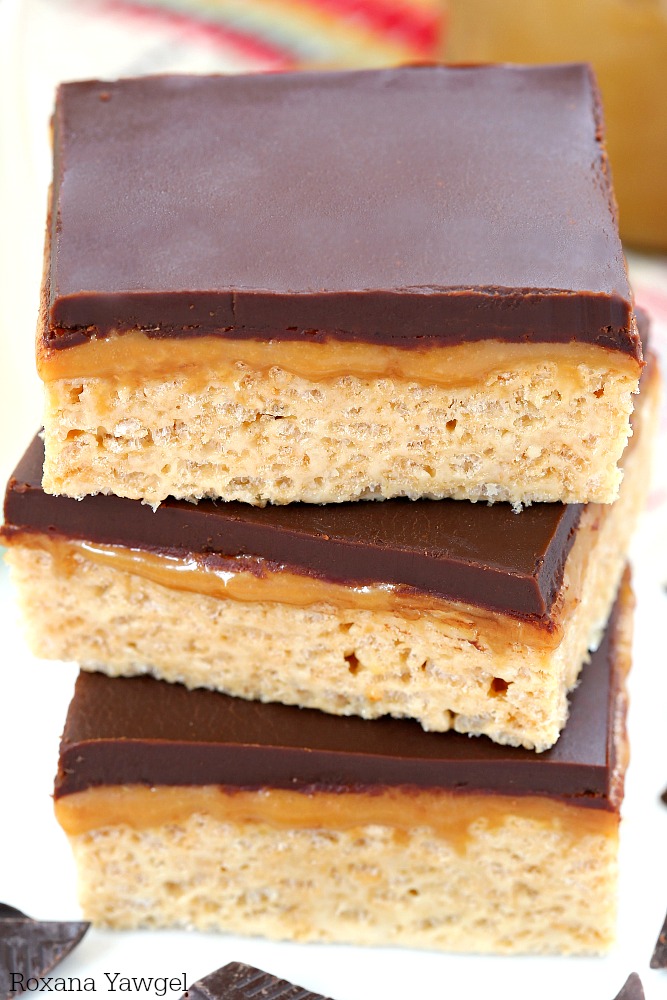 Butter, peanut butter, marshmallows, rice krispies, caramels, chocolate, cream, and sugar. Told you, pantry/fridge staples!
The first layer of these Whatchamacallit bars is a peanut butter rice krispie layer. 
Butter, peanut butter and marshmallows are melted before rice krispies are stirred into. Press the mixture onto the bottom of a 13X9″ baking pan and let set while making the caramel layer. 
Since the mixture is very sticky, it's very important to line the pan with parchment paper or aluminum foil and even grease it with cooking spray.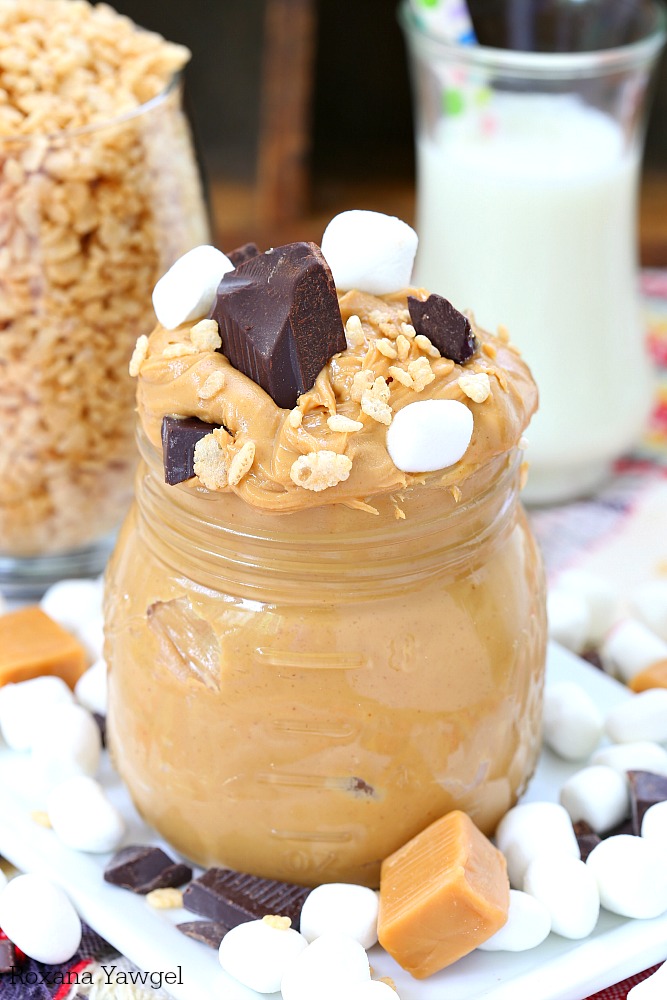 The second layer is a caramel layer.
Store bought caramels are melted with a little bit of cream and poured over the rice krispie layer. I guess you can make your own caramel sauce, but I have not tried it, so I'm not sure what how. I always use store bought caramels. It's one of my cheat ingredients.
The third layer is chocolate!!
Since both the rice kripsie and the caramel layers are very sweet, for the chocolate layer I used bittersweet chocolate with just a little sugar, to cut some of that bitterness out.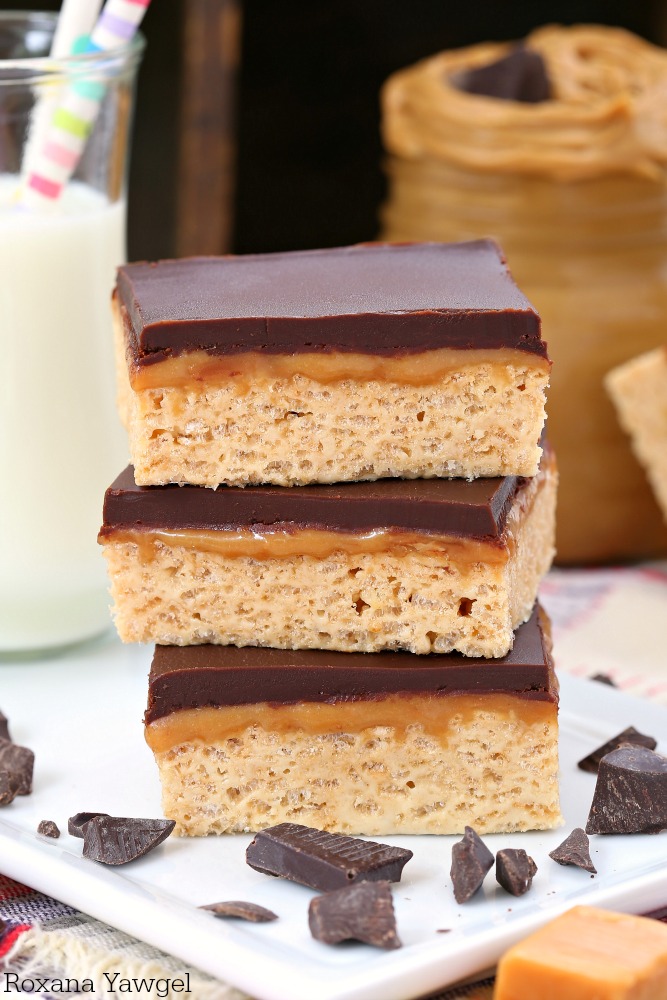 disclosure – this post is sponsored by Imperial Sugar. Although I've been compensated to develop the recipe and write this post, the opinions expressed here are all mine. thank you for supporting brands I love.