Layers of buttery graham cracker crust, milk chocolate, gooey marshmallows, and chewy chocolate rice krispies, these smores bars will quickly become a summer favorite!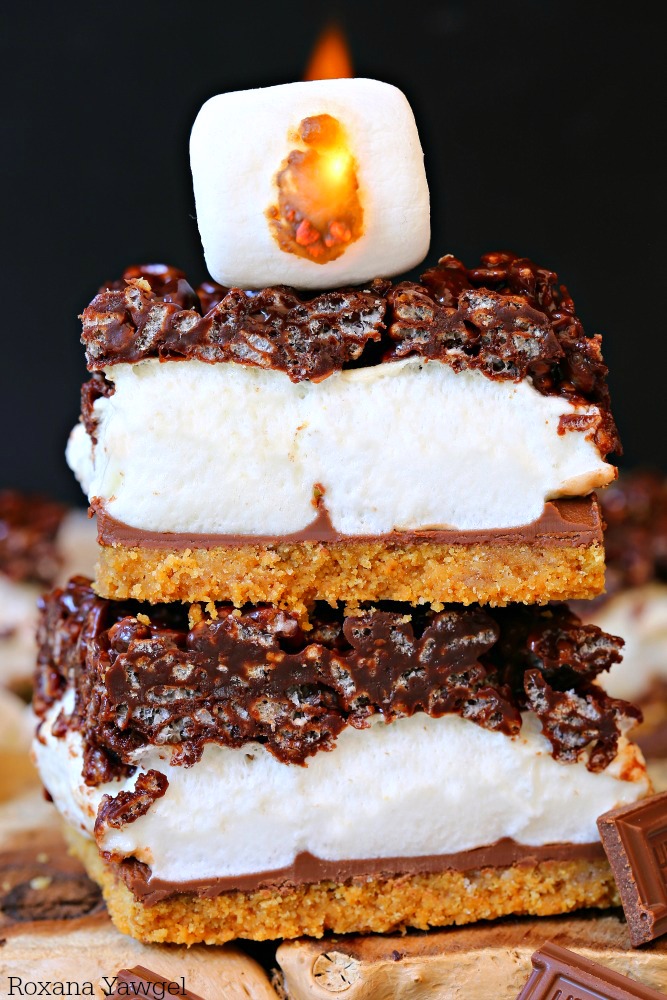 The temps have reached 90s, the kids are out of school and the pools are finally opened! It's summer!!!
And you know what else? It's s'mores time! Summer and s'mores are just perfect together, don't you think?
Making s'mores is always on our summer bucket list. The s'mores that don't call for a fire pit, that is. I love the sunshine but my idea of camping requires a room with a key, not a tent with a zipper.
No matter if you love camping or not, these rice krispies smores bars will be a summer favorite!
Graham cracker crust, a layer of melted milk chocolate, a very generous layer of marshmallows and finished with a layer of chocolate rice krispies.  If you find someone who's not gonna love these rice krispies smores bars, their tastebuds must not be working properly.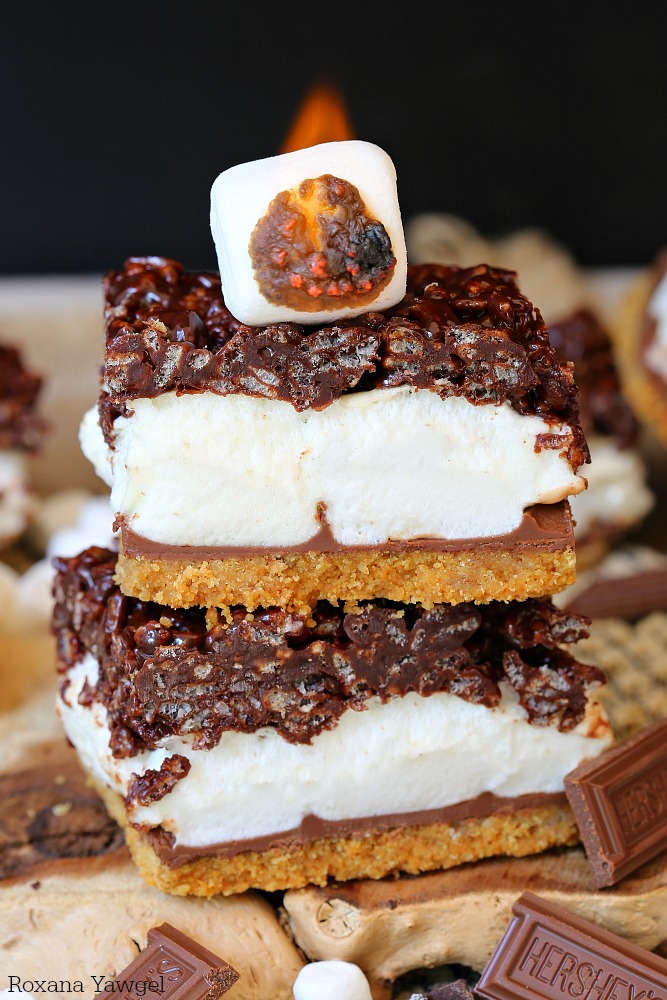 These rice krispies smores bars may not be super easy to make and require a little bit of patience, but they are well worth it. I promise!
The crust is made out of graham crackers crumbs, melted butter and sugar. It's almost the same crust I use when making cheesecake but this time, since it requires very little baking, I added sugar to the crust. The sugar melts and "glues" the crust together, preventing falling apart when cutting the bars.
Once you have the crust pressed onto the bottom of a 13X9″ pan, bake it for a couple of minutes. It's very important to line the pan with parchment paper or foil and even go a step farther and spray it well with cooking spray: marshmallows get sticky after they've baked!
Once the crust if par-baked, time to add the remaining layers.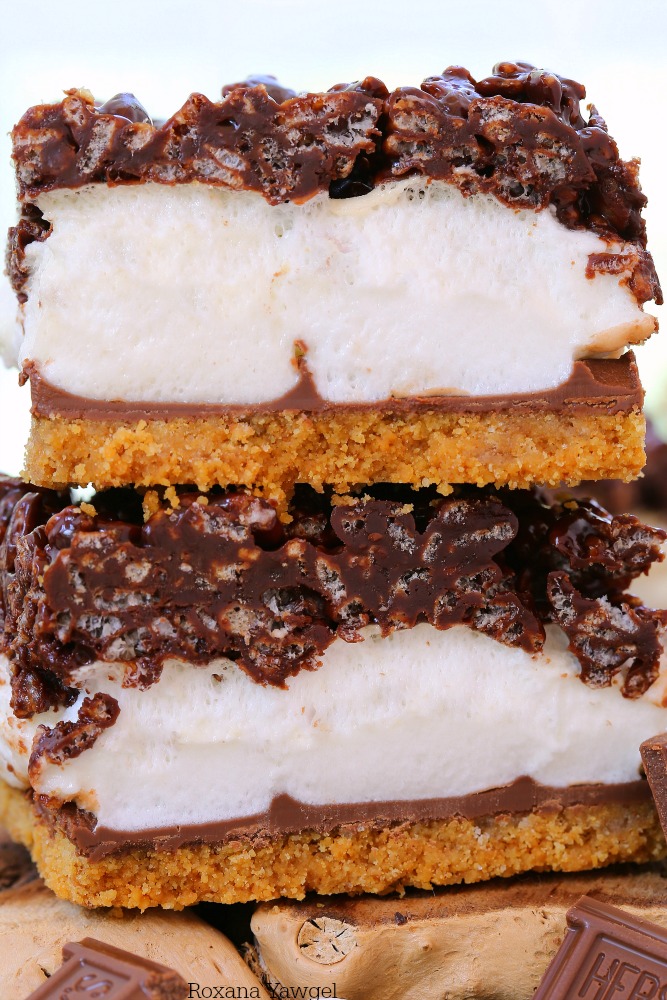 For the milk chocolate layer, I used Hershey's milk chocolate bars. You'll need 9 bars to fill a 13×9″ pan so look for a multi-pack in the candy section of your grocery store. Chocolate chips could also be used. Scatter them over the graham cracker crust. You could also just use chocolate chips if you want or melt the chocolate chips, spread on wax paper, cool until hard, and use that instead of the chocolate bars.
Alternately, you could melt the chocolate chips, spread on wax paper, cool until hard, and use that instead of the chocolate bars but that just seems a little too much for me.
For the marshmallow layer it's very important to use the regular size marshmallows. The small ones will just melt once you spread the chocolate rice krispie layer and the jumbo ones will puff up too much. Use the regular size and you'll be fine!
The chocolate rice krispie layer is a mix of chocolate, butter, corn syrup, marshmallows and, of course, rice krispy cereals. 
Craving more? Sign up for a trEATs affair email newsletter and get all the recipes sent right to your inbox!
Be sure to follow me on social media, so you never miss an update!
Facebook |  Pinterest   |    Instagram   |     Bloglovin'
[related-posts]
[mpprecipe-recipe:657]