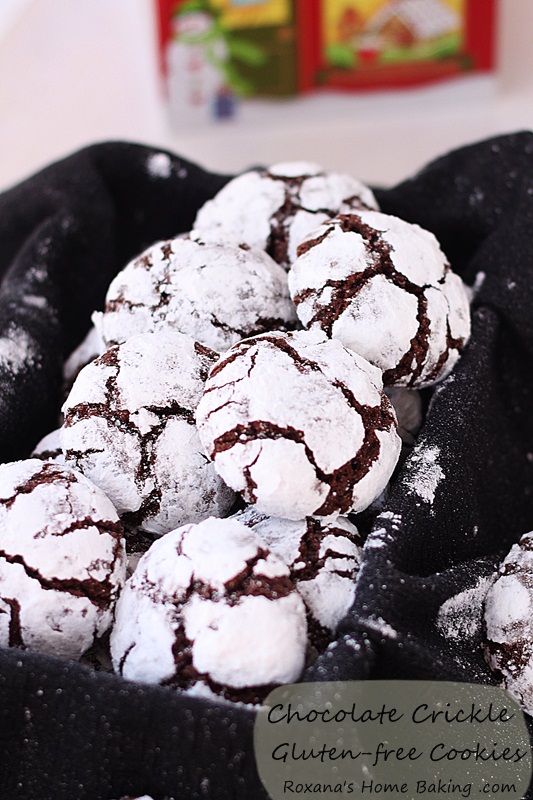 Not that I need an excuse, but when the Holiday season is just around the corner cookies must be baked. Cookie swaps are scheduled, pretty paper boxes are waiting to be filled and given to friends and neighbors or even mailed to far-away family. As you probably know I bake cookies year round, but there's something about the Christmas cookies, especially chocolate cookies.
One of my favorite Christmas cookie is the chocolate crinkle. I don't know exactly where the names comes from, maybe from the "cracked" top.
Anyhow, these cookies are a sample in our family for the Holidays. They are soft, melt-in-your-mouth cake-like chocolate cookies rolled in powder sugar just before baking.
While baking the cookie rises and the sugar coat cracks revealing the chocolate goodness.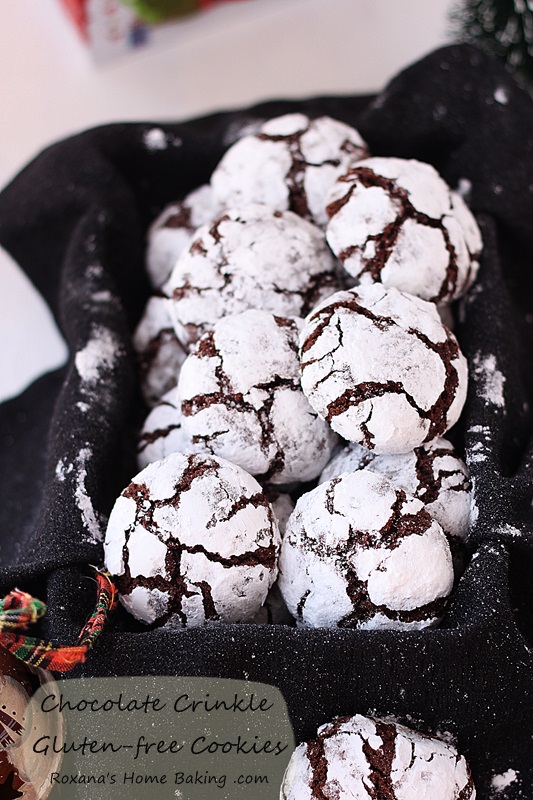 This year was the first time I made them gluten-free. At first I thought of making them using all-purpose gluten-free flour but I changed my mind and challenged myself to create a recipe using other gluten-free flours found in the gluten free baking bundle I received from Bob's Red Mill: white rice flour, sweet sorghum flour and potato starch and since the bundle doesn't have Xanthan gum I wanted to create a cookie recipe without it. I knew I had to pick a starch to help me with the cookie dough and that's where potato starch came in handy.
Xanthan gum, in case you don't know, is the "gluten" in gluten-free baking, so to speak. Xanthan gum helps the dough or the batter stick together. It acts like a glue to the rest of the ingredients. Don't be scared by the high price, it goes a very long time, since usually a recipe calls for 1/2 to 1 tsp of xanthan gum.
Beside white rice flour, sweet sorghum flour and potato starch I used ingredients you most likely have in your pantry: unsweetened cocoa power, sugar, grapeseed oil (vegetable oil can be used instead), eggs and baking powder.
The first attempt turned out too starchy. The second time I halved the potato starch quantity and added more sorghum flour and they turned out a little dried than I liked them. The third time I lowered both the amount of potato starch and sorghum flour but added a little more cocoa powder and rice flour. They turned out perfect! I think they are better than the wheat version I used to make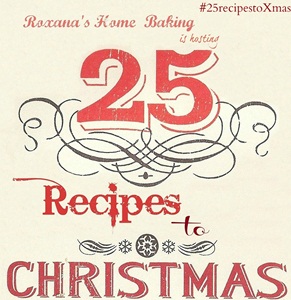 Chocolate crinkle gluten-free cookies
---
Yields 40 cookies
Chocolate crinkle soft, melt-in-your-mouth cake like cookie made with a mixture of gluten free flours. Perfect with a cup of tea or coffee. They make an wonderful holiday gift.
15 minPrep Time
19 minCook Time
40 minTotal Time
Ingredients
3/4 cup (144 grams) potato starch
1 cup (128 grams) sorghum flour
1 cup (80 grams) rice flour
1 cup (80 grams) unsweetened cocoa powder
1 tsp baking powder
1/2 tsp salt
1 1/2 cups (300 grams) sugar
3/4 cup (180 ml) grapeseed oil
4 eggs
1 cup (120 grams) powder sugar (for coating)
Instructions
Heat the oven to 350F. Line two baking cookie sheets with parchment paper. Set aside.
In a mixing bowl add all the dry ingredients (minus the powder sugar) and mix for few seconds until combined.
In a small bowl lightly beat the eggs and mix them with the grapeseed oil. Slowly pour the oil-egg mixture into the dry flour mixture. The flours will seems to fall apart, having a grainy texture. Increase the speed and keep mixing for 1-2 minutes until the dough comes clean from the sides of the bowl and wraps around the paddle attachment.
Take the cookie dough out and form 40 small cookie balls. Roll each cookie in the powder sugar and place it on the cookie sheet.
Bake the cookie for 18-19 minutes. Leave to cool slightly on the cookie sheets before removing.
Cookies can be stored in an air-tight container for few days or even placed in the freezer for a longer life (if they last that long).
7.6.8
392
http://atreatsaffair.com/chocolate-crinckle-cookies-recipe/
Roxana Yawgel http://atreatsaffair.com/ All images and content are copyright protected. Please do not use my images without prior permission. If you want to republish this recipe, please re-write the recipe in your own words, or simply link back to this post for the recipe. Thank you.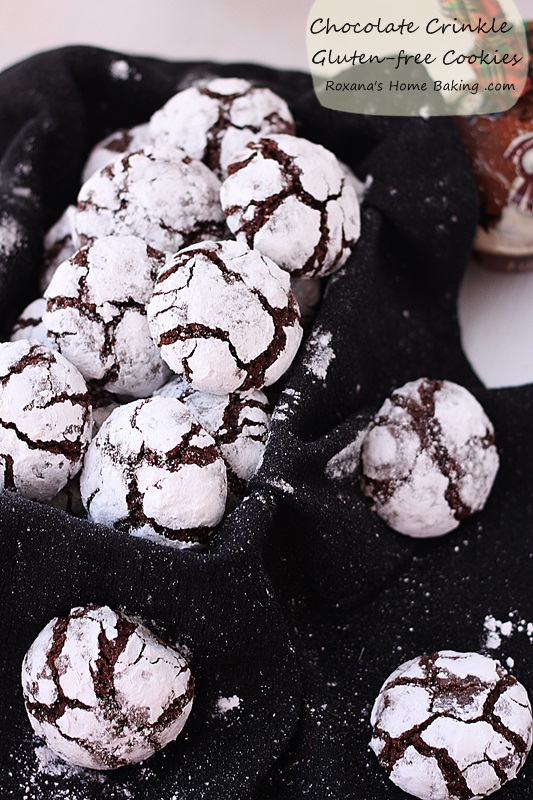 ~~~~~~~~~~~~~~~~~~~~~~~~~~~~~~~~
~~~~~~~~~~~~~~~~~~~~~~~~~~~~~~~~
~~~~~~~~~~~~~~~~~~~~~~~~~~~~~~~~
Would you like to make your own chocolate crinkle cookies using Bob's Red Mill gluten-free flours? I knew you'd say yes, that's why Bob's Red Mill is offering one gluten-free baking bundle to one lucky reader.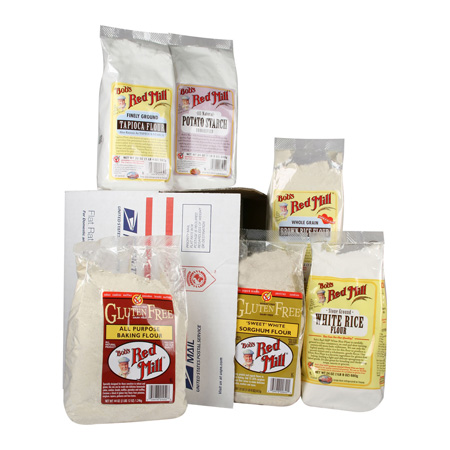 The baking bundle contains one package each:
Gluten Free All Purpose Baking Flour 44-oz,
 Brown Rice Flour 24-oz,
White Rice Flour 24-oz,
Potato Starch 24-oz,
Tapioca Flour 20-oz
Sorghum Flour 22-oz.
To enter the giveaway simple leave a comment telling me which is your favorite Christmas cookie.
The giveaway is opened until December 5th at 11.59 pm. The winner will be notified via email and will have 48 hours to reply or another winner will be selected.
Due to shipping cost the giveaway is opened only to Continental US and Canada residents. Sorry international friends
* I received a Bob's Red Mill Baking bundle to use in my recipe. Another one will be sent to the winner. I was not compensated for this post, opinions being all mine.
Sending love your way,
Roxana
[ts_fab]