Soft brown sugar pecan cookies topped with a luscious rich brown sugar frosting! Grab a glass of cold milk! It's required with these cookies!
This year it's the first year it just doesn't seem like the holidays. Yes, the house is all nice and lit like it's in Las Vegas, the Christmas tree is up in the living room, presents are starting to arrive, Tiffany has been playing Jingle Bells on the piano for the last 2 hours (I'm not even kidding) but something is not the same. My husband is not home to enjoy everything with us.
After years of working from home, he finally had to go into the office. And not just any office, but one week in Columbus, few days in Tampa, back to Virginia for a week, fly out again for few more days. For the last couple of months it felt like all we've done is pack and unpack our stuff. Or mostly living out of a suitcase.
When I'm finally home, like the last couple of days, I do what a normal person does  – I bake my heart out and call friends over for hours and hours of girly talk.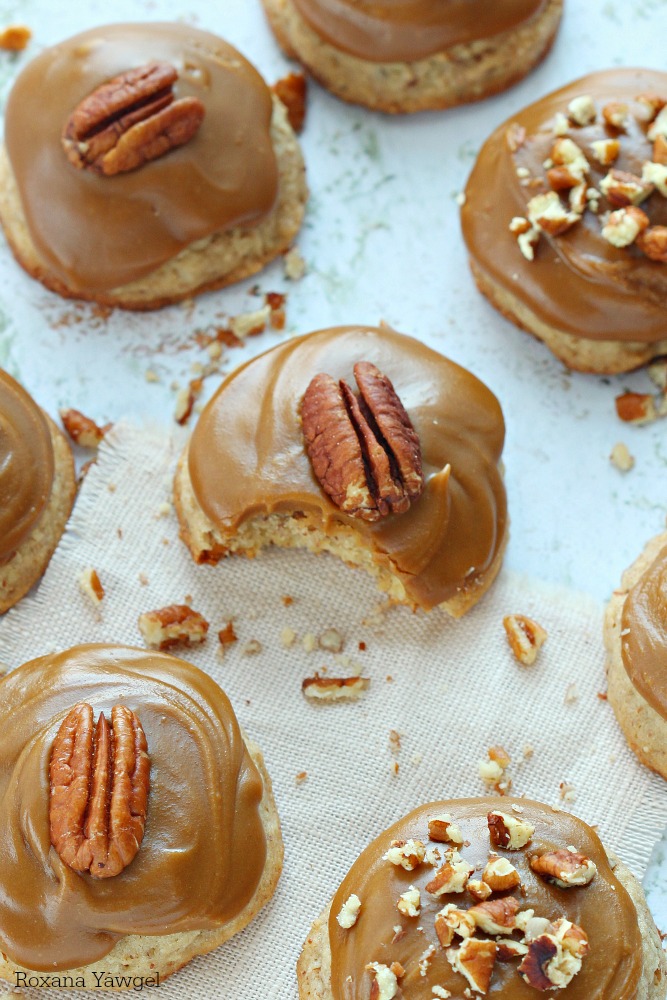 That was the plan with these brown sugar pecan cookies with brown sugar frosting.
Nutty cookies have been one of my favorite holiday cookies. For years I've made the well know snowball cookies, but, this time I wanted to try something different. I've been playing around with the idea of brown sugar pecan cookies for a while and I'm finally pleased with the results.
These cookies call for two types of sugar – light brown sugar for the cookie dough and dark brown sugar for the frosting.
Although you can use whatever brown sugar you have on hand, I love the rich deep flavor dark brown sugar gives to the frosting.
Another note on the ingredients – chopped pecans. While for other cookie recipes I usually roughly chop the nuts, this time I finely chop them. I wanted them to blend easily with the cookie dough without having that crunch when you bite into a cookie.

To get the full recipe, visit Imperial Sugar website
Craving more? Sign up for a trEATs affair email newsletter and get all the recipes sent right to your inbox!
Be sure to follow me on social media, so you never miss an update!
Facebook |  Pinterest   |    Instagram   |     Bloglovin'
Happy Baking,
Roxana