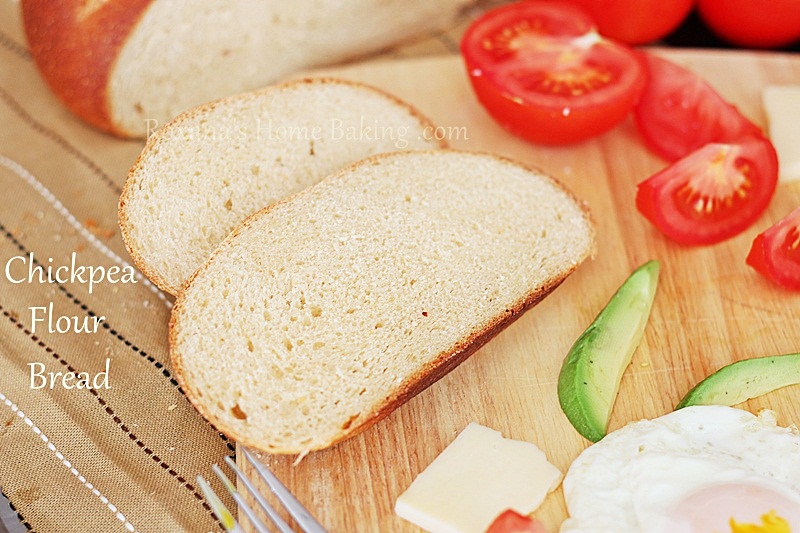 I don't own a bread machine and don't see myself using one anytime soon.
I think adding everything to a bread machine takes the fun away from seeing how your bread comes to life, starting with the proofing of the yeast, letting it rise, shaping it and finally waiting for the loaf to be baked and ready to enjoy.
The only thing I like about the bread machine is that you can schedule the baking time. Wouldn't it be nice to wake up every morning to the smell of freshly baked bread?
I know I would love it very much!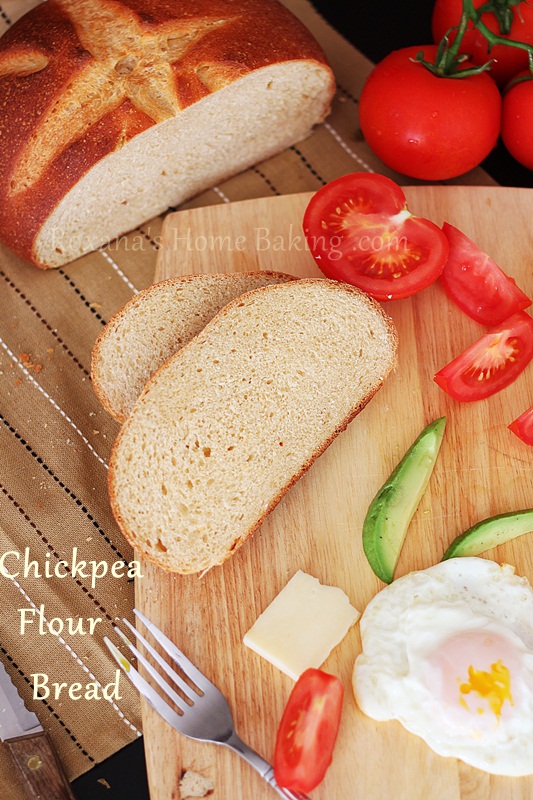 I also love cookbooks for bread machines.
Some of them have really nice bread ideas and even though you can pretty much use the same list of ingredients and just adapt the process of making dough for the stand up mixer, I try to make my own version of bread, inspired by the recipes from the cookbook.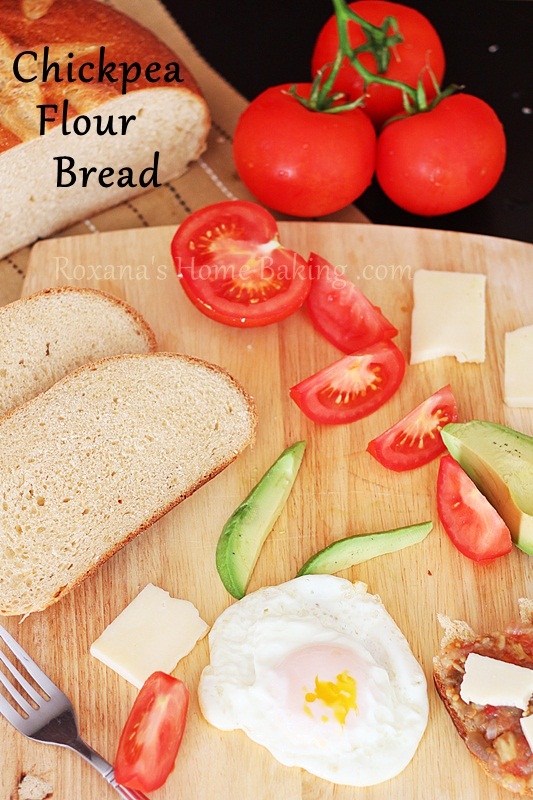 For example this chickpea flour bread.
I found the original recipe in the "The Bread Lover's Bread Machine Cookbook"
Flipping through the book I found a bread recipe that called for chickpea flour and evaporated milk.
I was immediately intrigued. How often do I stumble upon a bread recipe that calls for two not-so-usual ingredients?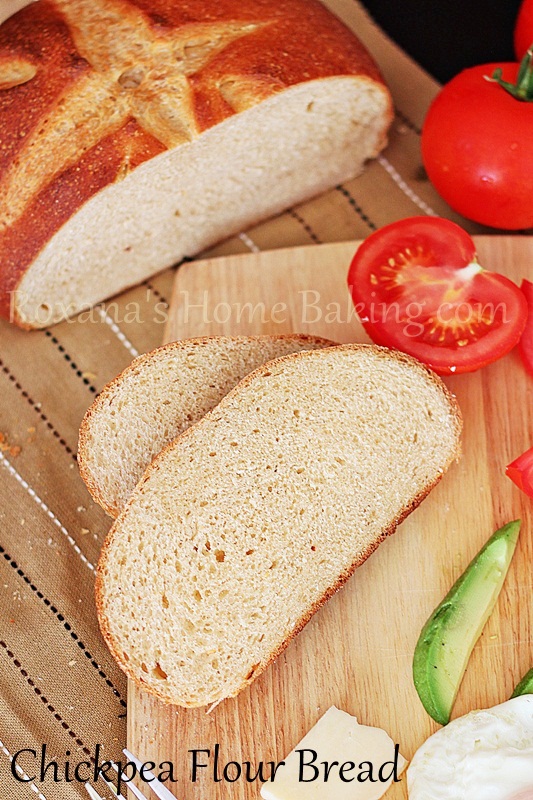 I immediately went to the store and bought some evaporated milk.
After a little math and a couple of hours of waiting I took a flavorful bread out of the oven.
The hint of cinnamon was calling me in the kitchen but I stayed strong and waited until the bread wasn't hot anymore so I can slice and enjoy it.
The crust is soft, the evaporated milk gives it a nice crumb and the chickpea flour makes it a little chewier.
The cinnamon was a wonderful addition, but the crushed pepper flakes .. well, I added a little but I don't think they made a difference. Next time I will not add any.
Chickpea Flour Bread
---
Yields 1 loaf
Chickpea flour bread - s soft crusted bread with a nice crumb given by the evaporated milk and a chewy bite from the chickpea flour, flavored with a hint of cinnamon
15 minPrep Time
40 minCook Time
3 hrTotal Time
Ingredients
2 1/2 cups ( 300grams) bread flour
1 1/2 tsp dry yeast
1/4 cup (60 ml) lukewarm water
1 tbsp sugar
3 tbsp vegetable oil
1/2 cup ( 60 grams) chickpea flour
1 tsp salt
1 tsp cinnamon
1 tsp crushed pepper flakes (optional)
2/3 to 3/4 cup ( 160-180 ml) evaporated milk (room temperature)
Instructions
In a mixing bowl sift the bread flour. Make a well in the middle, pour the water and sprinkle the yeast. Wait a few minutes until the yeast is dissolves and bubbles appear.
With the dough hook on (or a danish whisk if kneading my hand), start mixing while adding the sugar, oil, chickpea flour, salt, cinnamon and pepper flakes, if using.
At this point the mixture should resemble fresh breadcrumbs.
Slowly add the evaporated milk using enough until the dough comes clean from the sides of the bowl. Knead for 5 more minutes (10 if kneading by hand).
Place the dough in a clean oiled bowl, cover with plastic foil and leave at room temperature until doubled in volume. (little over an hour)
When risen, take the dough out, knead gently for 1 minute and shape it into a loaf, may it me round or as a log.
Cover again with plastic foil and leave to rise for about 1 hour.
Keep in mind that by using chickpea flour, the dough will not be as puffed as by using just bread flour.
Meanwhile heat the oven to 400F.
When the dough is risen again, lower the temperature oven to 375F and bake the bread for 35-40 minutes or until the smell of freshly baked bread takes oven your kitchen.
Let cool before slicing.
7.6.8
355
http://atreatsaffair.com/chickpea-flour-bread-recipe/
Roxana Yawgel http://atreatsaffair.com/ All images and content are copyright protected. Please do not use my images without prior permission. If you want to republish this recipe, please re-write the recipe in your own words, or simply link back to this post for the recipe. Thank you.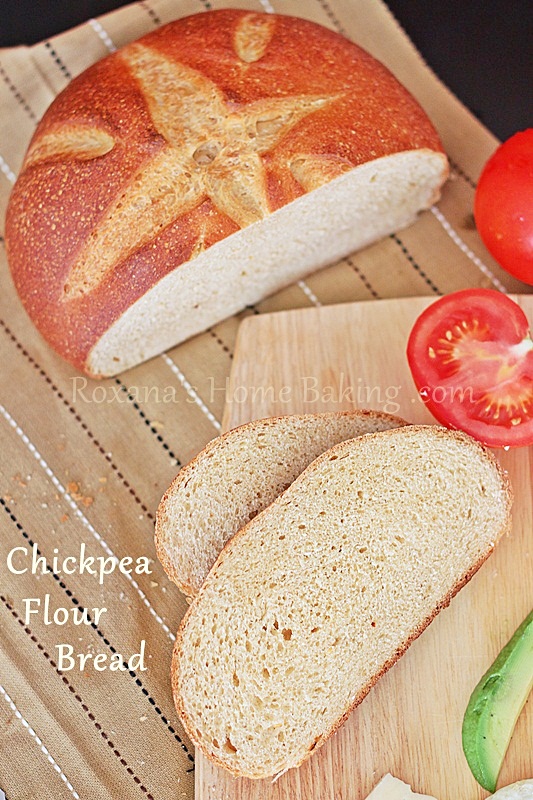 Sending love your way,
Roxana