A recipe for an incredible moist and soft banana bread with swirls of Nutella. Enjoy a slice at breakfast, at tea time or as an after dinner sweet treat.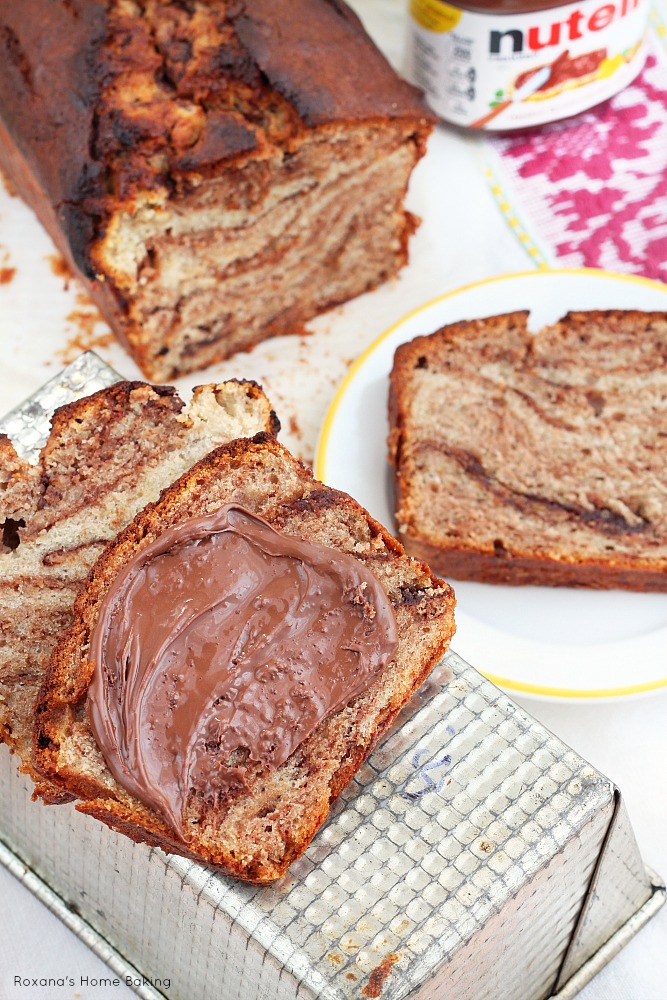 I haven't been fair. I've been playing musical chairs lately with a couple of recipes I've baked and photograph weeks ago. It's time to come clean. It's time to confess.
I'm guilty of pushing recipes like these peanut butter brownies or chocolate cream cheese cookies and pretty much all the recipes I've shared since late January. In my defense, a broken computer, changing hosts and theme might have played a role in my delay, but still. I should have shared the recipes with you, long time ago. Especially this Nutella swirl banana bread I was planning to share for World Nutella Day.
I hope you'll forgive me now because this banana bread is sure worth the wait. It is incredible moist, soft and the nutella swirls make it even more irresistible.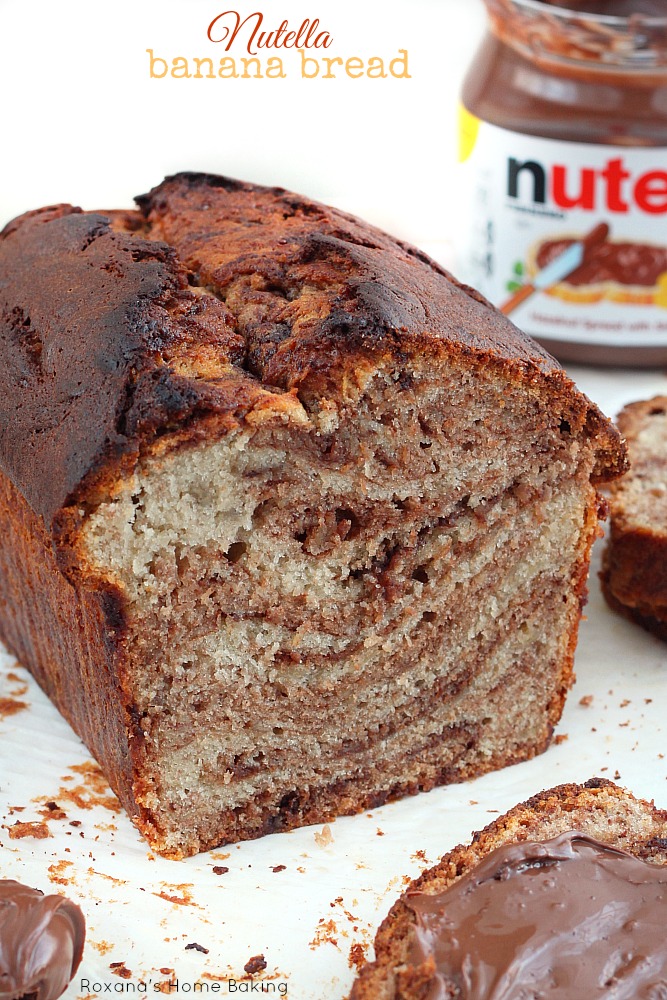 This recipe is actually the very first recipe for banana bread I've tried. I've made it so many times I've lost count. Every time I had some brown bananas I knew what I would end up baking. It's one of those recipes that will stay in the family for a long time.
Since I first printed the recipe from all recipes.com, long before I knew what a blog is, I've tried other recipes, like this chocolate swirl banana bread, but there's something about this one. It's comfort food.
Add to that some nutella swirls and you're hooked! Of course, if you don't like Nutella you can add peanut butter or just leave it plain. Either way, it's going to be so good, you'll bake it over and over again.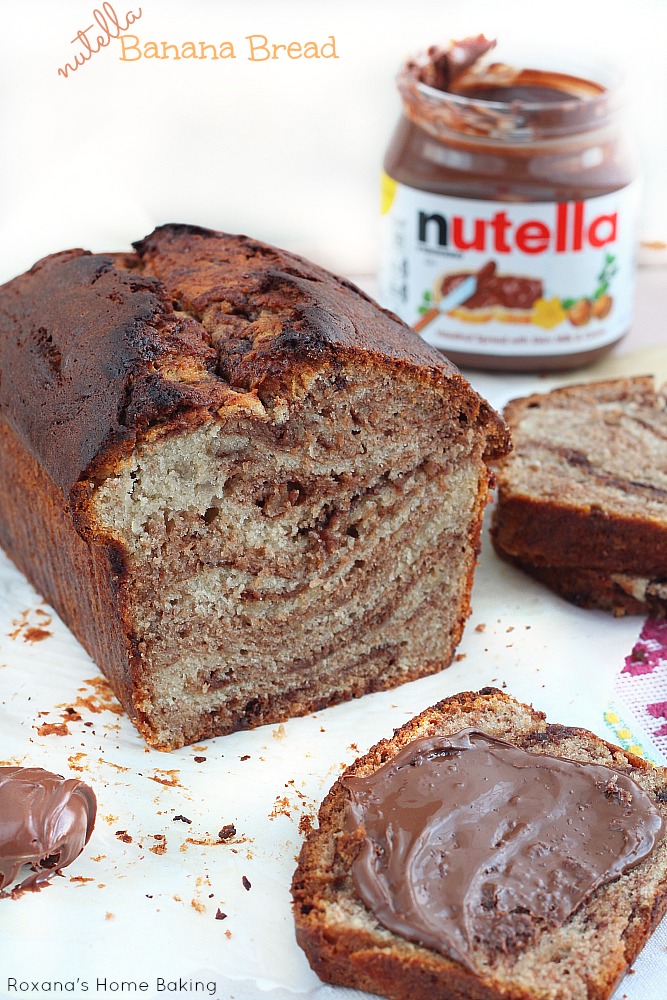 You know the secret to a great banana bread? Brown bananas! Those icky bananas no one wants to eat and sometimes you are asked if they are actually safe to eat. They are and they make the best banana bread. Their flavor is unbeatable and they offer plenty of sweetness and moisture.  Don't be surprised if your family buys more bananas just so you can have  some left on the counter for days until they are just ready to be mashed and turned into an irresistible banana bread.
[mpprecipe-recipe:510]
If you enjoyed this Nutella swirl banana bread, you may also like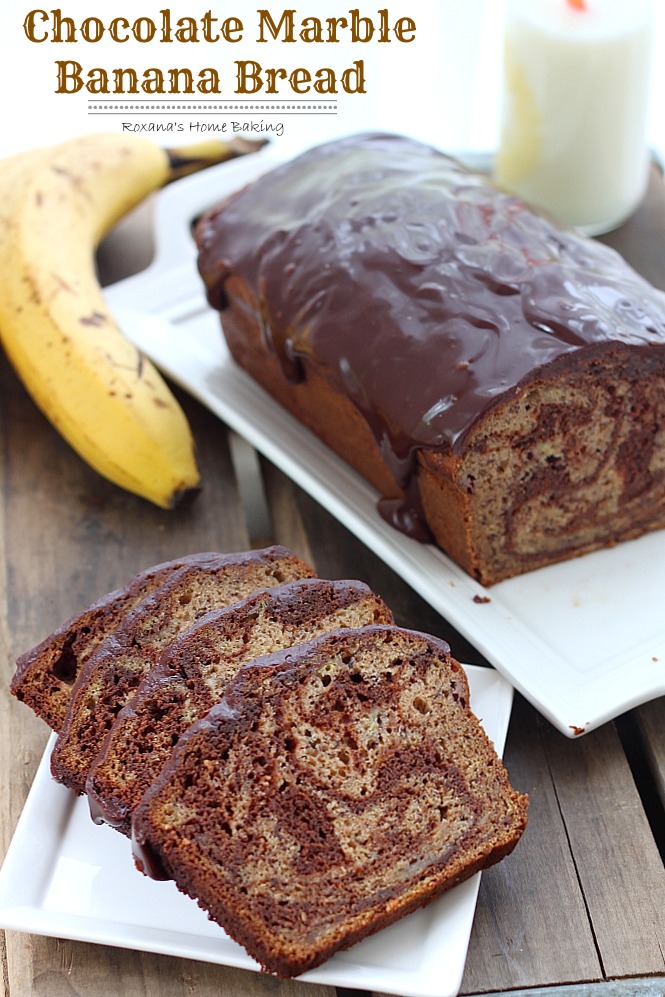 Banana sheet cake with cream cheese frosting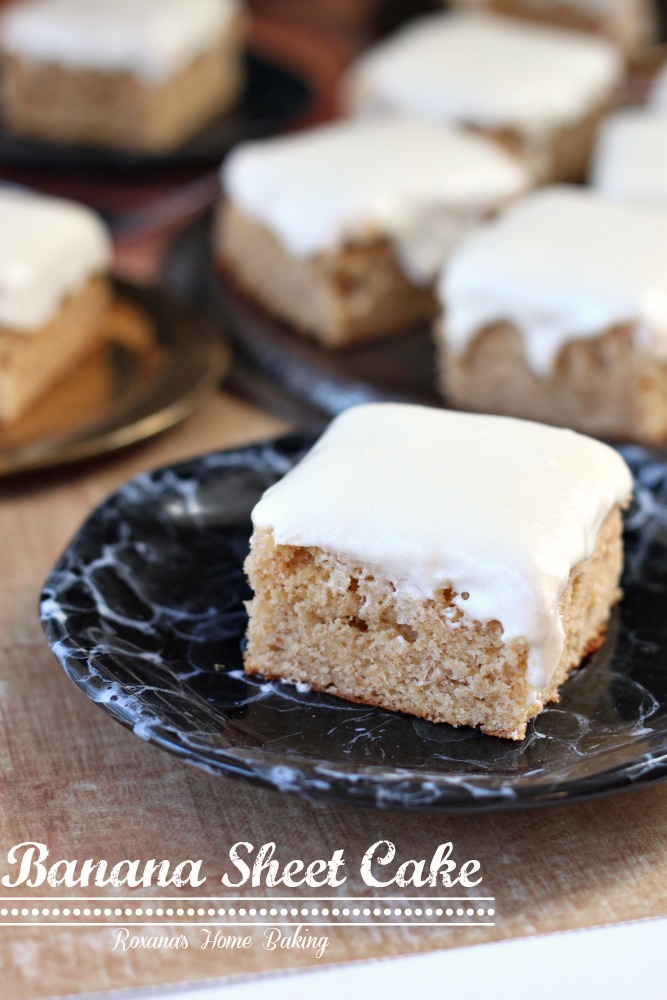 Happy Baking,
Roxana