Chocolate banana bread – Rich semi-sweet chocolate swirled into a moist and delicious banana bread with a touch of cinnamon to bring out all the wonderful flavors.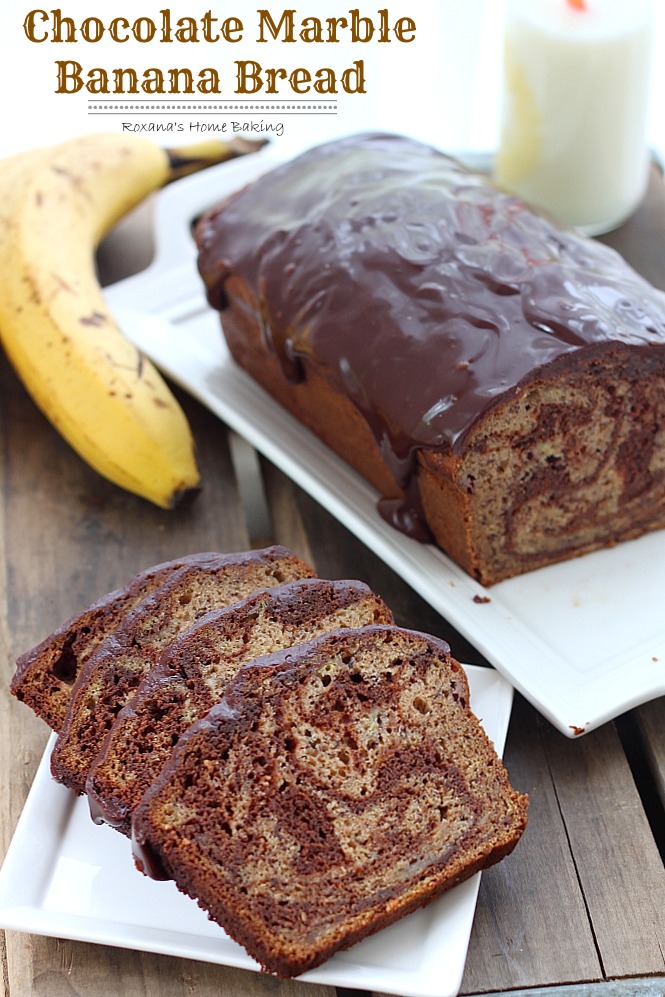 I rarely make banana treats. No matter how many bananas I buy, my monkey family ends up eating them while still yellow leaving me with none to have around long enough for them to become brown, soft and sweet.
To my surprise a couple of weeks ago I saw at my local grocery store bananas with so many brown spots on them they were just begging to be used in baking. It was my lucky day for sure! I picked just enough to bake a banana bread and the banana sheet cake I already shared the recipe with you.
The banana bread turned out so good I've already baked it three times in two weeks!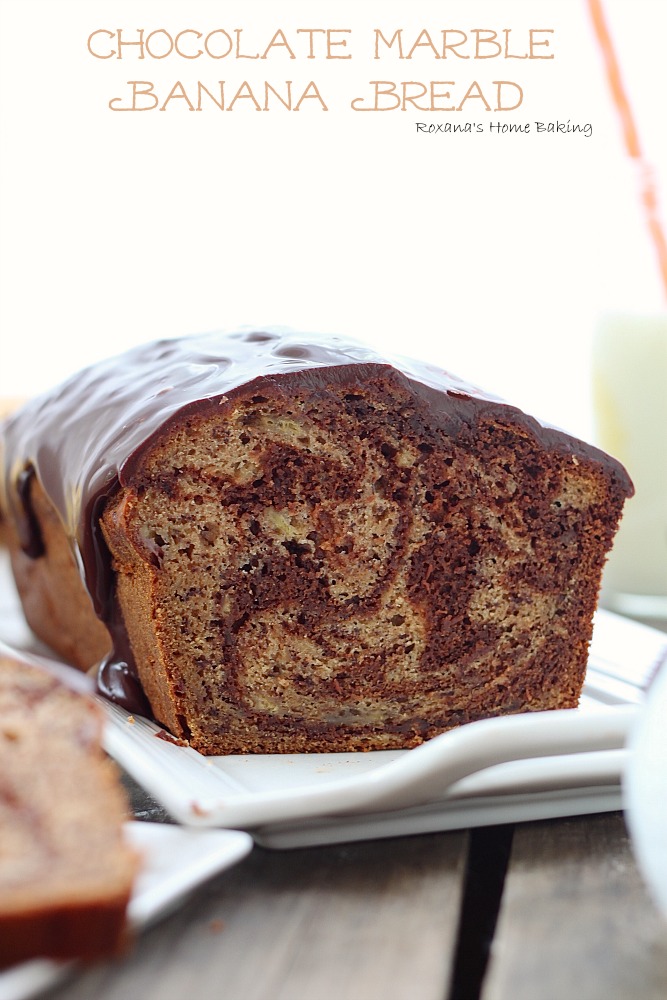 What I love most about this bread is that it doesn't add cocoa powder for the chocolate swirl, but actually chocolate, melted and blended with a little bit of batter. You still get all the wonderful flavors of a moist and delicious banana bread combined with a rich taste of chocolate.
A little bit of cinnamon is added, just a touch, but it makes the sweet banana flavor to stand out.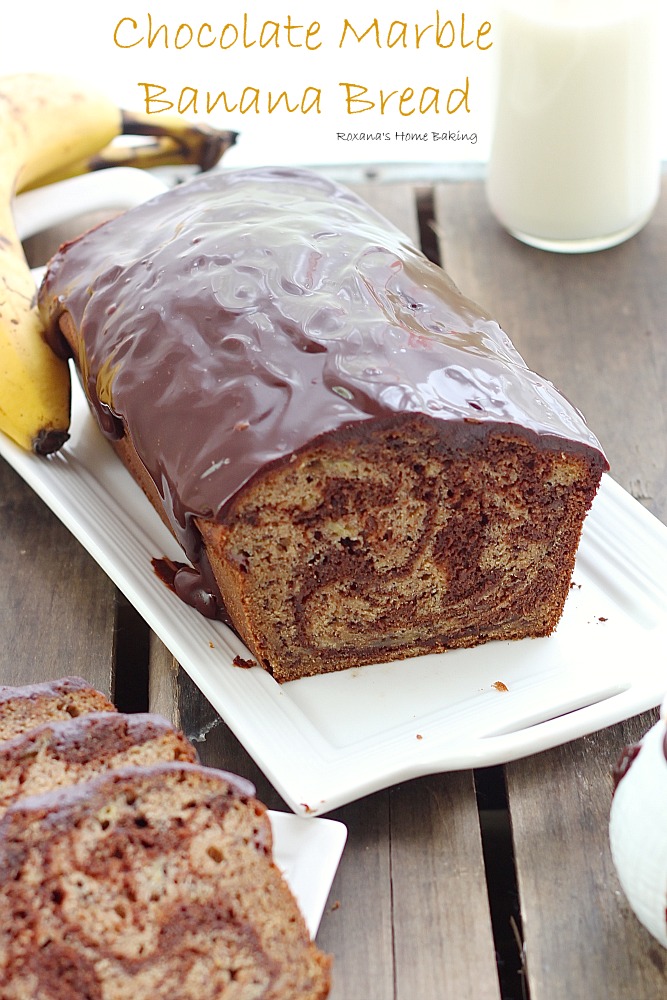 Another thing, slightly different, when making this bread is that you start by creaming the butter and sugar for a good 5 minutes until fluffy, giving the bread a light texture, towards a pound cake.
Once baked the bread crust is dark and brown and the top has a crack or two. Let it sit for a couple of hours to cool on a wire rack and the top will soften the longer it sits. I love that this bread it gets better with the age, not that it lasts too long. Just a couple of days.
To give it a personal touch I melted some chocolate in hot heavy cream and poured it over the cooled banana bread. Ah-mazing!!!!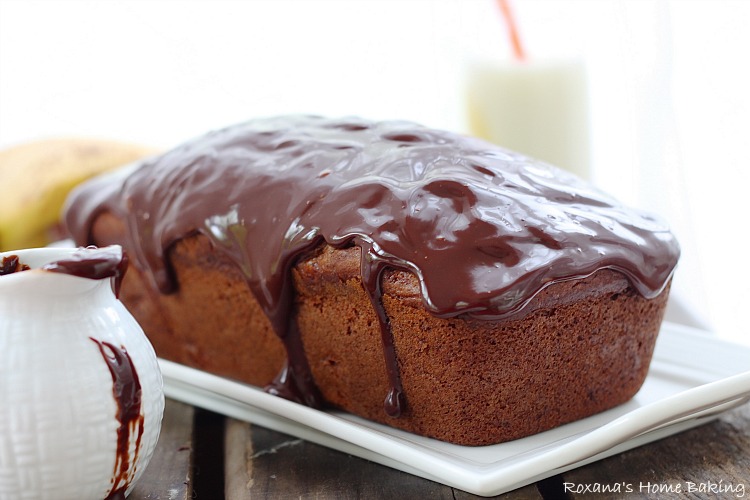 [mpprecipe-recipe:451]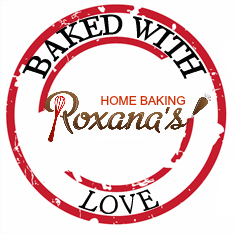 Starting today bake your own bread takes a new name : Baked with Love! I have been thinking lately and since I LOVE baking anything, not just bread but I felt like some of you were discriminated for not being able to link your beautiful creations. Well, now you can!!!
Everything that's baked with love, in your own kitchen can be linked. I can't wait to see your amazing goodies!!!
And to make things sort of organized, here are some simple rules.
How to participate (the rules):

1.) Bake something with love and blog about it. Anything, no matter the complexity, baked from scratch in your own kitchen. Or it could be an informative post, a tutorial or how-to post. Anything that will inspire us to bake more at home. If you don't have a blog and you'd like to participate, please email me a photo of your bread and the recipe and I will create a page for it.

2.) Include a link back to this post letting your readers know about this monthly event. Uploading the logo in your post or sidebar would be highly appreciated. 


3.)  Please link only posts from the current month. You can link as many as you want!
All submissions will be added to a Baked with love Pinterest board . Also I'll do my best to promote everyone's post on other social media channels. I'll be using the #bakedwithlove hashtag for Twitter and Google+ (feel free to use this to promote linked posts, as well)
At the end of each month I'll share a roundup post of up to 10-15 posts that caught my eye during the current month.
Let the baking begin!!!!