Today's cookies are brought by Faith of An edible mosaic. Faith a good friend of mine and not only does she have a gorgeous blog but she just published her first cookbook : An Edible Mosaic – Middle Eastern Fare with Extraordinary Flair. Her blog is filled with beautiful photos and tempting recipes. Both sweets and savory, she has something for everyone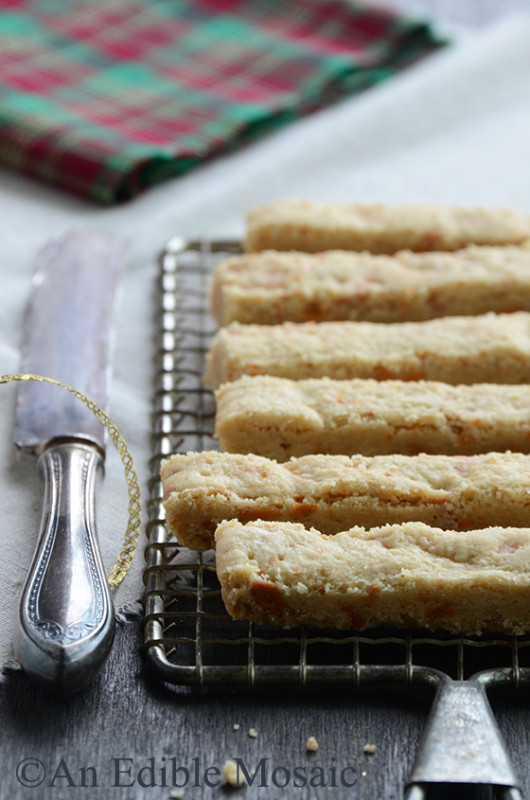 Hi everyone, I'm Faith and I blog at An Edible Mosaic. I am so excited to be participating in Roxana's 25 Recipes to Christmas Event! I love her beautiful blog, and I love the fact that Roxana and I are kindred souls, especially when it comes to Christmas. I Christmas shop all year, start thinking about new Christmas cookies to make in the summer, and listen to Christmas music before Halloween. I couldn't be happier now that the holiday season is upon us, because my friends and family aren't constantly telling me it's too early…now they actually want to join in on the Christmas festivities!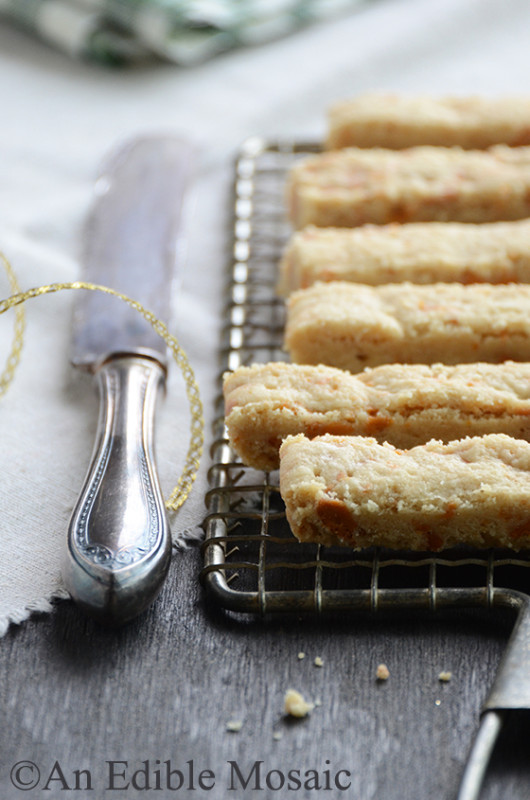 There's something special about the familiarity of holiday baking that feels like Christmas time. Does your family bake the same kinds of cookies every year or do you try to mix it up a little? We have a few favorites that are on the list every year, but I try to switch it up a bit too. I look for inspiration everywhere.
The inspiration for these lovely cookies came back in late September. One beautiful early fall day Mike and I were enjoying a leisurely weekend morning at the farmers' market. We were there a bit longer than expected (as tends to happen when I'm really enjoying myself engrossed in fresh produce and local cheese), and he was getting hungry…starved in his own words, lol. Fortune smiled on both of us because at that moment, we happened to be walking by a local baker selling shortbread cookies.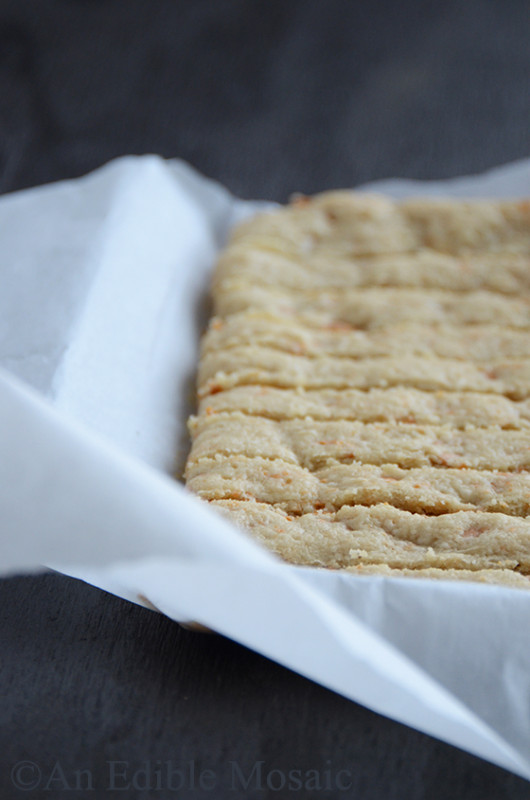 She heard Mike complaining of being hungry and offered us some butterscotch shortbread to sample. Now, I should mention that under normal circumstances (read: when he isn't starving), Mike won't touch butterscotch. Or shortbread. But he happily took the cookie and ate it, and then bought two tins to take home. He was converted, and I knew that I had to come up with a recipe of my own.
When I was coming up with this recipe, I experimented using a few different ingredients, including brown sugar and toffee bits. In the end, the combination of brown butter and butterscotch chips won my hubby over and we now have a new favorite cookie to add to our holiday repertoire.
Butterscotch + Brown Butter Shortbread
---
Yields 1 8X8 square pan
1 hrPrep Time
35 minCook Time
2 hrTotal Time
Ingredients
1 cup (2 sticks) unsalted butter, cut into 1-tablespoon pieces
2 cups all-purpose flour
2/3 cup powdered sugar
2 tablespoons cornstarch
1/2 teaspoon fine salt
2 teaspoons pure vanilla extract
1/2 cup butterscotch chips, finely chopped
Instructions
Line an 8X8-inch baking pan with parchment paper so it hangs over the sides (so you can easily lift the shortbread out later).
Heat the butter in a heavy-bottomed medium-sized skillet over medium heat. Whisk occasionally until the butter is melted, then once melted, continue whisking constantly. The butter will foam up and then subside; as it starts to boil, you will start to see brown bits form on the bottom. Once the butter is golden and smells nutty, pour it into a bowl to cool. (Be careful not to burn it; this whole process should take less than 5 minutes.) The darker milk solids will settle to the bottom; you can strain them out before using the butter if you like (it's not necessary though, just personal preference).
Whisk together the flour, powdered sugar, cornstarch, and salt in a large bowl; mix in the vanilla with a fork.
Once the butter is cooled, drizzle it into the flour mixture a little at a time, mixing with a fork until all the butter is incorporated. (The dough will be quite dry and crumbly.)
Working somewhat quickly (because the dough stiffens a bit as it sits), stir in the butterscotch chips and press the dough evenly into the prepared pan.
Preheat the oven to 300F, and while it heats, chill the dough for 30 minutes in the fridge.
Before baking, score the dough into whatever size and shape cookies you want; I like to make 20 long, thin cookies. (The scores will meld together a bit while baking, but should still be visible enough to help you cut the cookies after baking.)
Bake until the cookies are set, but not browned, about 35 minutes.
Cool for 5 minutes, then score the cookies again over the lines you already scored.
Cool 30 minutes in the pan, then use the parchment paper to lift the cookies out.
Cut the cookies along the scored lines, cool completely, and serve or store in an air-tight container at room temperature.
7.6.8
401
http://atreatsaffair.com/butterscotch-brown-butter-shortbread-recipe/
Roxana Yawgel http://atreatsaffair.com/ All images and content are copyright protected. Please do not use my images without prior permission. If you want to republish this recipe, please re-write the recipe in your own words, or simply link back to this post for the recipe. Thank you.
A huge thank-you to Roxana for inviting me to participate in this festive event! Happy Holidays, everyone!
~~~~~~~~~~~~~~~~~~~~~~~~~~~~~~~~~~~~~~~~~~~
You can keep up with Faith by becoming a Facebook fan, follow her on Twitter and on Pinterest.
For other Christmas treats check out #25recipestoXmas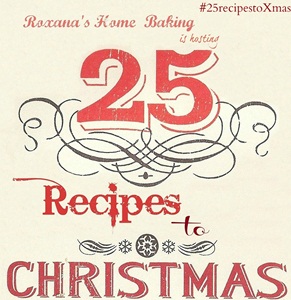 Sending love your way,
Roxana
[ts_fab]