Loaded with bittersweet chocolate, cocoa, and chocolate chips these truffle cookies are packed (and I mean, PACKED) with chocolate. Rich, dense and bursting with flavor… a fantastic chocolate cookie! No mixer needed!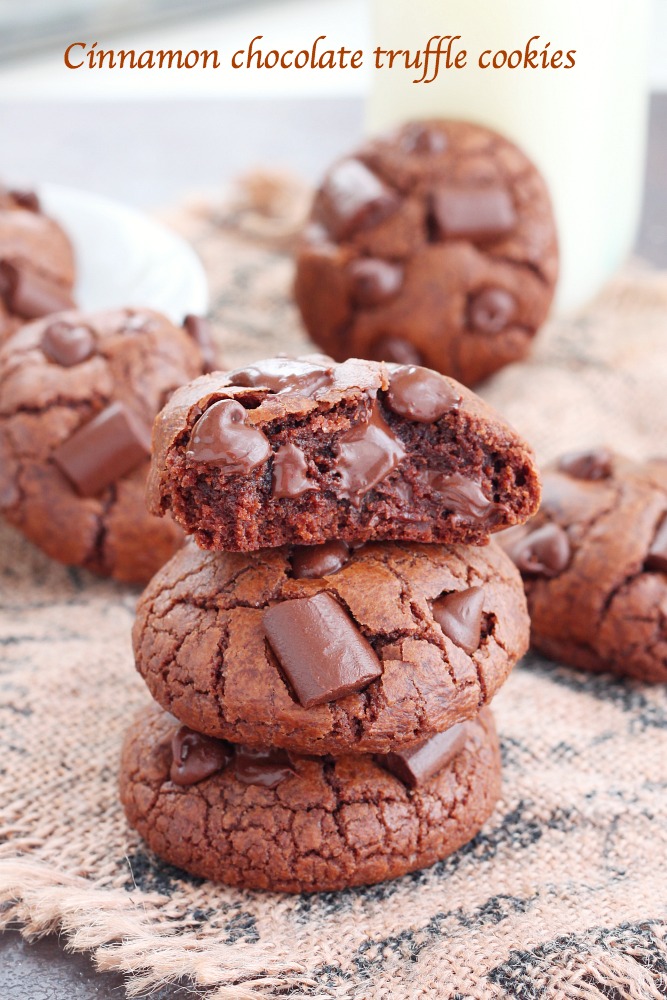 Chocolate truffle cookies – three powerful words. I don't know about you, but these 3 words are catching my eye and make me weak to my knees.
I've been and will always be a chocolate girl at heart. The more chocolate, the better. Right? I honestly don't get it when someone says a cookie or a dessert is too rich or too chocolatey. There is no such thing.
As you may know, it is not the first time I load desserts with so much chocolate it's oozing everywhere. Remember these triple chocolate fudge cookies that call for 1 ounce of chocolate in every cookie? Well, these chocolate truffle cookies are just as good!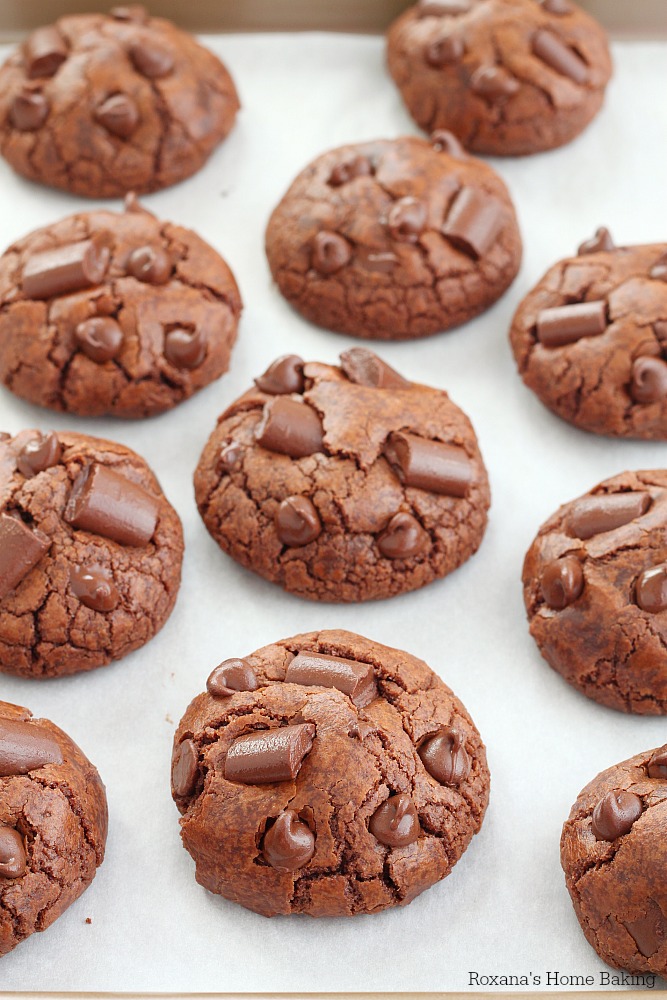 I have made these cookies on a whim a couple of weeks ago. Yes, I said weeks! Just because life got crazy and I didn't blog much, doesn't mean I didn't bake. Maybe not every day, but my sweet tooth's cravings didn't stop when my life got upside down. I was a little skeptical at first, and not about the amount of chocolate, but about the addition of the cinnamon.
The newspaper clipping I adapted the recipe from called for instant coffee crystals and I had none. Cinnamon seemed like a great fit. And it is! It brings warmth to the cookies and enhances the chocolate flavor.
The cookies get some cracks on top during the baking process. What I love about these cracks is that they give you a hint about all the deliciousness that's underneath. These chocolate cookies are so dense and rich, just like a truffle. One cookie and all your chocolate cravings will be satisfied!
I really think you should just drop whatever you are doing at the moment and start making these cookies.

Making the cookies is a breeze, especially since all you need is a mixing bowl and a spatula.
Start my melting the chocolate and the butter. Doing so, prevents the chocolate from seizing. Let the mixture cool for 2-3 minutes and stir in the sugars (both white and brown sugar are used), eggs, vanilla, and cinnamon. Follow with cocoa powder, baking powder, salt and flour. Last but not least, chocolate chips and chocolate chunks. So much goodness!
When you add the flour, fold lightly just until combined. The cookie dough will be on the soft side. Resist the urge to add flour to it because as the melted chocolate continues to cool down, the dough will become easier to scoop.
I let cookie dough rest in the fridge for 30 minutes to an hour before scooping onto baking sheets. If you don't want to chill the dough, the cookies will spread while baking. They will not create a mess in the oven, don't worry, but they won't be as thick like mine.
[mpprecipe-recipe:608]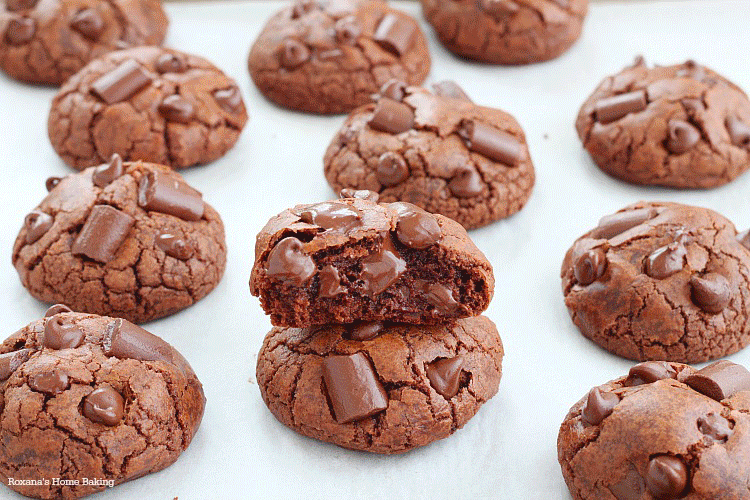 If you enjoyed these cinnamon chocolate truffle cookies, you may also like
Soft and chewy triple chocolate fudge cookies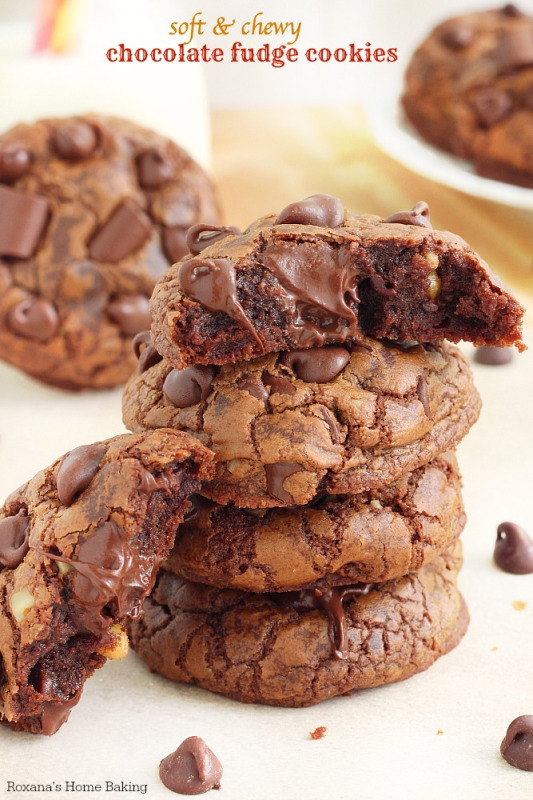 Copycat Dhalia's Bakery chocolate truffle cookies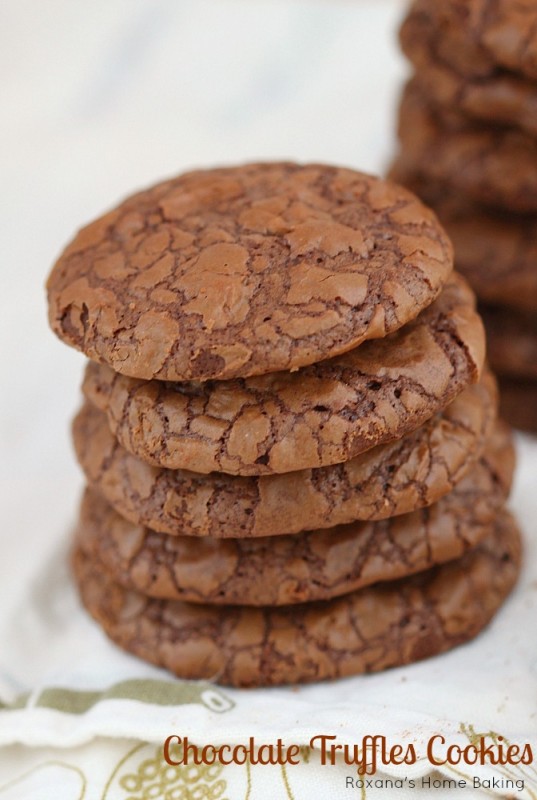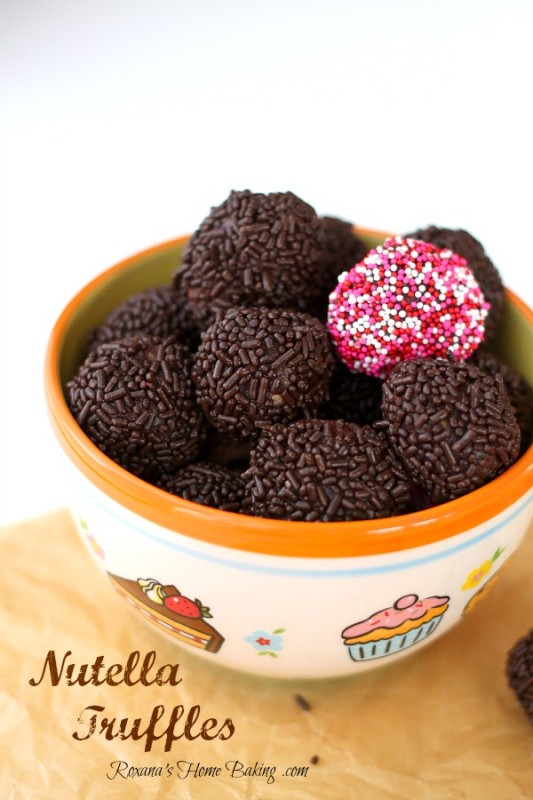 Happy Baking,
Roxana