So rich and fudgy, these hazelnut chocolate chip brownies have an intensely chocolate interior and cracked tops. One bite and you'll fall in love with these flourless brownies over and over again.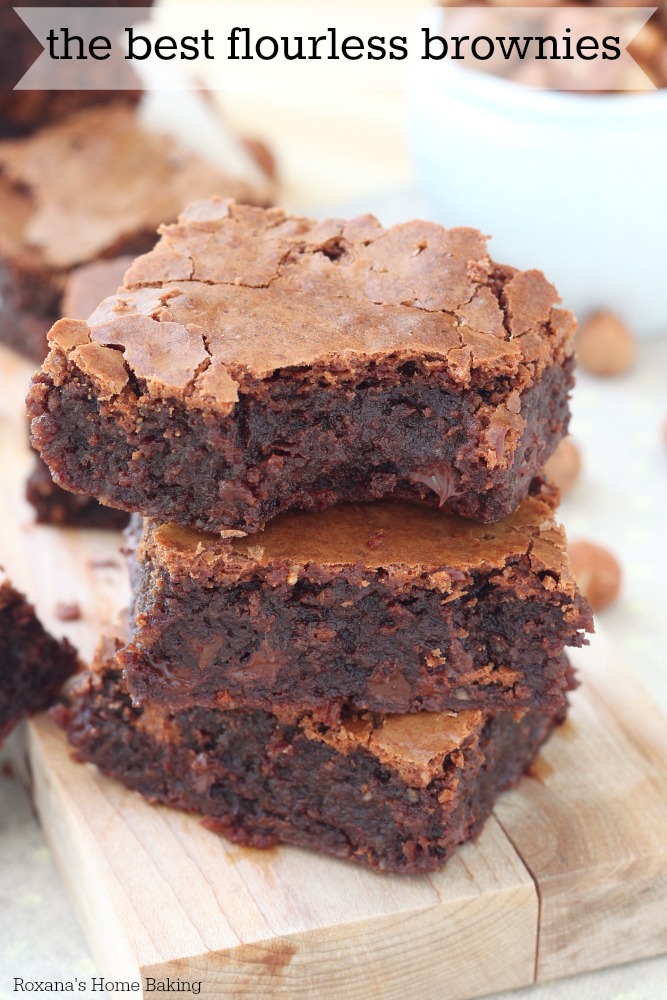 I was a little skeptical when I was first offered a piece of  brownie with a cracked top. There was nothing appealing about it. It was plain ugly. We eat with our eyes first and as much as I like chocolate, somehow I could not bring myself together to give it a try.
Time passed, completely forgot about those brownies until the day when my husband shoved a piece of brownies in my mouth. One bite and I was hooked. No wonder everyone was raving about them. No wonder those ugly brownies were the first ones to disappear. They were absolutely amazing!
These flourless hazelnut chocolate chip brownies remind me of those ugly brownies. They are indeed not pretty, with their cracked topped, but the inside is out of this world amazing! So rich and decadent it's like eating ganache in a bar form.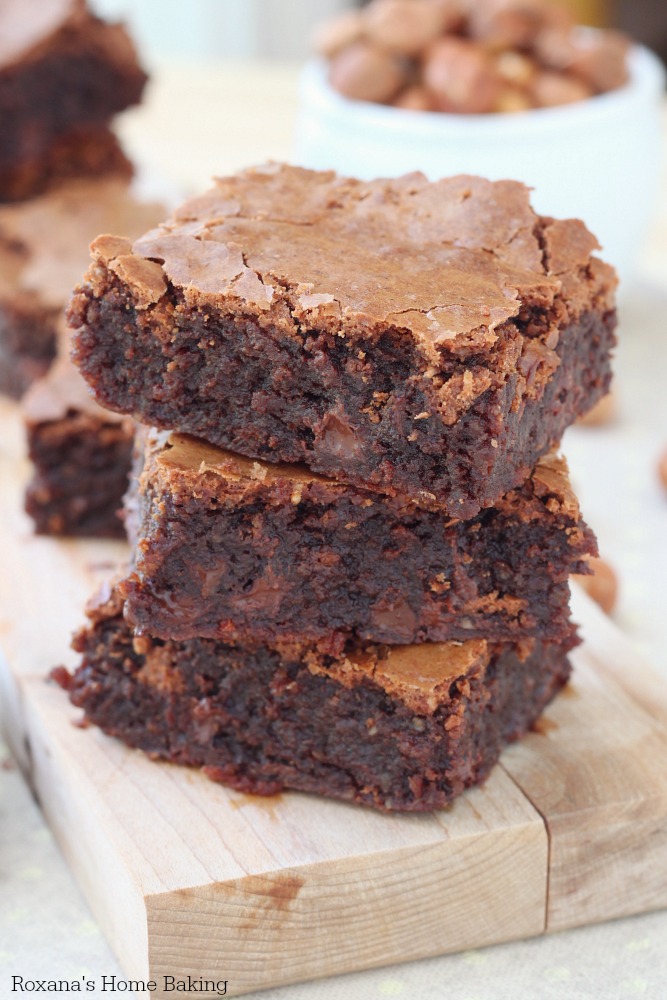 These flourless brownies are not just packed with chocolate chips but start with 7 oz of melted chocolate. I used a mixture of semi-sweet chocolate and dark chocolate balancing the sweetness. The chocolate is melted with butter and left too cool down for few minutes. I prefer the microwave method, but you can certainly melt the chocolate over a pot of simmering water.
While the melted chocolate is cooling, in a mixing bowl you'll have to beat the eggs with sugar until almost tripled in volume. That my friends is the secret to the best, fudgiest brownies. The more you beat the eggs, the more air is incorporated the richer the brownies. For this recipe I beat the eggs with the sugar for 10 minutes on a low to medium speed.
Another secret to fudgy brownies is the amount of flour used. If you use more flour, your brownies will have a cake like texture. If you use less flour, they will turn out rich and chewy. This time I skipped the flour and used 3/4 cup hazelnut meal. The hazelnut meal give these brownies a nutty flavor. If you don't have store-bought hazelnut meal (I prefer Bob's red Mill), you can make your own from raw hazelnuts pulsed in a food processor until finely chopped.
And since there's always room for more chocolate, I added 1/2 cup of semi-sweet chocolate chips to the brownie batter.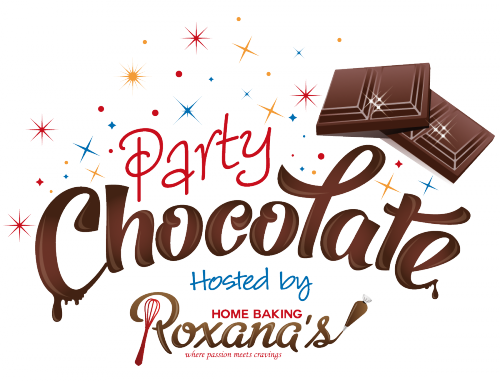 Speaking of chocolate, it's time for another chocolate party!
New to the chocolate party? Welcome! Happy to have you here. I hope you'll join us. Here's how
Each month I, along with some wonderful and very talented blogger friends, decide upon a secret ingredient to use in our chocolate sweets.
Our recipes will be shared on the first Monday of each month and you can add your own recipes until the end of the month when the party is over and a new one is opened. You can submit up to 3 recipes each month.
To make sure everyone is having fun, there are a few rules you'll have to follow.
1.) Blog about your chocolate treat. Your recipe must include the two ingredients we choose. It can be a simple no-bake treat or a sophisticated layer cake, the complexity level of the recipe is totally up to you.

2.) Include a link back to a monthly round-up or the Chocolate party page.  Optional, add the Chocolate Party logo in your blog post or on your sidebar.

3.) Your recipe must be published during the current month. Please do not link old recipes.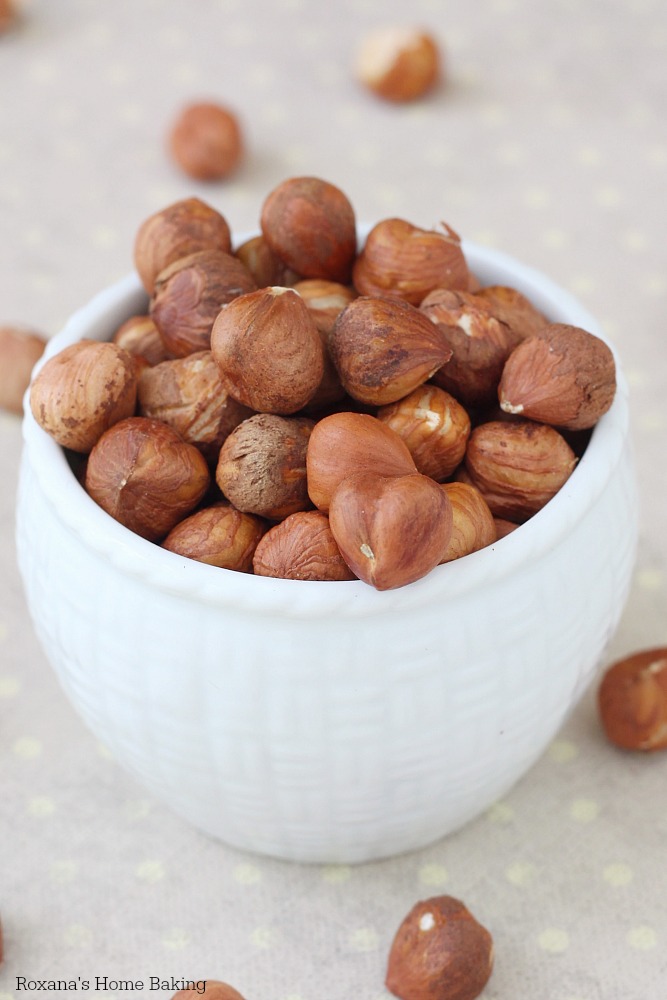 This month we're pairing chocolate with hazelnuts. Use them whole, chopped or ground. Cookies, brownies cake or bars, show us what you got!
If you're looking for some inspiration, check out the amazing treats my wonderful hosts have made for you today
Scroll to the bottom of this page for more ideas and link your own recipe.
The best flourless hazelnut chocolate chip brownies recipe
---
Yields 16 bars
So rich and fudgy, these hazelnut chocolate chip brownies have an intensely chocolate interior and cracked tops. One bite and you'll fall in love with these flourless brownies over and over again.
15 minPrep Time
45 minCook Time
2 hrTotal Time
Ingredients
7 oz (200 grams) chocolate chips ( a mixture of unsweetened and semi-sweet chocolate chips)
3/4 cup (170 grams) butter, roughly chopped
4 eggs
1 cup (200 grams) sugar
1 teaspoon vanilla extract
3/4 cup (84 grams) hazelnut meal
1/2 cup semi-sweet chocolate chips
Instructions
In a heatproof bowl, add the butter and 7 oz chocolate chips. Microwave for 1 minute and stir to combine. Continue to microwave, stopping every 15 seconds until the chocolate and butter are combined, smooth and silky.
Set aside to cool slightly.
Heat the oven to 350F. Line a 9X9" baking pan with parchment paper.
In a mixing bow, add the eggs and the sugar. With the paddle attachment on, beat on low to medium speed for 8 to 10 minutes until the mixture is thick, pale and almost tripled in volume.
Pour in the melted chocolate and vanilla extract.
With a spatula, gently fold in the hazelnut meal and the remaining 1/2 cup chocolate chips.
Pour the batter into the prepared pan and bake in preheated over for 40 to 45 minutes.
Remove from the oven and let cool completely before cutting into bars.
7.6.8
548
http://atreatsaffair.com/best-flourless-hazelnut-chocolate-chip-brownies-recipe/
Roxana Yawgel http://atreatsaffair.com/ All images and content are copyright protected. Please do not use my images without prior permission. If you want to republish this recipe, please re-write the recipe in your own words, or simply link back to this post for the recipe. Thank you.