1 hour to make and bake, these chocolate cheesecake bars have chocolate goodness in every bite. Make them ahead, refrigerate and cut into bars when needed.
2014 will go down in history as not-my-lucky year.
It actually started just before the winter holidays. One morning one of my stove burners stopped working. After 5 minutes of panic, I slowly realized I still had 3 other working burners so I did not worry much after that. Until february when 2 other burners stopped working as well. Only one burner left. What at first seemed to be an easy fix turned into a nightmare. Since I don't have a vent above my store and no way to install one, I had to find a downdraft stove that fit perfectly in my already cut countertop. Weeks later found the perfect-fit GE stove. It may not be my 1st choice, but for the price, it better last me a few years!
I was in my happy kitchen again until the beginning of this month when my dishwasher dies on me. A quick trip to Lowe's and a brand new KitchenAid dishwasher was installed.
To make things more complicated, over the weekend my dryer made a load noise and that was the end of it. We just ordered a brand new washer and dryer yesterday. Can't wait to have them delivered next week!
And I don't even want to count how many times we've been sick this year.
When life throws me down so many time in less than half a year, there's just one thing left to do. Make chocolate cheesecake. And not just any chocolate cheesecake, but a chocolate crust topped with creamy cocoa cheesecake and topped with chocolate ganache and lots of chocolate shavings.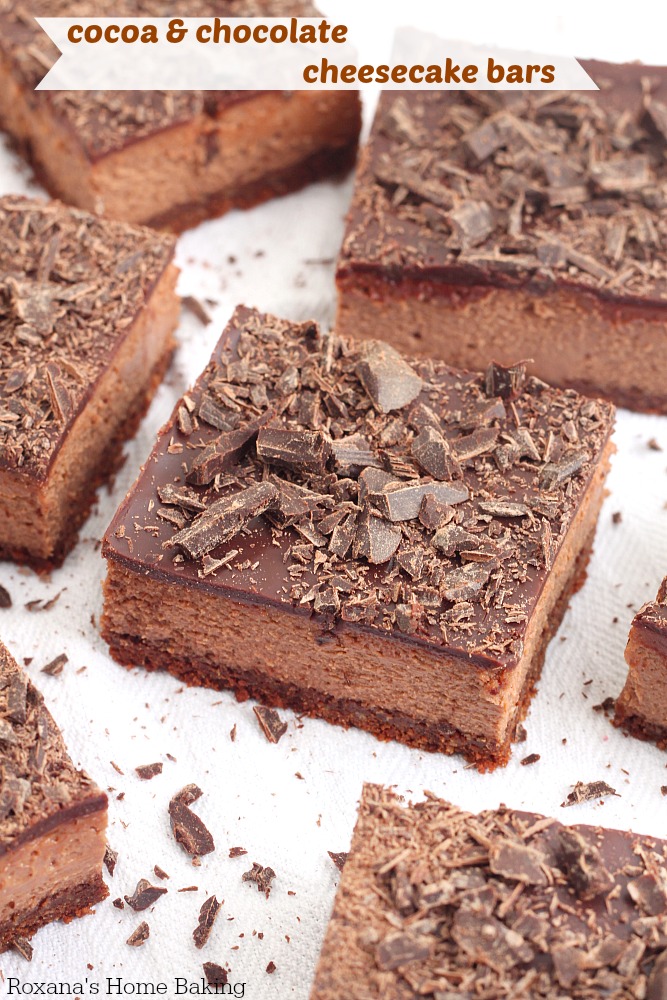 Just by looking at these chocolate cheesecake bars you'd think it takes forever to make it. Actually it's about 10 minutes of prep time. Yes! Just 10 minutes!
The crust is made of nilla wafers,  cocoa powder sugar and butter. If you do not have a nilla wafers you can use graham crackers.
For the cocoa cheesecake, you'll need cream cheese,  sugar, eggs, sour cream and of course cocoa powder. The chocolate ganache is a mixture of chocolate and heavy cream.
Ingredients I'm sure you already have in your kitchen/pantry.
This is actually the first time I use cocoa powder in a cheesecake. I've made chocolate cheesecake before but I used melted chocolate. I was actually intrigued when I found the recipe in Hershey's chocolate cookbook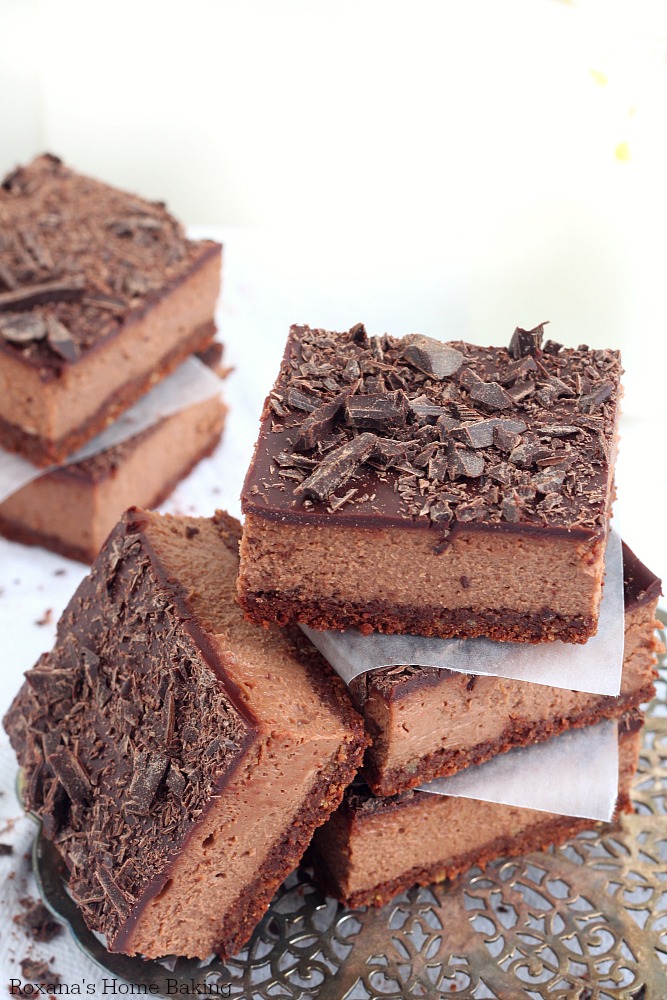 The recipe in the Hershey's cookbook was baked in a 9″ round pan but I find it easier to make bars. It takes less time to bake and almost never I had cracks in cheesecake when baked in a rectangle pan. Don't ask me why, I have absolutely no idea.
Anyhow, if you prefer  to bake the cheesecake in a round pan, you can certainly do so. You just have to keep in mind the cheesecake needs to be baked longer, maybe 55 to 1 hour.
Cocoa chocolate cheesecake bars recipe
---
Yields 16 bars
1 hour to make and bake, these chocolate cheesecake bars have chocolate goodness in every bite. Make them a day or two ahead and cut into bars when needed.
10 minPrep Time
40 minCook Time
5 hrTotal Time
Ingredients
Crust

1 1/4 cups vanilla wafer crumbs (about 40 wafers, crushed)
1/4 cup sugar
1/3 cup HERSHEY'S Cocoa
6 tablespoons butter, melted

Cheesecake

3 packages (8 oz. each) cream cheese, softened
1 1/4 cups sugar
1 container (8 oz.) sour cream
2 teaspoons vanilla extract
1/2 cup HERSHEY'S Cocoa
3 eggs

Ganache

1/2 cup HERSHEY'S Semi-Sweet Chocolate Chips
3 tablespoons heavy cream

Chocolate shavings (optional)
Instructions
Heat oven to 325°F. Line a 13X9" baking pan with parchment paper.
Stir together crumbs, sugar and cocoa in medium bowl. Add butter; stir until well blended. Press mixture firmly onto bottom of the prepared baking pan.
Set aside while making the filling.
In a mixing bowl, add the cream cheese and sugar.
With the paddle attachment on, beat on low speed until light and fluffy.
Add sour cream and vanilla; beat until blended.
Stir in the cocoa powder.
Add eggs, one at a time, beating well after each addition well.
Pour over the crust.
Bake in preheated oven for 40 minutes.
Turn the oven off, open the door and let the cheesecake cool for few hours in the warm oven.
Once the cheesecake is completely cooled, make the ganache.
In a heatproof bowl, add the chocolate chips and heavy cream. Microwave for 1 minutes and stir to combine.
Pour over the cheesecake. Decorate with chocolate shavings.
Refrigerate for a couple of hours before cutting into bars.
7.6.8
543
http://atreatsaffair.com/cocoa-chocolate-cheesecake-bars-recipe/
Roxana Yawgel http://atreatsaffair.com/ All images and content are copyright protected. Please do not use my images without prior permission. If you want to republish this recipe, please re-write the recipe in your own words, or simply link back to this post for the recipe. Thank you.
Happy baking,
Roxana