A simple, yet delicious quick bread packed with dried fruit and bursting with coconut flavor. Make this dried fruit bread as a holiday gift for friends or family, or simply enjoy some with a hot cup of coffee.
Thanks to GO Veggie! and Kitchen PLAY for helping me share this recipe and a fun giveaway with you.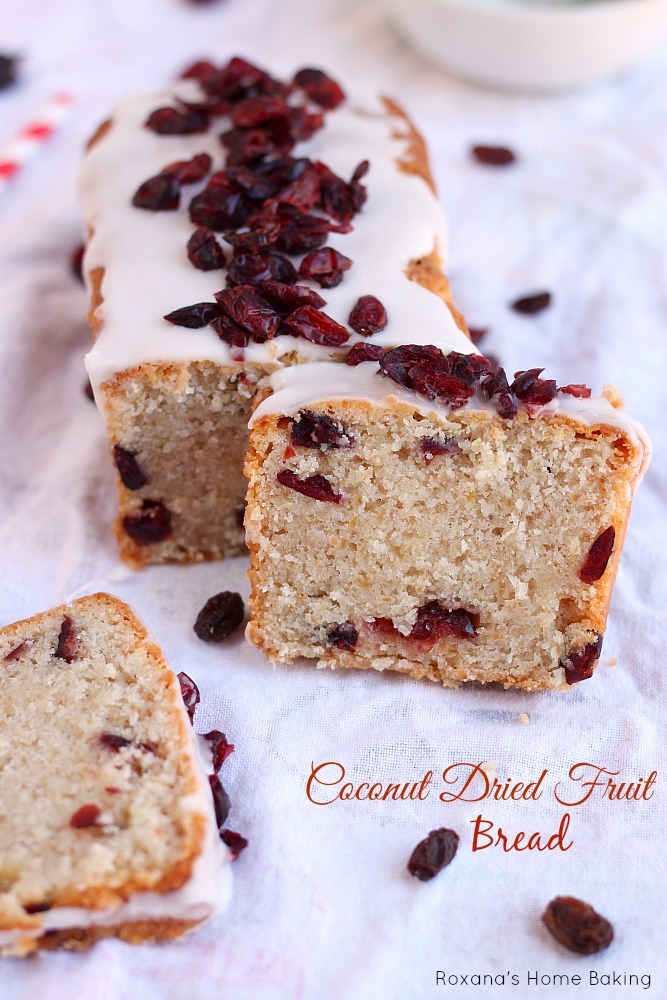 Holiday season is by far my favorite time of the year. It's not for the gifts. It's the smell. The joy on people's faces. The music. The lights. Everything. Maybe it's just me. Or maybe it's magic!
It's the time of the year when everyone is taking a little time to find that perfect gift for loved ones.
It's the time of the year when homemade gifts bring so much joy. I love the smile on my friends' faces when I show up at their door with a basket filled with homemade goodies.
It's time to spread the holiday cheer!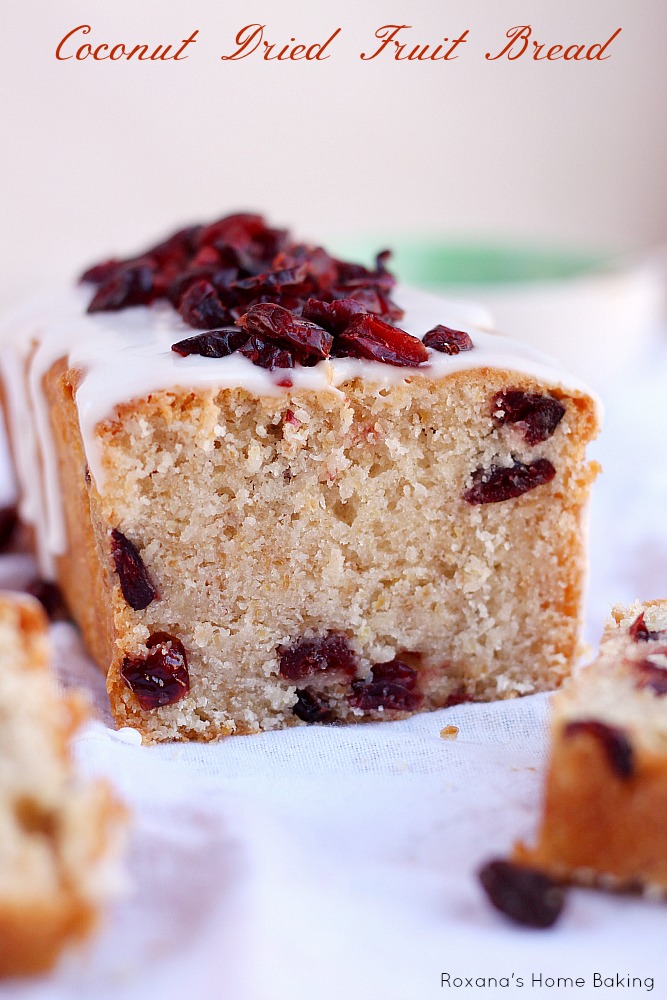 This year, I'm going to show up at few of my friends' doors with a loaf of this coconut dried fruit bread. It's loaded with dried cranberries, chopped dried cherries and dried blueberries and bursting with coconut flavor from the coconut oil and shredded coconut.
Just like other quick breads, it's fairy easy to make. All you need to do is mix all the ingredients and bake it. It literally takes less than 10 minutes of prep time.
Aside from being quick and easy to make, this bread has a twist. It's vegan! It contains no eggs or dairy. You know what that means, right? No unnecessary fats! Thanks to the GO Veggie!™ Dairy Free, Vegan Classic Plain Cream Cheese Alternative added to the batter, this bread is moist and tender – you won't even know it's vegan!
I have to say, creating a vegan quick bread was not as easy as I thought, but have no fear. After few attempts, I have the perfect vegan dried fruit bread for you to enjoy or to give to your friends with special diets. This recipe is tested with GO Veggie! Classic Plain Cream Cheese Alternative and uses flax meal combined with water as a binder. I have tried this recipe with both applesauce and mashed banana instead of the flax egg, and the results were not as good. The bread can also be made with fresh chopped cranberries if that's what you prefer.
Have you tried the GO Veggie! Dairy Free, Vegan Cream Cheese before? Its cream cheese alternative comes in three flavors: Classic Plain, Chive & Garlic, and Strawberry. As much as I loved using the classic plain flavor in this quick bread recipe, I loved the strawberry flavor spread on a slice of toast in the morning. Can't wait to spread some of the chive & garlic on crackers!
Inspired to create a great recipe with GO Veggie! Dairy Free, Vegan Cream Cheeses? Visit their Facebook Page and upload your original recipe. Submit a recipe and receive an embroidered GO Veggie! apron, and GO Veggie! will also donate $10 to one pre-selected charity partner of your choosing.
If you haven't tried GO Veggie! before, here's your chance! GO Veggie! is offering one lucky reader the chance to win GO Veggie! coupons, an apron, a water bottle and a $50 Bed, Bath & Beyond gift card.
Please use the Promo Simple widget below to enter the giveaway.
[mpprecipe-recipe:485]
Sending love your way,
Roxana