Forget the heavy traditional fruit cake. This year impress your friends and family with this light no-bake Christmas fruit cake.
Thanks to Whole Foods Market and Kitchen PLAY for sponsoring this post.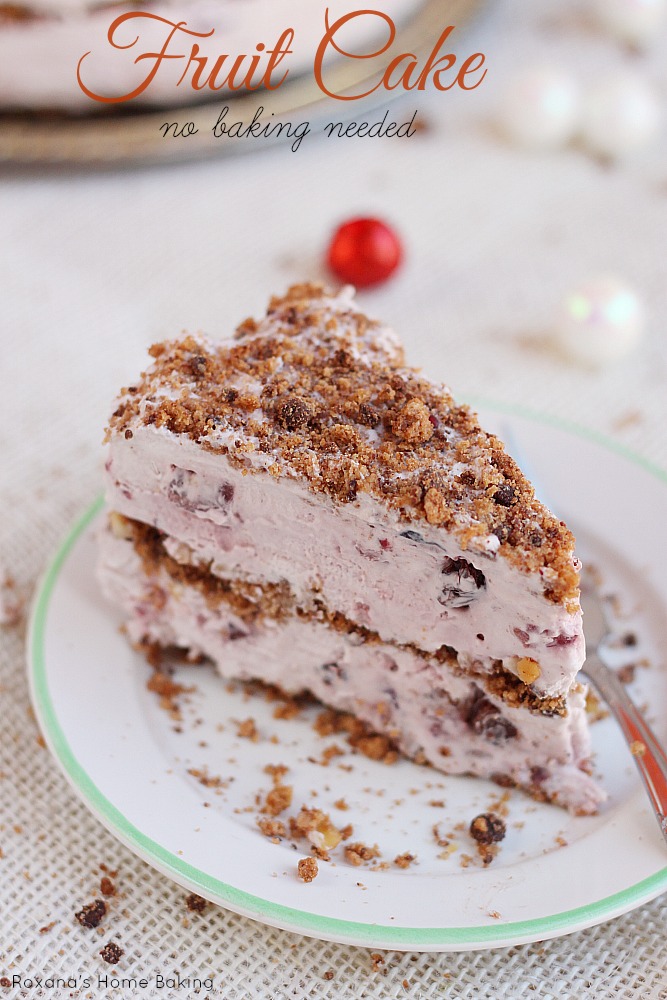 Christmas is by far my favorite time of the year. Ever since I was a little girl I helped my mom organize the Christmas dinner party. My favorite thing to do was decorate the Christmas cake. My mom used to make a few desserts for Christmas. Every year she would change the menu but a few things always stayed the same. A chocolate cake, roll cake and her famous Christmas layer cake. Now, being thousands of miles away from my mom, I need to make my own family Christmas tradition. Blend some of my own heritage, stir in some American touches and we're set.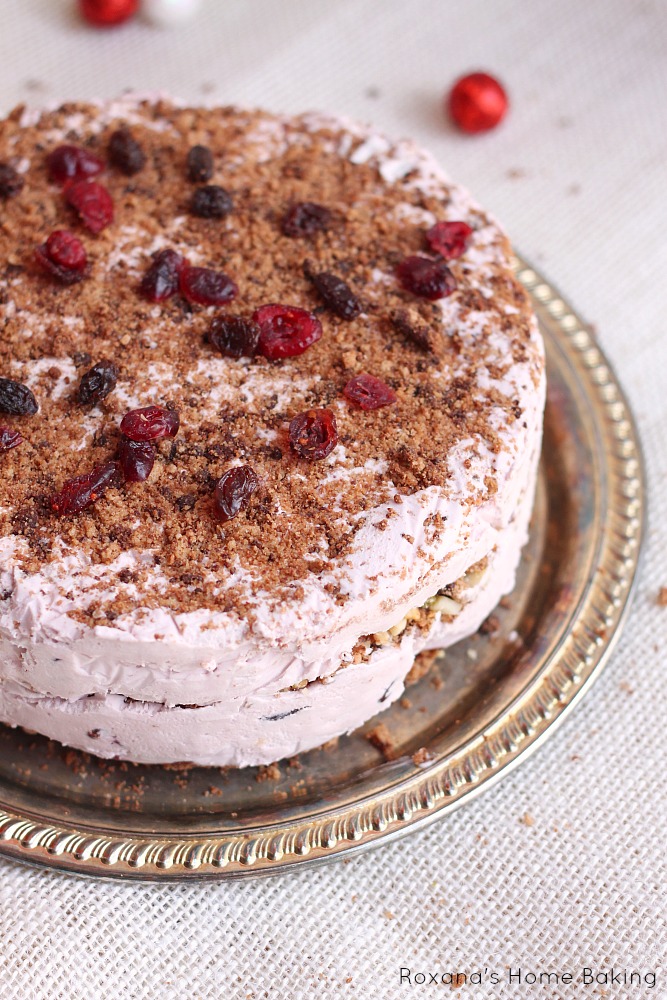 For the past couple of years I have tried different recipes for the classic fruitcake. Some were OK, some were terrible. I was still looking for the one!
That is, until a couple of weeks ago when it hit me! I don't have to make a heavy, booze flavored fruit cake when I can keep the basics and make one I know my family will enjoy. For my no-bake Christmas fruitcake I kept the dried fruit, the nuts and the spirits. I prefer to soak my fruit in wine, but you can also use a brandy or liquor of your choice. If you're planning on sharing the cake with the little ones, please soak the fruit in 100% juice of your choice.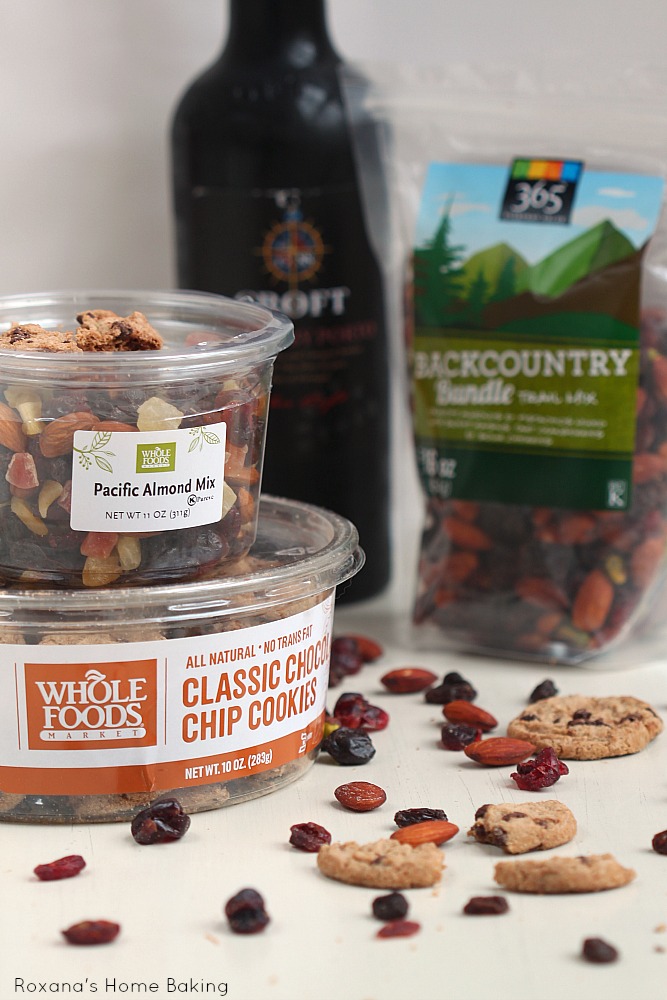 For this cake I used Pacific almond mix and Backcountry Bundle from Whole Foods Market. I prefer the pacific almond mix since it offers a variety of dried fruit but at the same time I love Backcountry Bundle since it has plenty of dried cranberries, just perfect for the touch of color in this cake.
While you're at Whole Foods Market, grab a container of classic chocolate chip cookies too. And a bottle of Port wine or whatever spirit you prefer.
You'll also need some heavy cream and powdered sugar.
That's all! Just 6 ingredients needed!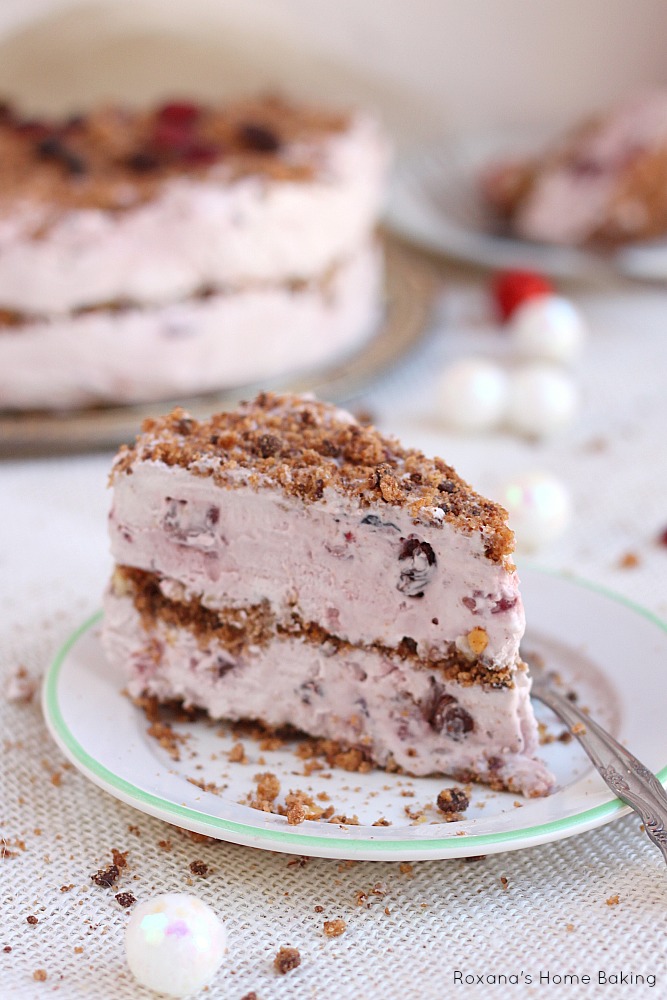 This year Whole Foods Market is helping you celebrate the holidays, with hundreds of products made to help you get through the season without stressing too much. For instance, these bags of pre-chopped dried fruit helped me put this cake together is no time.
Since this cake doesn't require any baking, the crumbled store-bought chocolate chip cookies substituted for the cake layer offering not only support for the creamy layers but also adding some crunchy texture.  For a spicy touch I added a pinch of ground ginger to the heavy cream. You can leave it out or use a spice of your choice.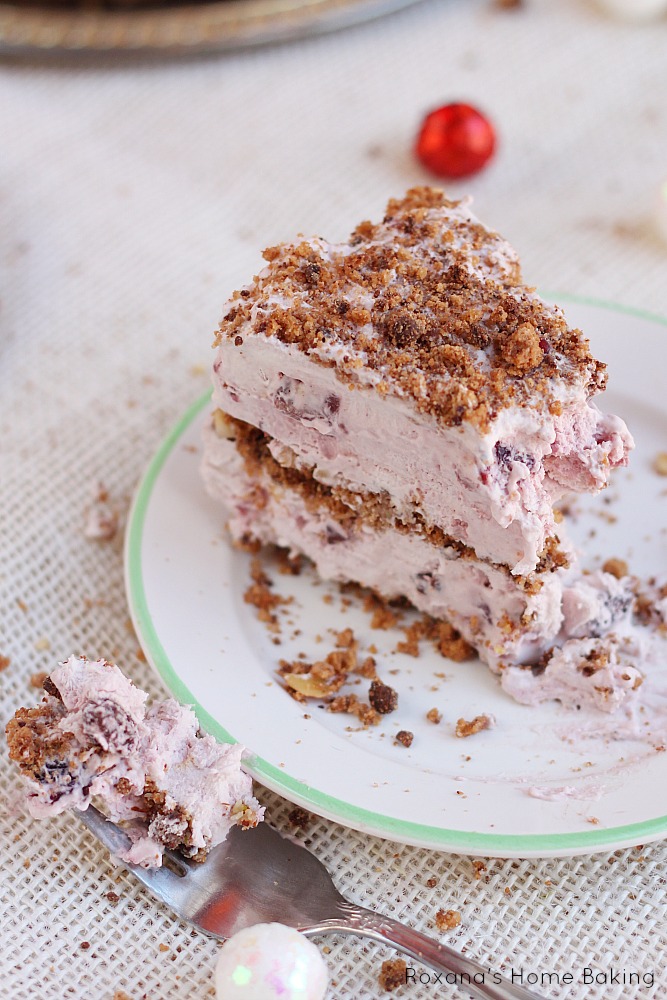 Would you like to win a $50 Gift card from Whole Foods Market? I knew you'd say yes!
It's pretty simple. Join me and a handful or food bloggers for a Twitter Party on December 10th at 7pm EST. Follow the #wfmholiday hashtag.
Our goal is to help make your holiday meal-planning a snap thanks to Whole Foods Market "Buy Some, Make Some," holiday program. From crowd-pleasing appetizers to delicious dessert shortcuts, we'll show you how Whole Foods Market can help simplify your menu planning and help you create delicious holiday memories!
We'll talk about those new recipes, along with tips for making your holiday cooking stress-free with Whole Foods Market products. There's also going to be a treasure hunt to win one of ten amazing Whole Foods Market gift cards valued at $50 each.
[mpprecipe-recipe:503]
Love,
Roxana