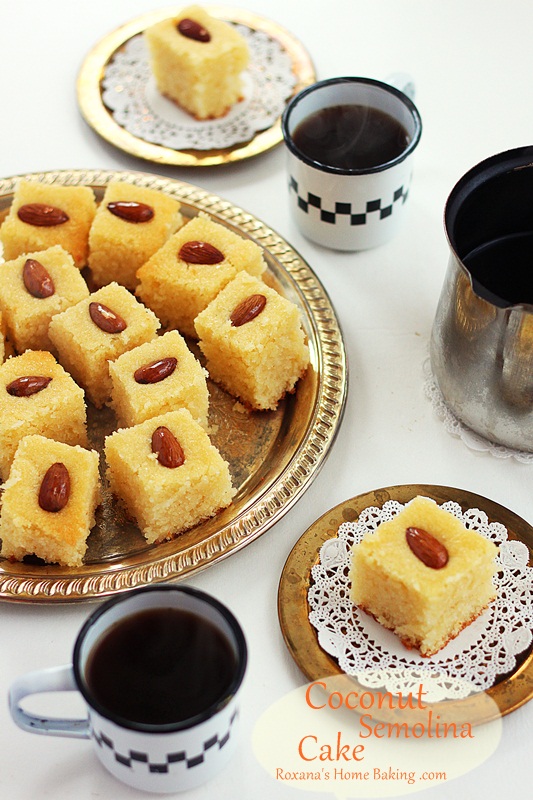 Today we're going on a trip.
Usually I tell you what's going on in my neck of the woods and around it, but today we're going to Middle Eastern. Do you wanna know why? Of course you do!
My friend Faith Gorsky from An Edible Mosaic just had her first cookbook released: An Edible Mosaic: Middle Eastern Fare with Extraordinary Flair. I'm excited to be participating in her virtual book launch party and sharing a recipe from the book! She's also having an amazing giveaway priced at $1300!!!!
The book has over 100 Middle Eastern recipes, with a focus mainly on dishes from the Levant, but also a few recipes from other areas of the Middle East. Faith spent six months living in the Middle East, where she fell in love with the culture and cuisine. Recipes in her book are authentic Middle Eastern (taught to Faith mostly by her mother-in-law, Sahar), but streamlined just a bit for the way we cook today, with unique ingredients demystified and cooking techniques anyone can follow. If you didn't grow up eating Middle Eastern food, it can be a difficult art to master; Faith understands that, and explains complicated dishes in an approachable, easy-to-follow way. The book is available to order on Amazon and Barnes & Noble!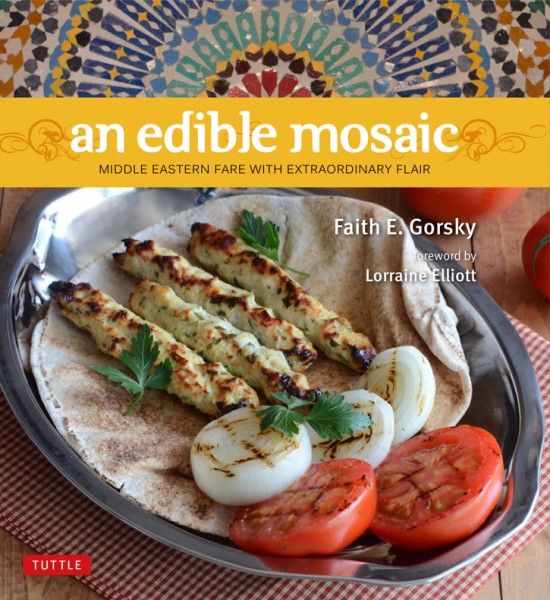 I was so happy when Faith asked me to bake something from her book.
I grew up in a country with Middle Eastern influences so many of the dishes found there I'm somehow familiar with.
For example this semolina coconut cake. I had no idea it's also called Harissa until I saw the title and read the entire recipe in Faith's cookbook. The Romanian version is still a semolina cake but kinda different. Maybe one day I'll call my mom to tell me the recipe.
I adapted Faith recipe just a wee bit. I've only made one batch of syrup because I knew it will be way too sweet (even for my sweet tooth, ironic, right?) and instead of baking it in a round pan I used an 11X7 rectangle pan (even tho I had a hard time scoring the diamonds)
Semolina flour gives this cake a yellow-ish color. Once you start mixing the ingredients you'll notice the batter is somehow lumpy, I kinda panicked for a second or two but then, as you let it sit in the pan the semolina absorbs the milk and it starts to resemble  more of a cake, with a texture similar with the cornbread. But sweet.
You can go ahead and make two batches of syrup if you prefer, but I think using just one batch was sweet enough.
Faith's advice is to brush the sides of the pan with tahini instead of lining with parchment paper but I didn't have any so I used parchment paper.
Semolina Coconut Cake
---
Yields one 11X7 baking pan
Semolina Coconut Cake - a sweet syrup-y Middle Eastern cake, best served with a hot cup of tea in the afternoon
30 minPrep Time
30 minCook Time
3 hr, 21 Total Time
Ingredients
Scented Sugar Syrup

1 cup (200 g) sugar
½ cup (120 ml) water
½ tablespoon fresh lemon juice
½ tablespoon rose water or orange blossom water

Semolina Coconut Cake

2 cups (300 g) fine semolina flour
2 teaspoons baking powder
½ cup (100 g) sugar
½ cup (115 g) unsalted butter, room temperature
1½ cups (360 ml) milk
1 cup (75 g) desiccated, unsweetened coconut
3 tablespoons almonds
Instructions
To make the Syrup

Add the sugar, water and lemon juice to a medium, thick-bottomed saucepan, and bring to a boil over medium heat, giving the pan an occasional swirl and skimming off any foam on the surface.
Turn heat down slightly and boil 2 minutes (if you want thin syrup) and up to 5 minutes (if you want thick syrup), swirling the pan occasionally. (The syrup will thicken more upon cooling.)
Turn off heat and stir in the rose water or orange blossom water; cool to room temperature, then use

To make the cake

Preheat oven to 375°F. Line an 11X7 baking pan with parchment paper.Set aside
Whisk together the semolina, baking powder, and sugar in a large bowl. Stir in the butter and then the milk until combined, and then fold in the coconut.
Transfer the batter to the prepared pan and spread it out evenly; let it sit for 10 minutes.
Score the batter into 1-inch (2.5 cm) square or diamond shapes with a sharp knife, periodically dipping the knife in hot water and drying it off before continuing to score the batter; place 1 almond in the center of each diamond.
Bake until the sides and top are golden brown, about 30 minutes. (If the sides are brown but the top isn't, you can broil the cake for a couple minutes to brown the top.)
Once out of the oven, cut the cake along the lines you scored. Slowly pour the cooled syrup onto the hot cake. Let the cake sit at room temperature 2 hours to absorb the syrup before serving.
Notes
Recipe slightly adapted from An Edible Mosaic: Middle Eastern Fare with Extraordinary Flair by Faith Gorsky (Tuttle Publishing; Nov. 2012);
7.6.8
378
http://atreatsaffair.com/semolina-coconut-cake-recipe/
Roxana Yawgel http://atreatsaffair.com/ All images and content are copyright protected. Please do not use my images without prior permission. If you want to republish this recipe, please re-write the recipe in your own words, or simply link back to this post for the recipe. Thank you.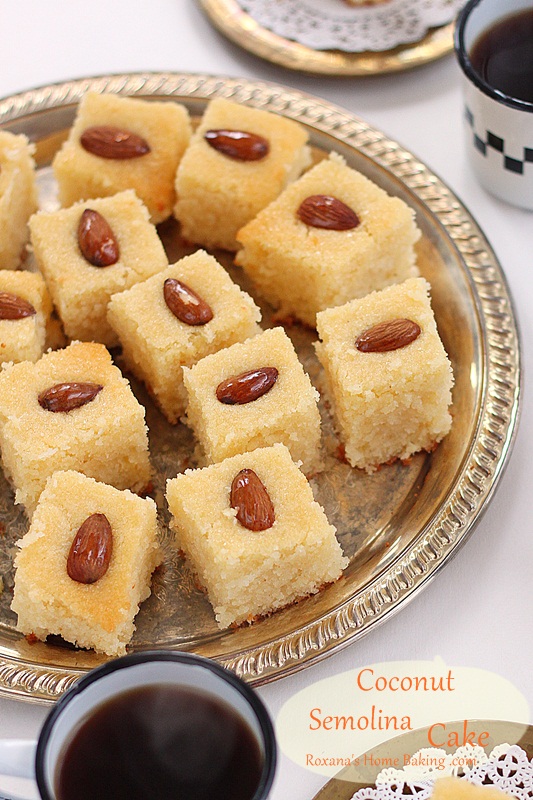 Sending love your way,
Roxana
[ts_fab]