Chocolate cupcakes flavored with Almond Joy coffee creamer and topped with silky smooth coconut frosting and a Raffaello Almond Coconut candy.
Chocolate and Valentine's day do hand in hand. They are just meant to stick together. Like peanut butter and jelly or Christmas and Santa.
Of course when it comes to chocolate there are so many combos that do so well together one can never have enough. Like chocolate and coconut. It's one of my favorite combos.
When I was living in Romania one of my favorite candy bars was Bounty. It's the European version of Almond Joy minus the almond on top.
I've tried a couple of chocolate and coconut sweets : cookies, bars and even attempted to make my own bounty bars but nothing says "I love you" on Valentine's day like a cake, or the baby version of it, a cupcake.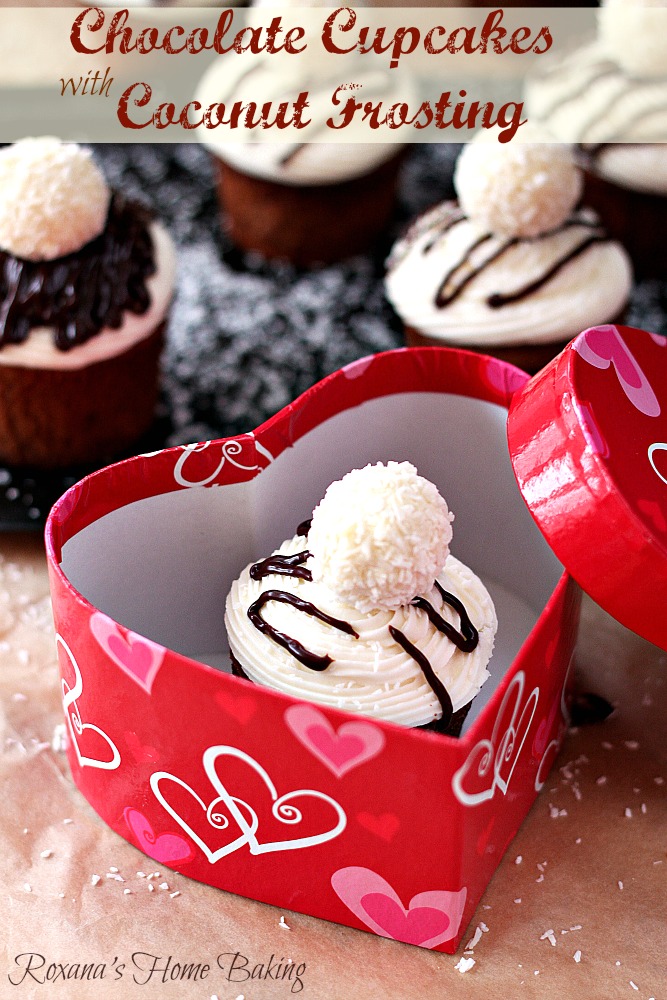 I've made these cupcakes few days ago and although I wasn't planning on sharing them with you, they turned out so good I have to!
The chocolate cupcake is moist, chocolate-y with a nutty flavor from the almond-joy creamer I used as liquid.
The frosting is smooth and creamy with just a touch of coconut from the creamer and coconut extract.
To make the cupcake even irresistible I drizzled some shredded coconut and melted chocolate on top and took the cupcake to a whole new level with a raffaello candy.
These cupcakes are everything you want in a chocolate-coconut cupcake. Sweet, moist, chocolate-y, coconut-y perfect for your Valentine.

Chocolate cupcakes with coconut frosting
Sweet, moist, chocolate-y chocolate cupcakes with smooth creamy coconut frosting
Ingredients
Chocolate Cupcakes

1/2 cup (113 grams) room temperature butter
2/3 cup (140 grams) sugar
2 eggs
2/3 cup International Delight almond joy creamer
1/2 tsp baking powder
1 cup (120 grams) all purpose flour
1/4 cup unsweetened cocoa powder
pinch of salt

Coconut Frosting

3 tbsp room temperature butter
4 tbsp room temperature cream cheese
2 tbsp International Delight almond joy creamer
1/2 tsp coconut extract
2 – 2 1/2 cups powder sugar
Shredded coconut
1 tbsp melted chocolate
10 Raffaello candy
Instructions
Preheat the oven to 350F. Line 10 cupcakes pan with paper liners. Set aside.
In a mixing bowl cream the butter and sugar until light and fluffy. Add the eggs, one at a time mixing well after each addition.
In a separate bowl sift together the flour, baking powder, salt and cocoa powder. Add to the creamed mixture alternately with the almond joy creamer.
Mix well until combine, but do not overmix, or your cupcakes will turn out dry.
Spoon the batter into the prepared pan and bake for 20-22 minutes or until a toothpick inserted in the middle comes out clean.
Take the cupcakes out of the oven, leave to cool in the pan for 5 minutes before removing.
Cool completely on wire racks before frosting.
To make the frosting, place the butter, cream cheese, creamer and extract in a mixing bowl. Whip on low speed until light and fluffy.
Switch to the paddle attachment and add the sugar, 1/2 cup at a time mixing well after each addition.
When 2 cups of sugar are added, slowly add a little more until you reached the desired consistency.
Spoon the frosting into a piping bag and decorate the cupcakes.
Sprinkle some shredded coconut and melted chocolate and place a raffaello candy on top.
Enjoy!
http://atreatsaffair.com/chocolate-cupcakes-with-coconut-frosting-recipe-2/
© Roxana's Home Baking, All Rights Reserved