Your family will be jumping with joy after having one of these soft, fluffy and buttery pumpkin cinnamon rolls! Ribbons of cinnamon, lots of pumpkin flavor and a sticky caramel icing make these rolls totally irresistible!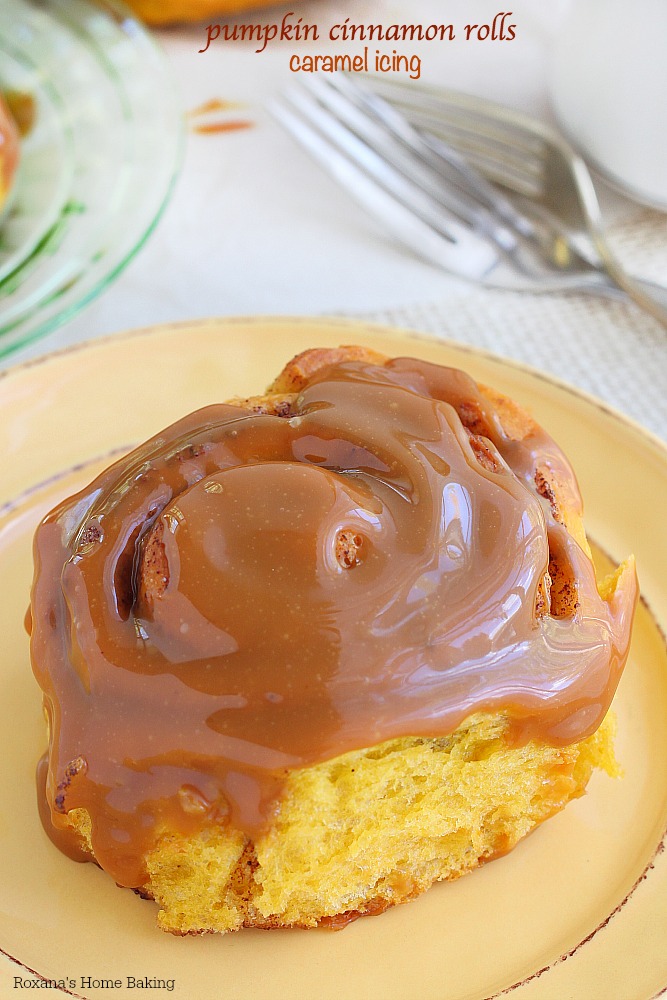 As a mom (and as a food blogger) one of my biggest "job" requirements is to make sure my family is well fed every day. That may have something to do with my childhood. As some of you know I was not born in the US but in a small eastern Europe country and the first 10 years of my life we were under communism.
I'm not going to talk politics right now, but talk about my family's struggles with food. I remember nights when one of my parents (mostly my dad) had to wake up at 2-3 am, head to the grocery store and wait in line until morning hoping there will be enough milk and bread to buy some for us. I remember Christmas day, the only day of the year we would get oranges and candies. The only fresh fruit we knew of were the cherries, quinces and plums coming from the trees my grandma had in her backyard.
We were lucky my mom worked at a slaughter-house and most of the times she brought home some sort of meat to cook dinner for us.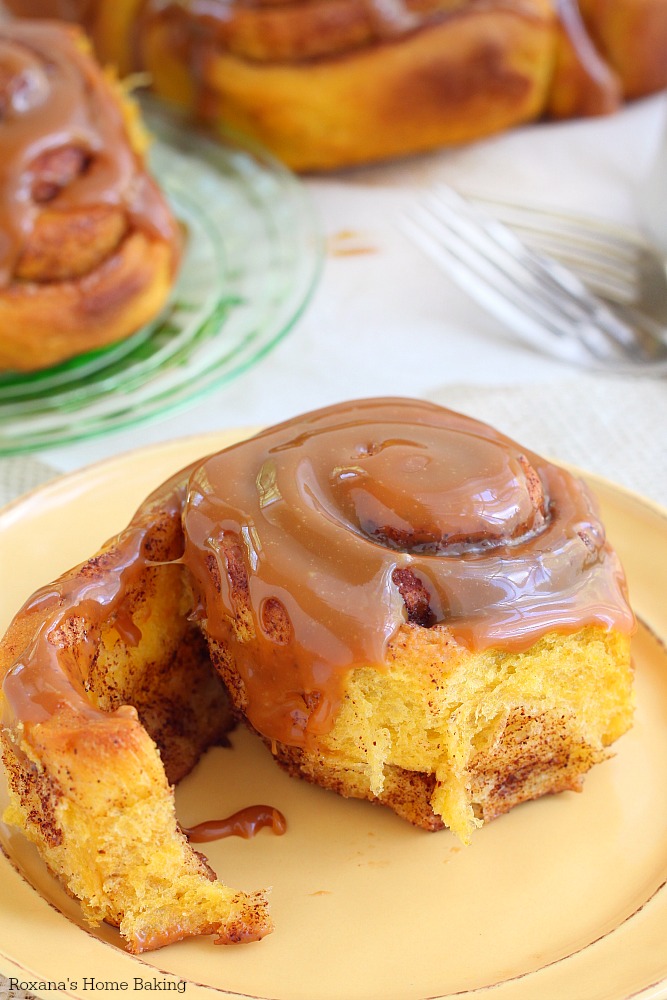 Some may say it's easy to forget all those times when we went to bed with our tummies half full but these memories make me appreciate what I have now even more. Although now I do not have to worry when is going to be my next meal I'm aware there are still people in Romania, here in US and all over the world who struggle with hunger every day. In fact, one in every eight people on earth goes to bed hungry each night and nearly one billion people worldwide suffer from chronic hunger! (that's 3 times the population of US or 50 times the population of Romania!!!)
If that does not scare you, maybe knowing that every 10 seconds a child dies because they are severely underweight or lack essential nutrients will.
Knowing all this info, I've partnered with Red Star Yeast (and you should join us as well) to help Stop Hunger Now.

Stop Hunger Now is an international hunger relief organization serving the world's most vulnerable by creating a global commitment to mobilize the necessary resources to create long-term, sustainable change. By partnering with nonprofits around the globe, Stop Hunger Now provides its beneficiaries with basic needs and much needed nutrition, but also the opportunity to break the cycle of poverty through education, skills development and health care. Stop Hunger Now distinguishes itself from other aid/relief organizations with a focus on engaging volunteers in a hands-on activity to produce meals that are used strategically to support development programs, while at the same time fostering the growth of a movement to end hunger by educating those volunteers about the need and giving them an opportunity to take action.
Stop Hunger Now meals contain 23 essential vitamins and minerals, each feeds 6 people.
In 2013, roughly 125,000 volunteers worldwide packaged more than 42 million meals for recipients in 30 countries.
In 2013, Stop Hunger Now sent more than $9 million worth of donated goods (including antibiotics, birthing kits, water filters, school desks, projectors, fabric and solar lights)
Poor nutrition causes nearly half (45%) of deaths in children under five – 3.1 million children each year.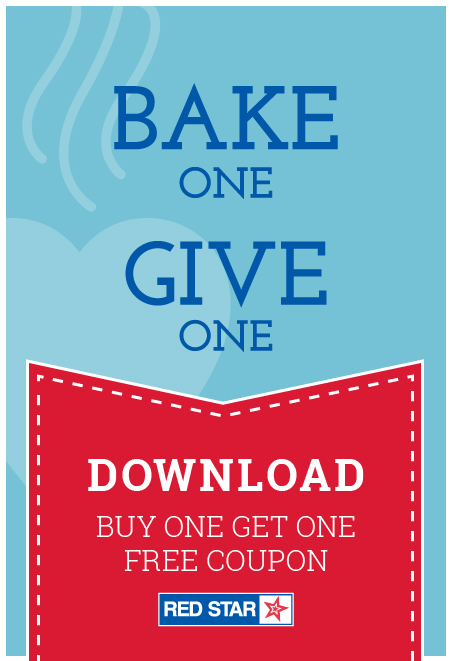 A portion of the proceeds from Red Star Yeast purchases will go toward providing meals and life saving aid to children and families in need across the globe through Stop Hunger Now. The goal is to provide over 200,000 meals annually.
Would you like to win one Red Star Yeast baking basket values at $90? Enter the giveaway below!
The giveaway is provided by Red Star Yeast and is open to US and Canada. The winner will be notified via email and has 48 hours to claim it before another winner is chosen at random.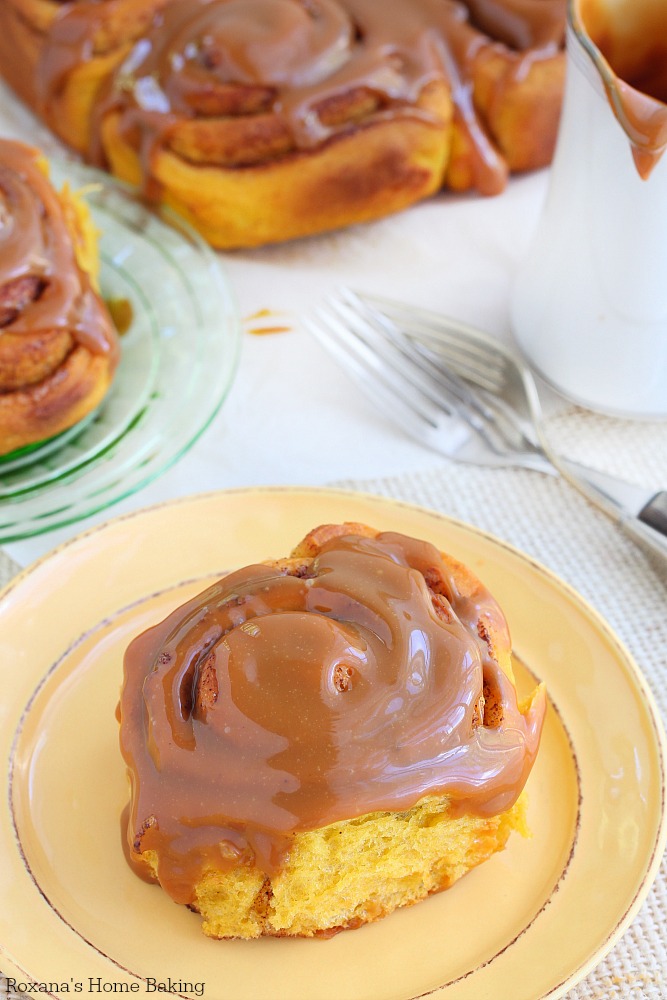 For this campaign I've made these irresistible pumpkin cinnamon rolls with caramel icing.
Do not be scared of baking with yeast! It's was easier than you think. And if you follow these tips on baking with yeast and read the recipe carefully before you start, in no time you and your family will be enjoying these buttery rolls!
Pumpkin cinnamon rolls with caramel icing recipe
---
Yields 16 rolls
Your family will be jumping with joy after having one of these soft, fluffy and buttery pumpkin cinnamon rolls! Ribbons of cinnamon, lots of pumpkin flavor and a sticky caramel icing make these rolls totally irresistible!
30 minPrep Time
45 minCook Time
3 hr, 30 Total Time
Ingredients
Pumpkin rolls

4 cups bread flour
3/4 cup lukewarm milk
1 envelope active dry Red Start yeast
1 tablespoon white granulated sugar
6 tablespoon butter, melted and cooled
1 cup (8 oz) pumpkin puree
1/4 cup white granulated sugar
1 teaspoon pumpkin pie spices
1/2 teaspoon salt
1/4 to 1/2 cup bread flour

Cinnamon filing

1/2 cup white granulated sugar
1-2 tablespoons ground cinnamon
2-3 tablespoons soft butter

Caramel icing

10 oz caramels
1/4 cup heavy cream
Instructions
In a mixing bowl add 4 cups of flour and make a well in the middle.
Pour the milk in and sprinkle the yeast and 1 tablespoon of sugar on top of the milk. Leave for a couple of minutes until the yeast has dissolved and increases in volume.
With the dough hook attachment on, start mixing on low speed adding in the melted butter, pumpkin puree, 1/4 cup sugar, pumpkin pie spices and salt.
Gently, fold in enough flour (1/4 cup to 1/2 cup) until the dough forms an elastic ball and cleans itself from the sides of the bowl.
On low speed, knead the dough for an additional 3 minutes.
Remove the dough from the mixing bowl and place it in a greased bowl. Cover with plastic wrap and leave at room temperature until doubled in volume.
Once the dough is risen, place it in a floured working area and roll it out into a 12X25" rectangle. Spread the soft butter all over the dough.
Sprinkle the sugar and cinnamon over the buttered dough and roll it starting from the wider side. Pinch the ends together to seal.
Cut into 16 rolls.
Arrange the pumpkin rolls into a 13X9" baking pan lined with parchment paper.
Cover the rolls with plastic wrap and let rise for 20 more minutes.
Meanwhile heat the oven to 375F.
Bake the pumpkin rolls for 40 to 45 minutes or until nicely browned.
Remove from the oven and let cool completely on a wire rack.
In a small saucepan, combine the caramel and heavy cream and cook over low heat until the caramel are melted and the mixture is smooth. Pour over the pumpkin rolls.
7.6.8
583
http://atreatsaffair.com/pumpkin-cinnamon-rolls-caramel-icing-recipe/
Roxana Yawgel http://atreatsaffair.com/ All images and content are copyright protected. Please do not use my images without prior permission. If you want to republish this recipe, please re-write the recipe in your own words, or simply link back to this post for the recipe. Thank you.
Happy baking,
Roxana