Rich, fudgy chocolate brownie mixed with gooey caramel cheese and served with caramel ice-cream – this is the ultimate salted caramel chocolate skillet brownie. Sweet and salty, this brownie will satisfy your sweet tooth cravings like no other brownies you've tried before.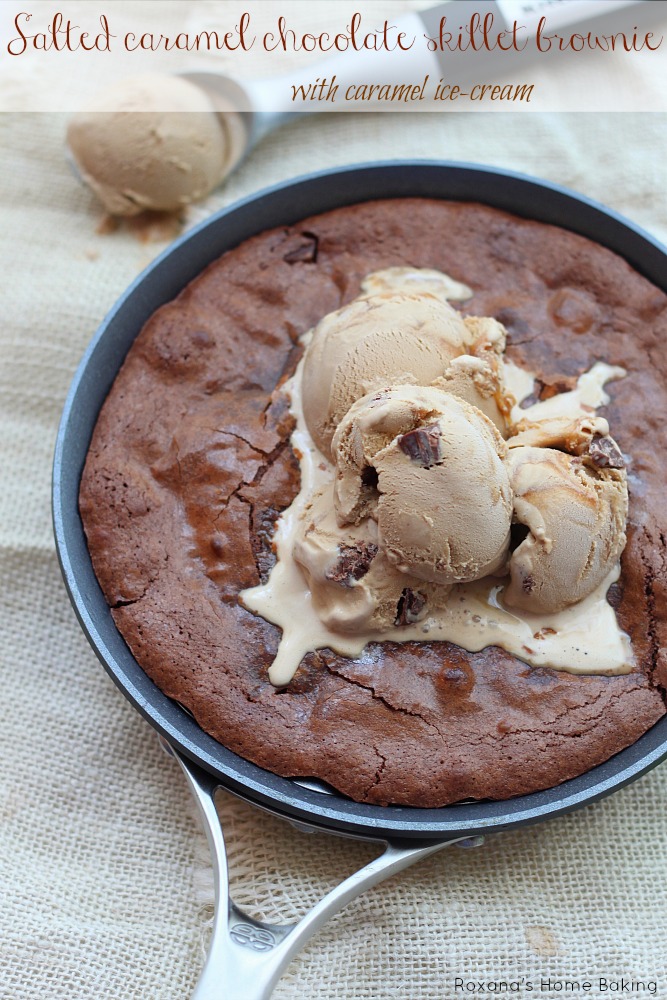 Think outside the cereal box and kill the cliché were two of the many discussion topics this year at Eat Write Retreat, my very first hands-on food blogger conference. A month later the voices of our wonderful speakers are still on my head and will be for a while.
The key speaker, the amazing Monica Bhide, focused on "finding your voice" when writing a blog post. If baking and photography may come a little easier now, after 2 years of blogging, food writing is something I struggle every single day. For me, writing a blog post, on a good day, takes about 2-3 hours, on most days it's it may take up to 10 hours and still not coming up with anything worth publishing. Not to mention I'm so easily distracted.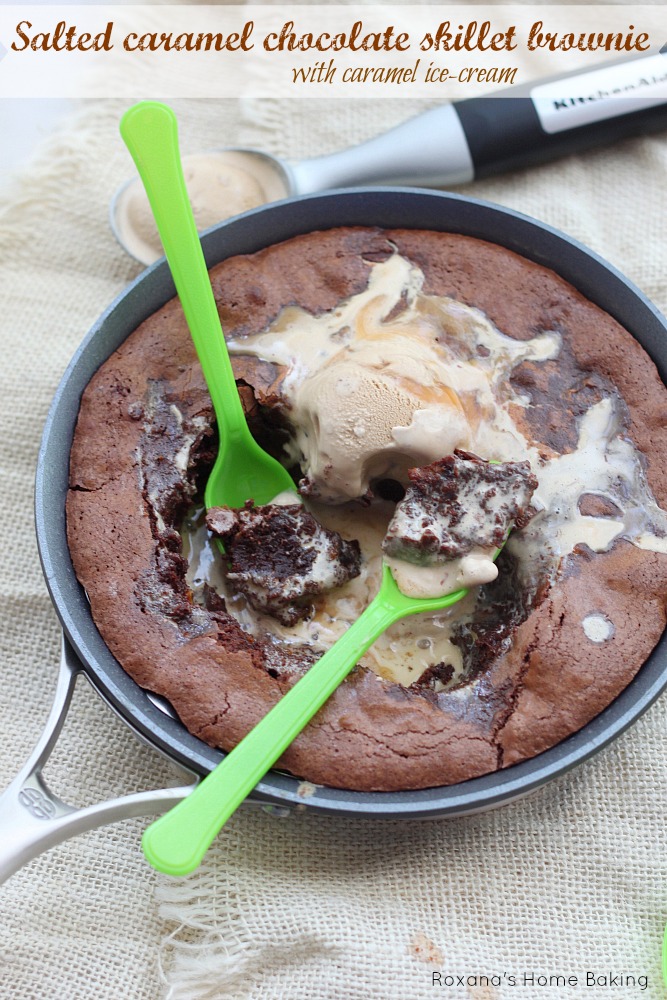 While I'm searching high and low for my voice I figured I do something I'm pretty good at. Rich chocolate desserts. As in a rich fudgy salted caramel chocolate skillet brownie with caramel ice-cream. And not just any kind of skillet brownie, but one that's outside the cereal bowl.
At Eat Write Retreat we all had the opportunity to try food products the generous sponsors brought, such as Jarlsberg cheese and one type of cheese I was not familiar with Gjetost*. Absolutely everyone I talked with raved about this caramel cheese.
If you are like me and haven't heard of Gjetost before, your world is about to change forever! This cheese is nothing like you've ever tasted before. It's more judge than cheese. Think salted caramel fudge. Think salted dulce de leche fudge.
Before I even tried the cheese I knew what I wanted to bake with it. I have a weakness for cheese and paired with chocolate is even better. After all, my absolute chocolate dessert is chocolate cheesecake.
So far I've tried baking with Gjetost twice. The first time I diced it and added it to the brownie batter and, to my surprise, I realized it doesn't melt like a caramel candy. Ooey gooey small pieces of salted deliciousness as shown in the photo below.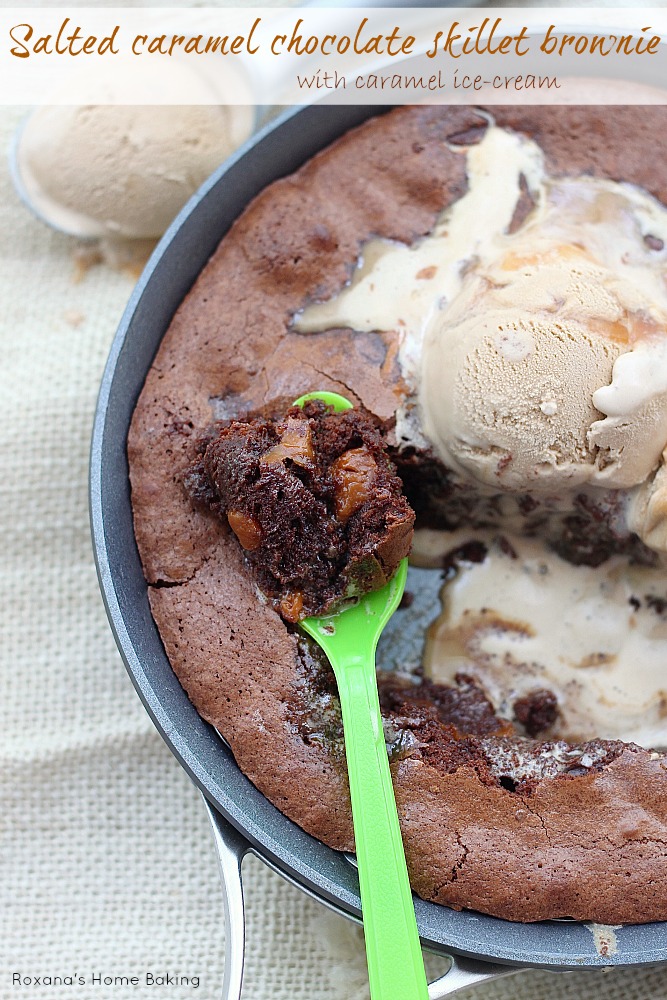 The second time, I melted the cheese before mixing it with other ingredients. The recipe will follow in a couple of weeks, can't tell you much right now.
To stay outside the cereal bowl I opted to bake the brownie in a skillet, not exactly the cast iron skillet most of the recipes call for, but the Calphalon unison nonstick 8″ omelette pan* I received at Eat Write Retreat.
Whoever said an omelette pan is just for eggs was so wrong!
I absolutely love Calphalon products and have been thinking of making a skillet cake for a while now just never got around it until a few weeks ago. Actually this salted caramel chocolate skillet brownie was the first thing I tried in my brand new omelette pan. And no, I still haven't used it for eggs.
* I was not asked to write about any of these products. Opinions are and always will be mine.
Salted caramel chocolate skillet brownie with caramel ice-cream
---
Yields one 8" skillet brownie
Rich, fudgy chocolate brownie mixed with gooey caramel cheese and served with caramel ice-cream – this is the ultimate salted caramel chocolate skillet brownie. Sweet and salty, this brownie will satisfy your sweet tooth cravings like no other brownies you've tried before.
15 minPrep Time
50 minCook Time
2 hrTotal Time
Ingredients
3/4 cup (170 grams) diced butter
6 oz semisweet chocolate, chopped
3/4 cup (150 grams) sugar
2 eggs
2/3 cup (80 grams) all purpose flour
1/4 tsp baking powder
pinch of salt
4 oz diced Gjetost cheese
3-5 scopps of caramel ice-cream
Instructions
In a medium sauce pan combine butter and chocolate, melt over low heat, stirring constantly. Set aside to cool.
Heat the oven to 350F. Butter the 8" Calphalon pan and set aside.
When the chocolate is lukewarm, pour it into a mixing bowl and add the sugar. Stir, on medium speed, for 2-3 minutes and without turning the mixer off add the 2 eggs. Beat well.
Add the flour, baking powder and salt and mix until just combined.
With a spatula fold in the cheese cubes.
Pour the batter into the prepared pan and bake for 50 minutes.
Leave to cool just slightly and top with 3-5 scoops of ice-cream.
Enjoy!
Notes
I haven't baked the brownie in another pan. If you decide to use an 8" square pan or a cast iron pan, the baking time will vary. Take the brownie out of the oven when a toothpick inserted in the middle comes out clean.
7.6.8
466
http://atreatsaffair.com/salted-caramel-chocolate-skillet-brownie-with-caramel-ice-cream-recipe/
Roxana Yawgel http://atreatsaffair.com/ All images and content are copyright protected. Please do not use my images without prior permission. If you want to republish this recipe, please re-write the recipe in your own words, or simply link back to this post for the recipe. Thank you.
Do you know what day is today? It's the first Monday of the month, that means it's time for a new chocolate party!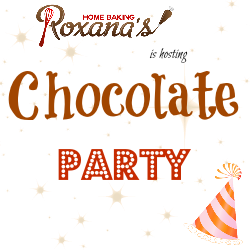 And this month's secret ingredient is …. Drum roll … Ice Cream!!!!! Sundaes, Skillet cake, cookie sandwiches, ice-box cakes – bring them all! The more the merrier!
Chocolate party is a monthly virtual party where everyone is bringing a dessert featuring chocolate and one secret ingredient.
Our recipes will be shared on the first Monday of each month and you can submit your own recipes by the end of the month. You can submit up to 3 recipes each month.
Emily – Chocolate chip cookie ice-cream
Veronica – Affogato
Karen – Dark chocolate soup with cinnamon pound cake croutons
Julie – Cookies and cream ice-cream tart
Liz – Brownie sundae with hot fudge
Cindy – Raspberry chocolate ice cream sandwiches
Pam – Chocolate chip ice cream bread
Denise – Chocolate pudding ice cream pies
Heather – Homemade ice cream bars
Kim – Baked Alaska
Christie – Strawberry and blueberry ice-cream pies
Sara – Dark chocolate donuts with coffee ice-cream
Rebecca – Double malt ice-cream sandwiches
Laura – Chocolate espresso ice-cream pie
Suzanne – Fudge ribboned blackberry & vanilla bean ice-cream dessert
To make sure everyone is having fun, there are a few rules you'll have to follow.
1.) Blog about your chocolate treat. Your recipe must include the two ingredients we choose. It can be a simple no bake treat or a sophisticated layer cake, the complexity level of the recipe is totally up to you.

2.) Include a link back to this post, a monthly round-up or the Chocolate party page.  Optionally, add the Chocolate Party logo in your blog post or on your sidebar.

3.) Your recipe must be published during the current month. Please do not link old recipes, they will be deleted.
I hope you'll join our party and bake along with us. Also, if you'd like to know what are we up to and what ingredients we pick for the next parties, join our Facebook group.
All submitted posts will be pinned to the Chocolate party Pinterest board and will be promoted on other social media platforms using the #chocolateparty hashtag.