Rich and chewy brownies flavored with cocoa powder and a pinch of cinnamon, these cadbury brownies topped with oozing screme eggs will draw you in and captivate your attention.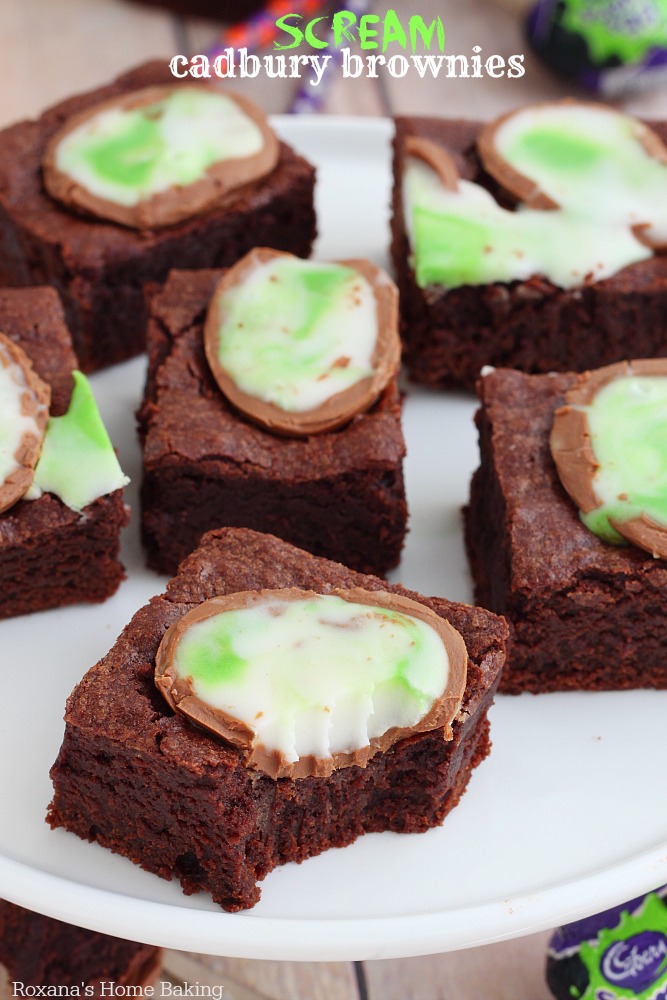 Halloween is my least favorite holiday. The only thing I love about Halloween is the candy part. For me Halloween is the perfect excuse to buy bags and bags of candy without having the cashier looking at me confused. There's no shopping trip without returning home with at least one bag of candy. I have so many candy bags I could open my candy store. Wish I was kidding. This girl is addicted to the candy isle.
What I love more than candy at Halloween is the return of Cadbury eggs! It's like Easter all over again, only this time the eggs have a bring green swirl inside!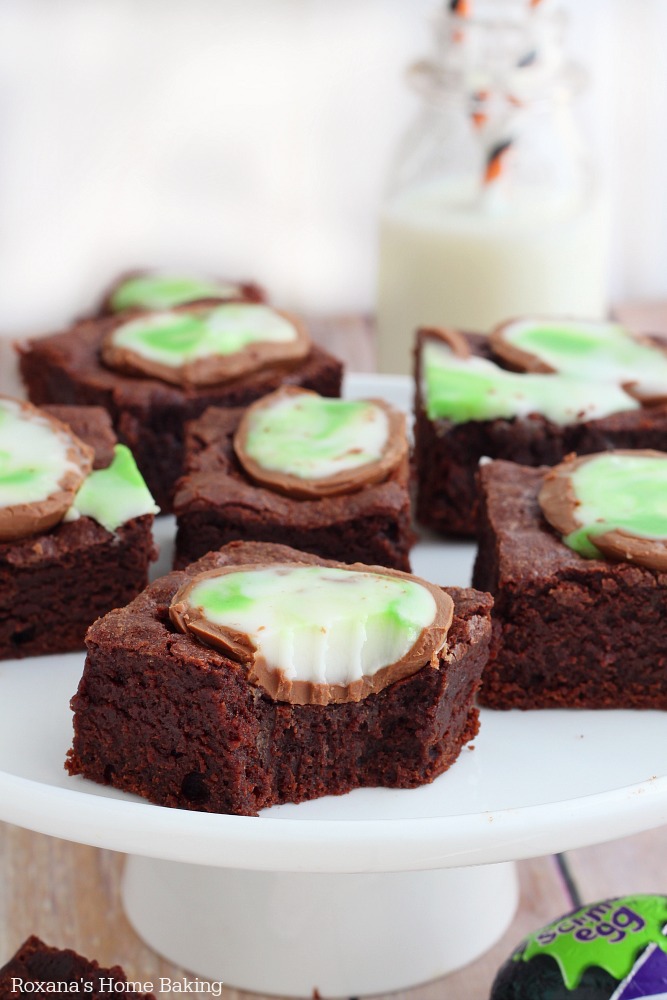 Today's recipe is a remake just the pumpkin pie bars! After all, only once a year you find Cadbury Screme Eggs!
Last year I shared this recipe but the photos were hideous! Hideous I'm telling you! Not that today are picture perfect, but are better. Since I gave a make-over to the photos I thought it would be appropriate to put a twist on the recipe as well, to take it up a notch.
Over the past year I have made quite a few brownie recipes and although a while back I was certain that brownies made only with cocoa powder turn out on the dry, cake-y side I learned that was not true. Just look at these cadbury brownies or at these smore brownies! Both made with just cocoa powder!
The secret to rich, fudgy cocoa brownies is the addition of an extra stick of melted butter to replace the fat from the chocolate.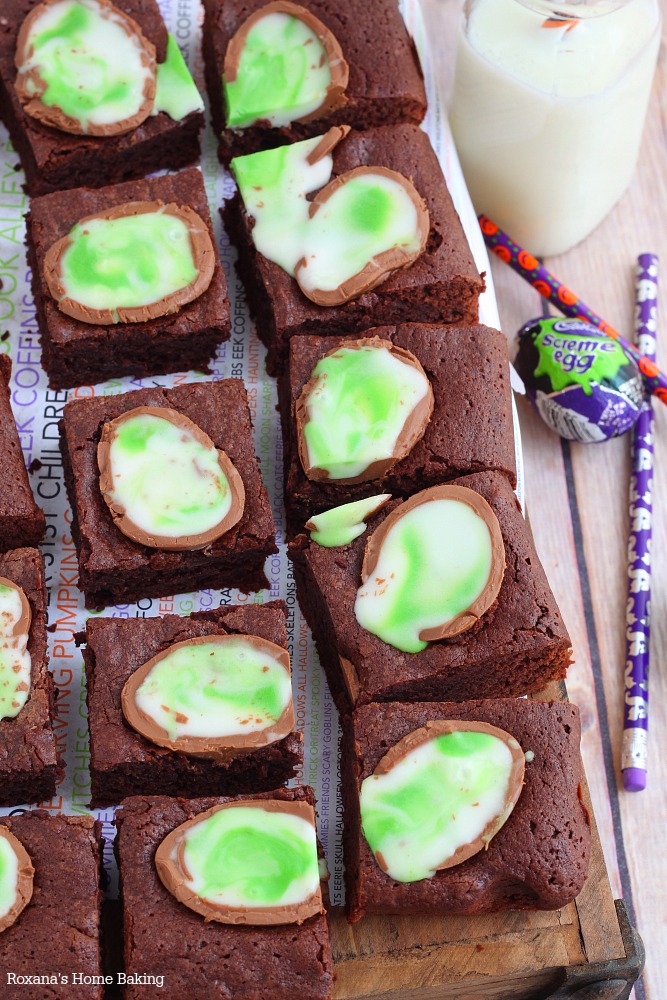 To make these brownies, beat the eggs and sugars (both white and light brown) until thickened and pale in color for 5-7 minutes. The addition of brown sugar gives the brownies a little depth of flavor from the molasses and also keep adds moisture producing a chewier brownie.
Once the eggs are beaten, stir in the melted butter followed by the flour, cocoa powder and cinnamon.
If you have made the brownies last year, you may notice in today's recipe I cut the flour and cocoa powder by 1/4 cup each. Using less dry ingredients results in a richer, fudgier brownie.
One last quick note before I let you with the recipe. Use a very sharp knife when cutting the eggs (make sure you don't cut your fingers!) and press them lightly inside the almost baked brownies. Do not place the halved eggs from the beginning since they will over-bake making the brownies not at all appealing!
Craving more? Sign up for Roxana's Home Baking email newsletter and get all the recipes sent right to your inbox!
Be sure to follow me on social media, so you never miss an update!
Facebook |  Pinterest  |   Google +   |    Instagram   |     Bloglovin'
Save your favorite recipes to your personal recipe box with the 
 button on all my recipes! Create a Meal Plan with your "favorite" recipes and the ingredients will automatically be added to your own Grocery List!
Screme cadbury brownies recipe
---
Yields 15-18 bars
Rich and chewy brownies flavored with cocoa powder and a pinch of cinnamon, these cadbury brownies topped with oozing screme eggs will be a hit at your Halloween party.
15 minPrep Time
30 minCook Time
3 hrTotal Time
Ingredients
4 eggs
1 1/2 cups (300 grams) sugar
1/4 cup (50 grams) light brown sugar
1 cup (226 grams) butter, melted
1 cup (120 grams) all purpose flour
3/4 cup (60 grams) unsweetened cocoa powder
1/2 teaspoon cinnamon
6-7 Cadbury sceme eggs cut with a sharp knife on the crease
Instructions
Heat the oven to 350F. Line an 11X9" baking pan with parchment paper, leaving 1 inch paper hanging on the sides.
In a mixing bowl add the eggs and sugar. With the paddle attachment on, mix on medium low speed for 5-7 minutes until the mixture is thickened and pale.
Add the melted butter and mix to combine.
Gently fold in the flour, cocoa powder and cinnamon and stir until just combined. Do not overmix.
Pour the brownie batter in the prepared pan and bake in the preheated oven for 25 minutes.
Quickly remove the pan from the oven without turning it off and gently press in the halved eggs.
Place the brownie pan back into the oven and bake for 5 more minutes.
Remove from the oven and let rest at room temperature on a wire rack.
With the help of the hanging paper, remove the brownies from the pan and cut them into bars.
7.6.8
477
http://atreatsaffair.com/screme-eggs-cadbury-brownies-recipe/
Roxana Yawgel http://atreatsaffair.com/ All images and content are copyright protected. Please do not use my images without prior permission. If you want to republish this recipe, please re-write the recipe in your own words, or simply link back to this post for the recipe. Thank you.
Happy Baking,
Roxana