Whether you're serving 2 people or a crowd, it can't get easier than this make-ahead vegetable and bacon egg bake skillet! 15 minutes of prep time tops!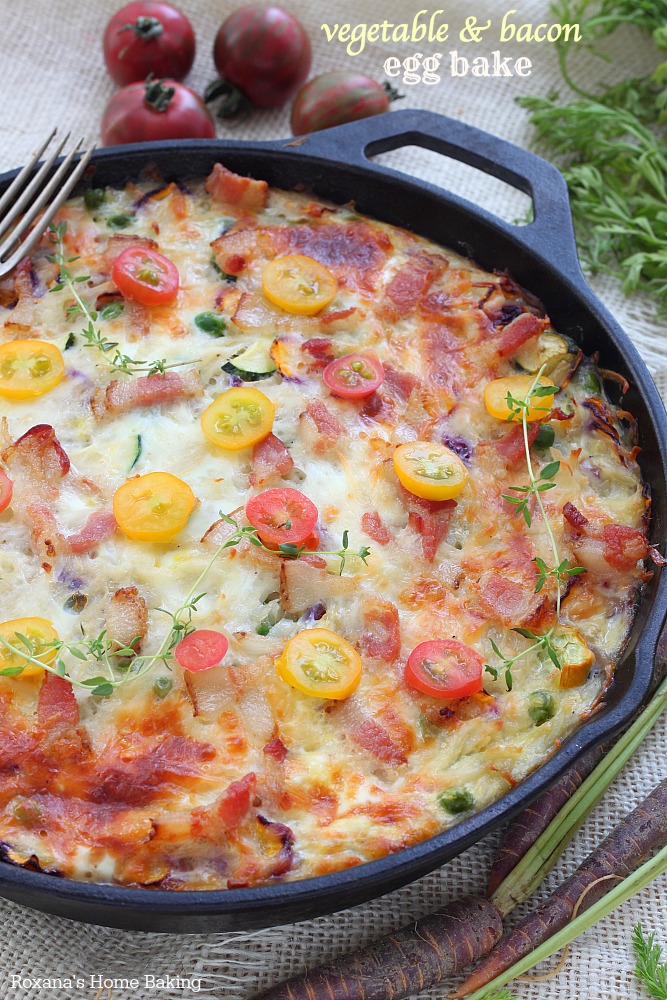 Monday to friday I'm an oatmeal, banana and peanut butter kind of breakfast girl. It fuels me enough to get through the morning craziness. Although, on rare occasions I may make frittata or a breakfast casserole, most of the time I leave the baking for weekend mornings. Scones, cookies and cinnamon rolls are a few of my family's favorite weekend breakfast treats.
When I'm looking for a satisfying breakfast meal that's good warm or cold anytime of the day, I rely on egg dishes like this vegetable and bacon egg bake.
After all, you can't go wrong with a warm and delicious meal made shredded potatoes, colorful carrots, peas, zucchini, green onions, bacon, smoked cheese and of course eggs!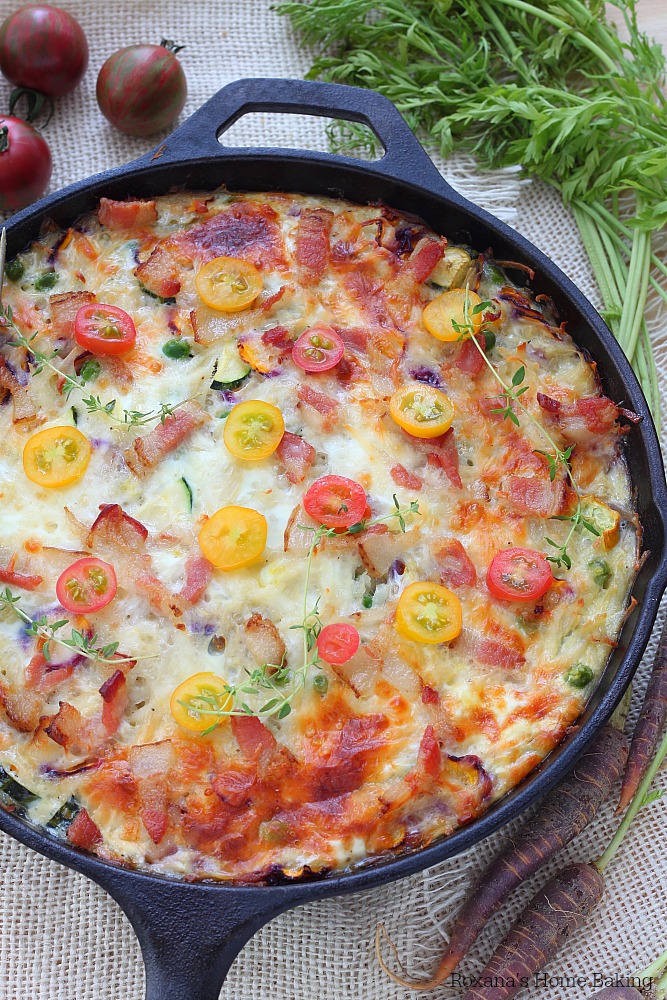 One of my favorite breakfast combo may be eggs and potatoes, but what makes this breakfast bake extra special is the addition of the colorful carrots smoked cheese and bacon! Unlike my three cheese caramelized onion and bacon frittata where the bacon cooks in the same time as the eggs, for this recipe you have to cook the bacon in advance. Maybe you have some leftover from these rosemary, potato and bacon biscuits.
Speaking of bacon, don't forget to enter here for a chance to win a bacon cookbook!  Giveaways sponsored by Julie of White Lights on Wednesday.
I'm in love with smoked cheese and I can eat some every single day. Love the subtle smokiness it gives to dishes. If you do not have smoked cheddar cheese, you can use your favorite semi-hard cheese.
If you don't feel like shredding potatoes (although you only need like 2 potatoes) you can use frozen shredded hash browns but I think it's worth the time and effort you put into shredding your own potatoes.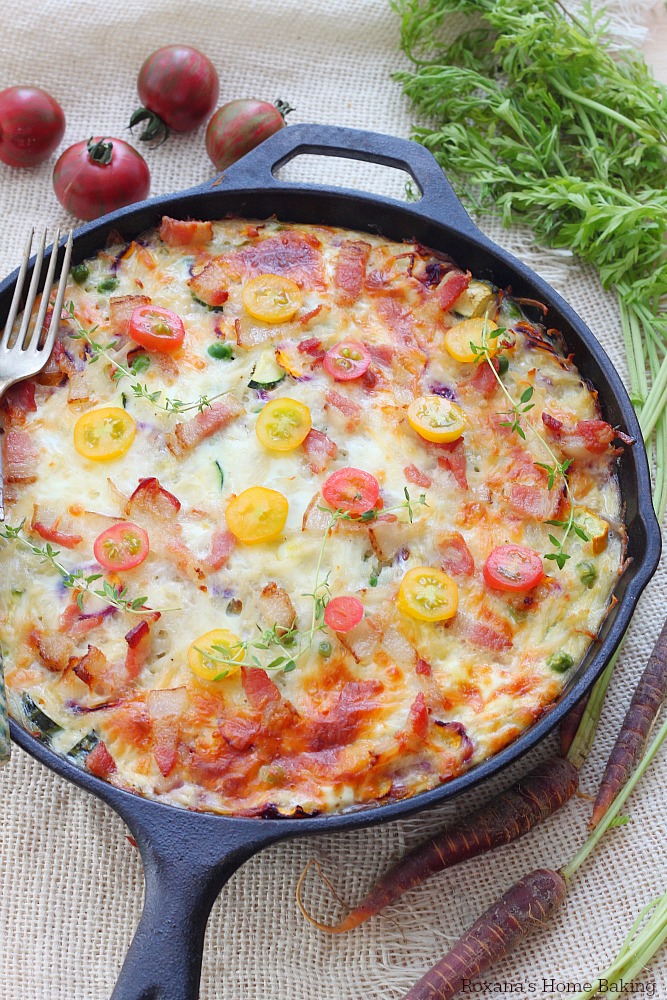 In addition to the potatoes, bacon, cheese and eggs, you'll also need peas, zucchini, carrots and  green onions.
I got some colorful carrots from the farmers market and sneaked some in this recipe as well. Eat the rainbow, right? Or course you can use just orange carrots if that's what you have. Keep in mind carrots need a little more time to cook, so slice them very thinly.
Zucchini, just like peas, cook the fastest so I sliced them a little thicker using my OXO mandoline, of course!
Once you have all your vegetables shredded, cut or sliced all it takes to make this egg breakfast bake is to mix them with the eggs and evaporated milk. Bake and serve!
I hope you'll give this recipe a try may it be this weekend or next time you have overnight guests. Like you see, it's really easy to make it.
Make-ahead vegetable and bacon egg bake recipe
---
Yields 8 servings
Whether you're serving 2 people or a crowd, it can't get easier than this make-ahead vegetable and bacon egg bake skillet! 15 minutes of prep time tops!
15 minPrep Time
55 minCook Time
1 hr, 30 Total Time
Ingredients
1 1/2 cups shredded potatoes, rinsed and well drained
3/4 cup fresh or frozen peas
3/4 cup finely sliced or shredded carrots (preferable a mix or orange, white and purple carrots)
1 cup zucchini, diced or finely sliced
1/4 cup chopped green onions
2 garlic cloves, minced (optional)
4-6 bacon strips, cooked and roughly chopped
3/4 cup shredded smoked cheddar cheese
4 eggs
1 (12 oz) can evaporated milk
1 teaspoon chopped fresh thyme (optional)
salt and pepper
Instructions
Grease a 10" cast iron skillet or a 2 1/2 quart baking dish.
In a mixing bowl combine the potatoes, peas, carrots, zucchini, green onions, garlic, bacon and 1/2 cup shredded cheese.
Arrange the mixture in the prepared skillet or baking dish.
In a medium bowl, beat the eggs with the evaporated milk, pepper, and salt. Stir in the remaining cheese. Pour the egg mixture over the potato mixture.
Cover and refrigerate overnight or bake immediately.
Heat the oven to 350F.
Bake for 45 to 55 minutes in the preheated oven, or until the top is golden brown and a knife inserted in the center comes out clean. Let stand 5 minutes before serving.
7.6.8
572
http://atreatsaffair.com/make-ahead-vegetable-bacon-egg-bake-skillet-recipe/
Roxana Yawgel http://atreatsaffair.com/ All images and content are copyright protected. Please do not use my images without prior permission. If you want to republish this recipe, please re-write the recipe in your own words, or simply link back to this post for the recipe. Thank you.
Happy Baking,
Roxana