Today cookies are brought to you by Kristina of Spabettie. Kristina is one of those person you envy right from the start. You're wondering why? Because she has a SPA at her fingertips. Isn't that a dream-job?
Except my spa envy I love her and her blog. She's funny, talented and so sweet. Check out this amazing salted caramel cheesecake she shared a while back. Plus she made one of my favorite sweets Samoa cookies from scratch gluten free and vegan. Told you you'll love her!
~~~~~~~~~~~~~~~~~~~~~~~
hi everyone – I'm Kristina, better known online as spabettie. I have a career background in spa management and accounting, and I have a lifelong passion for cooking and baking. My creations are mostly plant based and gluten free, and I like to share food without labels of what it is or is not.
I'm teaching people that plant based can taste fantastic, stealth like…
When Roxana asked me to participate in her 25 Days of Christmas, I knew I had to create something special for her – something different from the traditional holiday flavors, yet still festive and fitting for the holidays.
and sparkly.
I used a blood orange flavored candy cane as my inspiration.
[mpprecipe-recipe:390]
Thank you Roxana, for having me here today – and thank you all for reading – Happy Holidays!
Thank you Kristina for bringing today's cookies. They are so pretty!
~~~~~~~~~~~~~~~~~~~~~~~~
You can keep up with Kristina by subscribing to her RSS Feed, or on social media : Twitter, Google+, Facebook, Pinterest
Check out other Christams treats part of the #25recipestoXmas event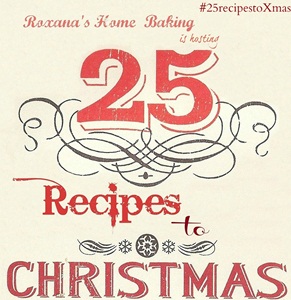 Sending love your way,
Roxana
[ts_fab]