The BEST cinnamon rolls – Soft and buttery sweet rolls with swirls of brown sugar and cinnamon and topped with cream cheese icing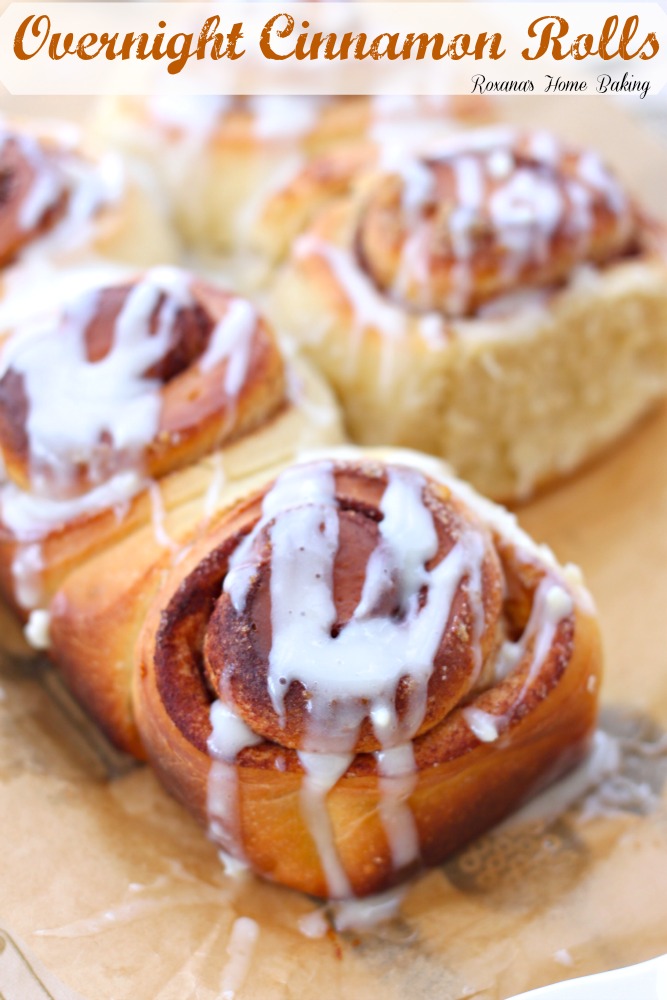 Close your eyes and imagine waking up to the smell of freshly baked cinnamon rolls coming from your kitchen. The smell is so powerful you can't resist it. Quickly you jump out of the bed and run into the kitchen. Right there, on the counter top lays a pan of cinnamon rolls. You can hear the coffee machine brewing. You smile, taking all the aromas in. Life it's good.
Cinnamon rolls, cinnamon buns, cinnabons – however you want to call them, are one of the best thing to wake up to. There's nothing better than seeing my family rushing down the stairs as soon as I pull the pan full of rich, buttery, sweet, cinnamon rolls out of the oven. Their ohhs and ahhhs make my day.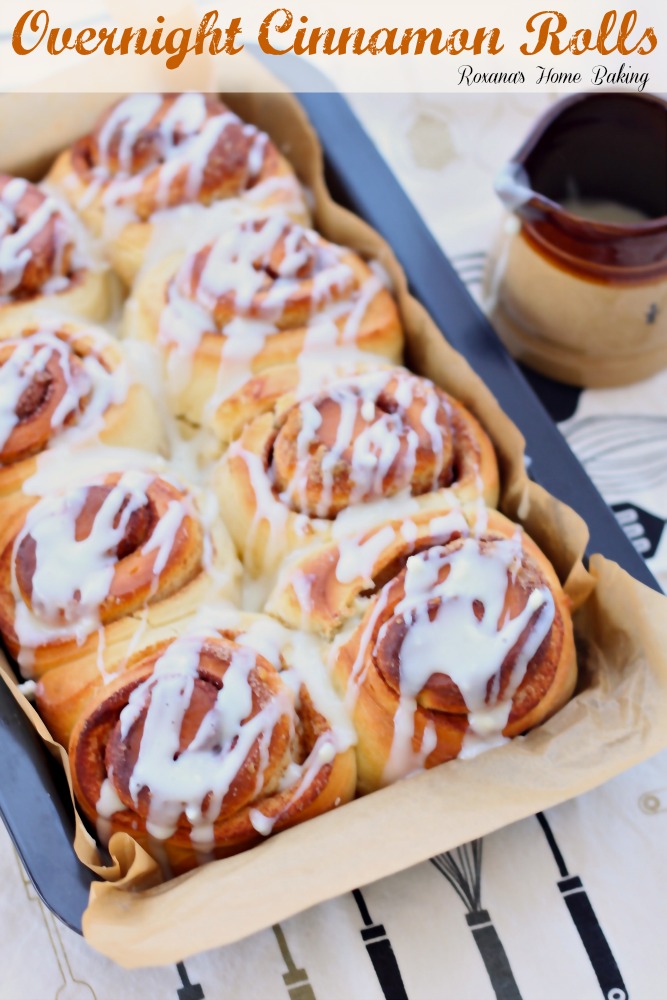 Cinnamon rolls may seem a little intimidating. But it's not and you should not be afraid. This recipe it's totally fool-proof. I've made it countless time and every time the results were out of this world good.
Just like any other yeast dough, you start by proofing the yeast. Here's an article I wrote about proofing yeast: Bread Baking 101 – baking with yeast.
Once you know the yeast it's alive. The mixing and kneading process starts. Slowly add the wet ingredients (for this recipe that would be sugar, eggs and Greek yogurt) followed slowly by all-purpose flour until the dough forms a ball around the dough hook.
I said earlier that I've made this recipe lots of times but every time I've made it I used my stand-up mixer. I HIGHLY recommend using one for this recipe. You can definitely make the dough by hand to the point where all the flour it's added but once you start adding the butter I doubt there's a person here who can knead that fast since the mixer has to be on its highest speed for around 10 minutes.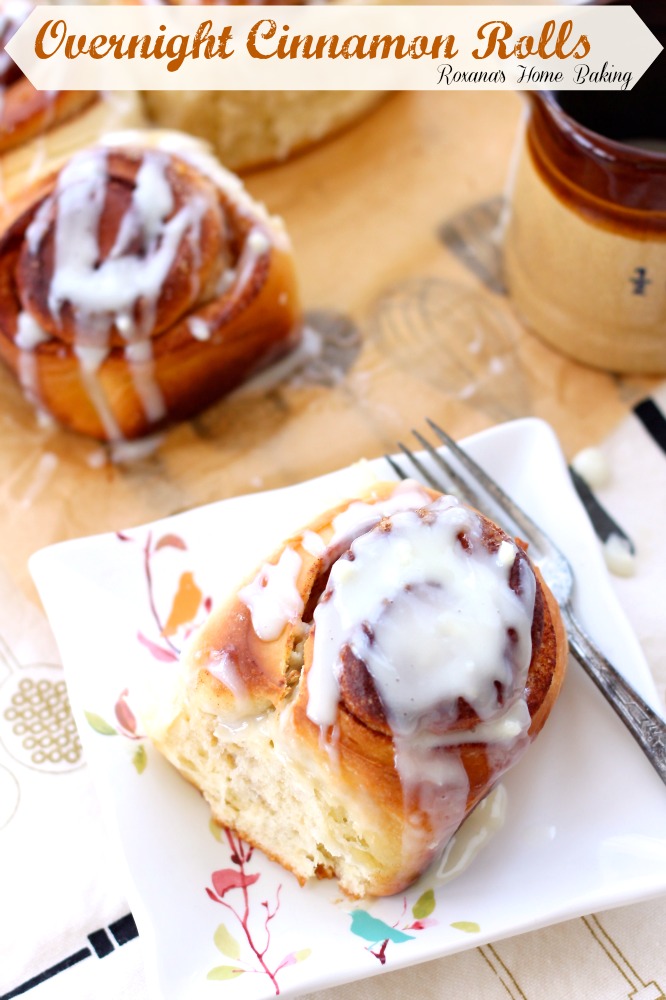 Once the dough is made your worries are over. It's time to leave the yeast do its job. Since it's a rich dough, the first time will take around 2-3 hours, so don't panic if it doesn't double in volume in less than one hour. The second rise it's done in the fridge over night. It will take around 6-7 hours.
A couple of times I've made the dough in the morning, put the dough in the fridge for the first rise (takes around 12-14 hours) took the dough out, rolled in into a rectangle, brushed with soft butter and sprinkled generous amounts of brown sugar and cinnamon, rolled it, cut into 8 buns and place it back into the fridge overnight for the second rise.
Next morning, take the pan out, leave it at room temperature while the oven it's heated and bake until golden. Pour some frosting on top and enjoy!
Overnight cinnamon rolls recipe
---
Yields 8 cinnamon rolls
The BEST cinnamon rolls - Soft and buttery sweet rolls with swirls of brown sugar and cinnamon and topped with cream cheese icing
30 minPrep Time
30 minCook Time
24 hrTotal Time
Ingredients
Dough

1/3 cup (40 grams) all purpose flour
1 tsp dry yeast (I used Red Star Active dry yeast)
1/4 cup water
1/4 cup (50 grams) sugar
1/2 cup Greek yogurt (I used Chobani plain)
2 eggs
1/2 tsp salt
2 1/2 cups (300 grams) all purpose flour
4 tbsp (57 grams) soft butter (mayo consistency)

Filling

2-3 tbsp room temperature butter
brown sugar (about 1/4 cup)
ground cinnamon (2-3 tbsp)

Icing

4 oz room temperature cream cheese
3 tbsp room temperature butter
1 cup powder sugar
few drops of milk
Instructions
In a mixing bowl add 1/3 cup flour, yeast and water. Stir to combine and leave at room temperature until bubbles appear and the mixture it's doubled in volume.
Add the sugar, yogurt, eggs and salt and start mixing.
With the dough hook on, on medium speed, add the 2 1/2 cups of flour. When all the flour is added the dough should form a ball around the dough hook.
Increase the mixer's speed to medium and add the butter, one tablespoon at a time, waiting until the butter is incorporated before adding more.
At first the douh will look like it's falling apart, but don't panic, keep mixing slowly increasing the mixer's speed to max once all the butter it's added.
Knead for 2-3 minutes at its highest speed. Turn the mixer off and with a steady spatula or a wooden spoon scrape the sides of the bowl and the hook.
Turn the mixer back on the highest speed and knead for 2-3 more minutes. Scrape the bowl and the hook again.
Continue mixing until the dough starts to come clean from the sides of the bowl and makes a slapping sound.
At this point the dough sound be soft and elastic.
Place the dough into a buttered bowl, cover with platic wrap and let at room temperature for 2-3 hours until doubled in volume. Or you can place the dough bowl in the fridge for 12-14 hours until doubled in volume.
Once the dough is well rested, sprinkle your work area and rolling pin with flour and roll out the dough into a 10X6" rectangle.
Brush with soft butter and sprinkle with brown sugar and ground cinnamon (how much or how little it's up to you).
Roll the dough from the wide side into a log, pinching the ends.
With a piece of thread or dental floss cut the log into 8 rolls, placing them into an 11X7" baking pan lined with parchment paper.
Cover the rolls with plastic wrap and place the baking pan in the fridge for 6-7 hours overnight.
In the morning, take the baking pan out, leave it at room temperature for about 15 minutes or until the oven it' heated to 375F.
Bake the cinnamon rolls for about 27 minutes or until golden brown.
Remove from the oven, let cool for 5 minutes and frost them.
To make the frosting, combine all the ingredients in a bowl, adding milk to reach the desired consistency.
Enjoy!
7.6.8
428
http://atreatsaffair.com/overnight-cinnamon-rolls-buns-recipe/
Roxana Yawgel http://atreatsaffair.com/ All images and content are copyright protected. Please do not use my images without prior permission. If you want to republish this recipe, please re-write the recipe in your own words, or simply link back to this post for the recipe. Thank you.
If you enjoyed these Cinnamon rolls you may also like
Cranberry Chocolate Brioche Rolls – Soft and slightly sweet chocolate brioche filled with tart cranberry sauce and topped with sweet cream cheese icing. Delicious in every bite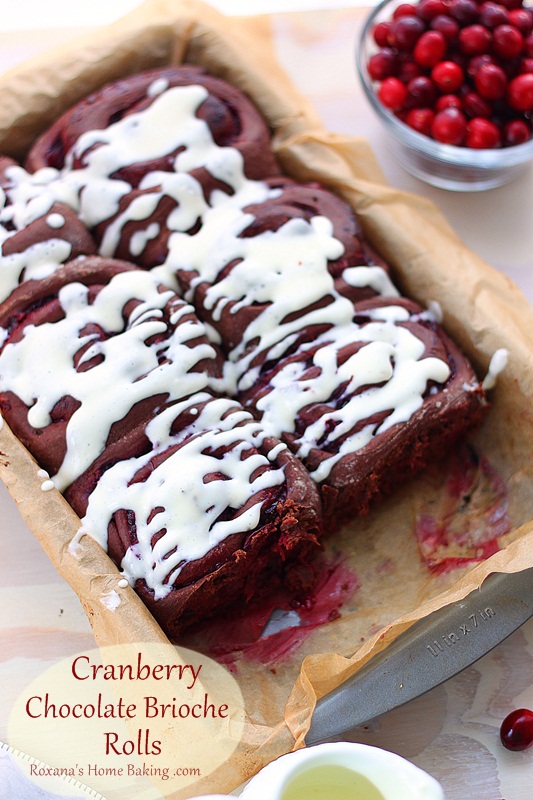 Chocolate rolls with coffee icing – Soft buttery brioche rolls filled with chocolate and drizzled with coffee cream cheese icing. Great at breakfast time with a cup of tea/coffee or even with some cold milk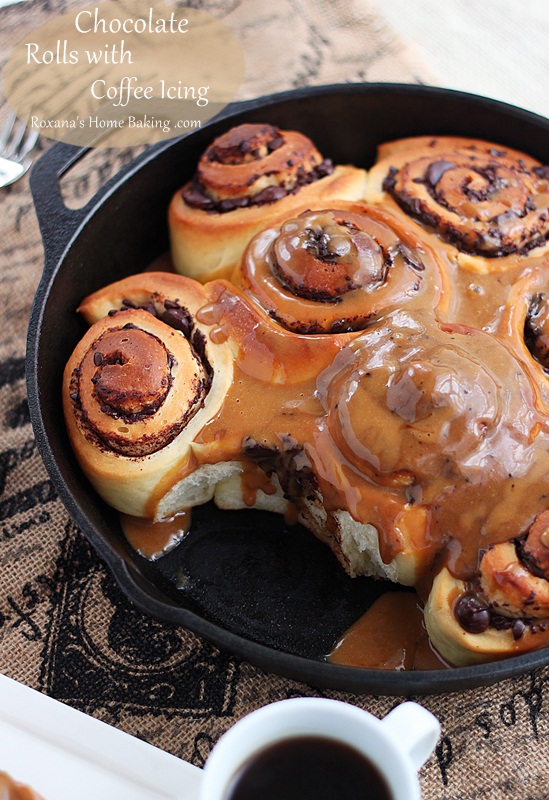 Pumpkin cinnamon rolls – shreded pumpkin added to the dough and to the filling makes these sweet soft rolls irresistible.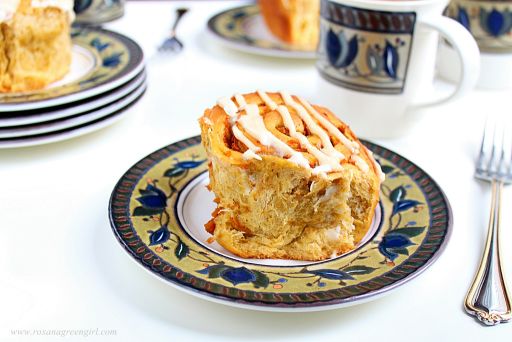 Carrot cake cinnamon rolls at Crazy for crust
Lemon coconut cinnamon rolls at Chocolate Moosey
Pumpkin cinnamon rolls at Recipe Girl
Cinnamon Buns at Simply Recipes
Sending love your way,
Roxana