Caramel chocolate fudge brownie cookies – rich chocolate-y cookies loaded with chopped mini rolos and gooey caramels
Ever since we started the Chocolate Party in September I've been day dreaming about upcoming treats. It's a hard decision what secret ingredient to choose each month. There are LOTS of irresistible chocolate combos. In my head I have everything planned for the next 5 years. Yes, that's a lots of chocolate and hundreds of recipes coming your way.
This month we decided upon ooey, gooey caramel. Salted or not, store-bought caramel or made from scratch in your kitchen or as Mexican call it "dulce de leche"  it's the star to this month chocolate party.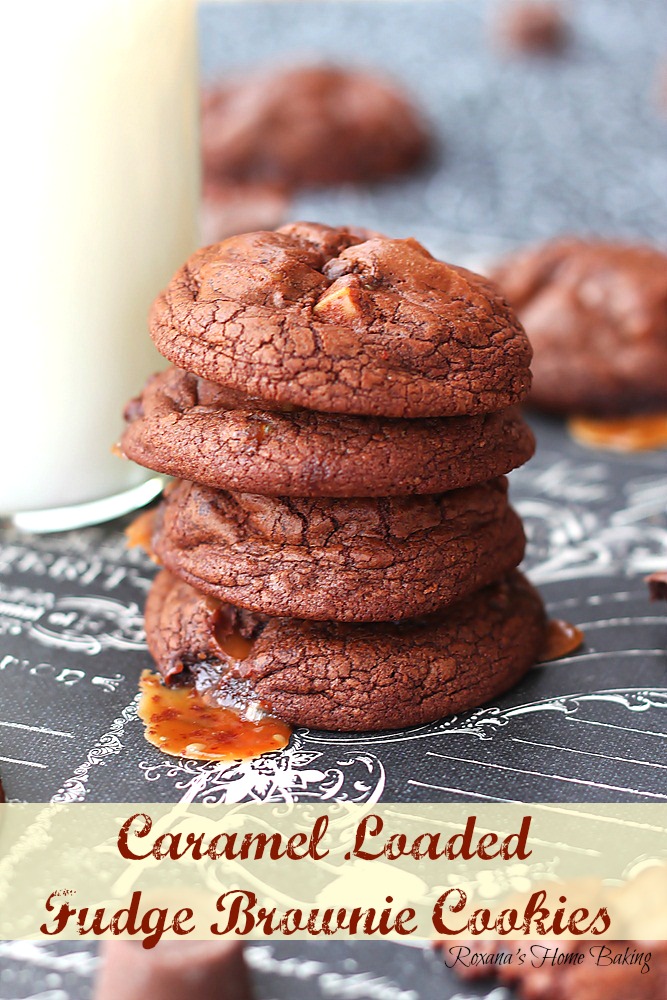 Chocolate party is a monthly event hosted by me together with some wonderful bloggers. Each month we pick an ingredient and pair it with chocolate. We blog about it by the end of the month.
I hope you'll join our party and bake along with us. Also, if you'd like to know what are we up to and what ingredients we pick for the next parties, join our Facebook group.
All submitted posts will be pinned to the Chocolate party Pinterest board and will be promoted on other social media platform using the #chocolateparty hashtag.
How to participate (the rules)

1.) Blog about your chocolate treat. Your recipe must include the two ingredients we choose. It can be a simple no bake treat or a sophisticated layer cake, the complexity level of the recipe is totally up to you.

2.) Include a link back to this post or the Chocolate party page.  Optional, add the Chocolate Party logo in your blog post or on your sidebar.

3.) Your recipe must be published during the current month. Please do not link old recipes, they will be deleted.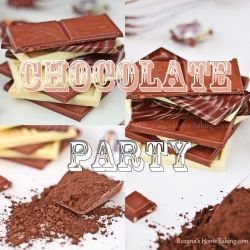 Few days ago I realized almost every month I say " we" when it comes to chocolate party but never mentioned my wonderful hosts (in no specific order) say hello to
Erin of Dinners, Dishes and Desserts
Karen of Karen's Kitchen Stories
Dorothy of Crazy for Crust
Laura of The Spice Life
Paula of Vintage Kitchen
Veronica of My Catholic Kitchen
Kim of Ninja Baking
Daniella of Home Cooking Adventure
Laura at Tutti Dolci
Liz of That Skinny Chick Can Bake
Suzanne of You Made That?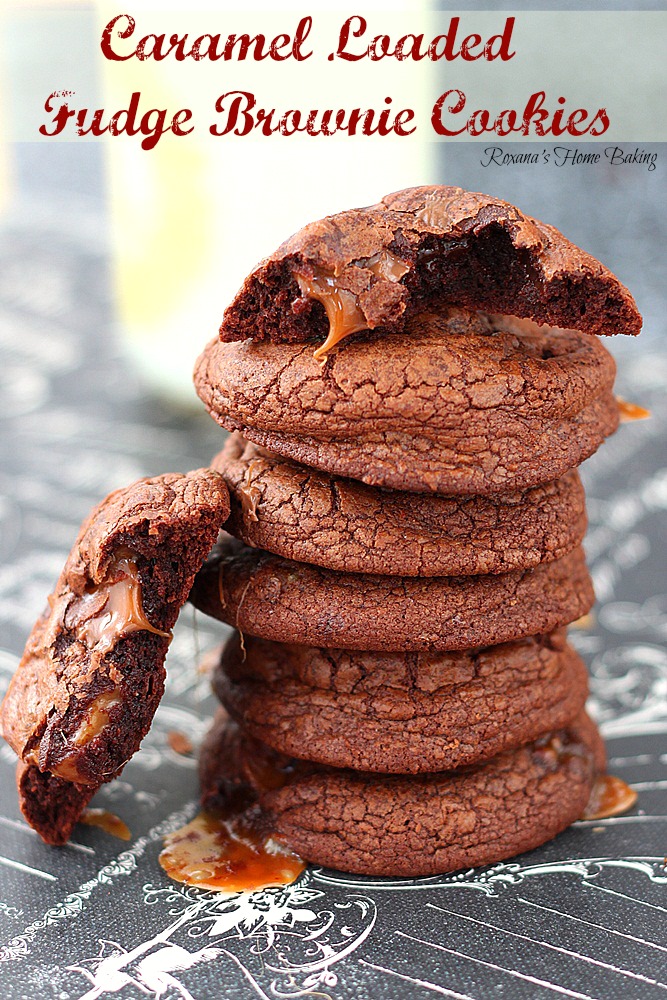 This month I had a hard time deciding what to make. Actually I had these Chewy Chocolate Caramel Bars saved for today but since I change my mind as the wind blows there was just one thing left to do : make a new chocolate caramel treat. With some leftover caramels and a bag of mini rolos in the pantry I took matter into hands and thought cookies were meant to be shared with you today.
Now if I could have stopped eating them, even while taking the pictures. As some of you probably noticed there are different cookies stacked in my photos, one after another got in my mouth.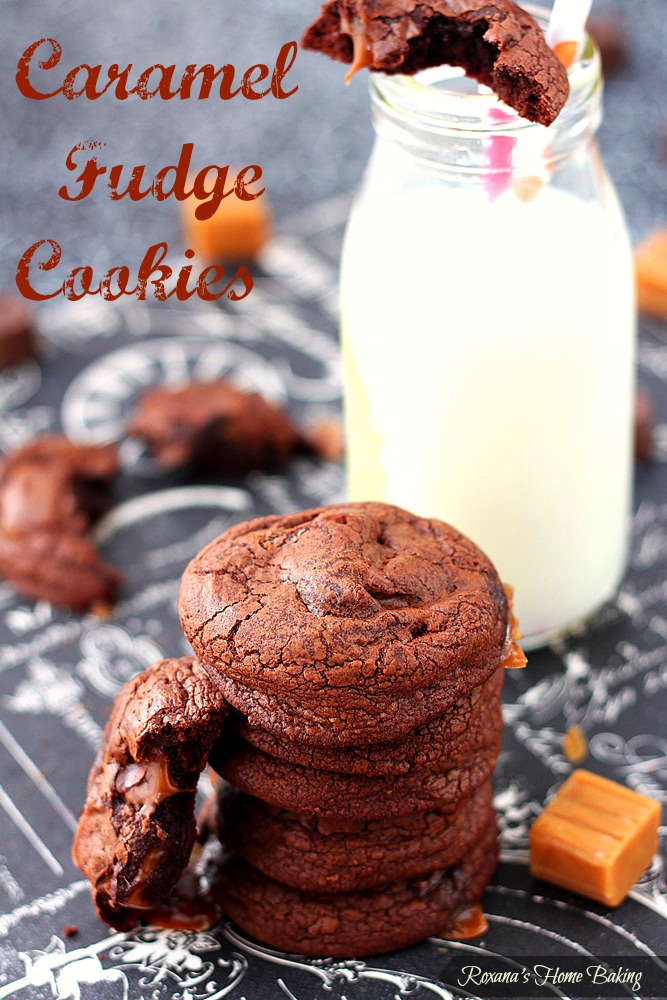 Just like other fudge cookies, you start melted chocolate, 8 ounces for these cookies. After you mix the melted chocolate with the eggs and a little flour 1 cup of chopped rolos and caramels are added. You can use just rolos or just caramels if you like. Chocolate chunks or nuts can also be used, but I'll stick with the gooey caramel for now.
[mpprecipe-recipe:427]
Sending love your way,
Roxana
Check out all the caramel chocolate recipes shared this month.