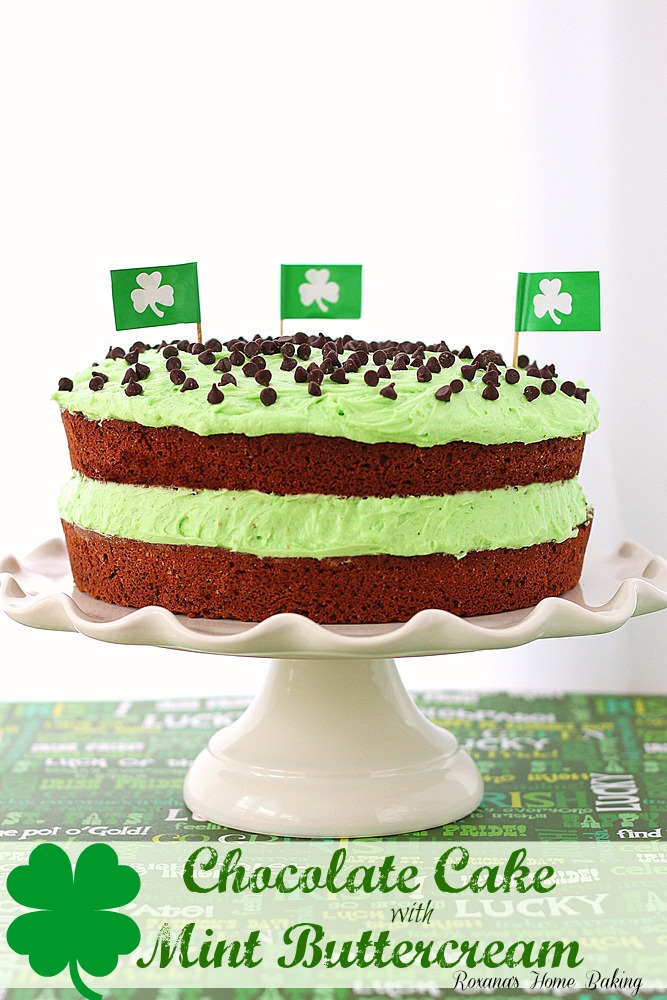 Chocolate cake with mint buttercream frosting. Although we don't celebrate St. Patrick' day,  green is my favorite color and I could not let this Irish holiday pass without sharing one recipe with you. And since this is my only St. Patrick' day related post I thought I go grande and celebrate with a Chocolate Layer Cake with Refreshing Mint Buttercream Frosting.
I had a hard time deciding what to make, to be honest. At first I thought of making a Guinness cake but since we don't drink I didn't want to buy a 6 pack for just 1 cup or so to use in a recipe. Then I wanted to make a Soda Irish Bread, which I did, but didn't last long enough to take some photos.
But all for a good cause, otherwise I had not made this cake!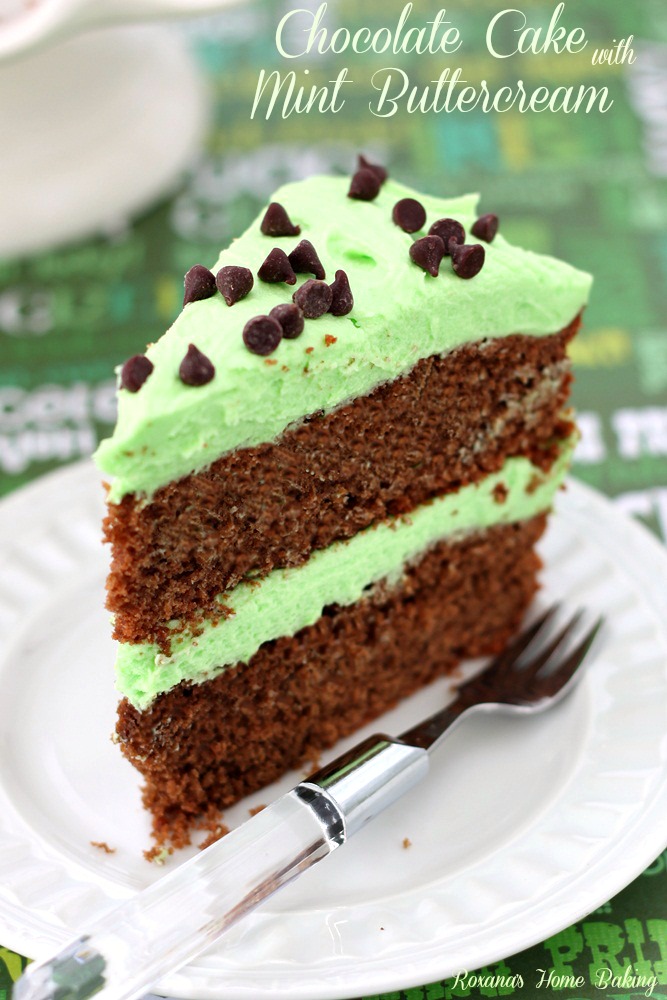 The recipe for this cake is from Kitchen Diaries by Clodagh McKenna, sent to me by the lovely people at Kerrygold Butter.
The book is divided in chapters for each month and of course I had to look for a March recipe. This cake was actually made into cupcakes in the book, 18 cupcakes to be exact. If you follow along and make a cake you simply divide the batter between two 9 inch round pans and bake for about 25 minutes or until a toothpick comes out clean. For cupcakes, bake just 20 minutes or so.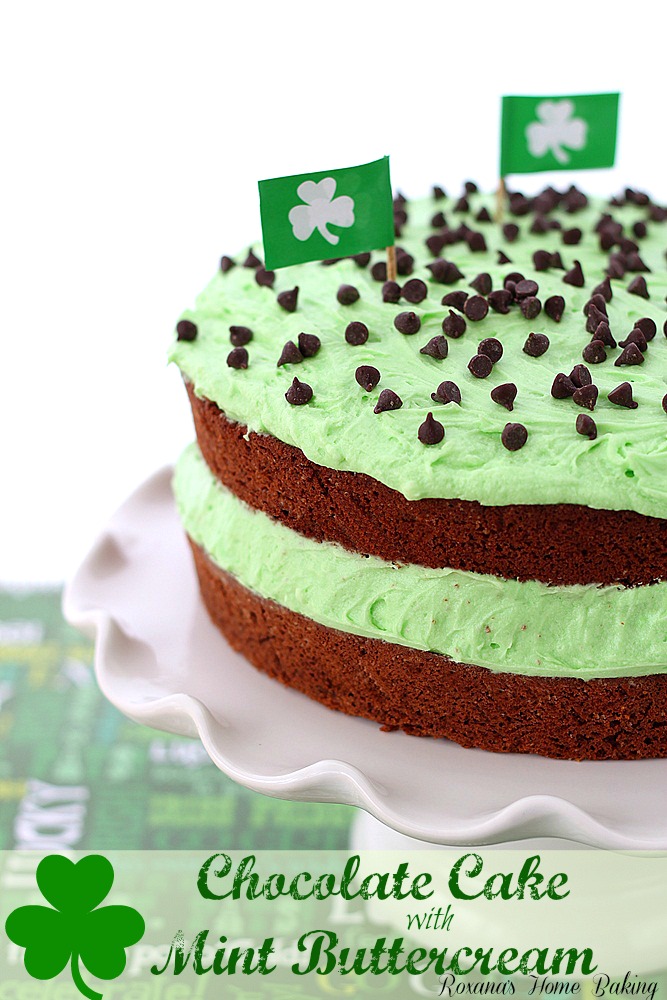 I changed just a little bit the recipe, leaving the chocolate chips out of the batter and used all purpose flour instead of self-rising.
I had a little bit of trouble, so to speak with the recipe, since it calls for 2 sticks of butter but I wasn't sure how much, in weight, that is since 2 sticks American version equals 8 oz while Kerrygold butter comes in 8 oz bars. I took a change and used only 8 oz of butter, which turned out to be a good guess.
The cake turned out great, love the mint touch in both the cake and the frosting. There is just one thing I would change next time. I would cover completely the cake in frosting. The sides dried out by the next day while the inside was still moist.
I also doubled the frosting to make sure I have enough to cover both layers and added some Irish Cream coffee creamer for flavor.
[mpprecipe-recipe:432]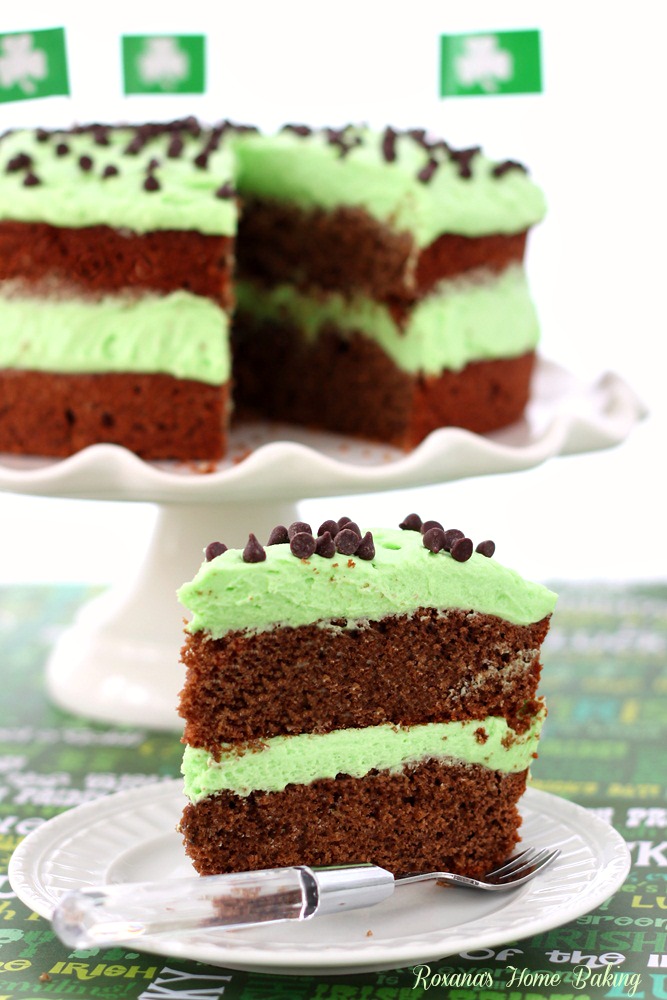 If you like this Chocolate cake with mint buttercream you may also like
Triple Chocolate Cake with Chocolate Frosting
Chocolate Cake with Dulce de Leche Frosting
Devil's Chocolate Cake with Cream Cheese Frosting
Sending love your way,
Roxana
I am part of the Kerrygold Food Blogger Network and was provided with coupons for Kerrygold butter and a free copy of the cookbook. All opinions are mine.