Buttery chocolate cookie topped with ooey gooey caramel and chocolate chunks, these chewy chocolate caramel bars are to die for! Drizzle with more caramel just before serving for the ultimate chocolate caramel treat!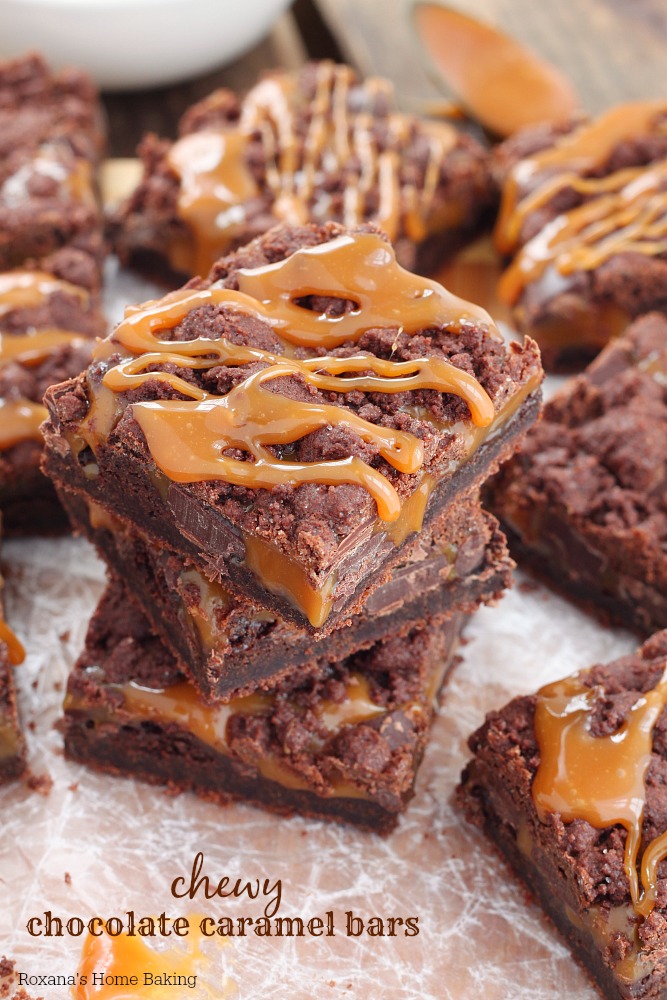 I love going shopping, but I hate to stay in line waiting for my turn to pay. It's not the wait that I hate, so to speak, but all the temptations strategically placed right before the cashier as you wait. If Tiffany goes for the kids coloring or story books I reach for the cooking magazines, actually for everything that has chocolate on the cover.
A while back I picked Brownies and Bars from Better Homes and Gardens. I knew it's going to be love at first sight. Few days later it was love at first taste. Do you think now it's the time and place to tell you I've made these chewy chocolate caramel bars 5 times so far? I see an addiction ….
I'm pretty sure these bars made it to the list: 1000 foods you must eat before you die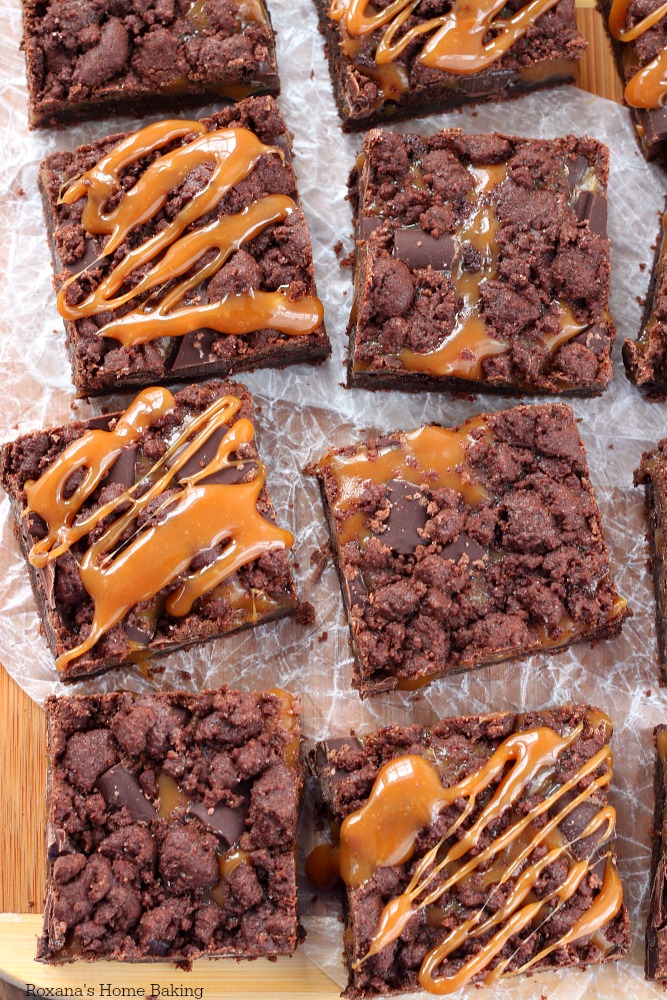 Since I made theses bars so many times, I have tweaked the original recipe each time making it a little better. Right from the start I substituted the store-bought cake mix called in the recipe with a homemade version.
Note that the recipe calls for both cold and melted butter. Use the cold one to mix with the flour and the melted butter along with some of the evaporated milk as wet ingredients so the chocolate cookie dough come together.
The second and third time I played around with the amount of chocolate chunks and the crumbled topping. I know there's no such thing as too much chocolate, but in the same time I didn't want to overpower the caramel layer.
The fourth time I have the bright idea of adding more caramels but that didn't go as I thought it would.
The fifth time, learning from my mistakes, I made the most addicted chocolate caramel bars. You would think after making them so many times I had the patience to let the bars cool, but no. I cut half of them while slightly warm.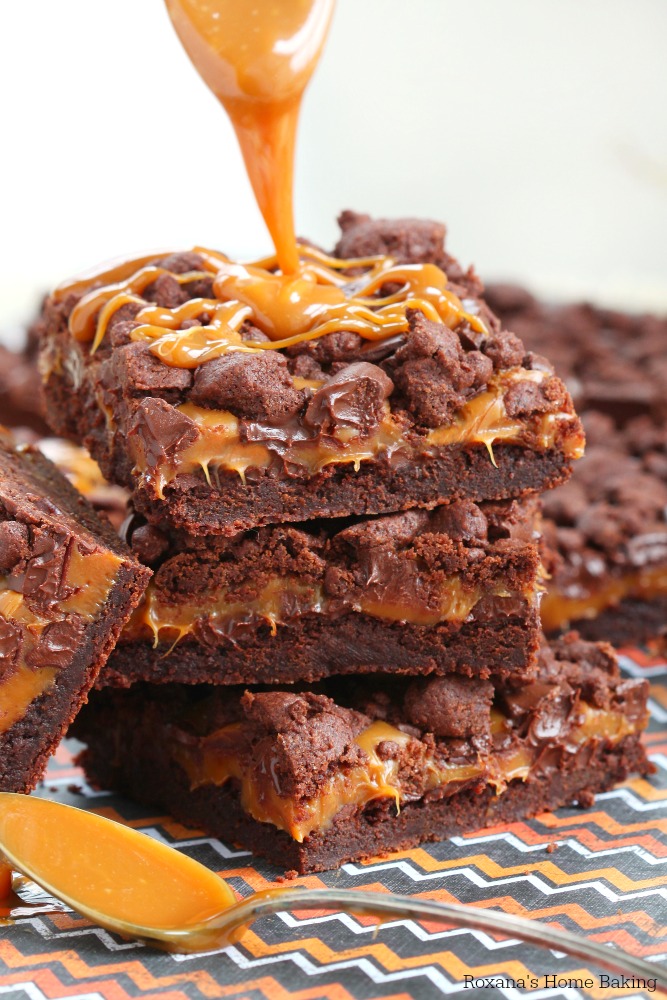 Although I'm a huge lover of chocolate treats while still warm, I have to say this time I prefer the bars the second day when they fully cooled and the caramel layer is set and chewier.
It's just a personal preference. Either way, warm or cold, you should give these chocolate caramel bars a try. You won't regret it!
Chewy chocolate caramel bars recipe
---
Yields one 13X9" baking pan
Buttery chocolate cookie topped with ooey gooey caramel and chocolate chunks, these chewy chocolate caramel bars are to die for!
15 minPrep Time
25 minCook Time
Ingredients
Chocolate cookie layer

2 cups (240 grams) all-purpose flour
1/4 cup (56 grams) diced cold butter
1 1/2 cups (300 grams) granulated sugar
1 cup (80 grams) unsweetened baking cocoa
2 teaspoons baking powder
1 teaspoon baking soda
1/2 teaspoon salt
3/4 cup (168 grams) melted butter
5 oz (1 small) can evaporated milk

Caramel layer

14 oz baking caramels, unwrapped
1 1/2 cups (226 grams) semi-sweet chocolate chips and/or chunks

Optional

1/2 cup store-bought or homemade caramel sauce to drizzle over the cooled bars
Instructions
Heat the oven to 350F.
Line a 13X9 baking pan with parchment paper allowing the paper to hang about 1-2 inches over the sides of the pan. Set aside.
In a food processor add the flour and cold diced butter. Pulse a few more times until the mixture resembles fine breadcrumbs and all the butter is cut in. You can also use a pastry blender, a fork or rub the butter and flour with your hands.
Add the sugar, cocoa, baking powder, baking soda, salt and whisk to combine.
In a large mixing bowl add the dry ingredients mix and pour the melted butter on top. Add 1/3 cup of the evaporated milk and, with a spatula or a wooden spoon, stir until well combined. The dough it's going to be similar to a crumbly cookie dough.
Spread 2/3 of the dough in the prepared baking pan and set aside. Crumble the remaining dough on a piece of parchment paper and refrigerate until needed.
In a small saucepan, place the remaining evaporated milk and the caramels. Stir continuously over low heat until the caramels are melted. Pour over the cookie dough base.
Sprinkle the chocolate chunks over the warm caramel layer.
Take the reserved cookie dough out of the fridge and sprinkle it over the chocolate chunks.
Bake for 25 minutes.
It may seem bubbly and undone but once cooled the caramel and chocolate layers will set.
Cool completely in the pan before cutting into bars.
7.6.8
416
http://atreatsaffair.com/chewy-chocolate-caramel-bars-recipe/
Roxana Yawgel http://atreatsaffair.com/ All images and content are copyright protected. Please do not use my images without prior permission. If you want to republish this recipe, please re-write the recipe in your own words, or simply link back to this post for the recipe. Thank you.
Sending love your way,
Roxana