Quick and easy peppermint chocolate chip cheesecake bars featuring a buttery crust, silky cheesecake filling dotted with mini chocolate chips and a rich chocolate ganache with crushed candy cane on top! A scrumptious treat dressed up for your holiday table!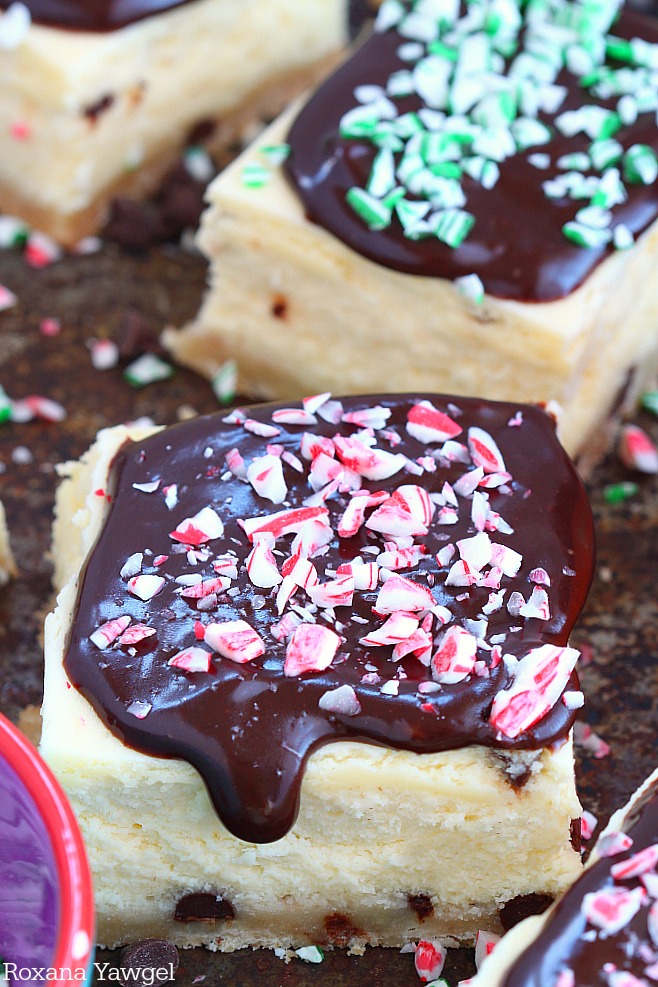 When asked what she wants to bake, Tiffany's answer is always chocolate. (she's my girl after all).
We've made muffins, we've made quick bread, we even made cookies but this time we both wanted something a little more "next level". Tiffany and probably lots of other people think cheesecake is advanced skills level but it is not. It's probably one of the easiest desserts to make once you know the basic cheesecake rules.
What are my tips and tricks for a foolproof cheesecake? Glad you asked!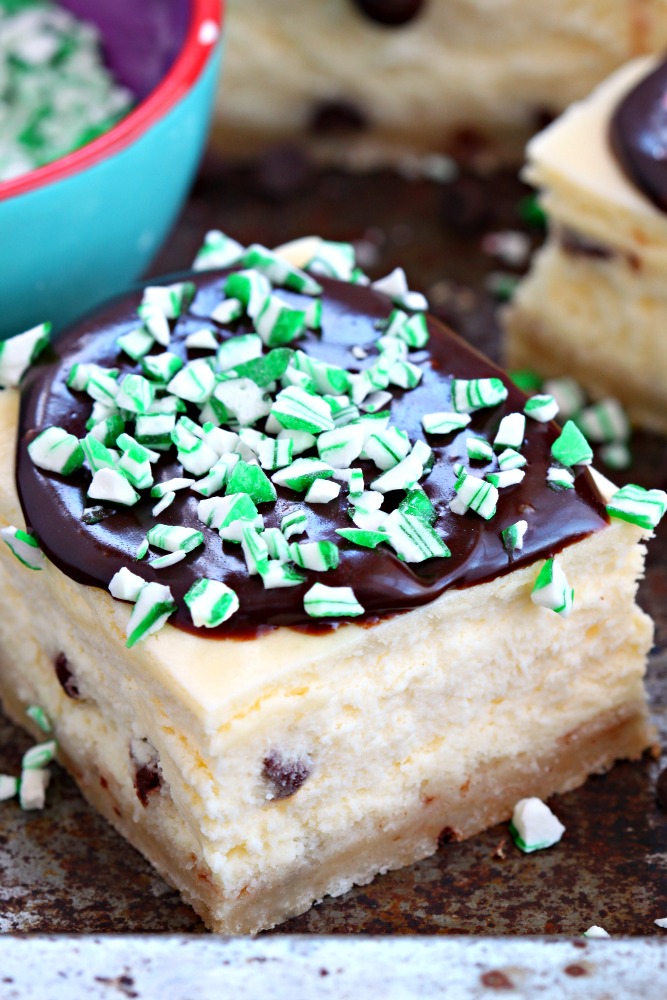 It's very important to have the ingredients at room temperature. Leave the eggs and cream cheese on the countertop for about 1-2 hours depending on how warm is in your kitchen. If you're in a hurry you or you forgot to take your ingredients out, place the eggs in a bowl of warm water for 5 minutes. Do not boil or microwave them! Just let the eggs warm up in the water. For the cream cheese, you can microwave it for about 30 seconds. Remember to remove the wrapper before doing so!
A light beating is all it's needed. If you over-mix the cheesecake filling you'll most likely end up with cracks. That's why is important to have the ingredients at room temperature. If your cream cheese and eggs are cold, you'll over-beat the filling incorporating too much air into it.
If you're making cheesecake bars (like I'm most of the time) there's no need for a water bath. Just make sure you do not open the oven door for the first 3o minutes or your oven temperature will drop and the results will be less desirable.
Do not overbake the cheesecake! It can be tricky, especially if you're new to baking cheesecake, but the rule of thumb is "if the center is just set, the cheesecake is done" Don't bake it until the cheesecake is fully set and a toothpick comes out clean (similar to baking a cake). The cheesecake will fully set as it cools down.
And speaking of cool down, have patience. Do not remove the cheesecake from the oven and place it immediately in the fridge. It will crack, it will collapse and leaving you wishing you had not wasted the ingredients and your time.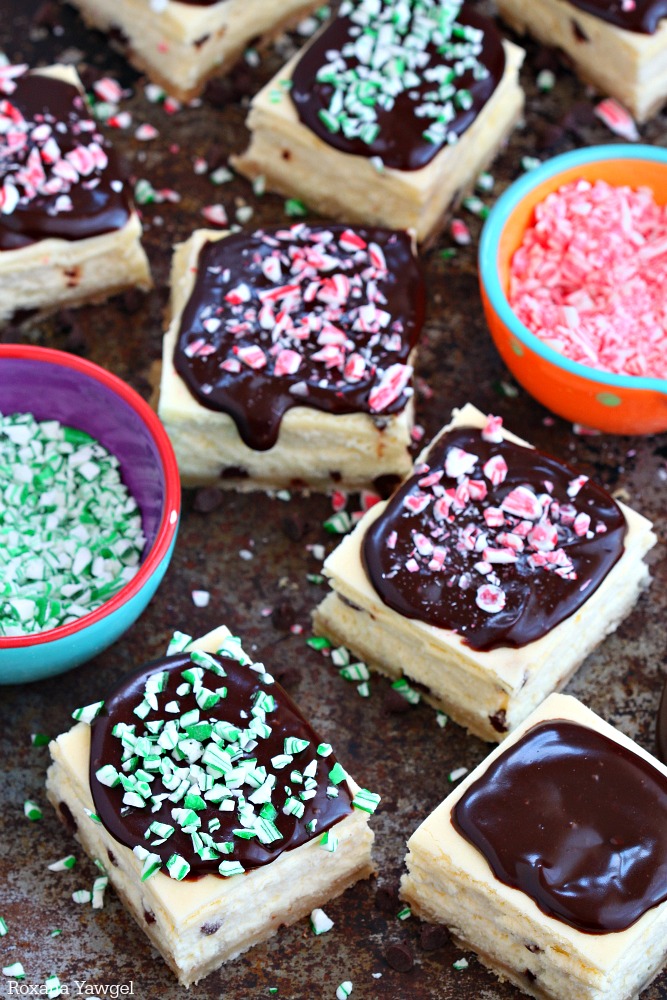 Now that we covered the basics, let's talk a little bit about these peppermint chocolate chip cheesecake bars.
The buttery chocolate chip crust is actually one of the Martha White baking mixes I bought from the local Kroger. You can read about my shopping trip here.
Combine the baking mix with some melted butter and your cheesecake crust is done! How easy was that?!
I love the convenience of Martha White baking mixes! They have been the leader in Southern baking mixes for years and have saved my cornbread countless times! (yeah, that's why there's no cornbread recipe on the blog)
I also use their cornbread mix to bread my chicken. So much better than plain breadcrumbs!
Tiffany loves the mixes even more! Knowing that she needs just one more ingredient to make a sweet treat makes her think she is such a big girl!
For the filling, I used cream cheese, sugar, eggs, peppermint extract and mini chocolate chips. I should have probably used more chocolate chips or a mix of semi-sweet chocolate chips and mini chocolate chips. Lesson learned!
To dress up these chocolate chip cheesecake bars, you'll need a little more cheesecake and cream to make the ganache and crushed candy cane. Don't you think they are so pretty and festive?
And who can resist anything peppermint chocolate this time fo the year? Not me!
Craving more? Sign up for a trEATs affair email newsletter and get all the recipes sent right to your inbox!
Be sure to follow me on social media, so you never miss an update!
Facebook |  Pinterest   |    Instagram   |     Bloglovin'
[related-posts]
[mpprecipe-recipe:625]
If you enjoyed these peppermint chocolate chip cheesecake bars, you may also like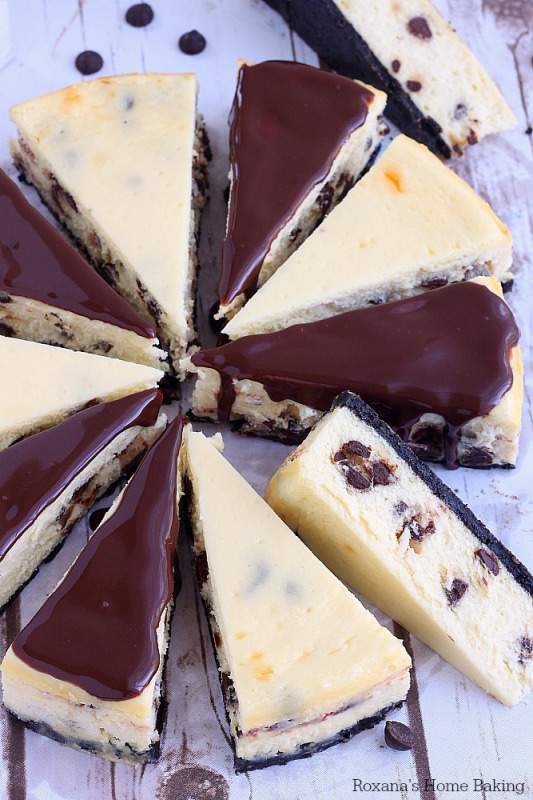 Chocolate ganache cheesecake bars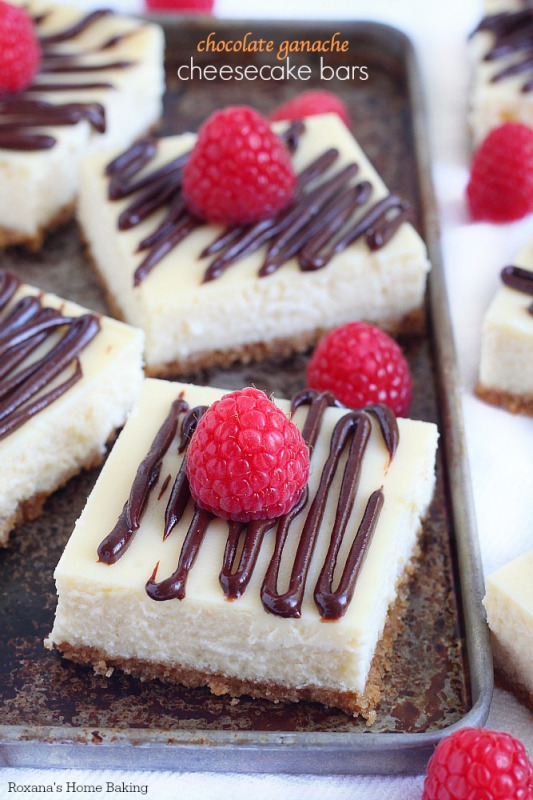 Candy cane chocolate cheesecake bars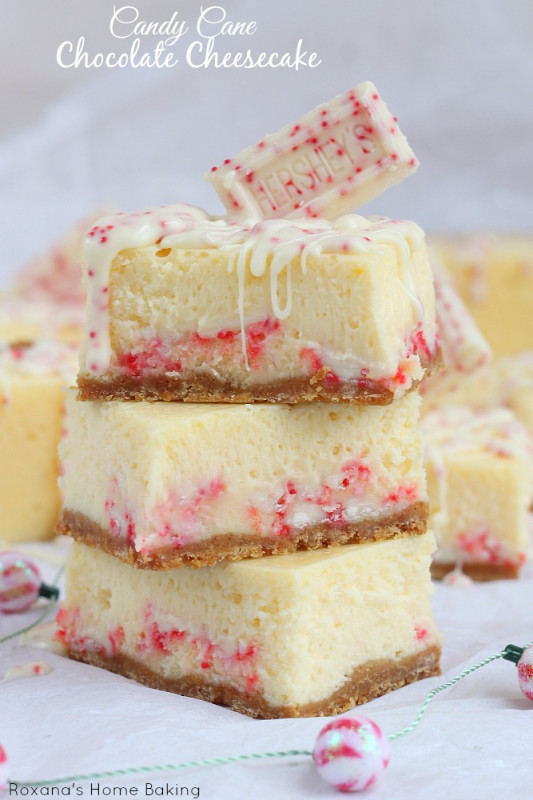 This is a sponsored conversation written by me on behalf of J.M. Smucker's®. The opinions and text are all mine.