Soft homemade cheese dinner rolls made with three types of cheese and filled with an ooye-gooey cheese cube. Dinner just got cheesier!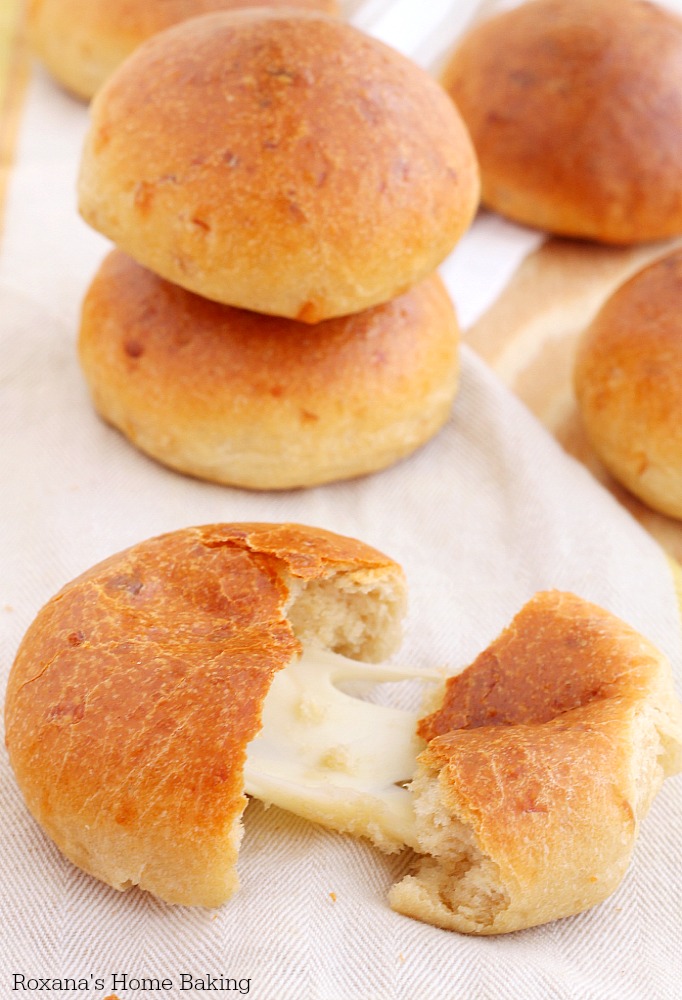 Choosing between chocolate and cheese would be a really hard decision for me. I love both of them more than any other foods. It's my go-to comfort food when I feel down.
My pantry is filled with all kinds of chocolate bars and chocolate candy and I always have at least 5 types of cheese in the fridge.
The good thing about both chocolate and cheese is that it makes a great quick snack when you have unannounced guests. Everybody loves a cheese plate, right? Throw in some chocolate pieces, fresh or dried fruit, nuts and you've received the host of the year award. It really don't have to be fancy, does it?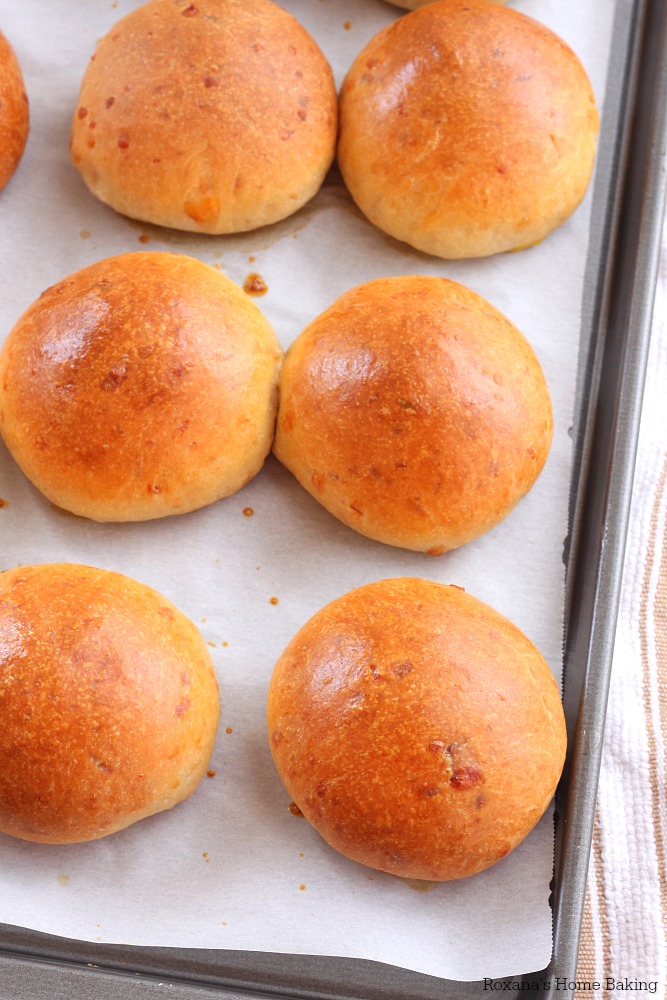 Yesterday when I made these cheese filled dinner rolls I was on the fence about sharing the recipe. It's a slight adaptation of a previous recipe (three cheese buns) only this time I added a cube of lite Jarlsberg cheese inside the dinner rolls and used other types of cheese.
I kept the mascarpone but used a Danish blue cheese instead of the Stilton and an apple smoked cheddar cheese instead of the Gruyere. Of course, you can use your favorite blue cheese or if you don't like blue cheese, feta is a good substitute. Other smoked cheese, like gouda will work wonderful as well or just aged cheddar.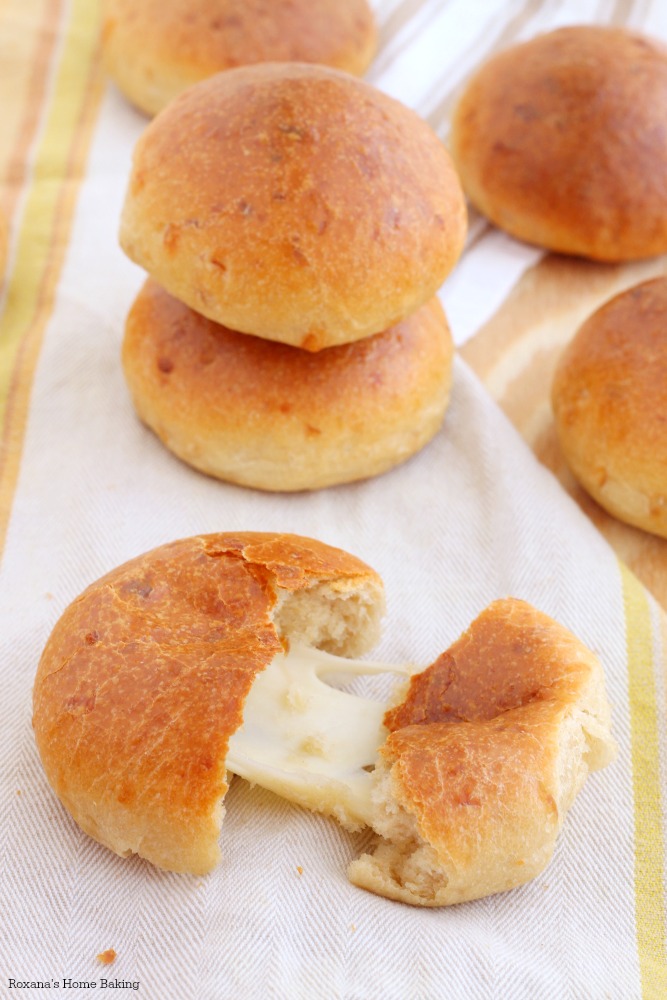 For the filling I used Jarlsberg. I love the sweet nutty flavor it brings. Unlike the blue cheese and smoked cheddar, it does not have a strong flavor making it perfect to use inside the rolls, letting it to stand out all by itself.
Since I first shared the recipe in 2011 I've made the cheese rolls a few times, every time using a different cheese but have always kept the mascarpone. It's such a mild cheese, bring moisture to the bread dough.
Remember, for the most delicious results to use the best cheese.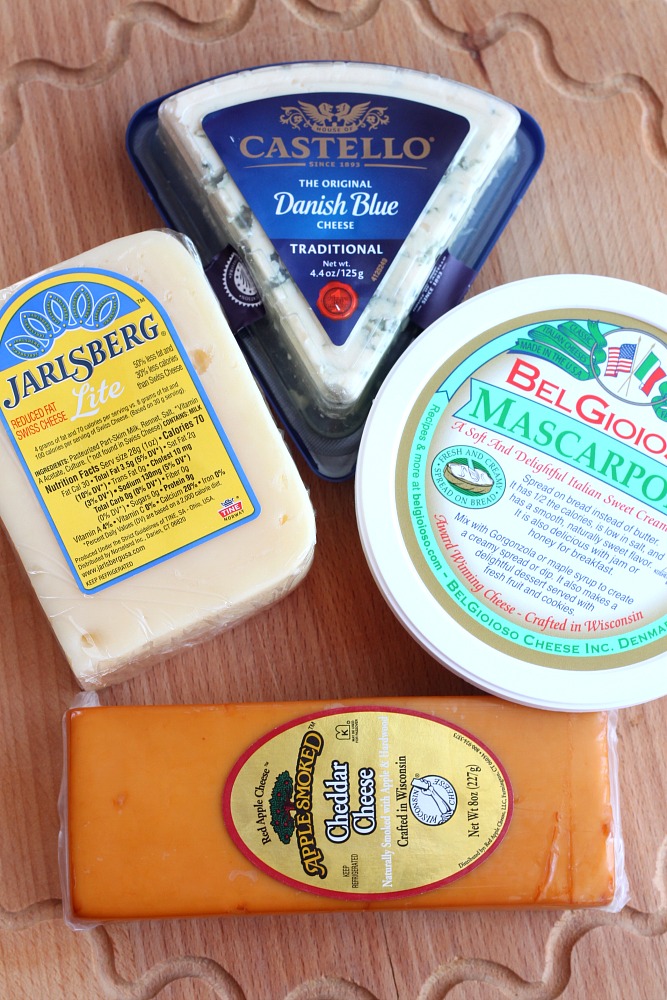 Cheese filled three cheese dinner rolls recipe
---
Yields 18 dinner rolls
Soft homemade cheese dinner rolls made with three types of cheese and filled with an ooye-gooey cheese cube. Dinner just got cheesier!
20 minPrep Time
30 minCook Time
4 hrTotal Time
Ingredients
2 cups (240 grams) bread flour
2 cups (240 grams) white whole wheat flour
1/4 cup lukewarm water
1 envelope (7 grams) active dry yeast
1 egg
8 oz Mascarpone cheese
4 oz blue cheese, crumbled
4 oz aged or smoked cheddar cheese, grated
1 teaspoon salt
2/3 to 3/4 cup water
18 cubes of Jarlsberg cheese (about 1/2 inch in size)
1 egg yolk mixed with 1 teaspoon water (for brushing the rolls, optional)
Instructions
In a mixing bowl add the two flours and stir to combine. Make a well in the middle and pour the lukewarm water.
Sprinkle the dry yeast over the water and let sit at room temperature for about 5 minutes or until the yeast has dissolved and bubbles appear.
With the dough hook attached, start mixing on low speed. Add the egg, the mascarpone cheese and 2/3 cup water.
Slowly fold in the blue cheese and cheddar cheese.
With the mixer on low speed, knead the dough until it cleans itself from the sides of the bowl. If needed add more water, but only a few drops at the time, otherwise the dough might become too sticky.
Once the dough is soft and wraps itself around the dough hook, cleaning the sides of the bowl, knead for further 3 minutes.
Remove the dough from the mixing bowl and place it in a greased bowl.
Cover with plastic wrap and let sit at room temperature until doubled in volume.
Once the dough is risen, divide into 18 pieces.
Flatted each piece and place a cube of cheese in the center.
Fold the edges together and place the roll, seam side down on a baking sheet covered with parchment paper.
Once all the rolls are shaped, cover them again with plastic wrap and let rest for 30 more minutes.
Meanwhile, heat the oven to 375F.
Optional, just before placing the rolls in the oven, brush them with egg wash.
Bake the cheese rolls for 30 minutes. Serve warm.
7.6.8
525
https://atreatsaffair.com/cheese-filled-three-cheese-dinner-rolls-recipe/
Roxana Yawgel http://atreatsaffair.com/ All images and content are copyright protected. Please do not use my images without prior permission. If you want to republish this recipe, please re-write the recipe in your own words, or simply link back to this post for the recipe. Thank you.
If you liked these cheese dinner rolls you may also like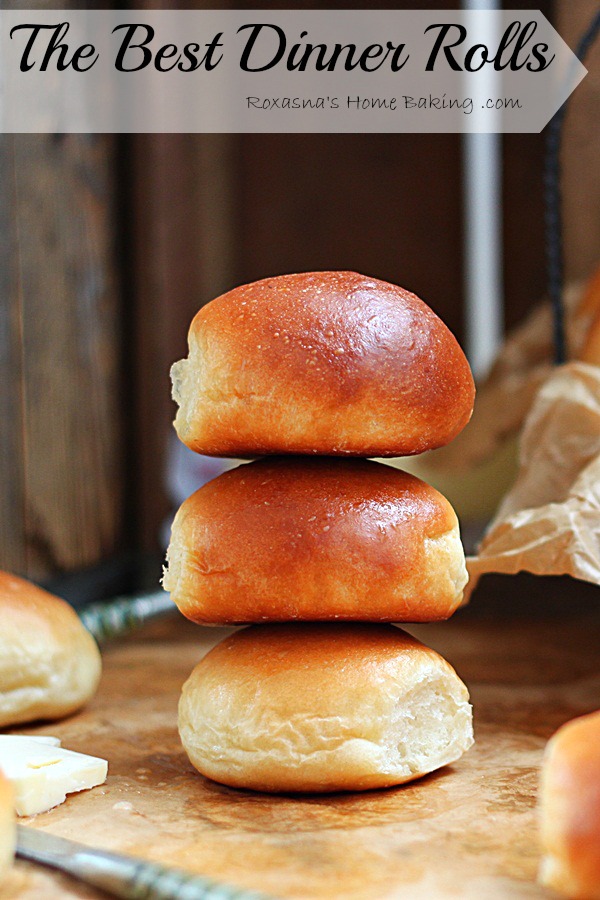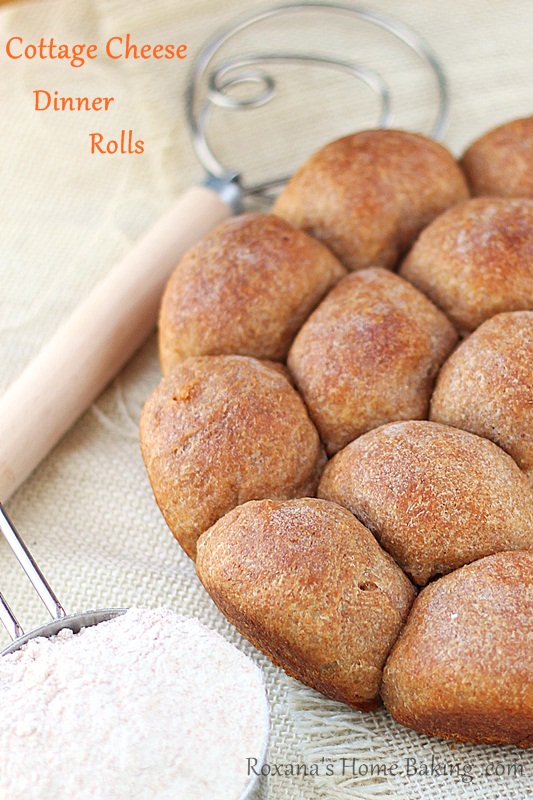 Happy Baking,
Roxana