Pasca – Romanian Easter Bread. Sweet, soft, enriched yeast bread baked in a springform with a cheese filling inside
After 7 weeks of fasting (abstinence from any kind of food derived from animals)  with Good Friday being the absolute fast (we're not allowed to eat or drink anything the entire day) comes Easter, one of the two most celebrated Greek Orthodox religious holidays. The other one is Christmas.
My Grandma is a very religious person. She follows every single tradition. She would dye the eggs on Thursday, get ready for the absolute fast and day long service on good Friday and make most of the meals and sometimes even bake the bread on Saturday.
Sunday morning we're get up very early, put on the clothes specially bought for Easter, wash out face with cold water from a basin in which my grandma placed a couple of red eggs, to make our cheeks red, according to the tradition, and get ready for the Sunday service followed by almsgiving.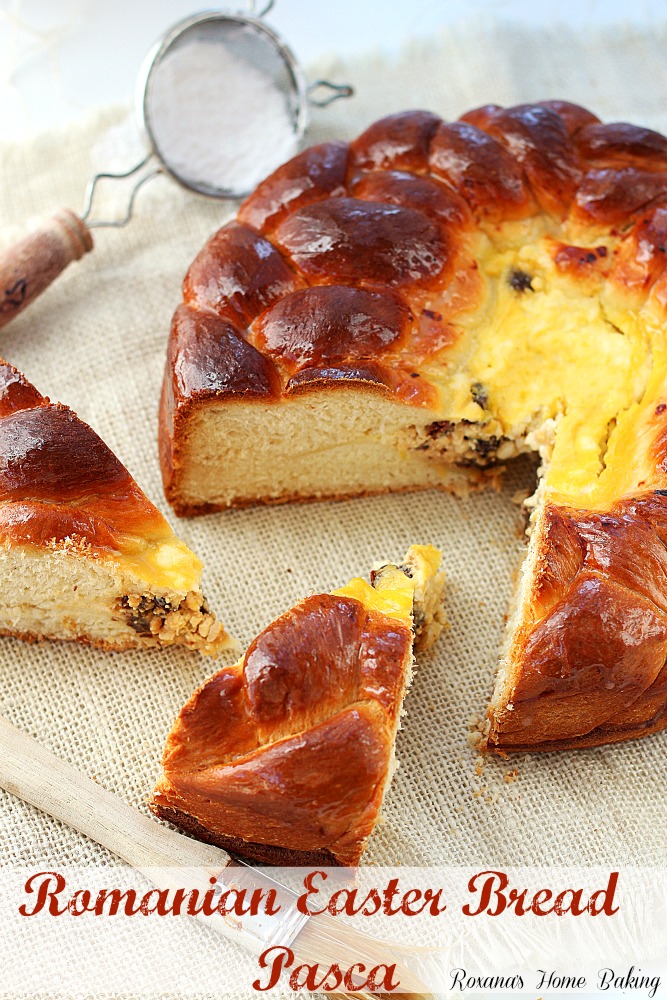 "Christ is Risen" and "Truly, He is Risen" are the most said and heard words during Easter day. It's the greeting and the prayer before meal time.
Meal time it's always a feast on Easter day. From simple appetizers, soup, main dishes to desserts.
In some parts of the country a simple Easter bread is made. It other parts "pasca" it's the Easter bread.
Pasca it's a sweet, soft, yeast braided bread baked in a 10 inch springform filled with a cheese mixture. Like a cheesecake in a bread.
It took me some practice to get it right but I'm very happy with the results, the only thing I would change is using maybe ricotta or cream cheese instead of farmer's cheese, for a creamier, smooth filling. Other than that, it's my favorite part of the Easter menu.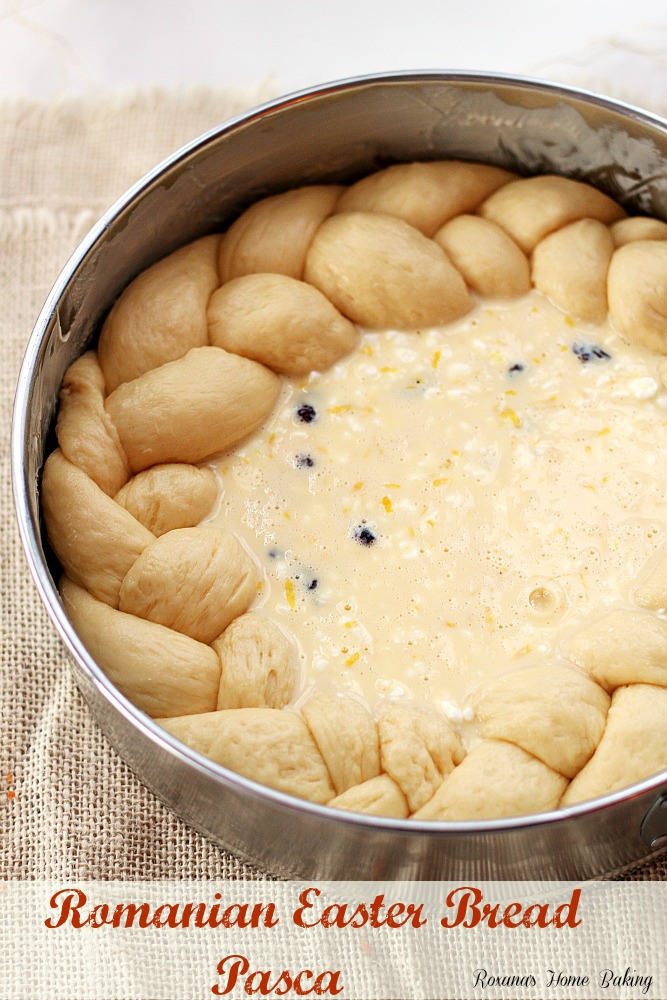 Romanian Easter bread – Pasca
---
Yields One round Pasca
Pasca - Romanian Easter Bread - sweet, soft, enriched yeast bread baked in a springform with a cheese filling inside.
30 minPrep Time
1 hrCook Time
5 hrTotal Time
Ingredients
Bread dough

1 cup (120 grams) bread flour (I used Pillsbury)
1 cup lukewarm milk
2 tsp dry yeast (i used Red Star)
1/2 cup (60 grams) bread flour
1/4 cup (56 grams) melted butter
1 egg
1/2 cup (100 garms) sugar
1 tsp salt
1 tsp vanilla extract
3 cups (360 grams) bread flour
1/4 cup grapeseed oil (you could use vegetable oil as well)
1 tbsp of milk, if needed

Cheese filling

1 cup ricotta/cream cheese/farmers cheese
2 eggs
1/3 cup powder sugar
few drops of vanilla extract/lemon extract/rum extract - whatever you prefer
lemon zest (optional)
1/2 cup raisins
2 tbsp honey + few drops of milk for brushing
Instructions
In a mixing bowl add 1 cup of flour, 1 cup of lukewarm milk and 2 tsp of dry yeast. Stir to combine. Sprinkle 1/2 cup of flour on top and leave at room temperature for 10-15 minutes until the mixture increases in volume and the flour on top is cracked.
With the dough hook on, add the melted butter, egg, sugar, vanilla extract, salt and slowly start adding the remaining 3 cups of flour until it's all incorporated.
With the mixer on low speed, keep mixing, slowly pouring the 1/4 cup of oil.
When all the oil is added the dough should be smooth and elastic.
I made it several times to make sure I got it right and one time it felt a little "dry" so I added few more drops of milk until it became soft and elastic.
Place the dough in a buttered bowl, cover with plastic wrap and leave at room temperature until doubled in volume. Should be around 2 hours.
When the dough is risen, divide the dough in 4.
Take one piece and roll it out in a 10 inch circle. Place it on the bottom of a well buttered 10 inch springform.
The remaining three pieces shape them in thing ropes, about 3 feet long each.
Braid them and gently place them in the springform pan, braiding the ends together to form a sealed circle.
Cover and let rise for another 40 minutes.
In the meantime heat the oven to 375F and make the cheese filling.
In a mixing bowl add the cheese, eggs, sugar, raisins, vanilla exact and lemon zest if using. Stir to combine.
Pour the cheese filling in the middle of the braided circle and bake for 15 minutes at 375F.
Without opening the oven door, lower the oven temperature to 325F and bake for 45 more minutes, or until the crust is deep brown (it's not burned, the high amount of sugar gives it the brown color) and the aroma takes over the kitchen.
Let cool completely.
Just before serving brush it with honey mixed with few drops of milk.
Slice and enjoy!
7.6.8
441
http://atreatsaffair.com/romanian-easter-bread-pasca-recipe/
Roxana Yawgel http://atreatsaffair.com/ All images and content are copyright protected. Please do not use my images without prior permission. If you want to republish this recipe, please re-write the recipe in your own words, or simply link back to this post for the recipe. Thank you.
Linking this Romanian Easter Bread to Bake Your Own Bread and Twelve Loaves
If you like this Romanian Easter bread you may also like
Sending love your way,
Roxana