A classic fall dessert, pecan pumpkin roll cake with smooth cream cheese filling is a must at our Thanksgiving table. One bite and you'll understand why!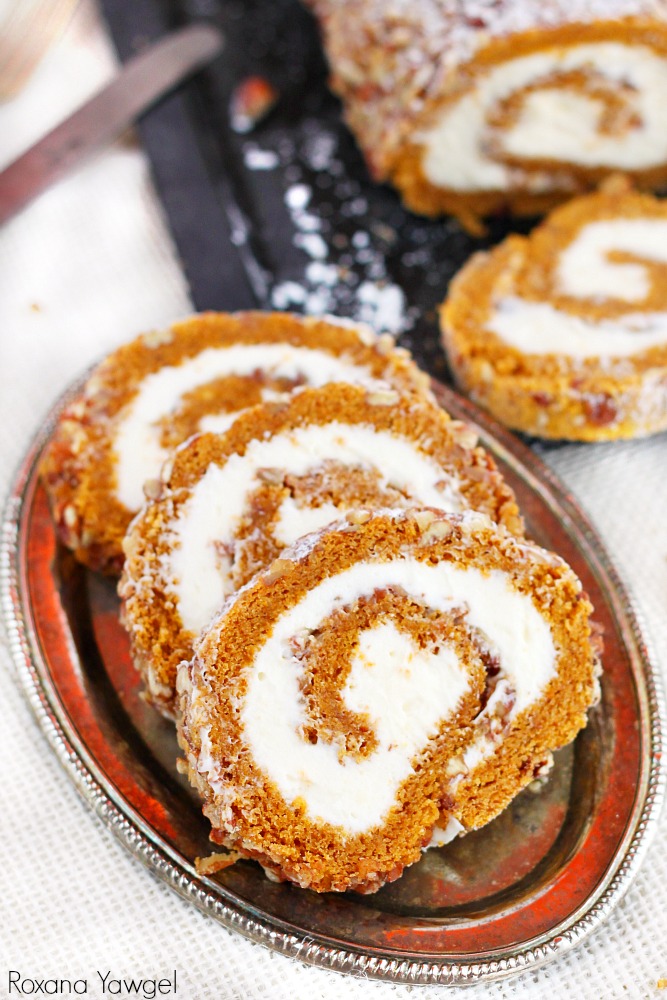 My mom was an amazing cook! May it be a simple family dinner or a holiday she would add love to every meal. She loved trying out new recipes but her classics were our favorites. Especially at holidays. It was our family tradition. Roll cakes for holidays were mandatory!
Most of the time it was a simple vanilla roll cake, other times it was a chocolate roll cake. No matter what flavor or filling she would make, we'd devour the cake in no time! I grew up with roll cakes and wanted to keep the tradition with my family as well. Bring on the holidays and the tea towel to roll a cake!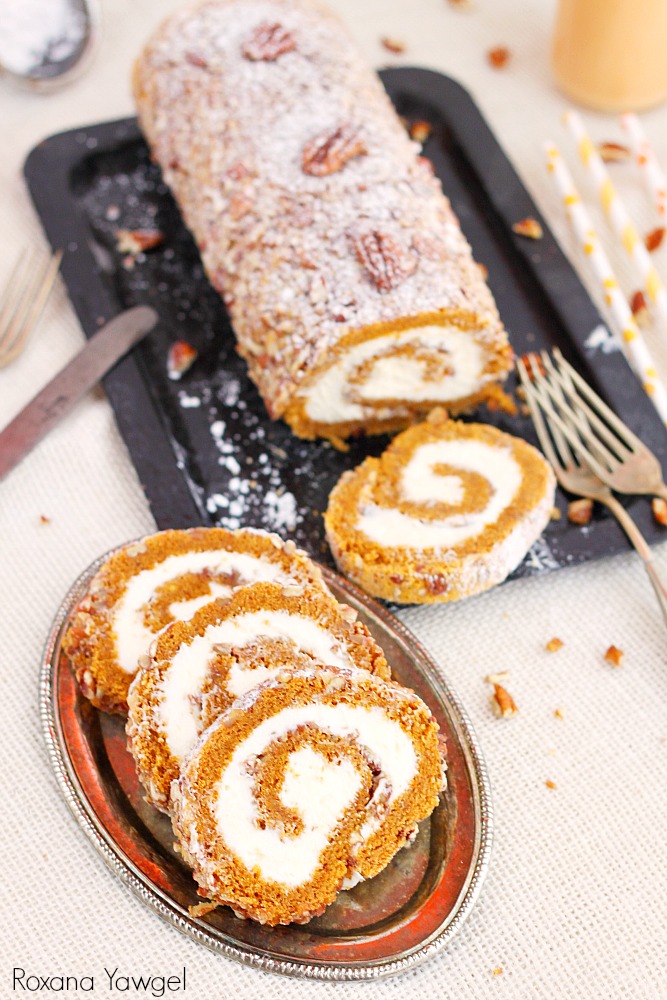 Although my mom never made us a pumpkin roll cake, I've been making one for my family for few years now at Thanksgiving. Every year it's a slightly different version or I choose another flavor for the filling, but I think, with this recipe found in the fall baking issue of Better Homes and Gardens magazine I found the one!
It's practically impossible to resist that spongy, moist pumpkin cake rolled up with a thick cream cheese filling. This mild flavored pumpkin roll cake is sprinkled with chopped pecans just before baking to give the cake a light nutty flavor but also to give it a crunchy bite as well.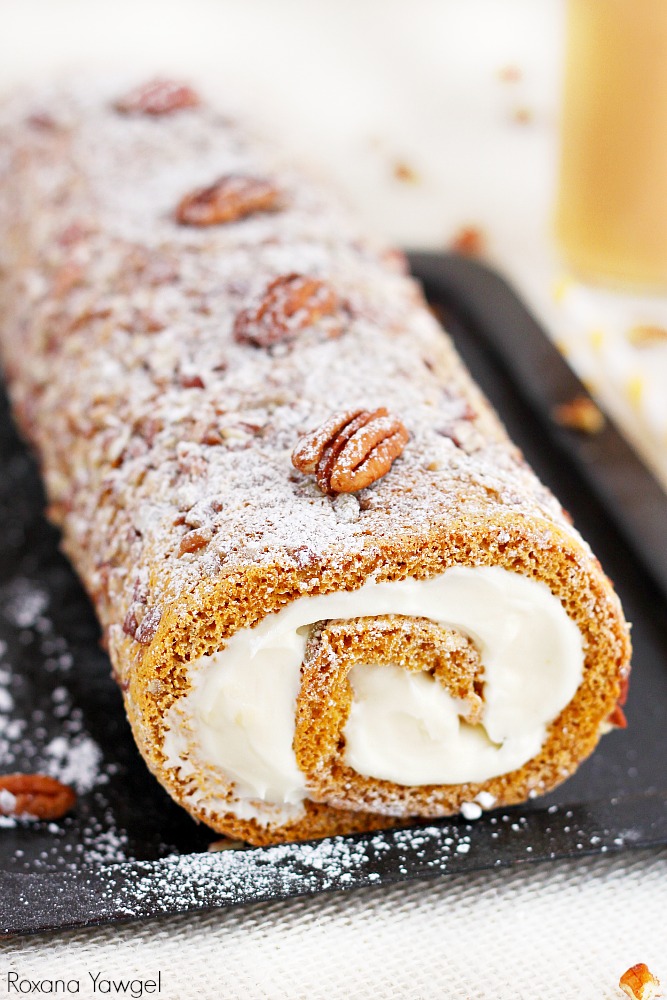 If you're intimidated by the roll cakes, you really should not be. It's fairly easy to make them. All you have to do is follow the basic rules for the roll cakes. Beat the eggs with the sugar until enough air is incorporated and gently fold in the remaining ingredients. The baking time is around 10-15 minutes, depending on the cake. The cake it's done when it a little puffed and springs back when touched.
The biggest fear people seem to have with a roll call is the cracking, but this can be prevented by rolling the cake  as soon as you take it out of the oven in a clean sugar-dusted towel. Doing this step gives the cake its shape so once it is cooled it can be easily unrolled, filled, and rolled up again without cracking or breaking into pieces.

Craving more? Sign up for a trEATs affair email newsletter and get all the recipes sent right to your inbox!
Be sure to follow me on social media, so you never miss an update!
Facebook |  Pinterest   |    Instagram   |     Bloglovin'
[related-posts]
[mpprecipe-recipe:488]
If you liked this Pecan Pumpkin Roll Cake you may also like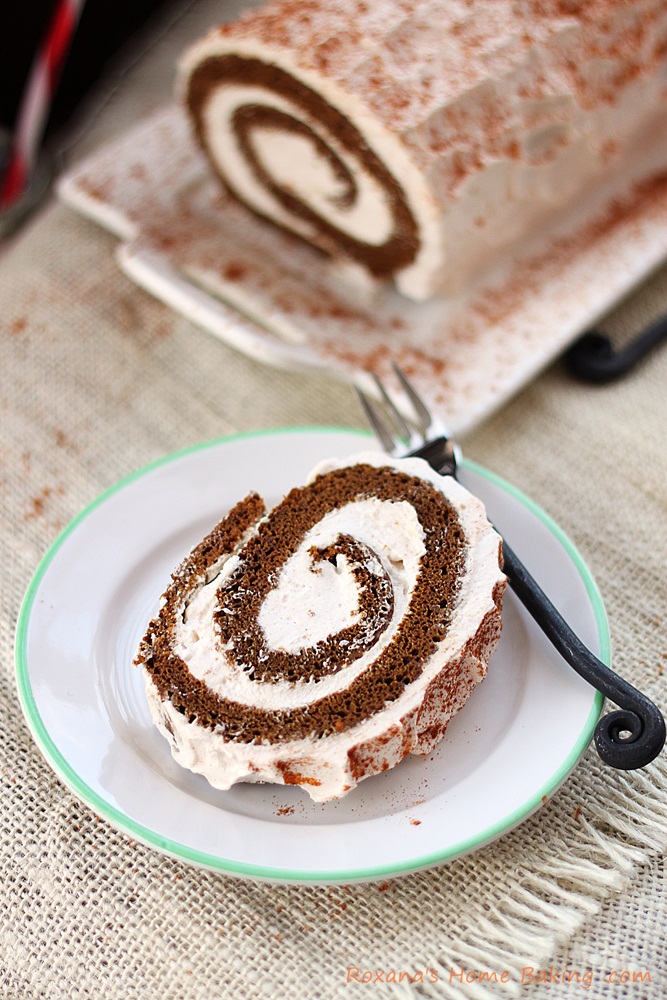 Chocolate strawberry roll cake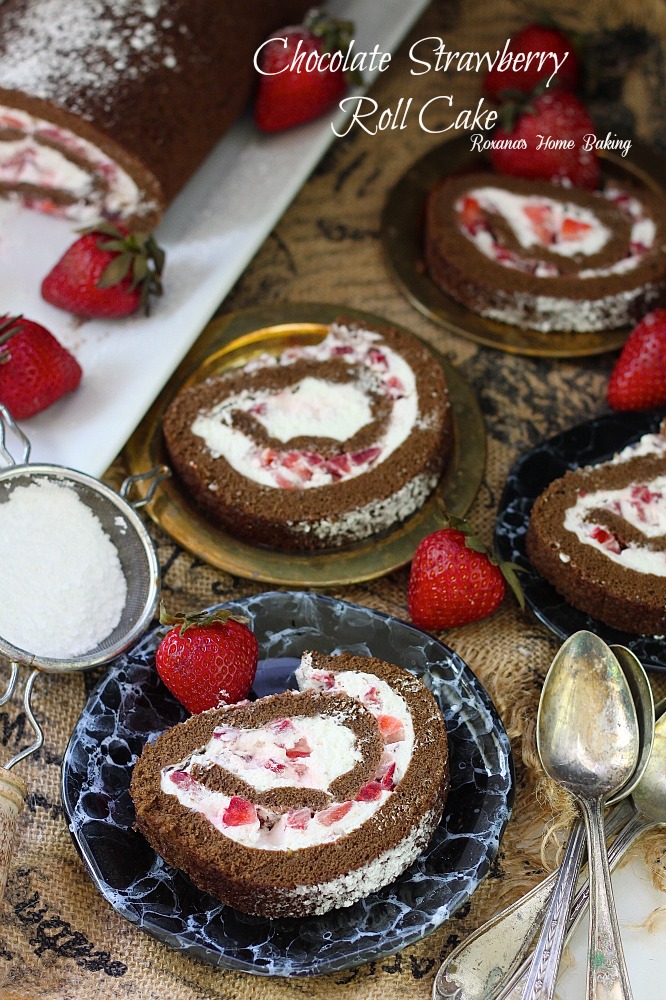 Sending love your way,
Roxana