Today's cookies are brought by Joan of Chocolate, Chocolate and more. I'm pretty sure I'm not the only one that feels that way,  but you have to love a blog with that name. We're talking double chocolate here. And Joan is one of the sweetest and most supportive bloggers I know. You may remember her from a couple of weeks ago when I shared the
Dulce de Leche Layer Cake
on her blog. I was so happy when she agreed to bake some cookies for us. And not just any cookies, but Mexican Wedding Cookies, one of my favorites.
~~~~~~~~~~~~~~~~~~~~~~~~~~~~~~~~~~~~~~~~
Hi all! I'm Joan from Chocolate, Chocolate and more. I'm so excited to be here with all of Roxana's friends! I adore Roxana and her baking creativity.
Baking is my favorite thing to do. As a wife, mother of 3, stepmom to 2, and Grandma to 3, I have to feed people all the time. Yes, I cook homemade meals most nights.  They need to eat. And it's our family time. No TV, no phone, just us, food and conversation. We talk. Making these meals makes me feel good because I know it's usually better for them that premade foods or take out.
But what I love to do is make sweets. Cookies and bars, 
Candy
, Brownies,
Muffins
,
Snacks
, oh and I love to make
Bread
!
I love the holiday season. It gives me an excuse to make things like Turtle Bark, Fried Candied Pecans, White Chocolate Fudge, Homemade Caramels, Homemade Gumdrops, and I make bread for special friends.
The main thing I'm constantly making are cookies.  Most cookie dough can be frozen so I'll make up double and triple batches then just bake a few dozen at a time. Always fresh, always ready when the kids or hubby comes home and wants a treat for the next day.I remember the first time I had these cookies. My sister was making them in high school. She used walnuts because that's what was available. Now that I'm living in Georgia, we always use pecans. Both are good. The big key in these cookies being tasty is using real butter, not margarine. You can definitely tell the difference in these cookies.
Mexican Wedding Cookies
1 cup butter, softened
1/2 cup granulated sugar
2 cups all-purpose flour
1/2 teaspoon salt
2 cups ground nuts
2 teaspoons vanilla or almond extract
confectioner's sugar for rolling
Beat butter till creamy, add in sugar and beat again. Add remaining ingredients and mix well. Dough will be crumbly. Chill dough for about an hour. Preheat oven to 325 degrees. Roll dough in to 1 inch balls and place on an ungreased cookie sheet. Lightly flatten them (just so they don't roll around) Bake for 12 minutes. Roll cookies while still warm in confectioners sugar, let cool completely then roll in the sugar for a second coating.
Thanks for having me Roxana, you can also find me on Facebook, Twitter, Pinterest and Google +
~~~~~~~~~~~~~~~~~~~~~~~
Check out other Christmas treats part of the #25recipestoXmas event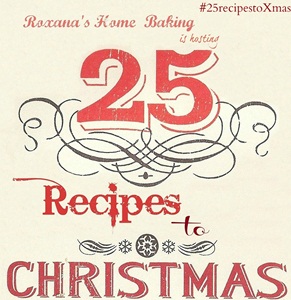 Sending love your way,
Roxana