It all started with a picture I've seen on Pinterest. Unfortunately it wasn't a very successful search since the image took me to a series of tumblr blogs but the recipe was nowhere to be found.
And I do remember I've read the recipe last year, but I can not remember where. There were these gooey cookies topped with chocolate and marshmallows and the photos were gorgeous! You could see the oozing chocolate underneath the puffed marshmallow. Way better than my photos but it is as close as I could get recreating the photo I remember. (If you know what photos I'm talking about please tell me so I can link to the original source) updated – the original photos can be found here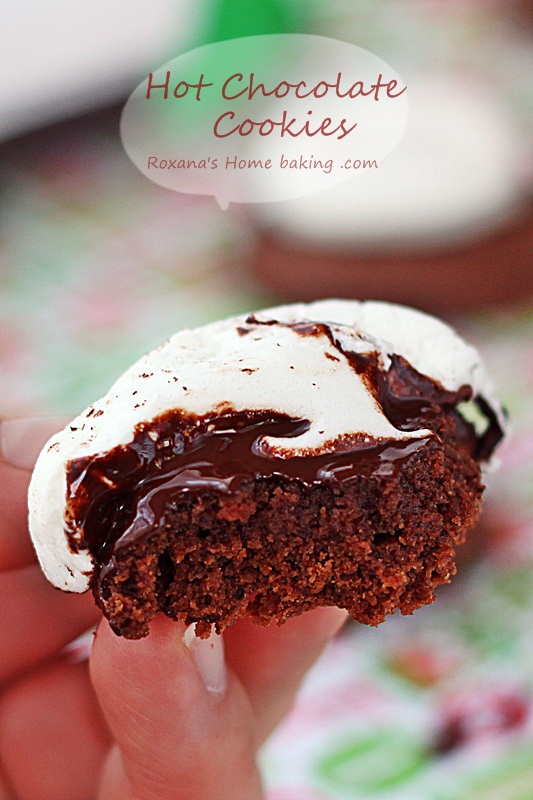 With the photo in mind I starting developing the cookies : I imagined a soft brownie cookie, topped with gooey, oozing chocolate and marshmallows. I've made brownie cookies in the past so it wasn't that hard to make some, but this time I want something a little different, something more Hot Chocolate-ish. So I added some hot chocolate powder to the cookie dough. Oh, it gave the cookies an even deeper chocolate flavor. The cookie turned out soft and fudgy, rich in chocolate just like I imagined them.
Now the fun part was adding the chocolate and the marshmallow on top. And it was fun, with lots of ruined cookies to taste-test. I started with two squares (which is more of a rectangle) of chocolate and one big marshmallow which turned out to be a total mess. The chocolate would melt completely before the marshmallow puffed.
The second time I added just two squares and half of a  marshmallow but it sort of slide from the top on the cookie onto the baking sheet.
The third time I halved the big marshmallows and soft of pushed one square on chocolate  inside the halved marshmallow, which turned out to be the way to go.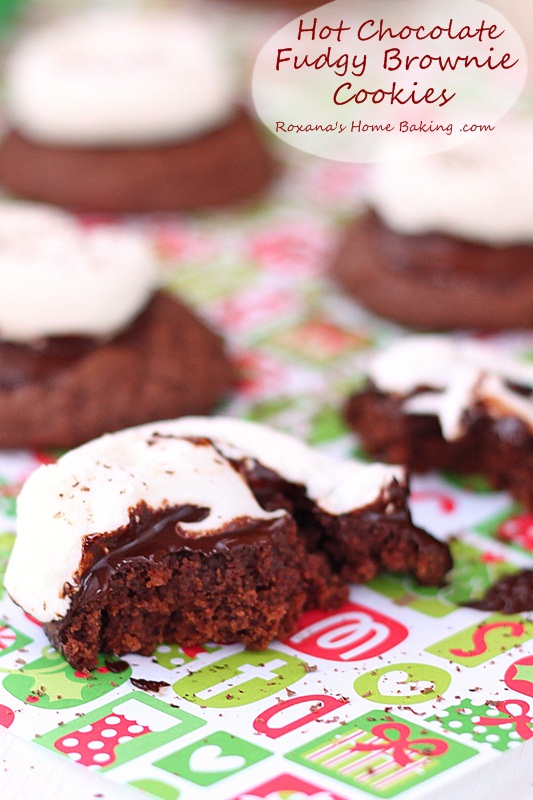 A quick advice : work with just 4-6 cookies at a time. It's so easy to ruin them when you're trying to place the chocolate-marshmallow on top in a record time. It may take longer to finish all the cookies, but you'll be more successful.
And if all fails, have some mini marshmallows on hand, for plan B.
After my first two attempts I soft of given up so I baked few cookies, topped them with mini marshmallows and drizzled some melted chocolate on top.
Now it's up to you to decide which cookies you'd like to WOW your guests with. Keep in mind you have to work fast to serve the cookies while the chocolate is still oozing or you can just serve them cold like I did (sorry mommy friends)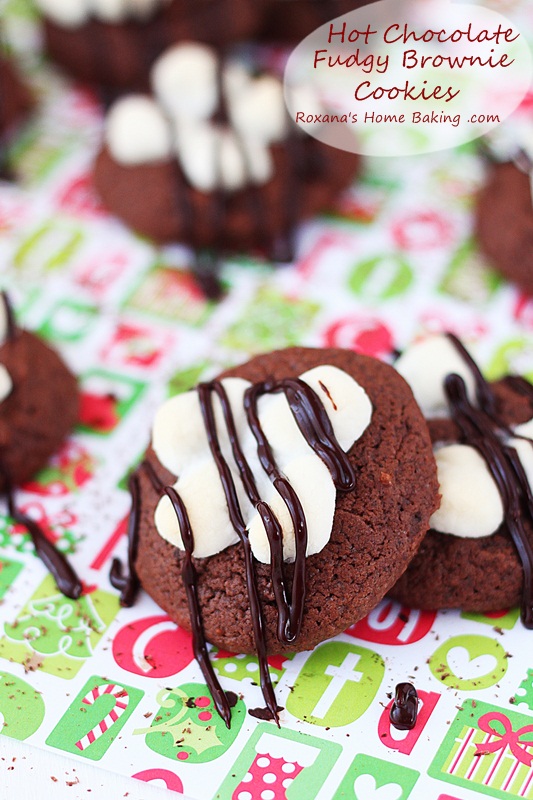 Hot Chocolate Fudgy Brownie Cookies
---
Yields 30 cookies
Hot chocolate fudgy brownie cookies topped with oozing chocolate and a gooey marshmallow. A delicious way to impress your loved ones
10 minPrep Time
12 minCook Time
1 hrTotal Time
Ingredients
1/2 cup (113 grams) butter room temperature
3/4 cup sugar
1 egg
1/4 cup milk
1 2/3 cup (200 grams) all purpose flour
1/3 cup (28 grams) unsweetened cocoa powder
1/2 tsp baking powder
15 large marshmallows or 120 mini marshmallows
20 squares Green and Black's dark chocolate
Instructions
In a mixing bowl add butter and sugar and cream until light and fluffy.
Add the egg and milk and mix well, scraping the sides of the bowl.
Now add the flour, cocoa powder, hot chocolate powder and baking powder. Mix until just combined.
With a cookie dough scoop drop spoonfuls of cookie dough on baking sheets. Place the sheets in the fridge for about 15 minutes.
Meanwhile heat the oven to 350F.
Bake the cookies for about 9 minutes.
While the cookies are baking, half the marshmallows and press one chocolate square inside it.
If you want to top the cookies with the mini marshmallows instead, leave the chocolate alone, you'll melt it once the cookies are completely baked.
Leave the cookies to cool for 2-3 minutes and with a steady spatula take about 6 cookies and place them on another baking sheet. Top them with the chocolate-marshmallow and put them back into the oven for 2 more minutes or until the marshmallow is slightly puffed.
For the mini marshmallow version, top each cookie with 4 mini marshmallows, place them back into the oven for 2 minutes. In the meantime melt the chocolate in the microwave and when the cookies are done drizzle some on top of them.
Serve while still warm.
7.6.8
394
http://atreatsaffair.com/hot-chocolate-cookies-recipe/
Roxana Yawgel http://atreatsaffair.com/ All images and content are copyright protected. Please do not use my images without prior permission. If you want to republish this recipe, please re-write the recipe in your own words, or simply link back to this post for the recipe. Thank you.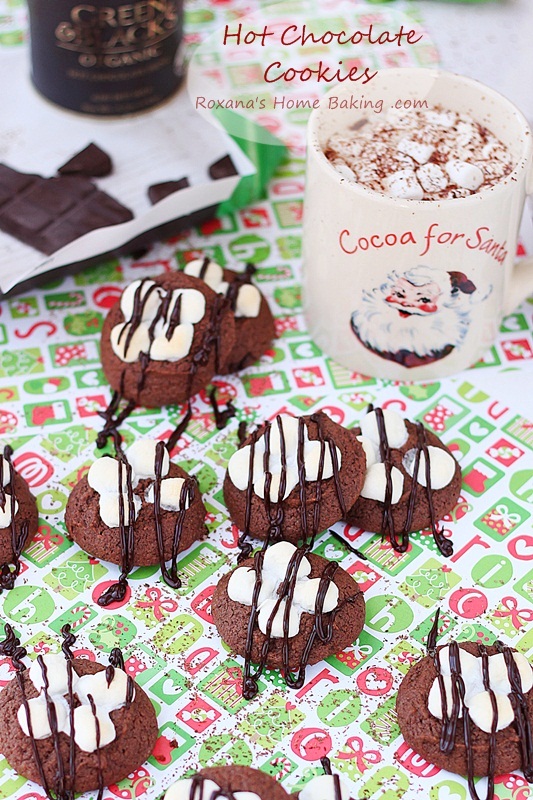 For other Christmas treats check out #25recipestoXmas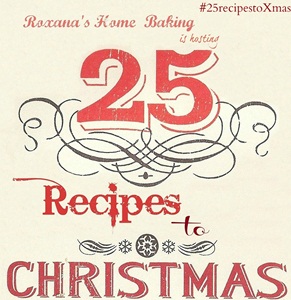 ~~~~~~~~~~~~~~~~~~~~~~~
~~~~~~~~~~~~~~~~~~~~~~~
Did you know today is National Chocolate Day? You didn't? Now you do!
And since I LOVE chocolate I'm giving away some of my favorite chocolate: 6 Green and Black's Organic Chocolate bars and 1 container of Hot Chocolate Powder
Green & Black's offers a wide variety of different chocolates. From the most popular milk chocolate to white and dark bars : 70% and 85% plus lots of other bars like mint, espresso, ginger and even baking chocolate.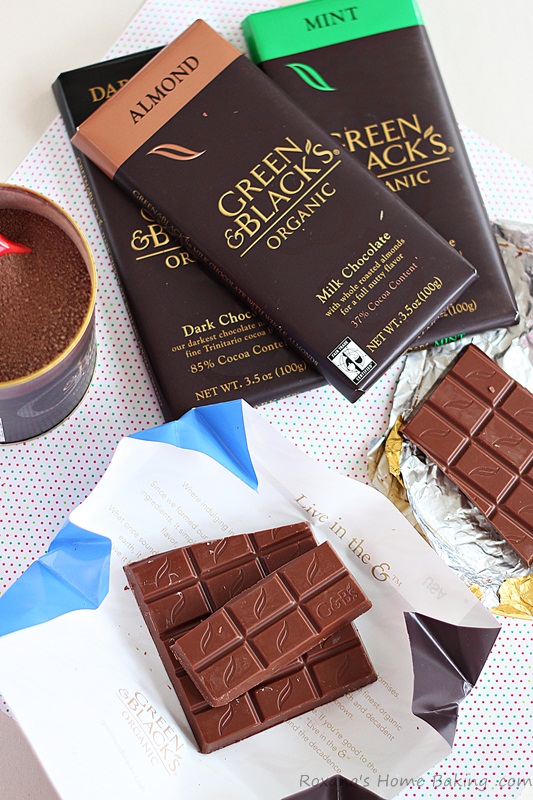 To win a box of Green and Black's Organic Chocolate leave a comment below telling me which Green and Black's Chocolate is your favorite or which one you'd like to try. (mandatory entry)
Optional – subscribe to Roxana's Home Baking by email to be the first to know when a recipe is shared.
The giveaway is opened until December 8th at 11.59 pm. The winner will be notified via email and will have 48 hours to reply or another winner will be selected.
Due to shipping cost the giveaway is opened only to Continental US residents. Sorry international friends
* I received 4 chocolate bars and 1 container of hot chocolate powder to use in my recipe. I was not compensated for this post, opinions being all mine.
Sending love your way,
Roxana