Smooth, creamy and full of citrus flavor, these lemon cheesecake bars are topped with a thin layer of lemon glaze and prepared on a simple graham cracker crust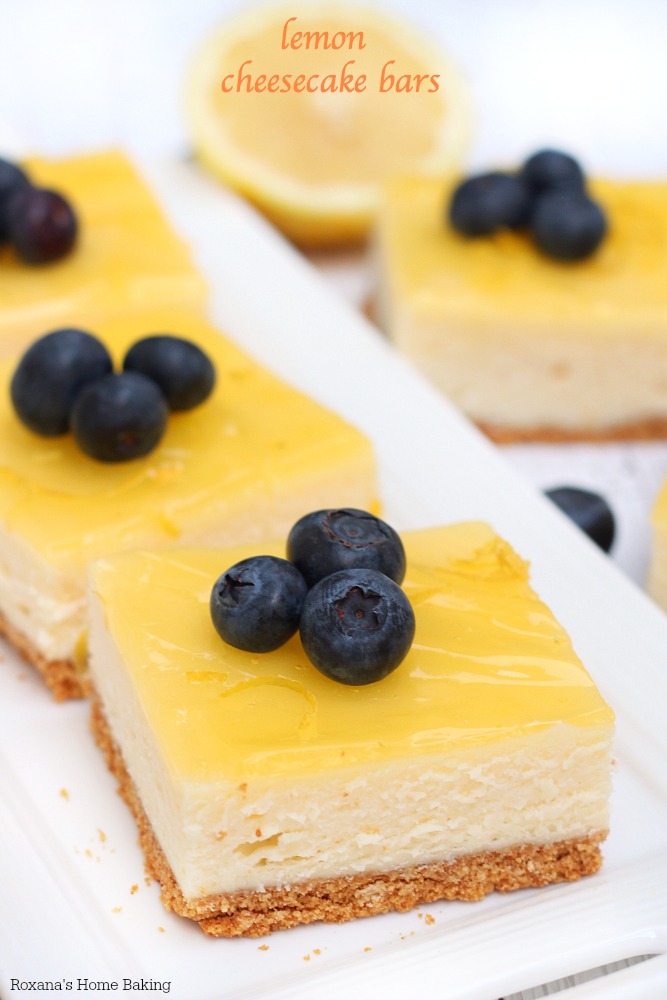 There's no secret I love cheesecake, and have made and eaten it many times, but I had never tried a lemon cheesecake before. It hasn't occurred to be that you can combine the tangy lemon taste with the sweet velvety cheesecake, until recently.
These bars are most likely the best combo between luscious lemon bars and  creamy cheesecake.
They are sweet, they are tangy. I don't know which layer is my favorite. The lemon cheesecake or the lemon glaze. Both of them are good on its own, but combined it's a lemony explosion!
Summer is on its last leg and most of the time lemon is associated with the hot sunny days, but don't let that stop you from enjoying these lemon cheesecake bars year round.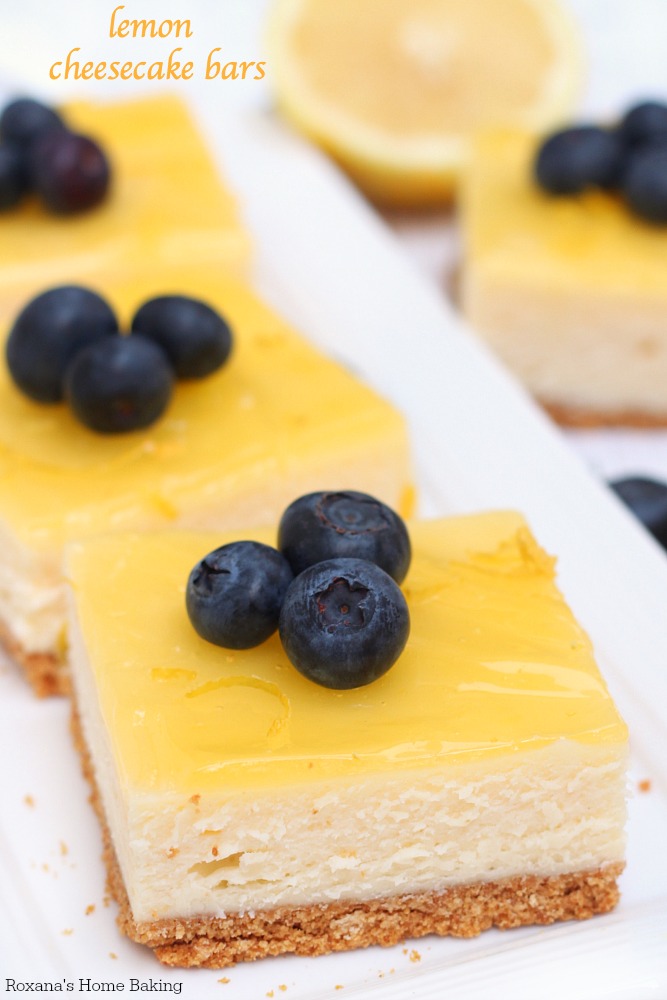 I could eat cheesecake all day every day, and have to admit that most of the time I eat way too much when I make it,  but I prefer making cheesecake bars instead of a big 9 inch round cheesecake. Seems to me it takes less effort and time to make the bars and I can enjoy them even faster! Plus it is less likely to crack. No fancy water bath, no sweat and tears. Not to mention it's easier to grab one cheesecake bar rather than a cheesecake slice.
These lemon cheesecake bars do take a little effort and it takes a couple of hours from start to finish, most of it actually being waiting time, but don't let that discourage you. They will be a hit  and will put a smile on everyone's faces. I don't know about you, but the color yellow makes me happy.
For the best results, you have to follow the recipe directions, do not rush the process and definitely do not use bottled lemon juice. Use real lemons!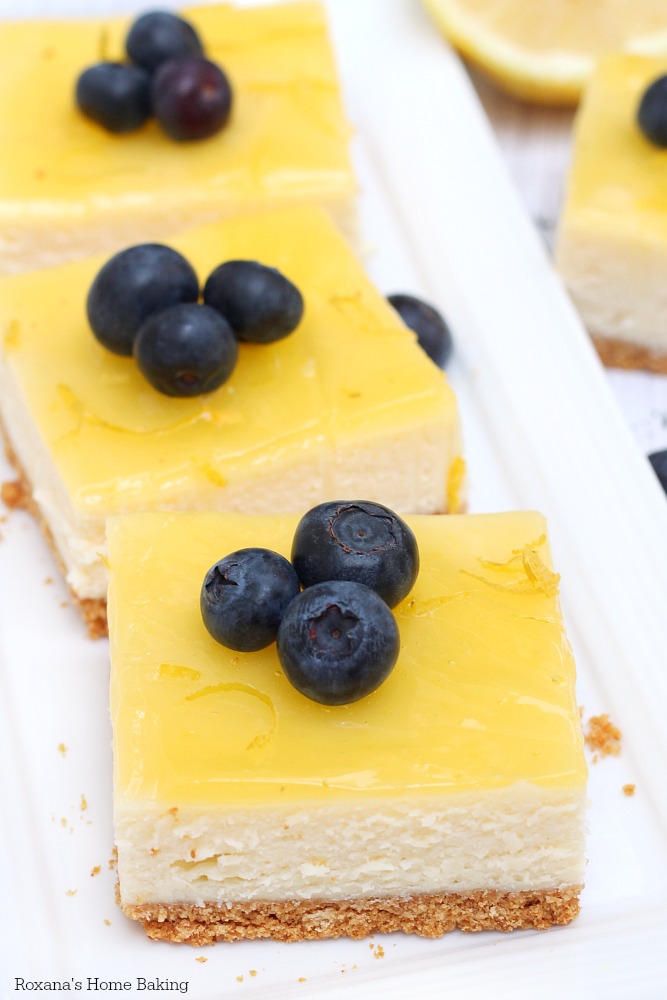 Start by gathering all your ingredients and make sure the eggs and cream cheese are at room temperature. Having the ingredients at room temperature ensures a velvety cheesecake filling. If your cream cheese and eggs are cold, you'll over-beat the filling incorporating too much air into it.
While the oven is heating up, prepare the crust and refrigerate it for few minutes. 2 ingredients are all you'll need for the simple graham cracker crust : graham crackers crumbs and melted butter.
The lemon cheesecake layer is flavored with both lemon zest and freshly squeezed lemon juice. It's very important to be freshly squeezed and not coming from the little yellow bottle you can buy at the grocery store.
The sweet and tart lemon glaze is made out of cornstarch, sugar, lemon juice and egg yolk. It's so good I just wanted to eat it by the spoonful!
Since the lemon glaze require not much cooking, only a few seconds, it's very important to use a pasteurized egg yolk.
Make sure your cheesecake is completely chilled before spreading the lemon glaze over it.
[mpprecipe-recipe:560]
Happy baking,
Roxana