Buttery shortbread topped with ooey gooey caramel and silky ganache, these layer cookie bars will cure any cravings. Put your stretchy pants on, you'll need them while devouring these rich chewy bars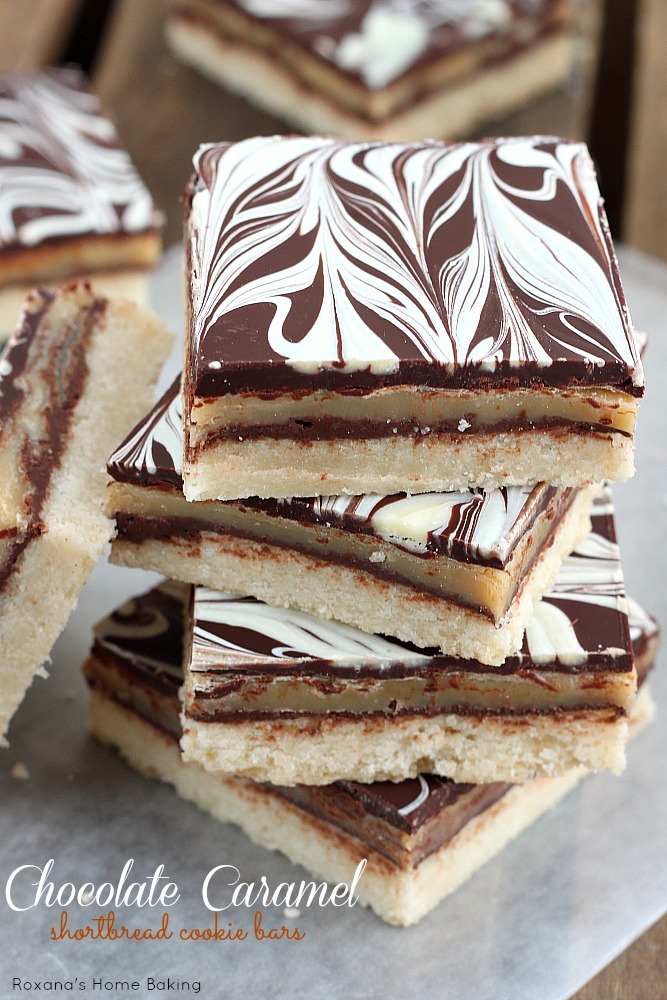 I've been holding on to this recipe for a couple of weeks now. It may have been my selfish side or the fact that your tights will expand as you read the ingredient list. Butter on top of more butter, oozy gooey caramel, smooth chocolate spread and silky ganache. These bars are so rich it's no surprise they go also by the name millionaire bars. Grab a glass of milk and some stretchy pans. You'll know what you mean once you bite into one of these chewy cookie bars.
On the bright site, these rick cookie bars will go a long way since a small square will satisfy your cravings.
These are a lot of recipes for millionaire's cookie bars, but mine has a twist that will make these bars even more irresistible.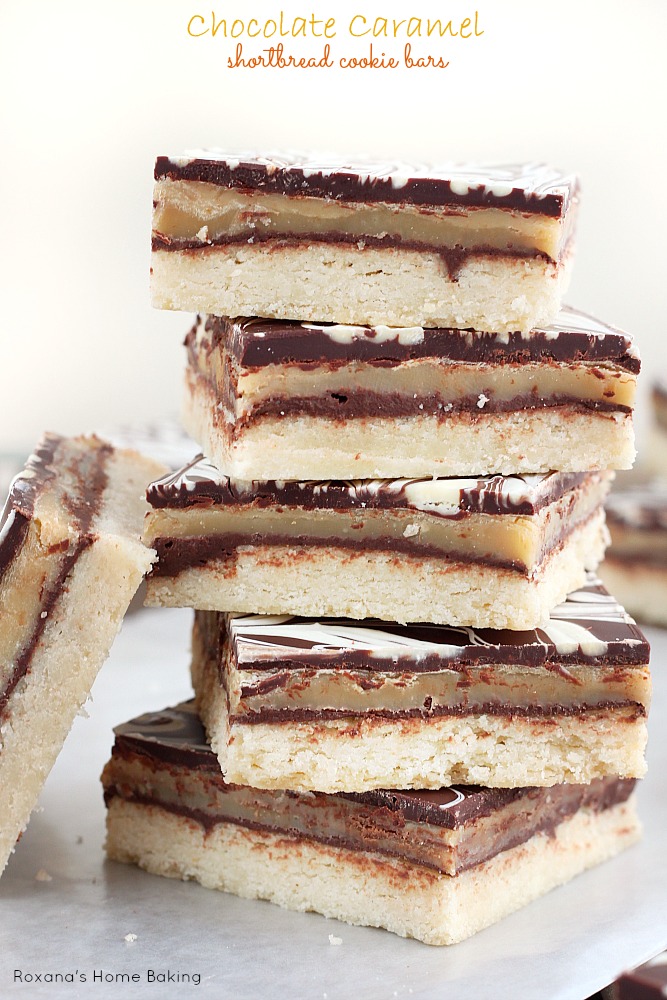 These cookie bars, just like the name suggests, start with a layer of buttery shortbread. Butter, sugar, flour and a touch of vanilla extract are pulsed together in the food processor until the dough comes together.
With your fingers and the back of a spoon press the dough evenly on the bottom of a baking pan. Bake until just golden.
That's the easiest part of the recipe. Once the shortbread layer is out of the oven, you need to work as fast as possible.
For the first chocolate layer, I used Hershey's chocolate spread. I spooned it in a ziploc bag, snipped the end and drizzled it all over the warm shortbread. With an offset spatula, gently spread it evenly. Set aside while baking the caramel layer.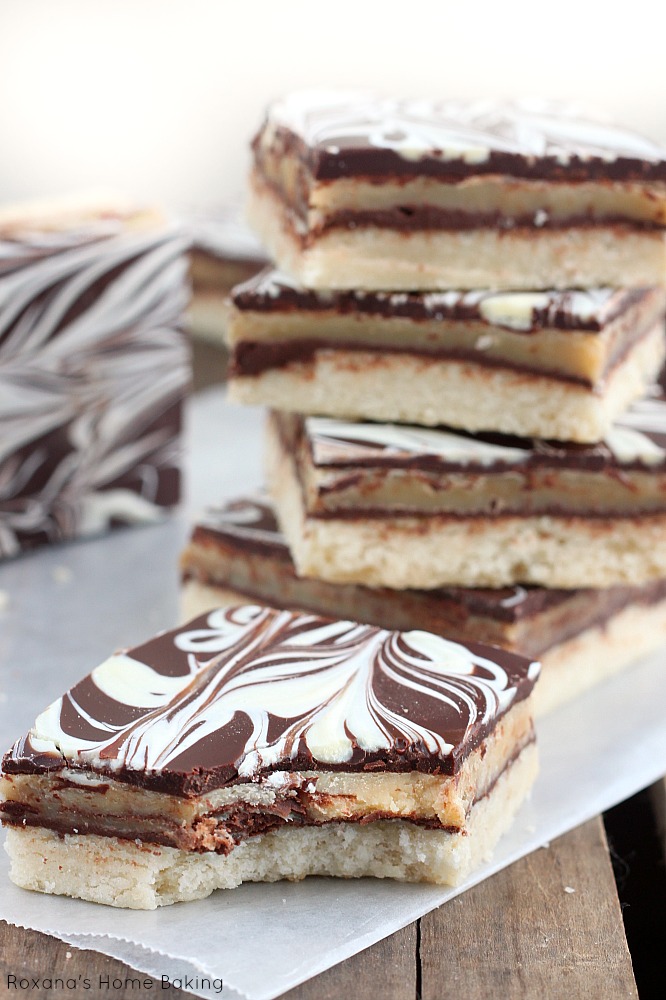 The caramel layer is a little tricky. Of course, if you want to take a shortcut, you can use a can of store-bought can of dulce de leche (I prefer La Lechera from Nestle) but I've made my caramel from sweetened condensed milk, a touch of brown sugar and butter. There's no big deal into making it, you just have to stay focused. No time to multi task or you'll burn the caramel and the only thing you can do to save a batch of burned caramel is to start all over again and pay more attention. I may or may not talk from experience.
Once the caramel is done, quickly pour it over the chocolate layer and spree fit evenly.
The finishing touch is a two-tone chocolate ganache.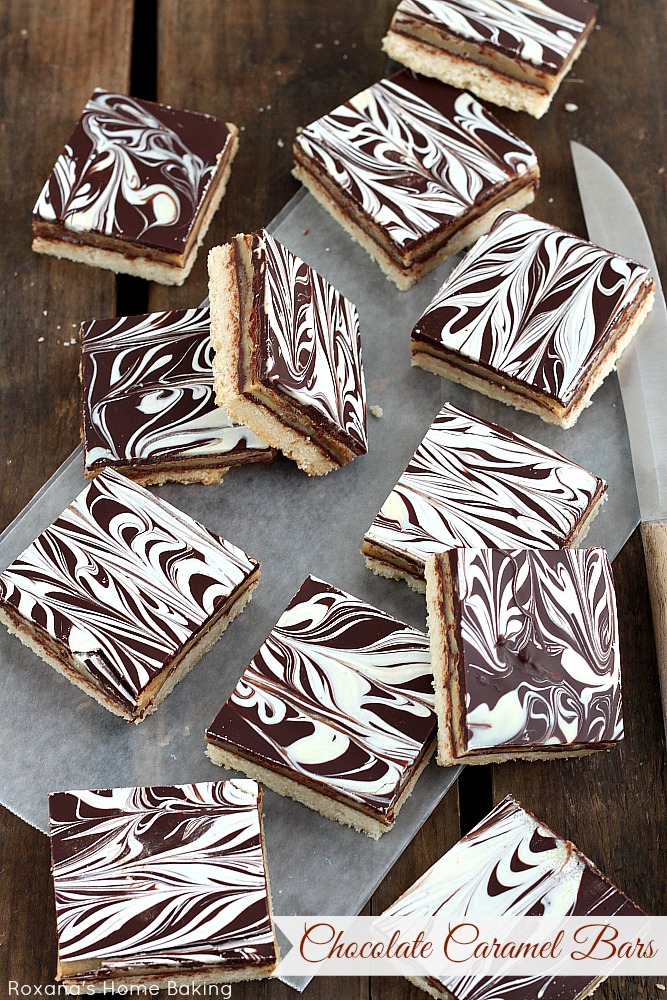 I prefer dark chocolate for the ganache to balance the sweetness of the caramel layer, but you can also use semisweet chocolate. Additional you could use a pinch of fleur de sel to sprinkle over the bars for a salty touch.
For the marble effect as soon as you poured the dark chocolate over the caramel layer,  drizzle the melted white chocolate and with a toothpick gently make some swirls.
Craving more? Sign up for a trEATs affair email newsletter and get all the recipes sent right to your inbox!
Be sure to follow me on social media, so you never miss an update!
Facebook |  Pinterest   |    Instagram   |     Bloglovin'
Chocolate caramel shortbread cookie bars recipe
---
Yields 24 bars
Buttery shortbread topped with ooey gooey caramel and silky ganache, these layer cookie bars will cure any cravings
15 minPrep Time
30 minCook Time
4 hrTotal Time
Ingredients
Shortbread layer

2 1/4 cups (270 grams) all purpose flour
1/3 cup (70 grams) sugar
3/4 cup (170grams) unsalted butter, diced
1/2 tsp vanilla extract

Chocolate layer

1/2 cup Hershey's chocolate spread

Caramel layer

1 can (14 oz) sweetened condensed milk
7 tbsp (100 grams) unsalted butter, diced
1/2 cup (100 grams) light brown sugar

Chocolate ganche

1 cup (160 grams) dark chocolate chips
1/3 cup (55 grams) white chocolate chips
Instructions
Heat the oven to 350F. Line a 13X9" baking pan with parchment paper, leaving about 1 inch of paper hanging on the sides.
In a food processor add the shortbread ingredients. Pulse for about 1 minutes until the dough comes together and forms a ball.
Remove the dough from the food processor and with your fingers press the dough evenly on the bottom of the prepared baking pan. With the back of the spoon, smooth it.
Prick the shortbread with a fork all over and bake in preheated oven for 20 minutes or until firm to touch and very light brown.
Remove from the oven.
Meanwhile, spoon the chocolate spread into a zilpoc bag and cut the corner.
As soon as you remove the shortbread from the oven, drizzle the chocolate spread over it. The warmth of the shortbread will soften the chocolate spread making it very easier to spread with an offset spatula.
Set the shortbread aside to cool for about 30-40 minutes.
Once the shortbread is cooled down, it's time to make the caramel.
In a medium saucepan, add the butter, brown sugar and condensed milk and heat gently stirring constantly. Bring to a boil.
Reduce the heat and simmer, stirring constantly, for about 5-7 minutes or until the mixture thickened and has turned a caramel color.
Remove from the heat and pour over the chocolate spread layer. Spread it evenly.
Leave to cool completely, about 1 1/2 hours.
To make the ganache, melt the dark chocolate in a heatproof bowl. Pour over the caramel layer. Immediately melt the white chocolate and drizzle over the dark chocolate layer.
With a toothpick, gently marble the two chocolates.
Let to set completely before cutting into bars.
7.6.8
509
http://atreatsaffair.com/chocolate-caramel-shortbread-cookie-bars-recipe/
Roxana Yawgel http://atreatsaffair.com/ All images and content are copyright protected. Please do not use my images without prior permission. If you want to republish this recipe, please re-write the recipe in your own words, or simply link back to this post for the recipe. Thank you.
If you enjoyed these Chocolate caramel shortbread cookie bars  you may also like
Dulce de leche chocolate cheesecake bars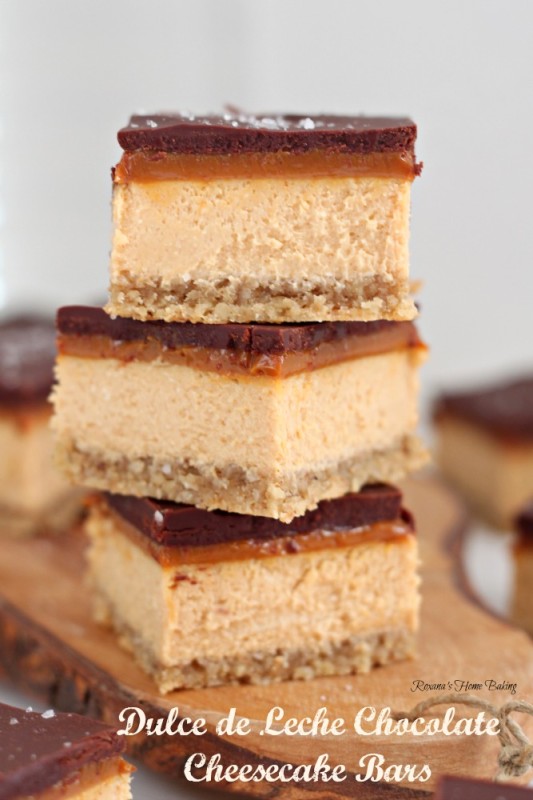 Happy Baking,
Roxana