So light and refreshing, these lemon bars make a great dessert all summer long or anytime you crave a buttery cookie crust topped with a luscious lemon cream filling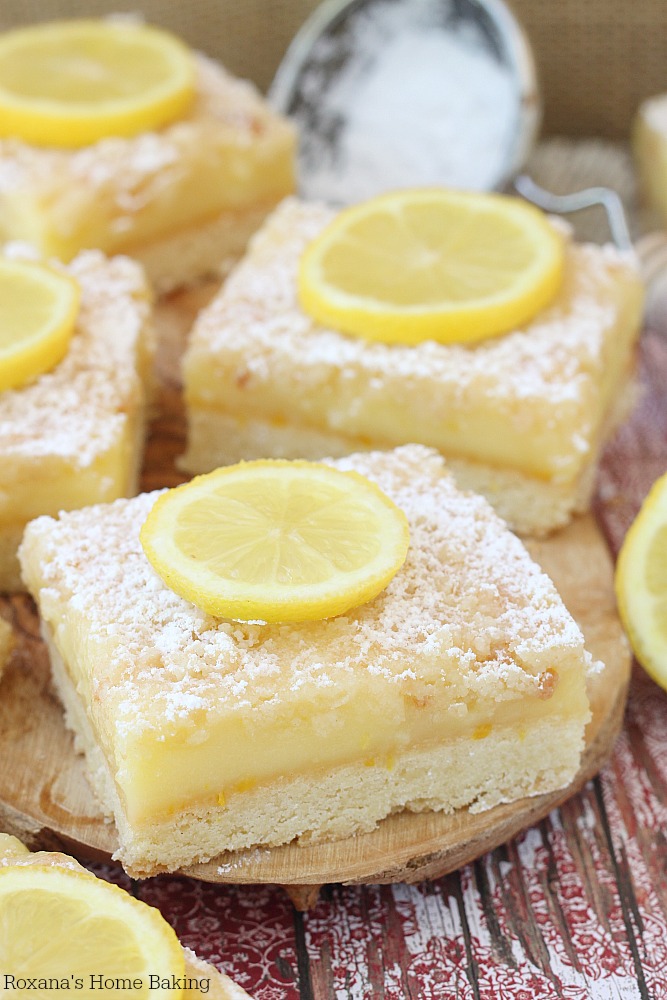 I've never been a lemon bars kind of girl. A look at my recipe index and you can easily guess I'm the girl who reaches for the chocolate treats first.
Of course there are some citrus desserts like this lemon curd tart or meyer lemon tart and let's not forget about this lime tart but it wasn't until recently  that lemon bars landed on my to-bake list. I was skeptical at first, secretly I was mostly praying they don't turn out that good so I can mix a batch of brownies but to my surprise they turned out amazing!
The buttery cookie crust topped with a tangy lemon filling brighten my day a few weeks ago. You'll have to excuse the rushed photos, all I could think of was eating another one of these irresistible bars.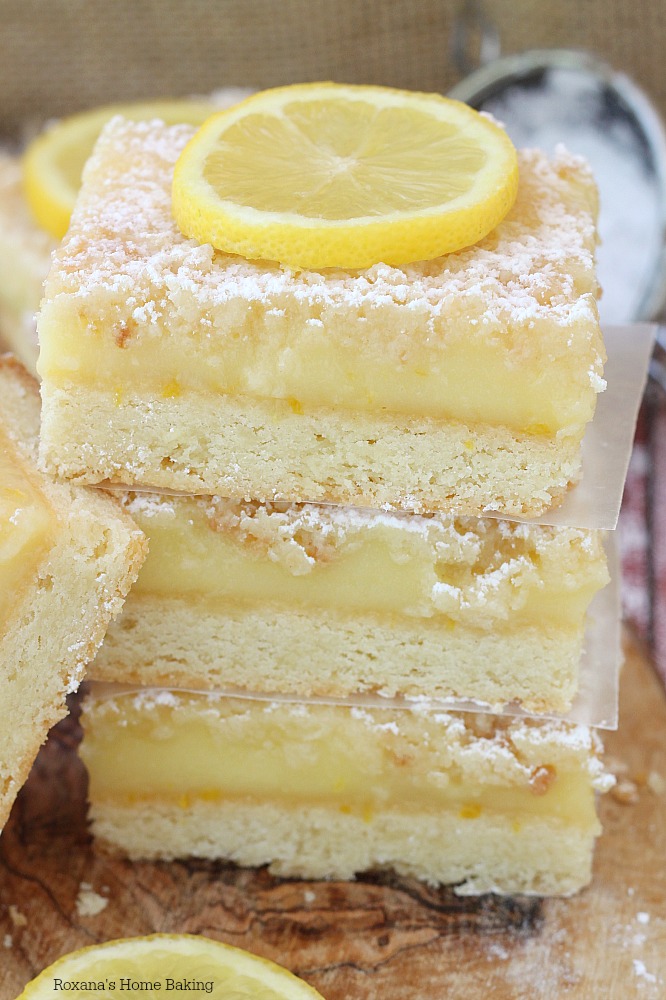 Making these bars is a little work, I'm not going to lie.
You start with the buttery cookie dough. As you can easily guess you'll need butter, lot of butter, flour, sugar and an egg yolk. The same ingredients to make shortbread. But unlike shortbread where you mix the ingredients in a food processor, this time you cream the butter with the sugar, mix in the egg yolk and fold in the flour.
The dough will be soft and a little sticky, but don't worry. With your fingers or the back of a spoon, press the dough in an even layer on a bottom on a baking pan. Refrigerate.
While the dough is chilling, it's time to make and bake the crumble.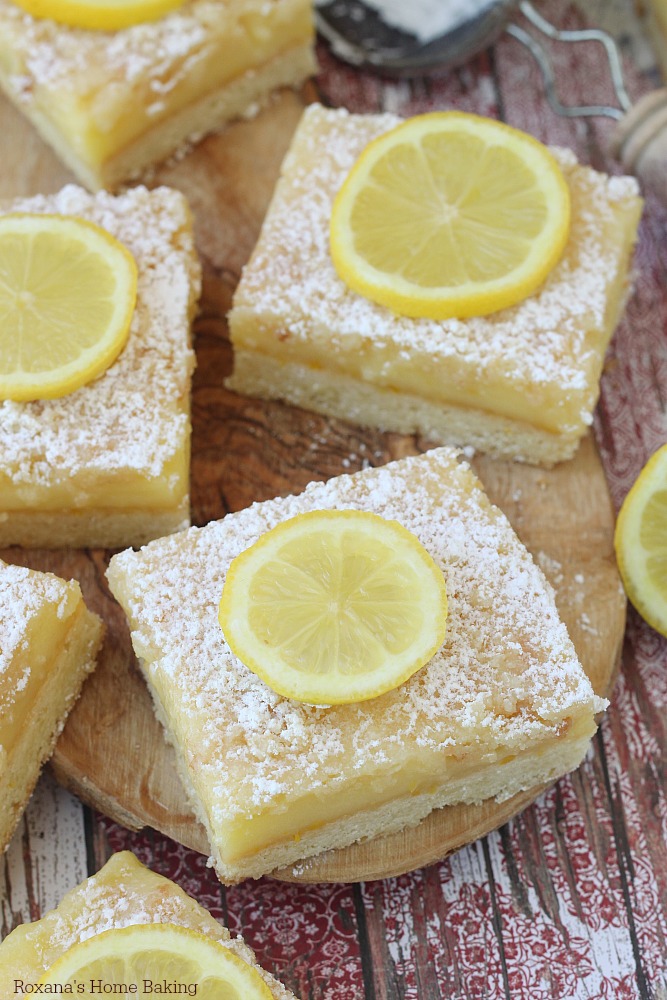 The crumble is a mixture of butter, sugar, honey and flour. Pulse a few times in the food processor until it resembles pea-size crumbles and spread them on a cookie sheet. Bake for few minutes.
The crumble will spread turning into a ginormous thin cookie but don't worry. Once baked and cooled, you'll be able to crumble it.
For the melon creme filling, please use fresh lemons. No lemon juice from a bottle or juice squeezed few days ago. The fresher the better. You want bars bursting with lemon flavor, don't you?
The lemon filling is a little tricky. Well, not really, it's just you need a candy thermometer. And I highly suggest you use it and not guess the temperature. Aside for fresh lemons you'll also need eggs, sugar, butter and gelatin.
For best results you have to follow the recipe directions. They sound intimidating but if you read the entire recipe before you start you will know what step comes next.
Lemon bars recipe
---
Yields 24 bars
So light and refreshing, these lemon bars make a great dessert all summer long or anytime you crave a buttery cookie crust topped with a luscious lemon cream filling
30 minPrep Time
1 hrCook Time
6 hrTotal Time
Ingredients
Cookie crust

3/4 cup (170 grams) butter
1/3 cup (67 grams) sugar
pinch salt
1 egg yolk
1/2 teaspoon vanilla extract
1 1/2 cups (180 grams) all-purpose flour

Crumble

3 tablespoons (42 grams) butter
2 1/2 tablespoons (30 grams) sugar
1/2 tablespoon honey
1/4 teaspoon salt
1/4 teaspoon vanilla extract
1/2 cup (60 grams) all-purpose flour

Lemon filling

1 1/4 teaspoons Knox unflavored gelatine
4 teaspoons water
3 eggs, slightly beaten
1 1/2 cups (300 grams) sugar
1 teaspoon lemon zest (1/2 lemon)
1/4 cup plus 1 teaspoon lemon juice (about 1 1/2 lemons) (65 ml)
1 cup plus 2 tablespoons butter, softened to room temp (255 grams)
Instructions
Cookie base dough

Line bottom and sides of a 13X9" baking pan with parchment paper. Set aside.
Add butter, sugar and salt to mixing bowl. With the paddle attachment on, cream on low speed until light and fluffy, scraping bowl and paddle attachment as needed.
Add egg yolk and vanilla extract. Mix to combine.
Gently add the flour and mix on low speed until combined.
With your fingers, press dough evenly into a layer on the bottom of the prepared baking pan. Refrigerate 1 hour.
While dough is chilling, make the crumble.

Crumble

Preheat oven to 350 degrees.
Add butter and sugar to food processor. Pulse a few seconds until creamed.
Add honey, salt, and vanilla extract. Mix to combine.
Add the flour and pulse until pea-size crumbles form. Spread evenly on separate baking sheet. Bake 8-10 min or until brown. Let cool completely and break apart.
With a fork, prick chilled base dough. Bake 30-35 min or until light brown in color. Set aside to cool.

Lemon filling:

Sprinkle gelatine over water in small bowl. Set aside.
Stir together eggs, sugar, lemon zest and lemon juice on top of a double boiler, making sure the bowl does not touch the water. Heat to 170 degrees on medium, stirring occasionally, about 8 min.
Stir in softened gelatine. Remove pan from stovetop and let mixture cool to 130 degrees.
Place lemon mixture into a food processor. Add butter and pulse a few times until combined. Pour lemon mixture over cookie base and sprinkle crumble evenly on top.
Cover with plastic wrap and chill for at least 3 hours.
Transfer to cutting surface using the hanging parchment paper as handles and cut into 24 pieces.
Notes
7.6.8
532
http://atreatsaffair.com/lemon-bars-recipe/
Roxana Yawgel http://atreatsaffair.com/ All images and content are copyright protected. Please do not use my images without prior permission. If you want to republish this recipe, please re-write the recipe in your own words, or simply link back to this post for the recipe. Thank you.
If you enjoyed these lemon bars, you may also like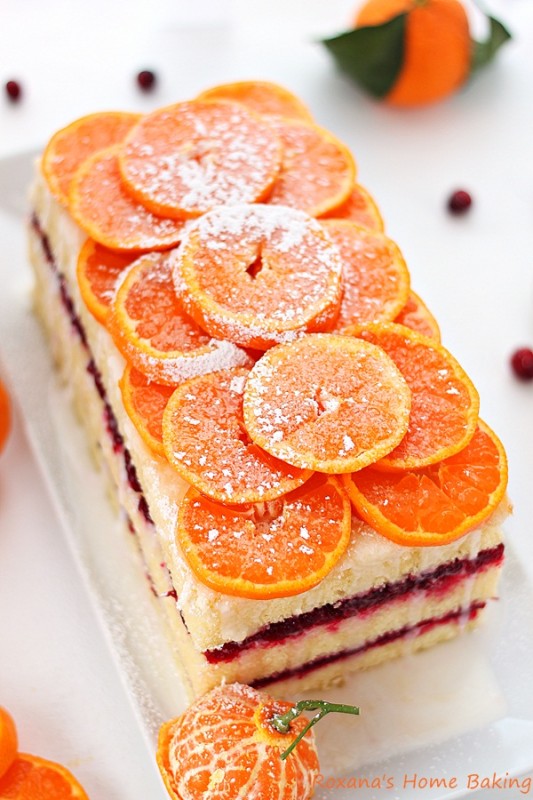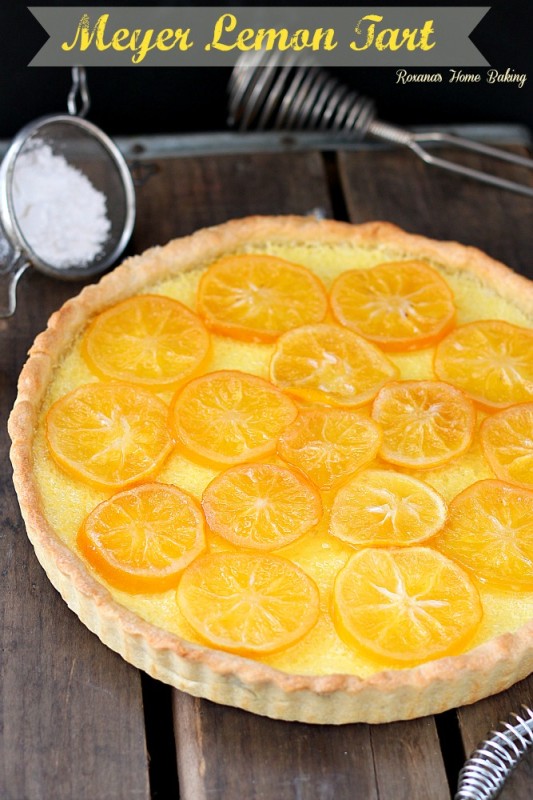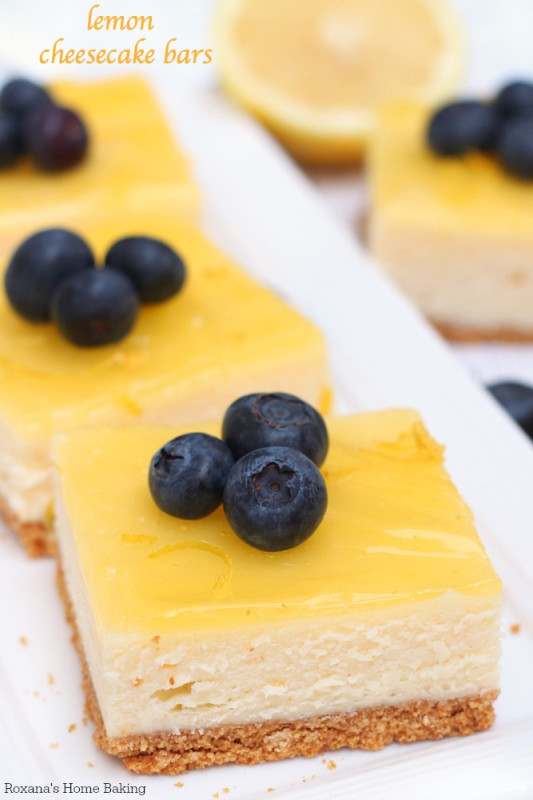 Happy baking,
Roxana