Extra moist and sweet, this chocolate chip honey cake is so flavorful and so easy to make. Dress it up with a thin layer of chocolate ganache and you have an irresistible snack cake!

I used to be terrified of bundt cakes. Well, not the cake itself, but baking it. In my defense I had some bad experiences where the cake was stuck in all the pan's crevices. For a while baking a bundt cake was not even taken into consideration. I was sure I was going to fail. What was the point of wasting time and ingredients. I had better things to do.
But this little blog of mine pushed my baking adventures until I was comfortable enough to try bundt cakes again and again until I was able to take them out of the pan in one piece.
Now, making a bundt cake is a breeze.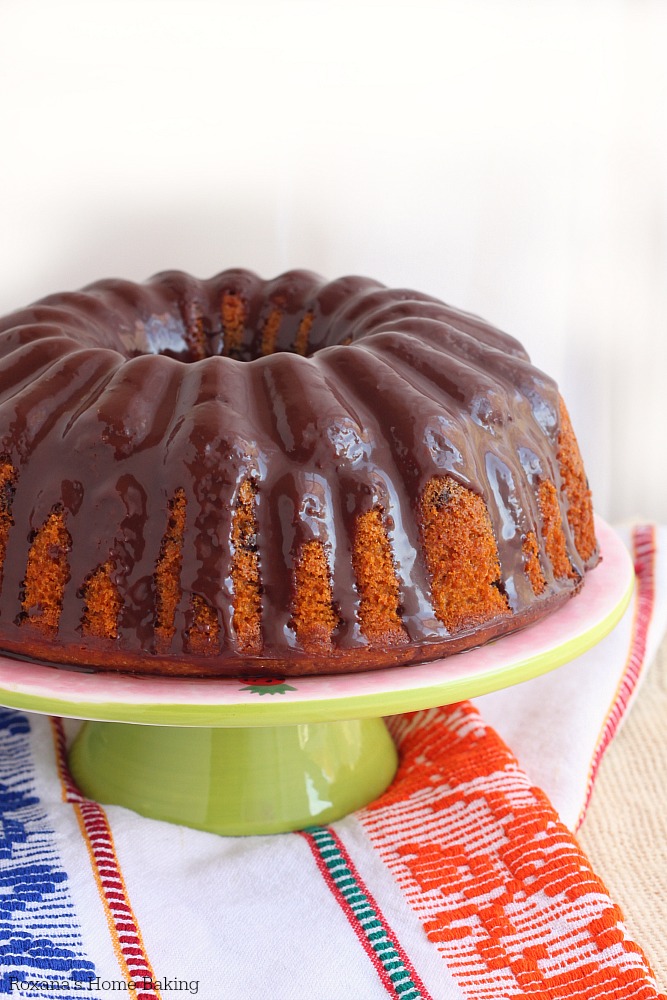 And not just that. But I love a baking challenge, especially one for a good cause.
A couple of weeks ago the nice people at MightyNest invited me to participate in their "Bake your bundt off" campaign.
If you have not heard of MightyNest before, they are an online retailer with an amazing mission. Their products are natural, organic, and non-toxic, but that's not all! Every time you order something from their website they donate 15% to a school of your choice.
Everything they sell is selected with the highest standards for safety and quality. Glass and stainless baking gear and food storage. Green cleaning supplies. Natural bath products, and other home essentials. And everything is selected to be free from known toxic ingredients such as: BPA, PVC, Phthalates, Lead, Formaldehyde, flame retardants, Parabens and more
For the very first time I baked a bundt cake in a glass pan. Terrified! Not because I had to bake a bundt cake, but I was afraid I might drop the gorgeous Simax glass bundt pan and shatter it to a gazillion of pieces. Luckily I did not! It would have been quite a shame to break a pan that's not only beautiful but because it's made of borosilicate glass can withstand temps up to 932 degrees F.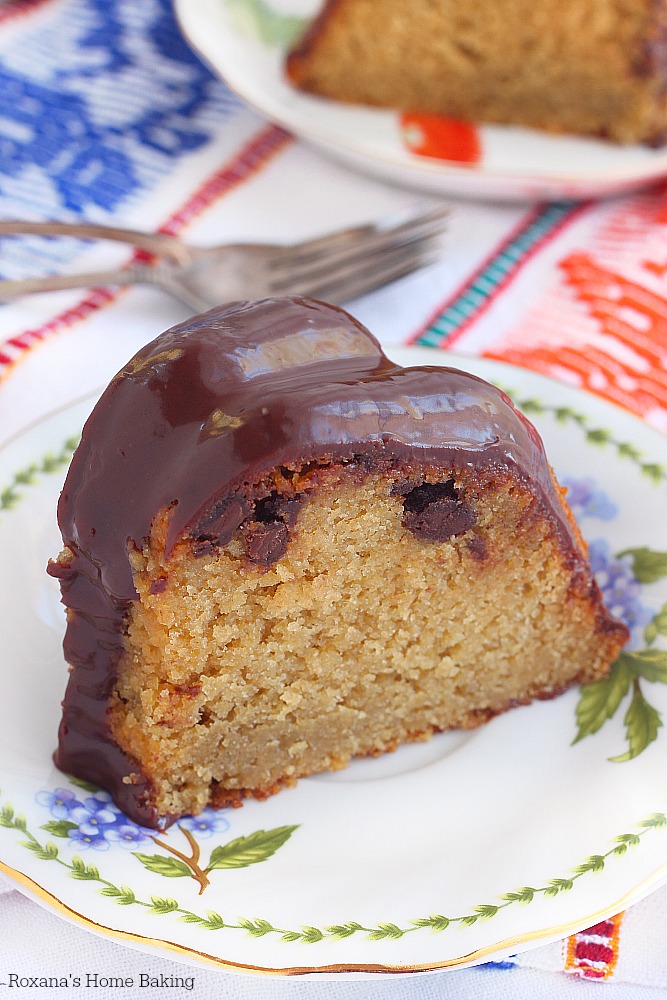 Now, not only do I have my Simax glass bundt pan still in one piece, but I get to talk about the honey cake I made in it with you.
Just like most of the cakes, you start by creaming the butter with honey. No sugar added to this cake!
Once they are mixed together, beat in 3 eggs, vanilla extract, flour, greek yogurt and chocolate chips. Unlike most of the recipes on my blog, this honey cake calls for whole wheat pastry flour. Since I wanted to make a healthier cake by leaving the sugar out I thought it would be fun to use some whole wheat instead of the all purpose flour. The moisture of the cake is given by the addition of Greek yogurt.
One quick note on the chocolate chips. I only added 1/2 cups bittersweet chocolate chips. Although it was a nice touch, I think next time I might add 3/4 cup chips or add mini chocolate chips giving the impression they are a lot more. But that's just me!
We tried the cake the day I made it, once it was all cooled and ready for pictures but I have to say I loved it more the second day. All the flavors of the honey had time to infuse the entire cake making it so flavorful!
This is definitely one of those cakes that gets better with the age.
Would you like to win one of the beautiful Simax glass bundt pan? And not just that, but also a wooden cake box, tea towel and spatula?
And since the giveaway is sponsored by MightyNest, they are also offering $100 to a school of your choice! Double win!!!
Chocolate chip honey cake recipe (no sugar added)
---
Yields 12-14 servings
Extra moist and sweet, this chocolate chip honey cake is so flavorful and so easy to make. Dress it up with a thin layer of chocolate ganache and you have an irresistible snack cake!
15 minPrep Time
55 minCook Time
3 hrTotal Time
Ingredients
1 cup butter, room temperature
3/4 cup honey
3 eggs
1 teaspoon vanilla extract
2 cups whole wheat pastry flour
2 teaspoons baking soda
1/4 teaspoon baking powder
2/3 cup Greek yogurt
1/2 cup bittersweet chocolate chips

Ganache

1/2 cup chocolate chips (semisweet or bittersweet)
1/4 cup heavy cream
Instructions
Heat the oven to 325F. Grease a 10" bundt pan. Set aside.
In a mixing bowl add the butter and honey. With the paddle attachment on, beat on low speed until light and fluffy, about 3 minutes.
Stir in the vanilla extract followed by the eggs, one at a time, mixing well after each addition.
Gently fold in the flour, baking soda and baking powder alternately with the greek yogurt.
With a spatula, fold in the bittersweet chocolate chips and spoon the batter into the prepared baking pan.
Bake the cake in preheated oven for 45 to 55 minutes until a toothpick inserted in the middle comes out clean.
Remove the cake from the oven, leave to cool for about 30-35 minutes before inverting the pan and remove the cake.
Cool completely on a wire rack.
To make the ganache, heat the heavy cream with the chocolate chips in a heatproof bowl and stir until smooth and silky.
Pour over the cooled cake.
7.6.8
589
http://atreatsaffair.com/chocolate-chip-honey-cake-recipe-no-sugar-added/
Roxana Yawgel http://atreatsaffair.com/ All images and content are copyright protected. Please do not use my images without prior permission. If you want to republish this recipe, please re-write the recipe in your own words, or simply link back to this post for the recipe. Thank you.
Happy baking,
Roxana
** Disclaimer: This is a sponsored post written by me on behalf of  MightyNest. As always, all opinions are 100% my own. Thank you for supporting the brands that help me bring this blog to you week after week. I appreciate it! **