Gluten free and vegan chocolate chip brownie bars made with dates, nuts and chocolate chips. Why pay more than $1 at the store when you can make your own?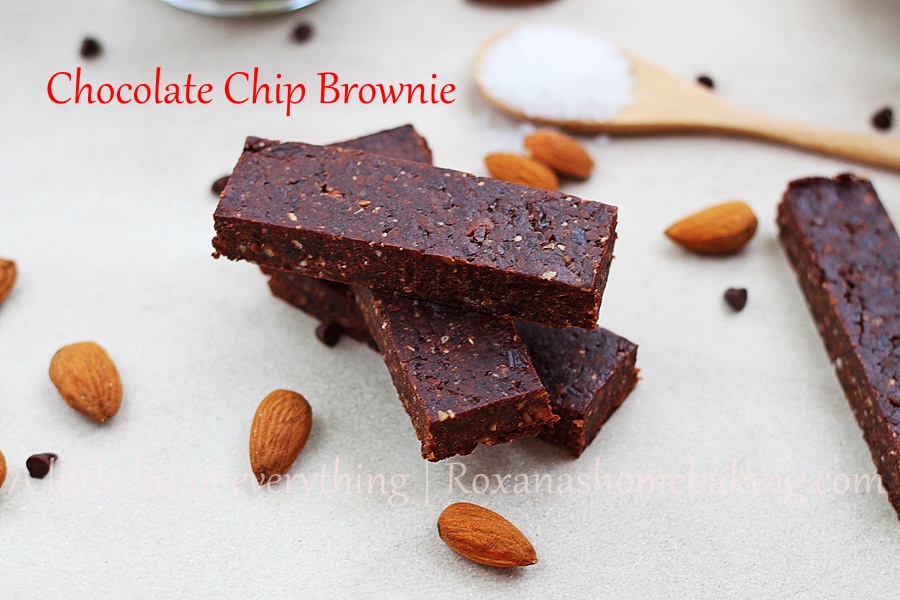 Lately I have been thinking about my Stay-at-home-Mom status.
I feel like I'm telling a lie when I'm asked what I'm doing and I reply by " I'm a Stay-at-home-Mom to a 2-year-old".
I should tell people I'm a "Mother of a two-year old who rarely stays home". Seems like telling the truth.
In the last couple of weeks my schedule was
5.30- 6 – wake up, tea, read the paper, check emails
7.30 ish – breakfast with family
8 to 10 (or 11 depending on the days) – jogging and gym
11 to 1 – prepare and have lunch
1 to 4 (sometimes 5) – play-date
(some days like today ) – dance class late in the afternoon
7 ish – dinner
8 to 10 – family time
10-12 – (if I'm still able to keep my eyes opened) computer time
All these activities require lots of make-ahead snacks and energy bars to keep me going. Or Chocolate Chip Brownie bars.
Chocolate makes everything better, right?
Who doesn't crave a chocolate treat after sweating at the gym? Sometimes I think that's one of the reasons I go, just so I can indulge into one of these chocolate chip brownie bars when I'm done.
I have been on a brownie kick in the last month. Double Chocolate Black Bean Brownies and Triple Chocolate Brownie Cookies made their way on the blog.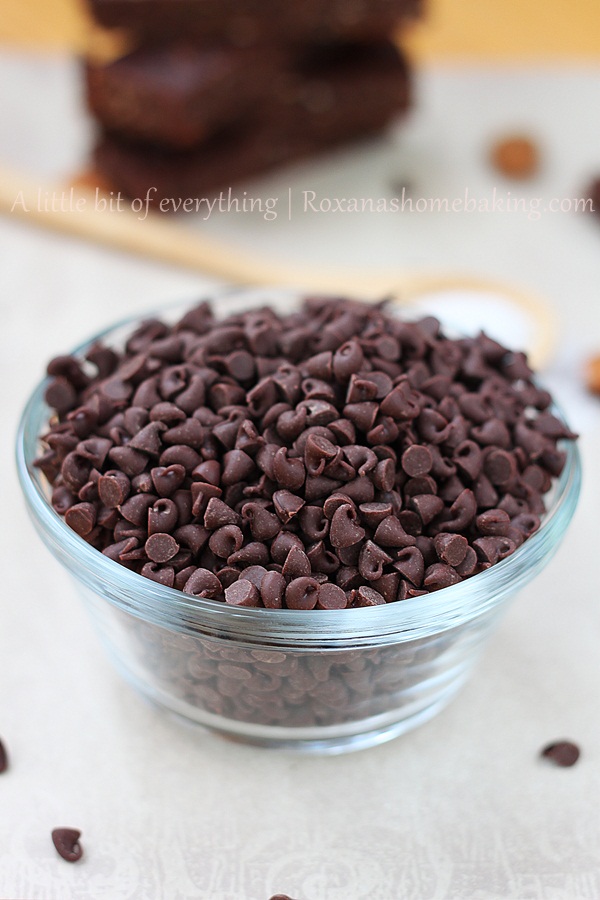 Today it's time for a Chocolate Chip, Date and Nuts Brownie LaraBar
Kinda long name, huh?
The name Chocolate Chip Brownie came from the well-known Larabars.
Now I don't have to pay $1.29 for one. I can easily make them at home.
The list of ingredients I got it from the Larabar website and after playing a little bit with the quantities I made a bar that tastes way much better than the store-bought one and I can make it whenever I want to.
I love making energy bars at home. You can add whatever ingredients you want. Peanuts instead of almonds and/or walnuts. More/less nuts. More/Less chocolate chips. Other dried fruit. They are so versatile.
Chocolate Chip Brownie Bars
---
Yields 16 bars
Homemade chocolate chip brownie energy bar, made with dates, nuts and chocolate chips. Healthy. Gluten free. Vegan.
10 minPrep Time
2 hr, 10 Total Time
Ingredients
1/4 cup (25 grams) walnuts pieces
1/4 cup (35 grams) whole almonds
1/8 tsp fleur-de-sel (table salt works just as fine)
1/3 cup mini chocolate chips (or carob chips for vegan bars)
1/4 cup (20 grams) unsweetened cocoa powder
2 cups (330 grams) dried pitted dates
Instructions
Line a 8X8 baking pan with parchment paper.
In a food processor put the almonds and nuts. Pulse a couple of times until they resemble fresh bread crumbs. You can even leave them bigger if you prefer.
Pour the nuts mixture into a bowl and set aside.
Now, place the dates into the food processor and pulse until paste forms. Add the nuts, mini chocolate chips, cocoa and salt. Pulse a few more times until well combined.
Scrape the mixture and press in (as evenly as possible) into the prepared pan. Cover and refrigerate for a couple of hours until set.
When set, take the pan out of the fridge, carefully remove it from the pan and transfer to a cutting board.
Slice as desired. I prefer 16 bars.
Keep in a air-tight container in the fridge or freezer.
Enjoy!
7.6.8
338
http://atreatsaffair.com/chocolate-chip-brownie-bars-recipe/
Roxana Yawgel http://atreatsaffair.com/ All images and content are copyright protected. Please do not use my images without prior permission. If you want to republish this recipe, please re-write the recipe in your own words, or simply link back to this post for the recipe. Thank you.
If you liked these chocolate chip brownie bars you may also like
Homemade peanut butter chocolate bars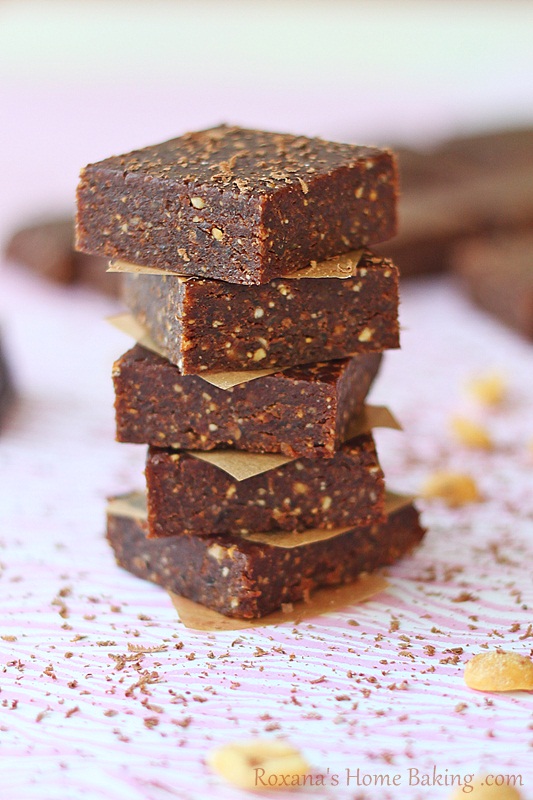 Homemade chocolate coconut chew bars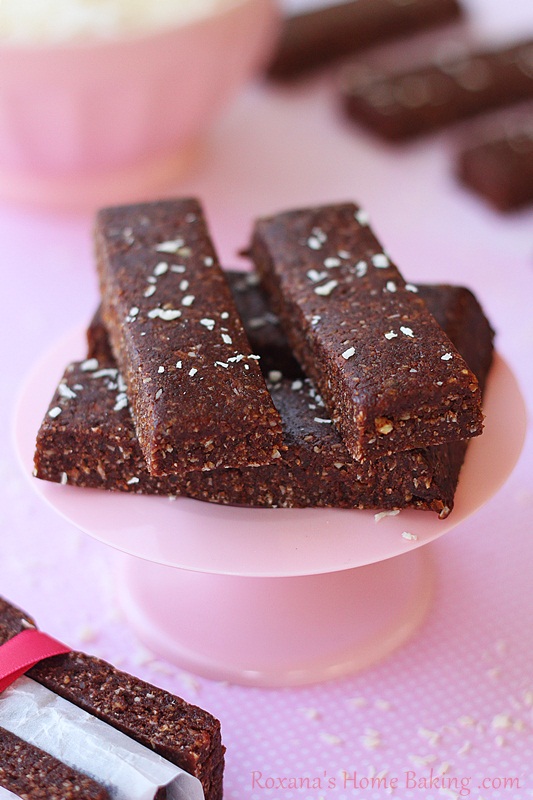 Sending love your way,
Roxana