It's a pizza? It's a cookie? It's a triple chocolate smores pizookie baked in a skillet and topped with ice-cream – heaven in every bite!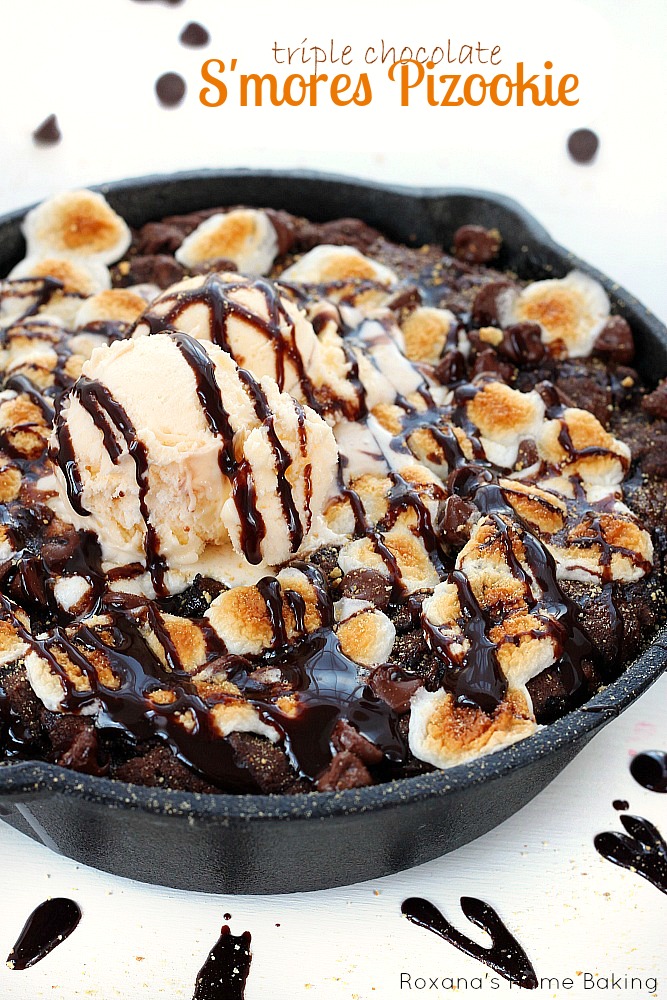 I will give you a couple of minute to recover after the photo of this heart stopping smores pizookie. I wish there was a way for you to actually smell it. Chocolate, fudge, roasted marshmallows – all in a warm and gooey chocolate chip brownie skillet cookie. Top that with a few scoops of your favorite ice-cream! It's a dream come true!
The entire pizookie was gone in less than 30 minutes. And we stopped to shoot some photos or its lifetime had been considerably shorter.

I've made this smokes pizookie yesterday, while snowflakes were coming down. I don't know about you, but I'm so ready for summer! Ready to open the windows, ready to soak my feet in the cold ocean or the hot sandy beach. Ready to make smores while listening to my 4-year-old telling make-believe stories. Oh yes, smores! I don't really need summer for that! I have an oven with a broiler! I've made smores before in the winter, remember?
This time was not much different. Except I bake a pizookie first before roasting the marshmallows.
The pizookie, if you don't know what it actually is, is a deep dish cookie topped with ice-cream. It's the cookie version of the deep dish pizza. Get it? pizza + cookie = pizookie!
For this pizookie I used the cheater route. I used a refrigerated cookie dough! Shhh! Have you guys tried the Hot Fudge Brownie Cookie from Pillsbury? Oh my goosh! You really should look for it! I have found it only at Wegmans, I don't know what other stores carry it, but if you find it, grab some!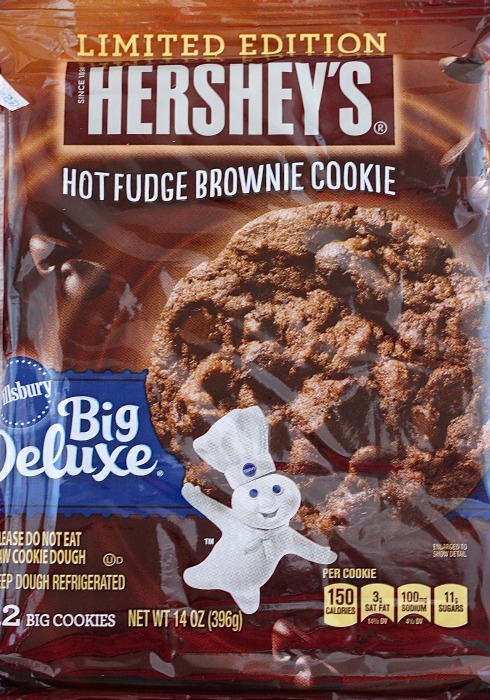 To make a smore pizookie you need a 6 inch cast iron skillet.
Sprinkle 1/2 cup of graham crackers crumbs on the bottom. With your fingers crumble the cookie dough and add it to the skillet. Of course, i could have stopped there but I wanted an over the top pizookie so I dropped 1/2 cup of Hershey's hot fudge over the cookie dough.
Once the pizookie is baked, top it with chocolate chips and mini marshmallows and place it under the broiler for few minutes! It's very important to keep an eye on it! The marshmallow will burn faster than I can type this warning!
Remove from the oven, top with ice-cream and dip in! You won't regret a thing!
[mpprecipe-recipe:513]

Happy Baking,
Roxana