With a secret ingredient that brings out all the chocolate goodness from both the baking chocolate and cocoa powder, this made from scratch double chocolate poke cake with vanilla bean frosting will be everyone's favorite!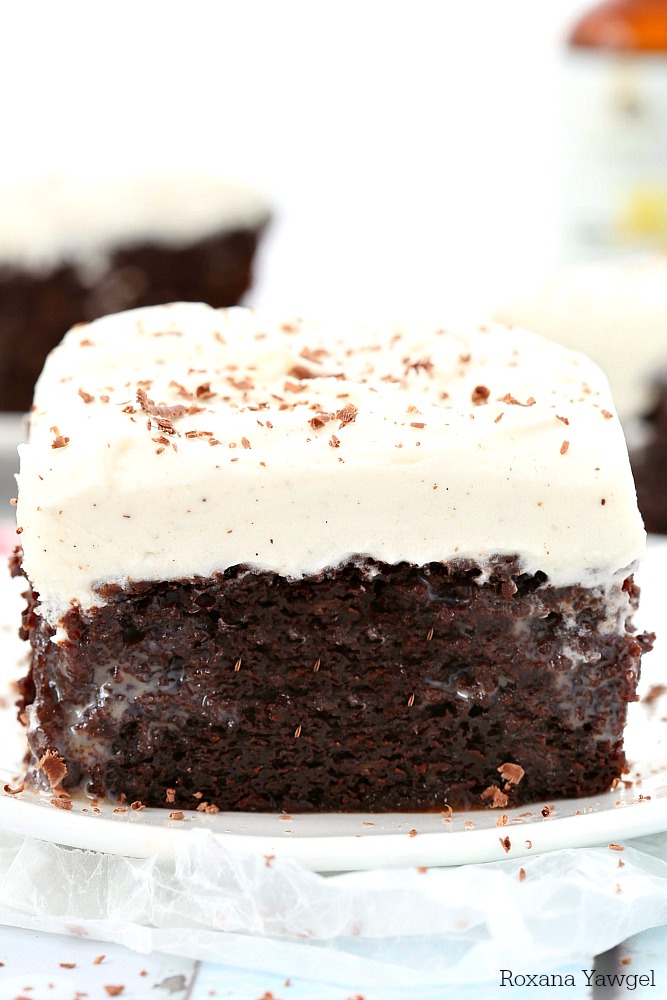 I'm a chocolate girl all the way! There's no doubt about it! Some days I go for semi-sweet, but most of the time, 70% chocolate is my guilt free pleasure. And when I don't wanna feel guilty (pretty much every day) I choose flavored chocolate bars, you know – coconut chocolate, caramel chocolate, hazelnut creme chocolate, peanut butter chocolate to name just a few.
When grocery shopping, I always pick a flavor I haven't tried before! My latest is strawberry waffle wild chocolate.
Although I'm pretty adventurous when it comes to chocolate bars, when making my own desserts, I prefer the classic flavors. After all, you can never go wrong with a double chocolate cake topped with a generous layer of vanilla bean frosting!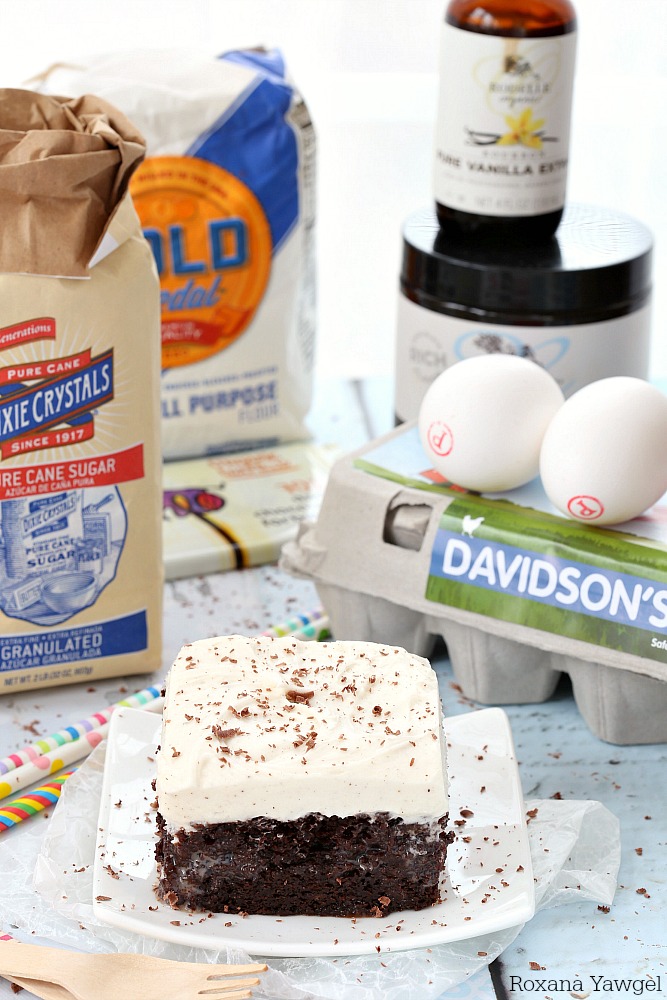 This cake has been in the works for a couple of weeks. In fact, I wanted to recreate it at the retreat I hosted last month to showcase all our amazing sponsors!
But, I was not fully satisfied with the results and have been working on this double chocolate poke cake since! And let me tell you, it was worth it!
Unlike the Irish cream chocolate poke cake I shared with you last month, this double chocolate poke cake starts with melted chocolate. Melted chocolate is always a good sign 🙂 While you measure all the ingredients you brew a fresh pot of coffee, pour it over the chocolate and let it slowly melt.
While you measure all the ingredients you brew a fresh pot of coffee, pour it over the chocolate and let it slowly melt.
If you don't like coffee, don't run away! Once the cake is baked and frosted the coffee flavor is barely noticeable.
Plus, the coffee brings out all that chocolate goodness, so you don't wanna substitute it!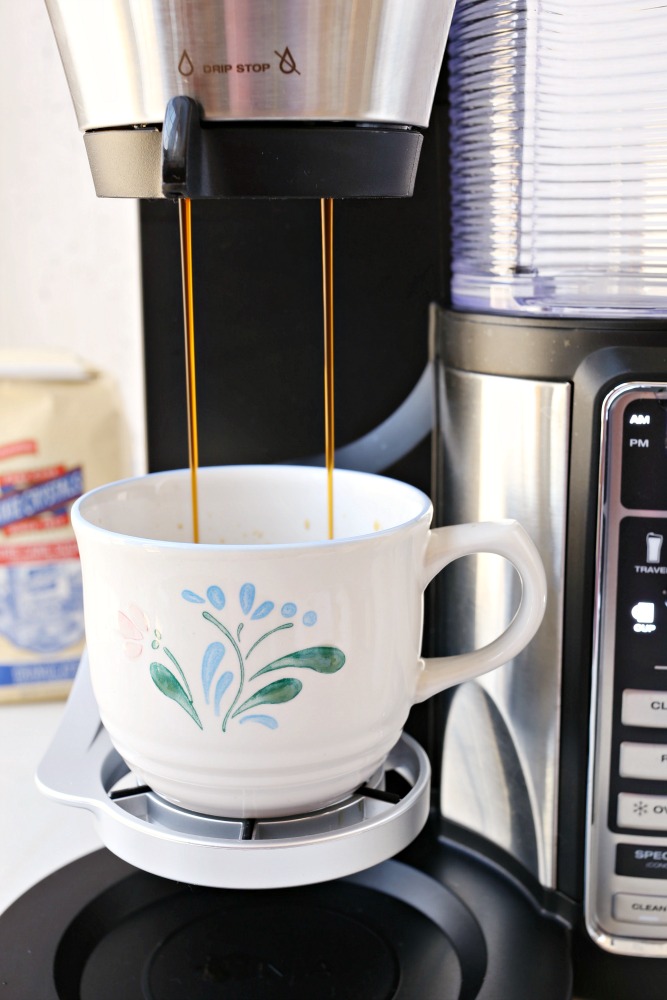 Now that we took cake of one chocolate, let's talk about the cocoa powder!
Dutch process unsweetened cocoa powder!
I'm not going to start talking Dutch, nor do you need to eat this cake while wearing wooden shoes. No, it's just the name given to the cocoa powder which acidity has been neutralized. I guess that's why sometimes is also called alkalized cocoa powder.
Unlike the natural unsweetened cocoa powder, Dutch cocoa powder does not interact with baking soda in baked desserts. Recipes calling for Dutch cocoa powder need baking powder as a leavening agent.
But, because my cake calls for chocolate, coffee and buttermilk, you'll need both baking soda and baking powder.
Baking soda to interact with the acidity in chocolate, coffee and buttermilk and baking powder to help rise the cake.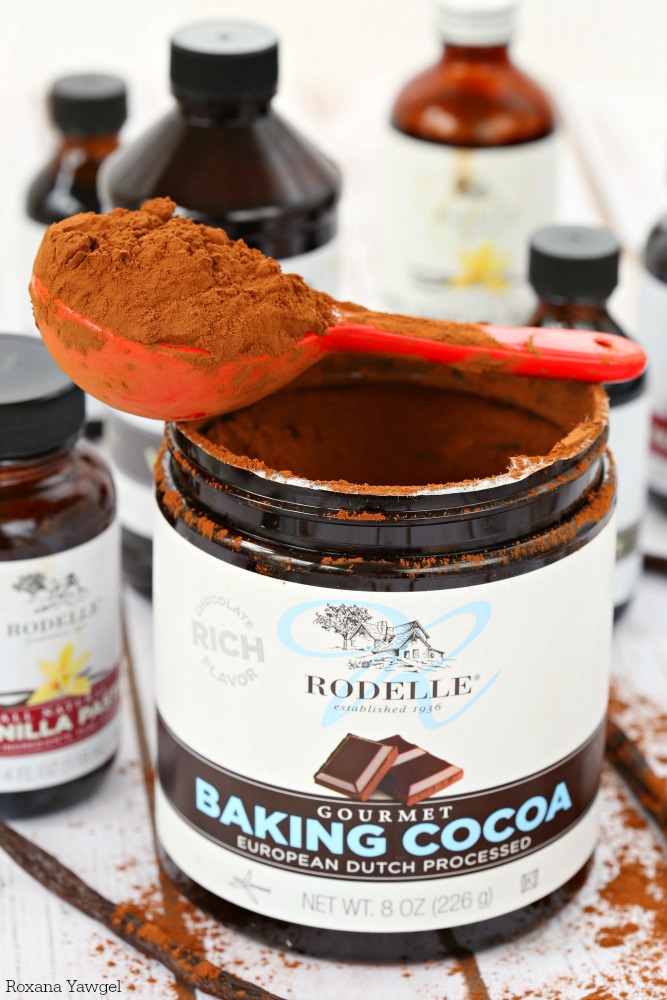 I hope I didn't get you all confused with my nerdy talk about cocoa powder. It took me a while to learn the difference between the two. And now that I know, I can celebrate with a piece of cake!
In addition to the acidic ingredients (chocolate, coffee and buttermilk) and the Dutch process cocoa powder, you'll also need eggs, all-purpose flour, sugar, oil, vanilla extract and both baking soda and baking powder.
The process is very simple!
You beat the eggs until frothy, add in the wet ingredients and the melted chocolate and last but not least stir in the dry ingredients. Pour into the pan and bake!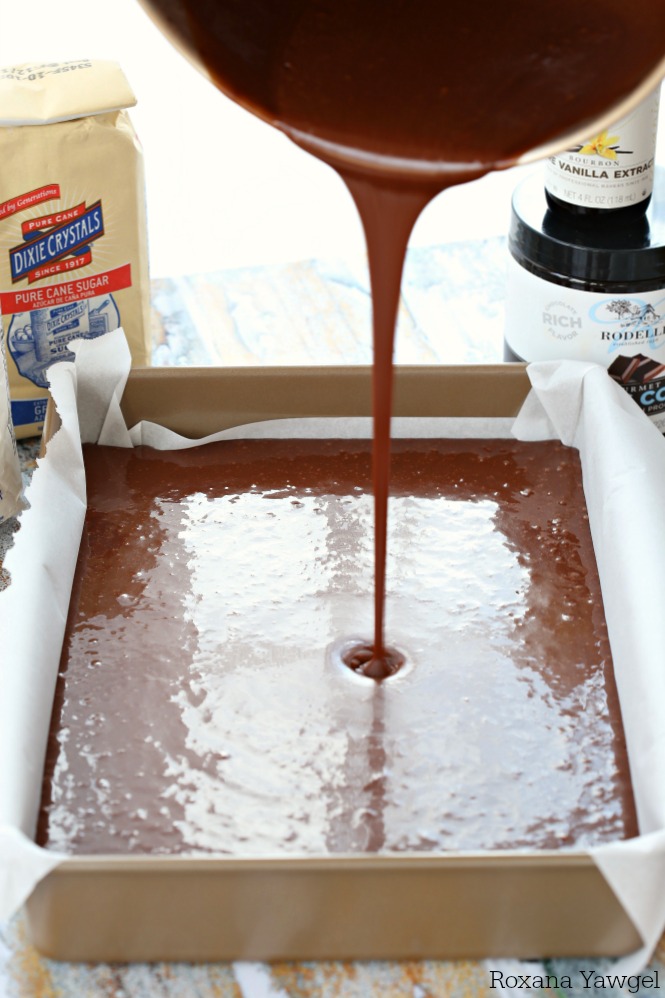 Once the cake was baked and cooled, I decided on the classic condensed milk ( chocolate condensed milk is a great substitute) but with a twist!
To combine both the vanilla and chocolate flavors in the cake, I stirred a teaspoon of Rodelle vanilla paste into the condensed milk. Oh my! Why didn't I think about this sooner??
The vanilla flavor is just so delicate!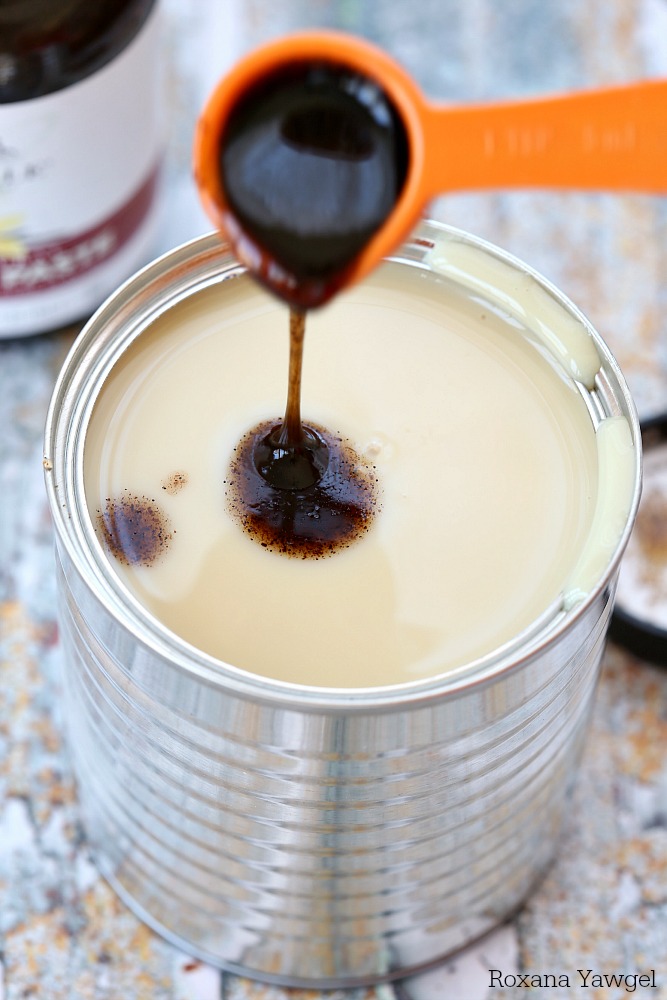 For the vanilla bean frosting, I used the same recipe as for these cupcakes! It's my favorite!
The cake is incredibly moist and rich! Combining the classic chocolate and vanilla flavors will satisfy both teams!
I know it takes a little bit of time to make the cake since you have to let it soak for a couple of hours, but with a little bit of planning, you can make it every time you crave both chocolate and vanilla!
Craving more? Sign up for a trEATs affair email newsletter and get all the recipes sent right to your inbox!
Be sure to follow me on social media, so you never miss an update!
Facebook |  Pinterest   |    Instagram   |     Bloglovin'
[related-posts]
[mpprecipe-recipe:643]
Disclosure – Blog'n Bake Retreat was sponsored by Dixie Crystals, Safest Choice Eggs and Rodelle Vanilla with product offered by Gold Medal Flour, Theo Chocolate and Ninja Coffee Bar Brewer. I was under no obligation to develop this recipe or write this blog post.