Sweet and flavorful from the eggnog and pumpkin spices, these pumpkin eggnog chocolate cupcakes are topped with a pumpkin flavored cream cheese frosting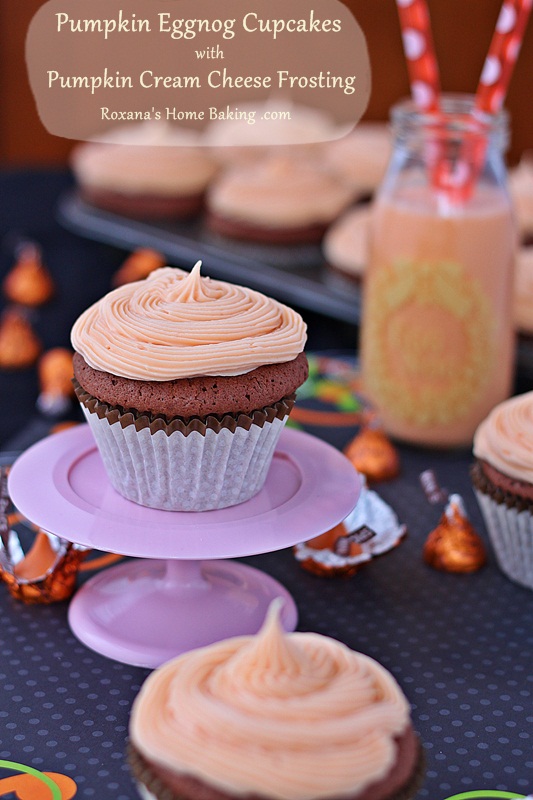 Dear Pumpkin Spice Hershey's Kisses,
The first time I've seen and read about you was about a year ago and ever since I knew I'm gonna love you. But you were playing hard to catch, or maybe it was me, living in this neck of the woods. I've been waiting for you so long, maybe too long I might say, and the moment I saw you at my local grocery store I knew I had to take you home with me. It's been a couple of months now. It was love at first sight bite.
Do you remember when we played hide and seek and you found a comfy place inside the pumpkin blondies or the brownie cookies?
How about the day I placed you in the microwave for few seconds and used you as an icing to my chocolate cake?
I know there were times when I forgot about you and hanged out with one of your relatives, the Candy Cane Kiss. You weren't happy but still you stood by me and when I needed you again you were more than happy to sweeten my life.
We had a wonderful time and I'm sad to let you go, but it's time to say goodbye. It's gonna be a long wait again, 9-10 months if I'm lucky, but I'll be here waiting for you. Pumpkin season 2013 will be even better than this one, I promise.
With love,
Roxana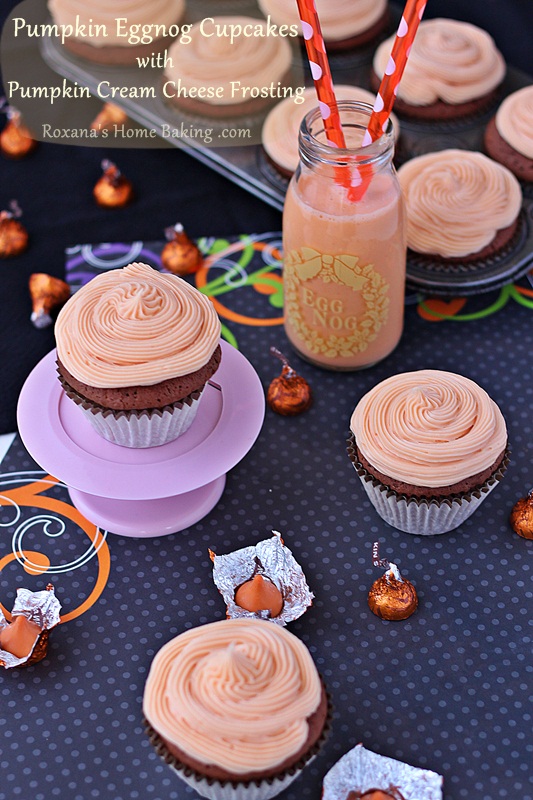 These Pumpkin Eggnog Chocolate Cupcakes with Pumpkin Cream Cheese Frosting are made with both pumpkin eggnog and pumpkin spice Hershey's kisses.
I've used the eggnog as one of the wet ingredients in the cupcake batter and the frosting is made with melted kisses. The idea just took me by surprise and just like other crazy ideas I had to give it a try. Boy, I'm so glad I did.
The cupcakes are somewhere in the middle between a cake and a brownie. You get the brownie top and underneath it it's a moist chocolate cake, flavored from the eggnog and pumpkin spices.
Then you have the creamy frosting. Melted pumpkin spice kisses, soft cream cheese and powder sugar. So good and they go so well together. 
Pumpkin Eggnog Chocolate Cupcakes with Pumpkin Cream Cheese Frosting
---
Yields 15 cupcakes
20 minPrep Time
30 minCook Time
1 hr, 30 Total Time
Ingredients
Pumpkin Eggnog Chocolate Cupcakes

1/2 cup (100 grams) brown sugar
1/3 cup (28 grams) unsweetened cocoa powder
1 cup (240 ml) pumpkin eggnog
3 oz (85 grams) unsweetened chocolate, chopped
1/2 cup (113 grams) room temperature butter
1 cup (200 grams) white sugar
2 egg yolks
1 1/2 cups (180 grams) all purpose flour
pinch of salt
1 tsp baking powder
2 egg wites

Pumpkin Cream Cheese Frosting

4 oz (113 grams) pumpkin spice Hershey's Kisses
1 cup (226 grams) room temperature cream cheese
4 cups (480 grams) powder sugar
Instructions
In a medium sauce pan place the brown sugar, cocoa powder and eggnog. Stir over medium heat until the sugar is melted and cocoa has dissolved. Remove from the heat and add the chocolate. Stir until melted. Leave to cool.
Preheat the oven to 350F. Line 15 cupcake holes with paper liners and set aside.
In a mixing bowl add the butter and white sugar and mix cream until light and fluffy.
Add the eggs yolks, stirring well until combined, scraping the sides of the bowl.
Now add the flour, salt and baking power followed shortly by the cooled chocolate mixture.
In another clean bowl, whip the egg whites until firm peaks form.
With a spatula fold the whipped egg whites into the cupcake batter and pour into prepared pan.
Bake for about 27 minutes or until a toothpick comes out clean.
Leave to cool completely before frosting.
In a microwave safe bowl, place the Hershey's kisses and microwave until melted, about 30-40 seconds.
Place the melted chocolate into a mixing bowl and add the cream cheese. Mix until creamy and combined.
Now, slowly, add the powder sugar, 1/2 cup at a time. When all the sugar is incorporated increase the speed to medium and mix for 2 more minutes.
Spoon the frosting into a piping bag and frost the cooled cupcakes.
Store them in the fridge up to few days or in the freezer for longer.
Notes
Cupcake recipe adapted from "The essential baking cookbook"
7.6.8
389
http://atreatsaffair.com/pumpkin-eggnog-chocolate-cupcakes-with-pumpkin-cream-cheese-frosting-recipe/
Roxana Yawgel http://atreatsaffair.com/ All images and content are copyright protected. Please do not use my images without prior permission. If you want to republish this recipe, please re-write the recipe in your own words, or simply link back to this post for the recipe. Thank you.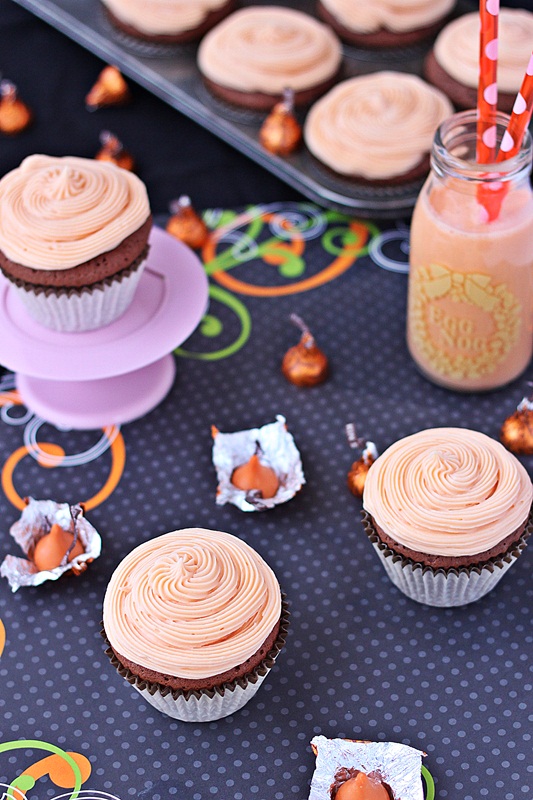 If you like these Pumpkin Eggnog Chocolate Cupcakes with Pumpkin Cream Cheese Frosting you might also like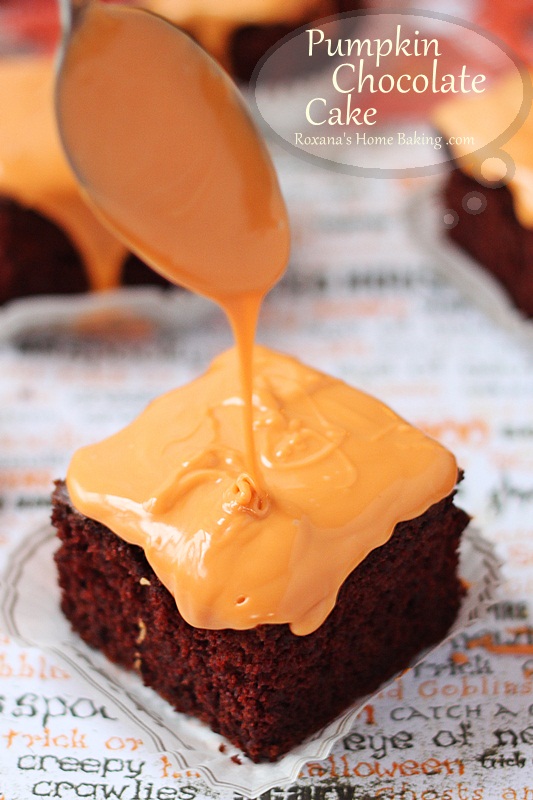 Pumpkin kissed brownie surprise cookies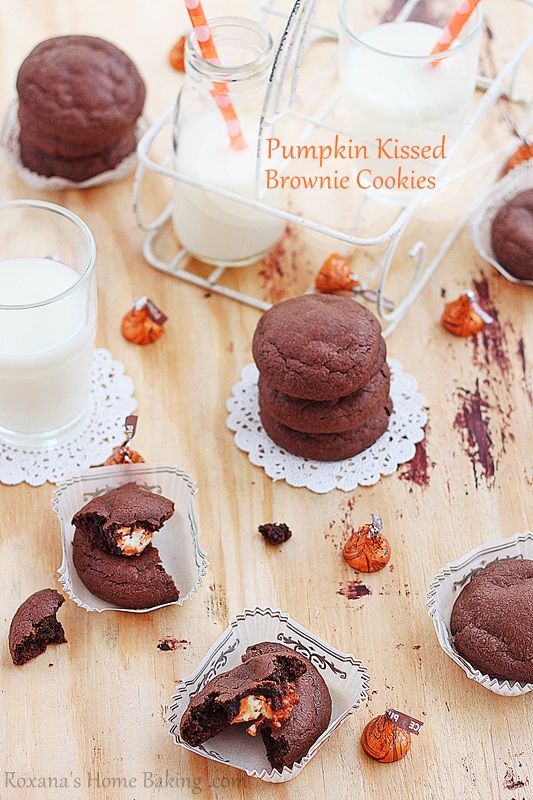 Eggnog Cupcakes with Rum Buttercream at Savory Simple
Eggnog Cupcakes at Annie's Eats
Chocolate Eggnog Cupcakes at The Heritage Cook
Sending love your way,
Roxana