The buttermilk makes this pumpkin chocolate cake light, soft and crumbly and the melted chocolate on top makes it perfect for Halloween and not only.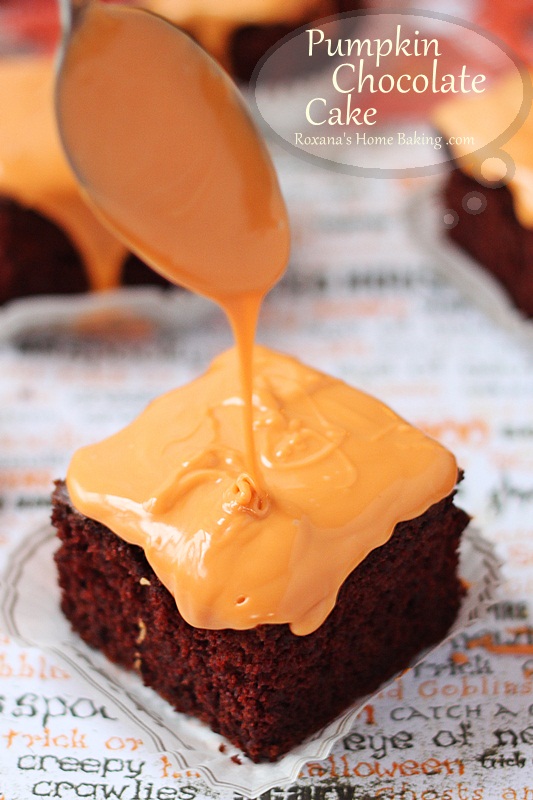 This is the most Halloween-ish I can get.
It may not be spooky, it may not be scary, it may not have a web and 8 legs but it's my Halloween treat.
Take it or leave it, although I highly advice you to take it.
The cake is soft, moist, crumbly and topped with some melted pumpkin spice kisses, a duo fit for Halloween.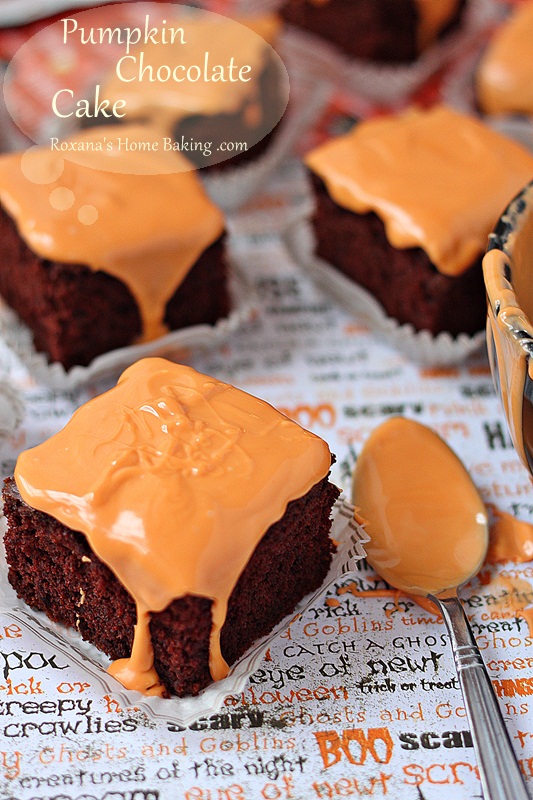 From the moment they first mention Sandy will be rolling into town soon, I think most of the people in my neck of the woods got out of the house and did their grocery shopping.
By the time I got to the store there were empty shelves, you'd think they were going out of business that's how empty it was. Milk? Egg? Butter? you kidding me? nowhere to be found!
I just don't get it. Why would you pile up food in the fridge if you know the power might go out? When there's a storm announced I try to keep perishable  food as low as possible since I don't want to throw anything. Maybe they have big enough cooler to host all that food, maybe. well, I don't.
The only two "milk" bottles left at the store were two cartons of buttermilk, which is perfectly fine with me. I love buttermilk more than milk, actually except baking with milk or pouring some in my tea/coffee I don't drink any.
Now my husband and our little lady bug, on the other hand, they have to have some milk at every meal. Not yesterday. I'll probably go to the store in a little bit hoping they brought some milk.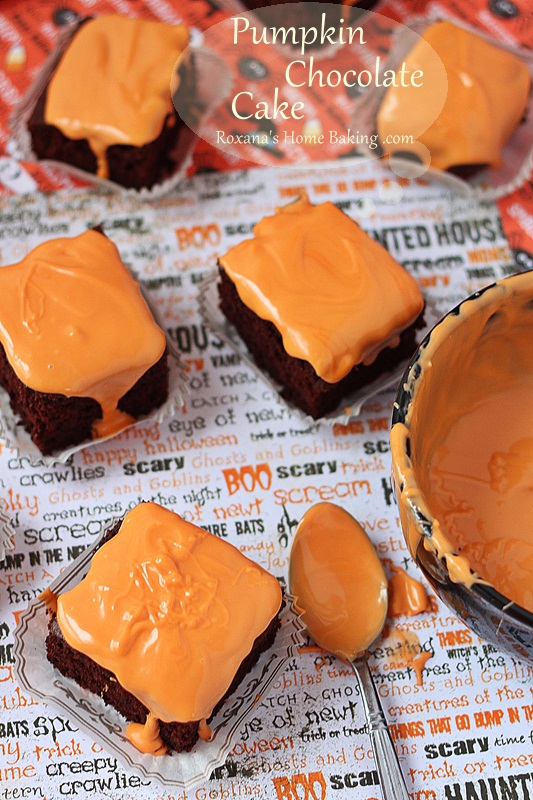 With just a few ingredients on hand (good thing I bought lots of candy last week) i took out my Taste of home magazines and Baking book hoping to find something I can whip without too much fuss.
If you're a fan of Taste of Home magazines and books, you know what I'm talking about. They never disappoint. Sometimes the recipe needs just a little bit of tweaking, but most of the time they are spot on Lemon Sugar Cookies, Walnut Blondies, Tiramisu Brownies, Triple Chocolate Brownie Cookies just to name a few.
This pumpkin chocolate cake calls for 1 egg and 1 stick of butter and a buttermilk-water combo. With absolutely no milk in the house, that sounds like a must try recipe.
And I'm so glad I did. I don't know if I would have given this recipe a try wasn't for my lack of milk.
The buttermilk keeps the cake moist, makes it crumbly and light. Top it with some melted Hershey's Pumpkin Spice kisses and let it rain while you stay inside, with a cup of tea, reading and enjoying one of these square cakes
Pumpkin chocolate cake
---
Yields one 11X7 baking pan
The buttermilk makes this cake light, soft and crumbly and the melted chocolate on top makes it perfect for Halloween and not only.
10 minPrep Time
25 minCook Time
1 hrTotal Time
Ingredients
1/2 cup (113 grams) room temperature butter
1 cup of sugar
1 egg
1 1/2 cup (180 grams) all purpose flour
1/2 cup (40 grams) unsweetened cocoa powder
1 tbsp pumpkin pie spices
1 tsp baking soda
pinch of salt
1/2 cup water
1/2 cup buttermilk
Half bag of Hershey's Pumpkin Spice Kisses
Instructions
Heat the oven to 375F. Line a 11X7 pan with parchment paper and set aside.
In a mixing bowl cream butter and sugar until light and fluffy.
Add the egg, scraping the sides of the bowl. In a separate bowl mix the flour, cocoa, baking soda, salt and pumpkin pie spices.
In a cup mix the water with the buttermilk.
Add the dry ingredients to the butter mixture alternately with the buttermilk-water combo.
Mix until well combines.
Pour the batter into the prepared pan and bake for 25 minutes or until a toothpick inserted in the middle comes out clean.
Leave to cool completely.
Meanwhile unwrap the Hershey's Kisses and melt them in a microwave safe bowl (about 45 seconds)
When the cake is completely cooled you either cut it into squares and pour some melted chocolate on top of each piece of cake or you pour the chocolate on top of the cake and cut it into squares after. It's your decision, I choose the first.
Enjoy!
7.6.8
381
http://atreatsaffair.com/pumpkin-chocolate-cake-recipe/
Roxana Yawgel http://atreatsaffair.com/ All images and content are copyright protected. Please do not use my images without prior permission. If you want to republish this recipe, please re-write the recipe in your own words, or simply link back to this post for the recipe. Thank you.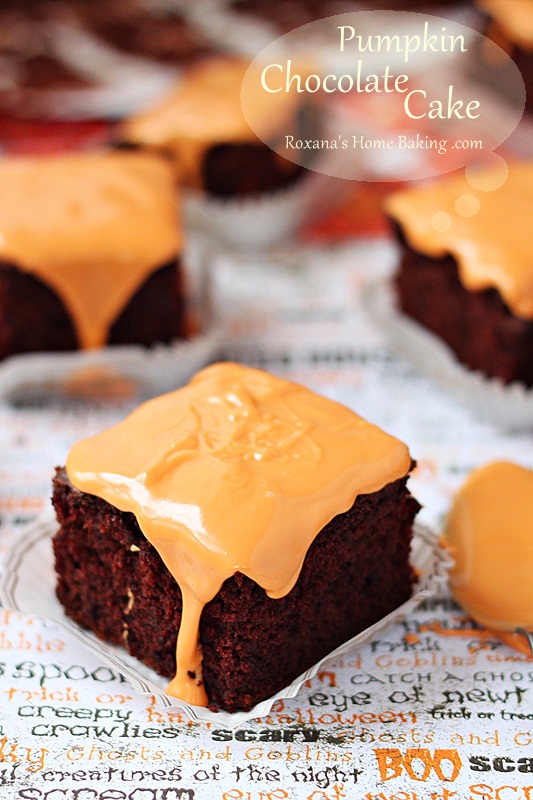 If you enjoyed this Pumpkin chocolate cake you may also like :
Pumpkin Eggnog Chocolate Cupcakes with Pumpkin Cream Cheese Frosting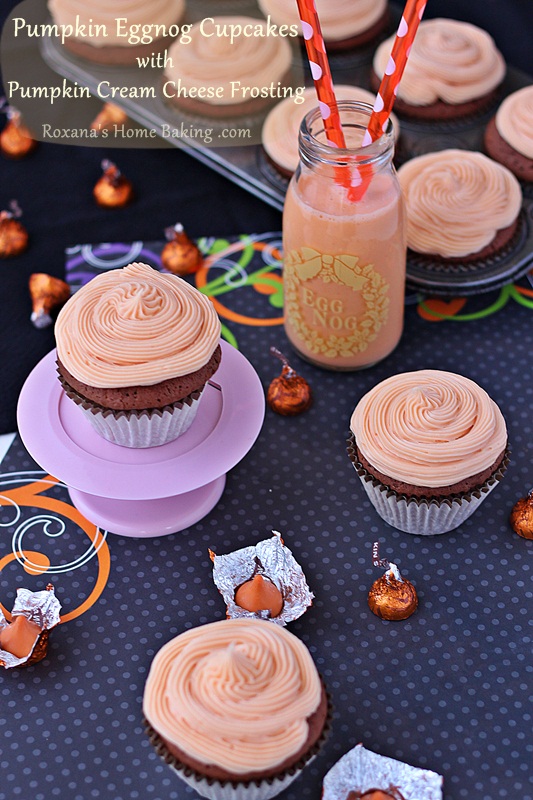 Pull apart Nutella pumpkin bread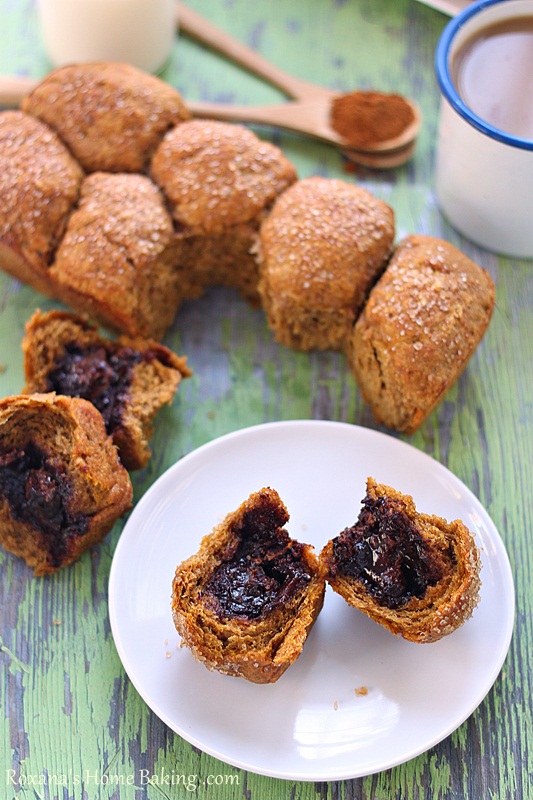 Pumpkin kissed brownie surprise cookies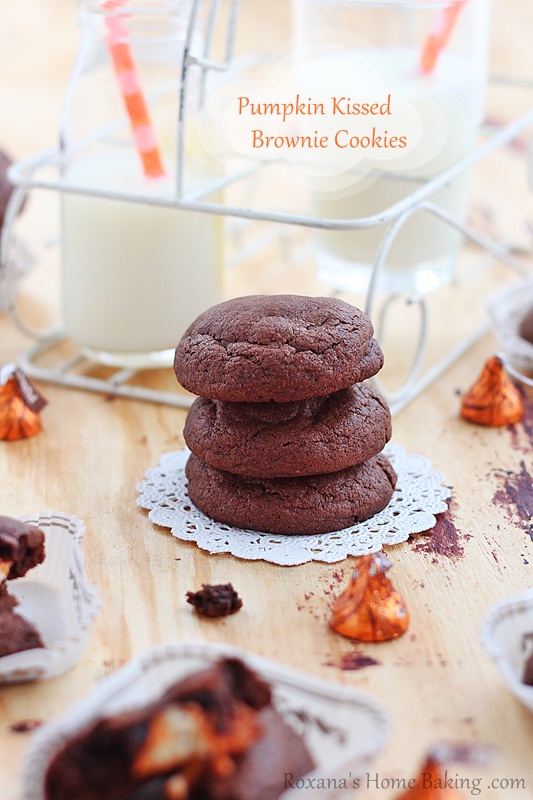 Sending love your way,
Roxana