Soft buttery pull apart pumpkin bread, filled with spoonfuls of Nutella and topped with sugar for a sweet crunchy crust.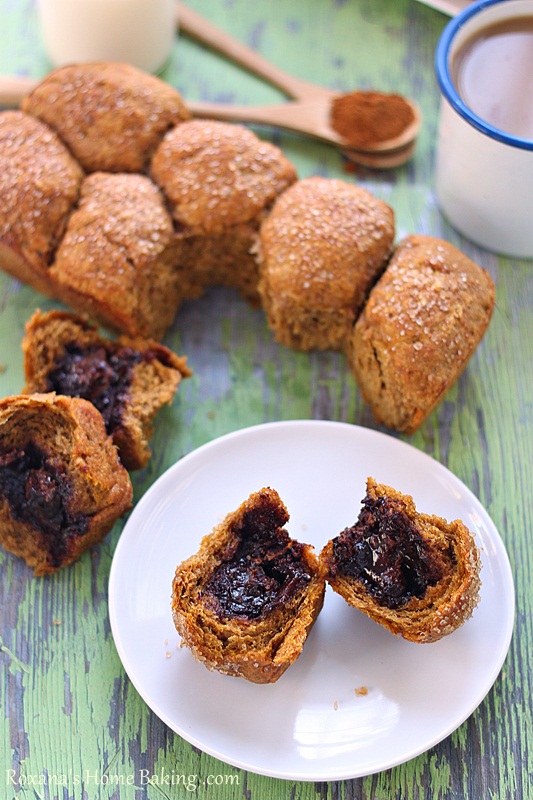 The bread-tastic week continues with a pull-apart nutella filled pumpkin bread. When i planned this week filled of irresistible yeast baked goodies i thought i had everything under control.
But that was before I realized what hidden plans one of my teeth had in store for me. In the last 10 days I've seen my dentist, surgeon and orthodontics more than I've seen them in 6 months. I still have to take prescribed pain killers every 6 hours and I'm feeling better but there are days the pain wins.
I struggled writing about these delicious croissants (there's still time to enter the giveaway) the plum cake post was in my drafts for a while now just waiting to be published. Yesterday I had planned to share a loaf of soft moist bread filled with caramelized quinche but the pain send me back to bed to rest.
Today it's Thursday,that means it's time for some sweetness for the 12 Weeks to Christmas treats blog hop started my Brenda at Meal Planning Magic 
Nutella has no season. Whom am I kidding? Nutella season is year round. And with pumpkin season going on mixing them it was inevitable.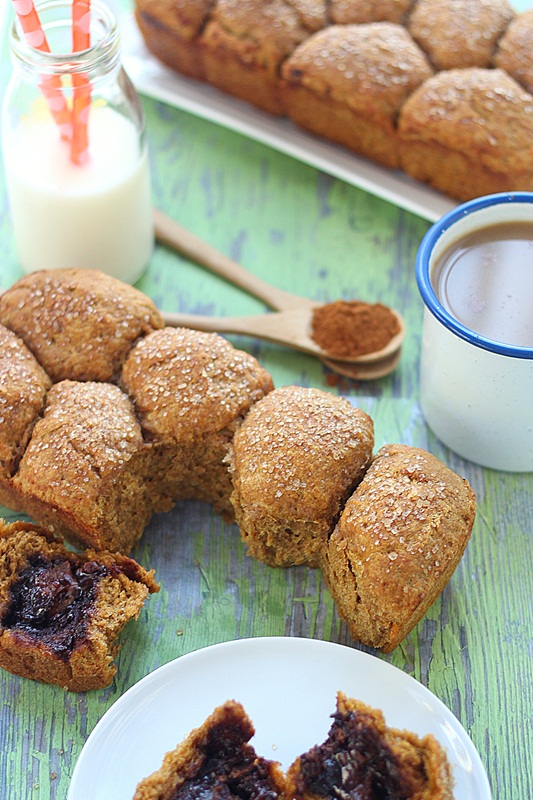 This bread was made twice so far. If i had more Nutella in the house (I know, I can't believe I'm out of it either) probably hubby would place another order.
It all started from a desire of making monkey bread. All I wanted to do was making a ooey gooey pumpkin monkey bread. I called a friend to come over so we can have a coffee and enjoy some bread and I was set.
The next day while gathering my ingredients and doing Maths to figure out the ratio of dry and wet ingredients the jar of Nutella was staring at me, just begging to show it some love.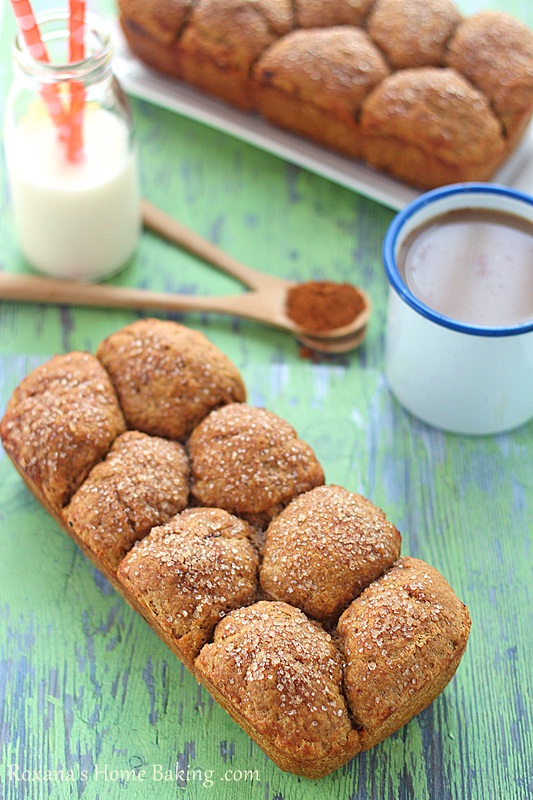 As the loving person that I'm, I immediately forgot about the monkey bread and focused on a Nutella filled pumpkin bread. But I didn't want a swirled or rolls so pull apart was the perfect way to go.
And let me tell you, this bread disappears faster than you can count to 3.
You pull your own bun, take a bite first enjoying the melted sugar on the top crust, then you get to the buttery bread and in the end the goodness of Nuttela.
Close your eyes and enjoy. You can't think of anything else but the next bun you're going to devour as soon as you finish the first one.
Shhh, don't tell anyone but it's 100% whole wheat.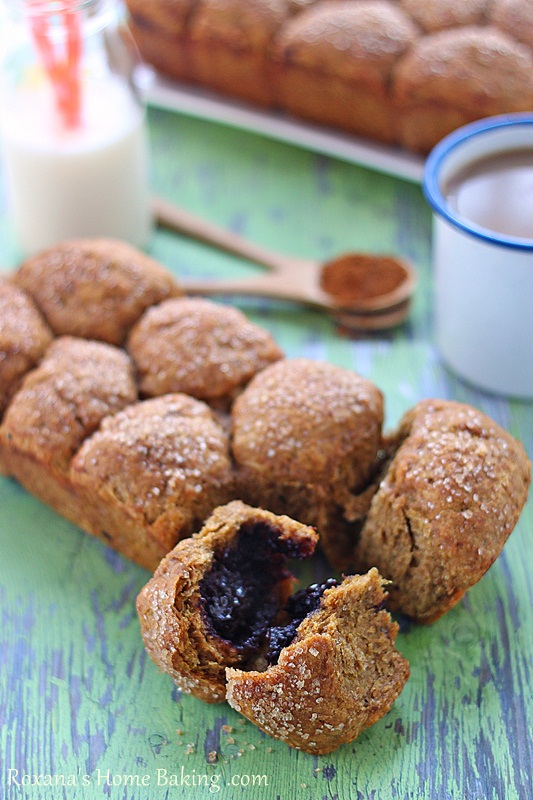 Pull apart nutella filled pumpkin bread
---
Yields 2 loaves
15 minPrep Time
35 minCook Time
2 hrTotal Time
Ingredients
2 cups (240 grams) Whole Wheat flour
1/3 cup lukewarm water
1 envelope Red Star PLATINUM yeast
1/2 (113 grams) melted butter
15 oz (425 grams) cooked or canned pumpkin
1 tsp salt
1 cup (200 grams) sugar
1 tbsp pumpkin spice
2 cups (240 grams) Whole Wheat flour
Nutella
4 tbsp butter
2 tbsp raw sugar
Instructions
In a mixing bowl add 2 cups of whole wheat flour. Make a well in the middle and add the water and sprinkle the yeast. Leave until the yeast dissolves, about 5 minutes.
Add the 1/2 cup of melted butter, the pumpkin, pumpkin spices, salt and the cup of sugar.With the dough hook on start mixing slowly adding the remaining 2 cups of whole wheat flour.
When all the flour is incorporated the dough will be still sticky.
Keep kneading/mixing until the dough comes clean from the sides of the bowl and it doesn't stick anymore. Do not be tempted to add more flour.
Place the dough in an oiled bowl, cover with plastic foil and leave at room temperature until doubled in volume.
When risen, divide the dough in 16 pieces, flatten each piece, spoon some Nutella in the center and gently fold the buns completely covering the Nutella.
Place the filled buns in a greased baking pan (I used two 9X5 baking pans).
Cover again with plastic wrap and leave to rise for 30 more minutes. Meanwhile heat the oven to 375F.
Just before putting the loaves in the oven, melt the remaining 4 tbsp of butter and pour over the nutella filled buns. Sprinkle some raw sugar on top and bake for 35 minutes.
Cool slightly in the pan before removing (and eating) it.
7.6.8
375
http://atreatsaffair.com/pull-apart-nutella-filled-pumpkin-bread-recipe/
Roxana Yawgel http://atreatsaffair.com/ All images and content are copyright protected. Please do not use my images without prior permission. If you want to republish this recipe, please re-write the recipe in your own words, or simply link back to this post for the recipe. Thank you.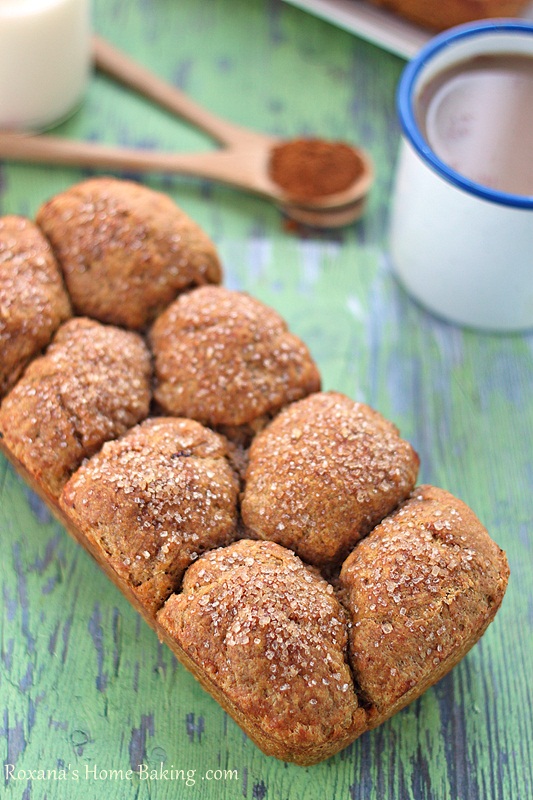 I hope you enjoyed this Pull apart nutella filled pumpkin bread and make it for Thanksgiving or Christmas.
Check out what other bloggers make today as part of the 12 weeks to Christmas treats blog hop
This recipe is linked to Jen's Kicthen Bootcamp, Heather's Bake your own bread an  Susan's Yeastspotting round-ups and also to  Dara's Monthly Mingle, event started by  Meeta  in 2006

If you like this pull apart nutella filled pumpkin bread you may also like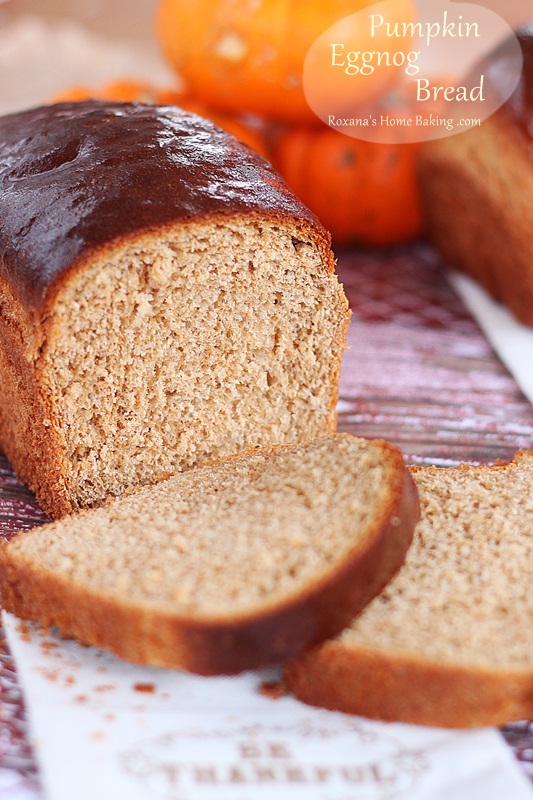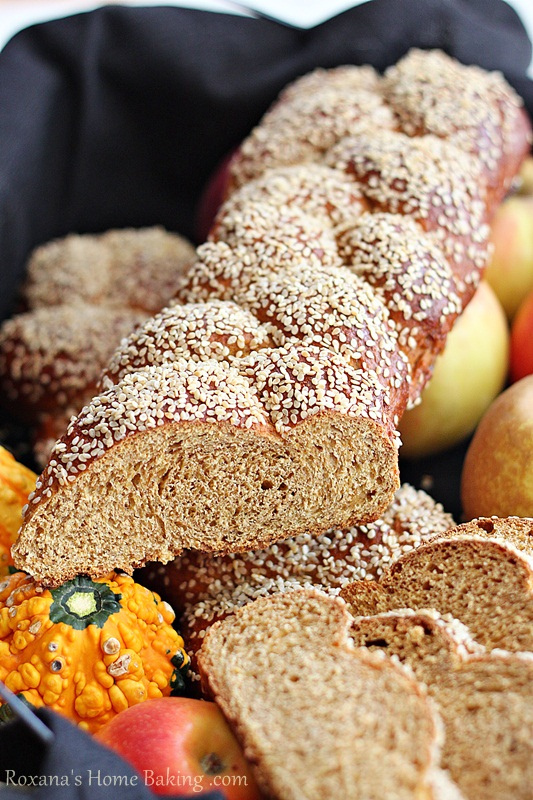 Sending love your way,
Roxana