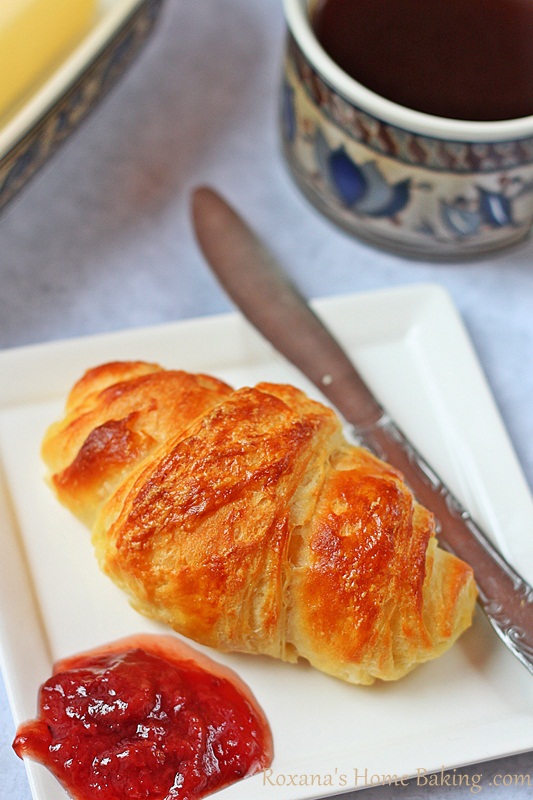 Bonjour!
Since I made my own croissants, pane au chocolat and brioche this past weekend I feel like talking French, which is funny because I took 7 years of French classes but still can't say more than 5 words.
And not only that, I've even been to France but except for the pastries and cheese, pretty much nothing stick with me.
I've always loved croissants. Really? What's not to love? A flaky buttery piece of bread. Flour, salt, sugar, milk, egg, butter and yeast never combined so well together.
If you have never had a croissant you're missing out!
I used to tell myself : making croissants it's not for me. I don't have that much patience plus you need to have some sort of culinary training for that. Only pastry chefs can make croissants.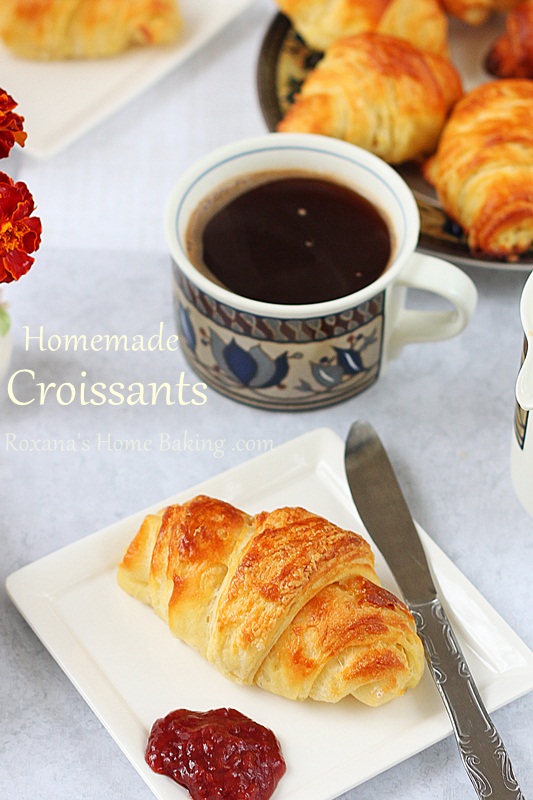 How wrong was I! I've not only made these croissants once, but twice this past weekend and since I had so many requests for the recipe, I'm sharing it with you.
But first let's take a moment and talk about the secrets of making croissants.
Keep the butter cold! At one point you'll have to work the butter but put it back in the fridge as soon as you're done.
If possible keep the work area cold. I placed ice-cubes on the table to keep it cold while the dough was resting.
Make sure once you add the butter the dough doesn't get warm allowing the butter to soften.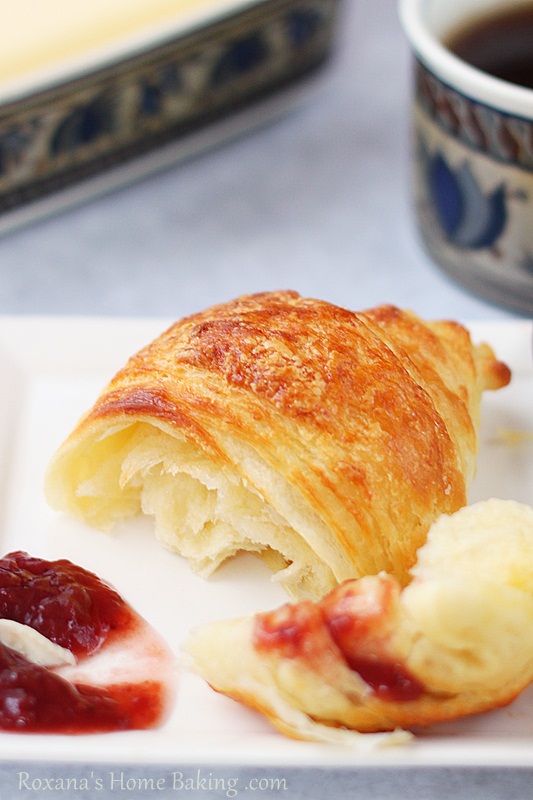 Trust your yeast! I used Red Star PLATINUM which is an instant yeast combined with dough enhancer.
The same yeast I used for the Steakhouse Bread, Cardamom Coconut Buns and Cottage Cheese Dinner Rolls.
I used Red Star PLATINUM yeast a lot in the last month (more recipes to come). I just wanted to make sure there's a difference between the active dry yeast and the PLATINUM.
And there is, actually there are a few, but what I love more about the new yeast is that it saves me time. I love baking bread but as you know it takes some time for the dough to rise twice and then wait some more for the bread to bake.
With Red Star PLATINUM the rising time is shorter. Although the baking time stayed the same, you can notice a big difference in the volume of the bread.
Making whole wheat bread sometimes turns out to be on the heavy side but not anymore. You can have a whole wheat bread that is lighter and airy with PLATINUM.
If you live close to me, you'll find it at GIANT grocery store.  Here's a list with all the participating stores around the country.
Red Star PLATINUM is offering one of you a pretty bow-tied box just like the one I received filled with an apron, wooden cutting board and samples of Red Star PLATINUM. (details about the giveaway at the bottom of the post)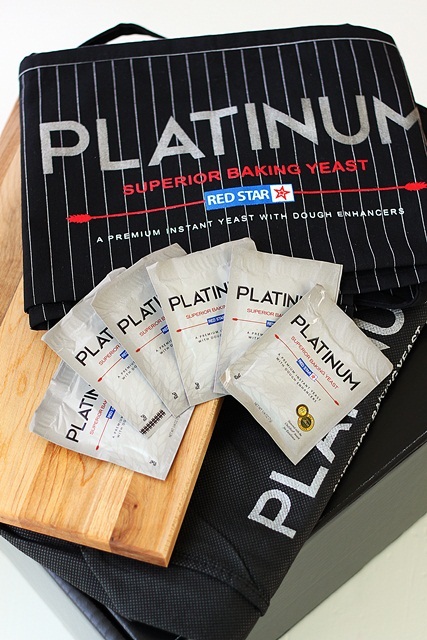 Let's make some croissants now, shall we?
Homemade croissants
---
Yields one dozen
6 minPrep Time
15 minCook Time
7 hrTotal Time
Ingredients
4 cups (480 grams) bread flour
3/4 cup (180 ml) lukewarm milk
1 envelope Red Star PLATINUM yeast
1 egg
2 tbsp sugar
1 1/2 tsp salt
1/2 cup (120 ml) milk
1 cup (226 grams) cold butter
1 egg for brushing
Instructions
In a large mixing bowl sift the flour and salt. Make a well in the middle.
Mix the yeast with the 3/4 cup milk, stir until dissolved and pour it into the flour.
Mix a little bit (the mixture is going to be dry) and add the sugar and egg.
With a dough whisk or a wooden spoon try and bring the dough together slowly adding the remaining 1/2 cup milk.
When all the milk is added the dough is going to be quite sticky. Don't panic and definitely don't add more flour.
Place the dough on your working area and knead by hand until doesn't stick anymore. it's going to be around 7-10 minutes.
Place the dough into a clean oiled bowl, cover with plastic foil and let it rise until double in volume.
Meanwhile work the butter.
Remove the butter from the wrapping paper and place both sticks on a plastic foil. Cover with plastic foil and with the rolling pin, flatten the butter until it forms a block about 3/4 inch thick.
Put the butter back in the fridge.
When the dough has doubled in volume, punch it down, cover again and place it in the fridge until double in volume again.
When the dough has risen for the second time, place it on a floured surface, roll it our into a 12 inch square.
Place the block of butter in the middle and fold the corners of the dough over the butter like an envelope, tucking the edges to completely hide the butter.
Roll the dough into a rectangle, about 3/4 inch thick, twice as long as it is wide.
Roll the upper third down and the bottom third up. Wrap in plastic foil and chill for 20 minutes.
Take the dough out of the fridge, turn to 90 degrees, roll out into a rectangle and fold again. Chill for 20 more minutes, wrapped in foil.
Roll if out again, turning the dough, and fold one more. Chill for 20 more minutes whapped in plastic foil.
Flour your working area.
Rolls the chilled dough out into a 25X13 inch rectangle. (I found it easier than trying to roll the dough into a circle)
Divide the dough in half and with a pizza cutter cut triangles.
Roll the croissants starting from the wide side toward the sharp point.
Place the croissants on a baking sheet, spaced well apart.
Leave to rise one last time until double in size.
Meanwhile heat the oven to 425F.
Brush the croissants with egg wash and bake until puffed and golden, for 13-17 minutes depending on their size.
Notes
I have made this recipe twice but have never made it using a stand up mixer. Although I'm pretty sure it will work just as fine, I recommend making the dough by hand.
7.6.8
373
http://atreatsaffair.com/homemade-croissants-recipe/
Roxana Yawgel http://atreatsaffair.com/ All images and content are copyright protected. Please do not use my images without prior permission. If you want to republish this recipe, please re-write the recipe in your own words, or simply link back to this post for the recipe. Thank you.
 Now the giveaway!
If you'd like to win samples of Red Star PLATINUM yeast, a Red Star PLATINUM apron and a wooden cutting board just leave a comment below.
For more entries : (please leave a comment for each entry)
– Like A little bit of everything on Facebook
– Like Red Star Yeast on Facebook
– Pin this post and leave the link to your pin in the comment area
– Pin other recipes using Red Star Platinum yeast and leave the link to your pin in the comment area. (Steakhouse bread, Cardamom coconut buns, Cottage cheese dinner rolls)
– Share this post on Facebook and leave a link to your post in the comment area. (Make sure you tag A little bit of everything and Red Star Yeast)
The giveaway is until Sunday October 14th 11.59 pm EST and the winner will be announced on Monday. Red Star Yeast will ship to US and Canada!!!
The winner will have 48 hours to get back to be or another winner will be selected.
Good luck everyone!
Disclosure – I received a box full of Red Star PLATINUM Yeast goodies to get creative with my baking. All opinions express in this post are my own and always will.