Alfajores, also known as dulce de leche sandwich cookies, are traditional shortbread cookies with a dulce de leche filling, popular in Spain and throughout Latin America.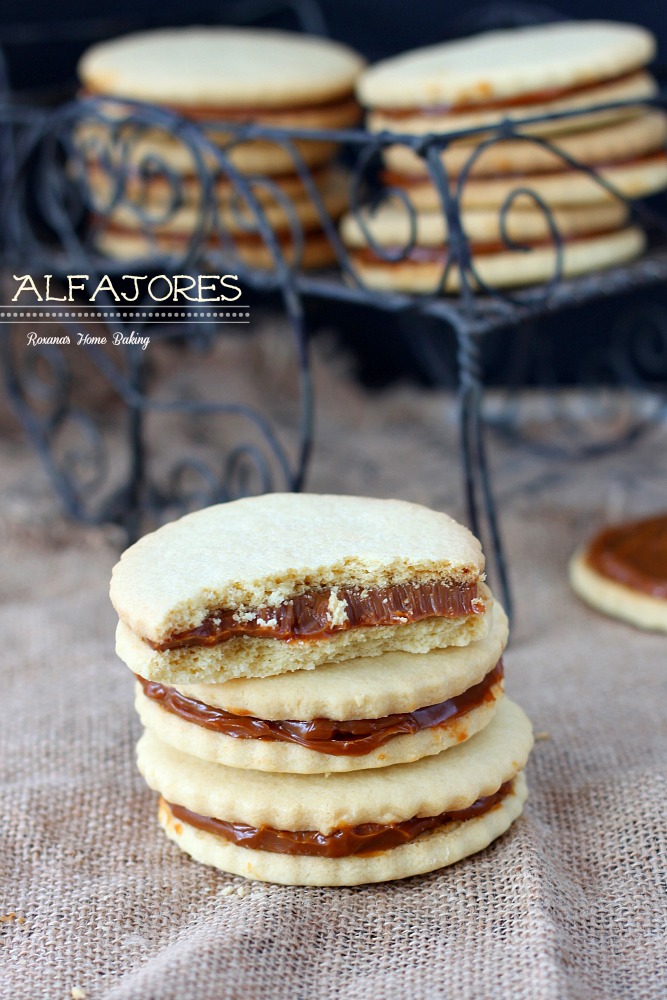 Lately I've been on a Latin kick. With Cinco de Mayo just around the corner, I sat down one afternoon and browsed the internet for great desserts to celebrate this Mexican holiday. Lots of the recipes came back featuring the rich sweet caramel sauce "dulce de leche". I usually buy mine from the international market, along with other ingredients from Asia, Middle Eastern and even from Romania.
A couple of months ago, might be a little over a year, while browsing the store for some lady fingers I saw a pack of Alfajores on one of the shelves. It had been so long since I last enjoyed these soft, buttery cookies sandwiched with dulce de leche.
Without thinking twice I grabbed a package and immediately opened and bite into one cookie.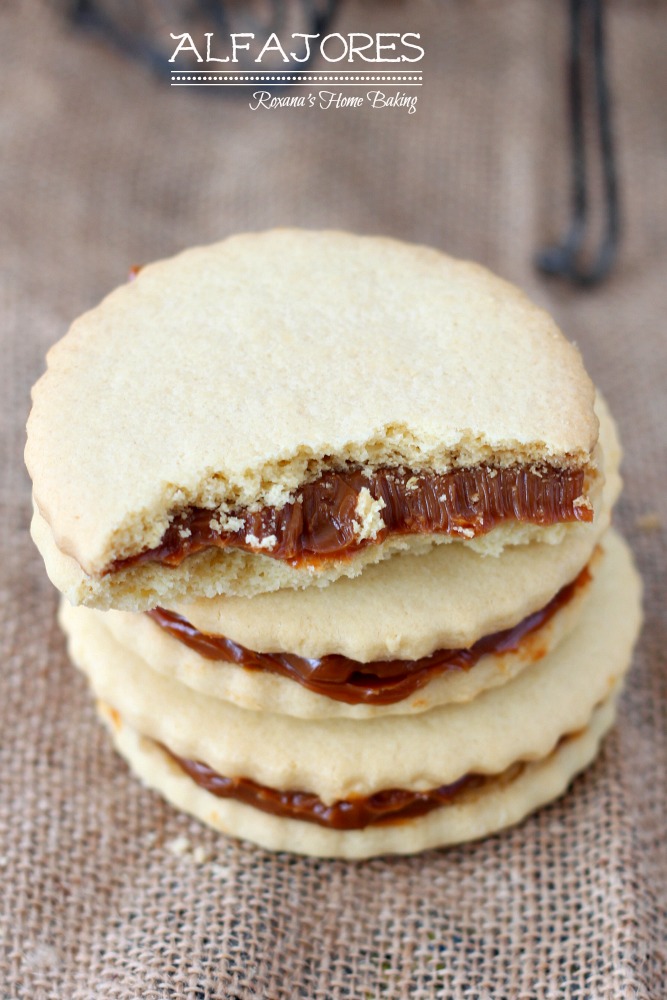 Since then, although I have bought many more, I have been on a quest for the best Alfajores, just like those I remembered from a trip years ago to Mexico.
I've tried a couple of different recipes. Different ratio of dry/wet ingredients. Some called for just flour, some for a combo of flour and cornstarch and after many, many cookies and lots of dulce de leche cans I finally found the ones I will make over and over again.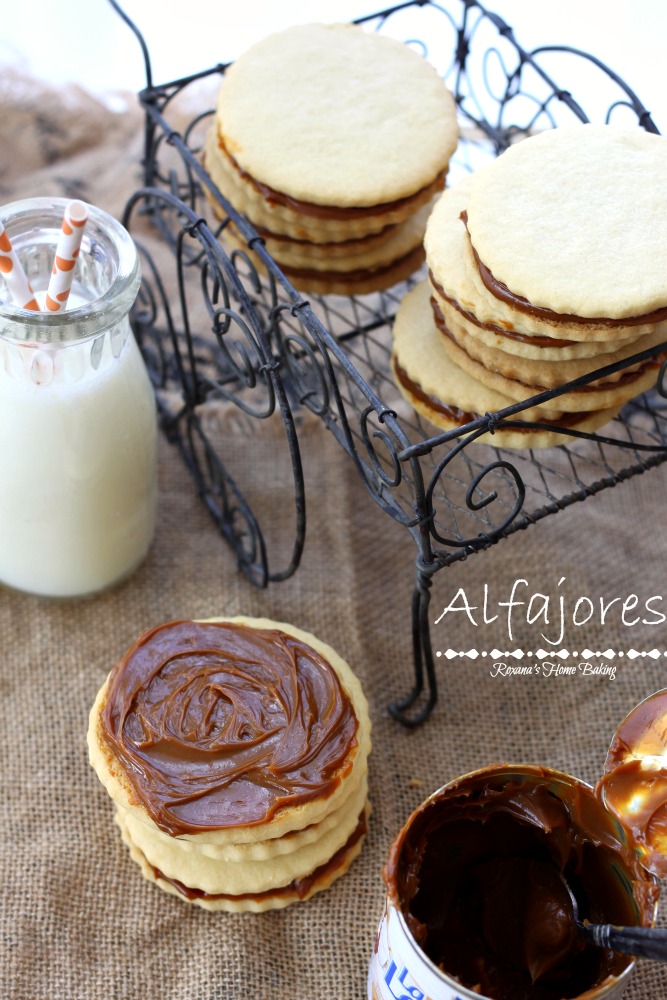 The cornstarch mixed with flour make the cookies soft and light. Alone, the cookies are not too sweet, or not as sweet as a cookie should be, but once sandwiched with dulce de leche a new world opens. I've seen alfajores, once sandwiched, being rolled in shredded coconut or finely chopped nuts but I prefer mine plain.
The dough is a little hard to work with at first. When you start rolling it it starts to crack but it's easy to glue it back together and the scraps work like a charm when re-rolling them.
There's one thing some might change. The size of the cookie. These are pretty big sandwich cookies. I think my cookie cutter is around 2 1/2 inch but you can certainly make them smaller.
Alfajores – dulce de leche sandwich cookies
---
Yields 10-12 sandwich cookies
Alfajores, also known as dulce de leche sandwich cookies, are traditional shortbread cookies with a dulce de leche filling.
20 minPrep Time
13 minCook Time
2 hr, 30 Total Time
Ingredients
1 cup cornstarch
3/4 cup all-purpose flour
1 tsp baking powder
1/2 tsp baking soda
1/4 tsp salt
1/2 cup room temperature butter
1/3 cup sugar
2 egg yolks
1/2 tsp vanilla extract
1 X 13.4 can Dulce de Leche (you'll use almost the entire can)
flour for dusting
Instructions
Add the butter and sugar in a mixing bowl and, with the paddle attachment on, cream the mixture until light in color and fluffy, about 3 minutes.
Add the egg yolks and vanilla and mix until incorporated. With a spatula, scrape down the sides of the bowl.
On low speed, gradually add the cornstarch, flour, salt, baking powder and soda and mix until just incorporated.
Turn the dough out onto a piece of plastic wrap, shape it into a disk and wrap it tightly. Place in the refrigerator until firm, at least 1 hour.
Meanwhile, heat the oven to 350F.
Line 2 baking sheets with parchment paper and set aside.
Remove the dough from the refrigerator, unwrap it, and place it on a lightly floured work surface. Lightly flour the top of the dough. Roll to 1/4-inch thickness (the dough will crack but can be easily patched back together).
Cut out 20 to 24 rounds using a 2 inch cookie round cutter, rerolling the dough as necessary until all of it is gone.
Place the cookies on the prepared baking sheets and bake them in preheated oven for 12-13 minutes.
Transfer to a wire rack to cool completely.
Spoon on half of the cookies about a tablespoon of dulce de leche. Place a second cookie on top and gently press to create a sandwich.
Enjoy!
Notes
7.6.8
449
http://atreatsaffair.com/alfajores-dulce-de-leche-sandwich-cookies-recipe/
Roxana Yawgel http://atreatsaffair.com/ All images and content are copyright protected. Please do not use my images without prior permission. If you want to republish this recipe, please re-write the recipe in your own words, or simply link back to this post for the recipe. Thank you.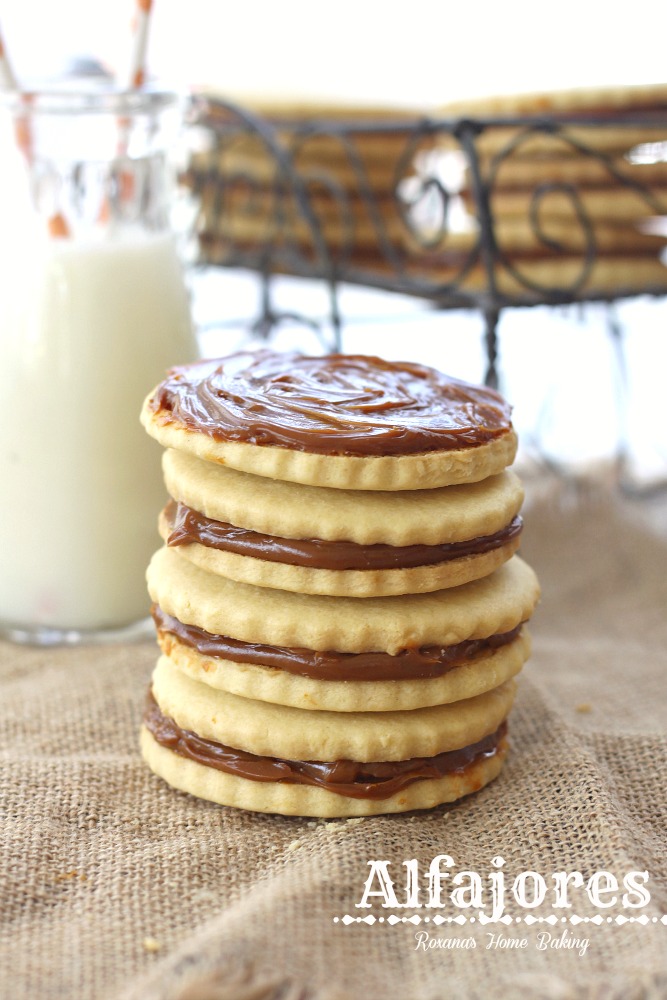 Cinco de Mayo it's the first holiday I spend along with other food bloggers. It's a little early, some may say, but here's what we've made!
Alfajores

from Roxana's Home

Baking

Spicy Fish Tacos with Avocado Yogurt Sauce  from Crumb Blog
Classic Flan from That Skinny Chick Can Bake
Dulce de Leche Milkshake with Coconut Milk Whipped Cream  from Chocolate Moosey
Lime Margerita Bars from Girl in the Little Red Kitchen
Shrimp and Avocado Ceviche from Magnolia Days
Tropical Fiesta Cocktail from Hungry Couple NYC
Paletas – Mexican Popsicles from Pineapple and Coconut
Bizcochitos Cookies from Jen's Favorite Cookies
Mexican Hot Chocolate Cupcakes from Gotta Get Baked
Vegan Taco Salad from What Smells So Good
Gluten Free Tres Leches Cake from Kelly Bakes
Queso Blanco from The Messy Baker
Gorditas with Picadillo from Juanita's Cocina
Strawberry Margerita Slurpee from Chocolate Chocolate and More