Buttery, melt-in-your-mouth amazingness, these frosted sugar cookies are the made-from-scratch version of the store bought ones. Love at first bite!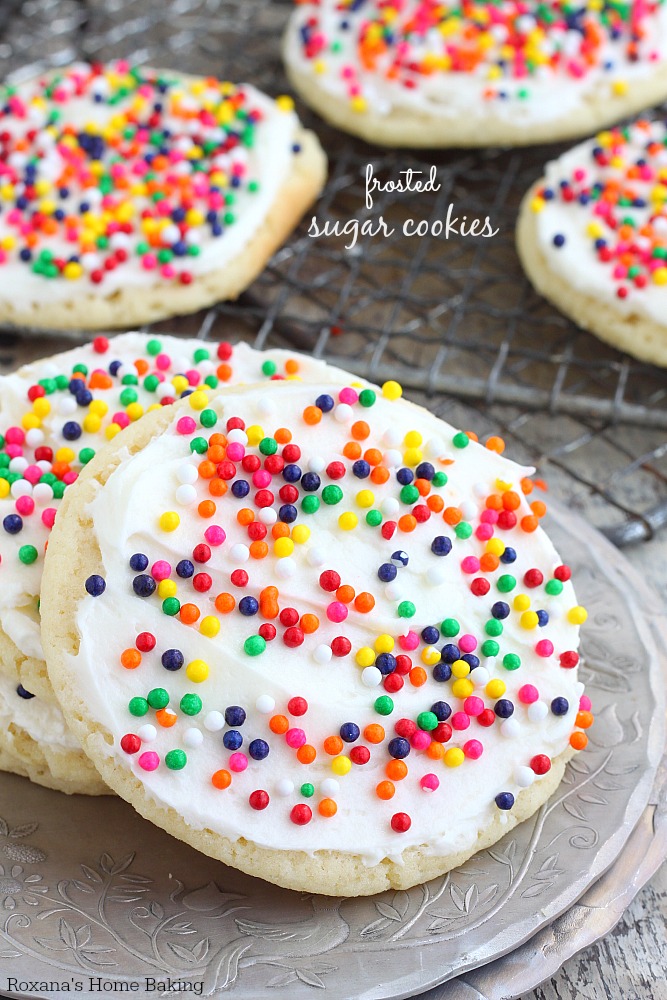 Since I started this blog, little over 3 years ago (how times flies!!!) I have made thousands hundreds of cookies but what makes my husband's heart skip a beat are the soft, cakey sugar cookies found at the grocery store. You know which cookies I'm talking about, don't you? The soft sugar cookies that come in different colors and flavorings depending on the season.
I never understood what's all the fuss about these cookies. Although I have tried them on various occasions I still can't say they are one of my favorite cookies. Maybe because I'm a chocolate kind of girl. Or maybe because I haven't had the right soft sugar cookie!
Few days ago I was thumbing my friend Sally's cookbook (you might remember her from these peanut butter chocolate cupcakes) and stopped at page 118 where Sally promises buttery, soft and sweet cookies without a long list of ingredients. 3 batches of cookies later and I finally got it why these soft sugar cookies are so irresistible.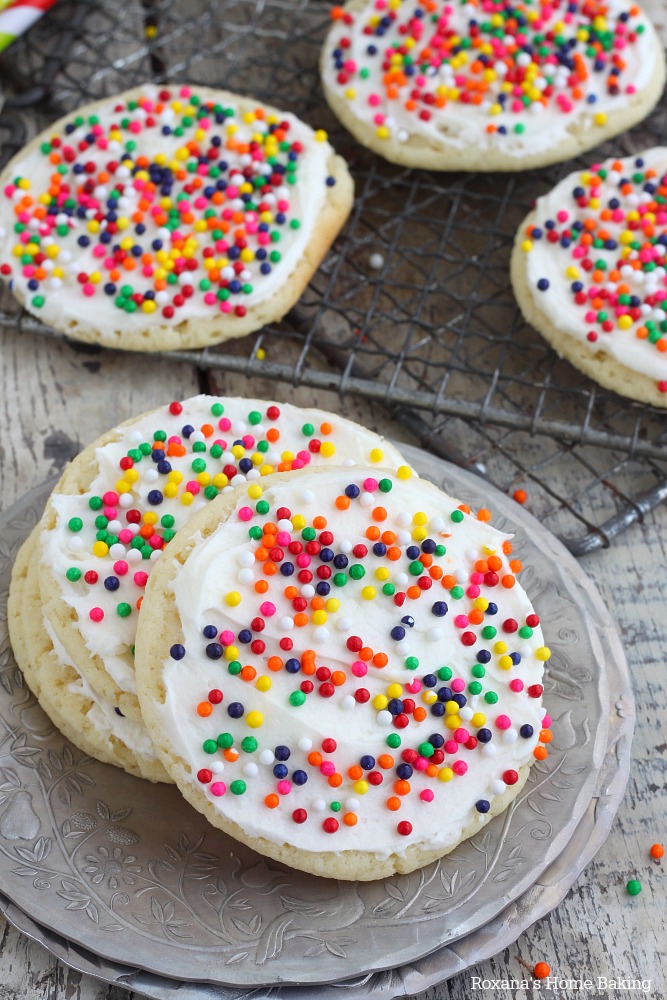 I've seen quite a few copycat recipes for the store bought version but most of them called for a boxed cake mix. This recipe doesn't call for a box mix and uses just the basic ingredients you are likely to find in sugar cookies – butter, sugar, egg, all purpose flour, vanilla and leaveners.
Start by creaming the butter with the sugar, beat in the egg and last fold in the dry ingredients.
Sally's advice is to scoop the cookie dough and refrigerate for at least 2 hours. This will prevent the cookies from spreading while baking. I have to say, I had a little problems at this point. I don't know for sure how little or how much the cookies were supposed to spread, but mine did spread.
For the first batch I used a small OXO scoop and refrigerated the cookie dough for about 2 hours. The cookies turned out buttery, melt-in-your-mouth amazingness but not as thick as I hoped.
For the second batch I used an OXO medium size scoop and refrigerated the cookies overnight. Just like the first batch, the cookies turned out amazing, but spread.
For the third batch I used the medium size scoop and froze the cookie dough for 1 hour. No difference in taste or texture.
No matter what size cookie dough you choose and no matter how long you refrigerate the cookie dough – you must try these cookies!
Top them with a generous amount of buttercream and lots and lots of sprinkles!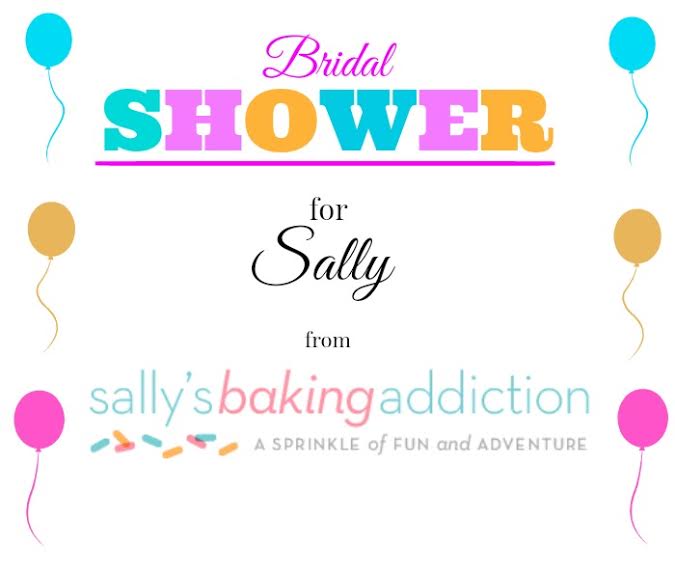 Speaking of sprinkles, today a few of my friends and I are throwing a surprise bridal show for Sally! Congratulations Sally!!! Thanks to Anna and Jaclyn for organizing it!
So, grab your sprinkles and join the fun!
Chocolate Swiss Roll Cake from Lauren's Latest
Funfetti Cookie Dough Balls from Averie Cooks
Cake Batter Funfetti Cookies from Diethood
Cake Batter Popcorn from I Heart Naptime
Confetti Cookie Milkshake from Bake Your Day
Cake Batter Ice Cream Balls from Oh, Sweet Basil
Frosted Sugar Cookies from Roxana's Home Baking
Peanut Butter Filled Doughnuts from Crazy For Crust
Funfetti Sugar Cookie Cups from Crunchy Creamy Sweet
Shirley Temple from Damn Delicious
Funfetti Pudding Mix Cookies from Cooking Classy
Cherry Chocolate Chip Cupcakes from The Messy Baker
Chocolate Frosted Sugar Cookie Bars from Handle the Heat
Vanilla Banana Muffins from Love From the Oven
Homemade Funfetti Yellow Birthday Cake from Ambitious Kitchen
Frosting Filled Deep Dish Cake Batter Cookies from The Domestic Rebel
[mpprecipe-recipe:545]