Dill caraway rye bread – Light and airy, with a soft crust and filled with caraway and dill seeds, this egg free bread is just what you need to make delicious deli sandwiches.
I'm happy to be working again with Red Star Yeast and bring you a flavorful easy to make rye bread.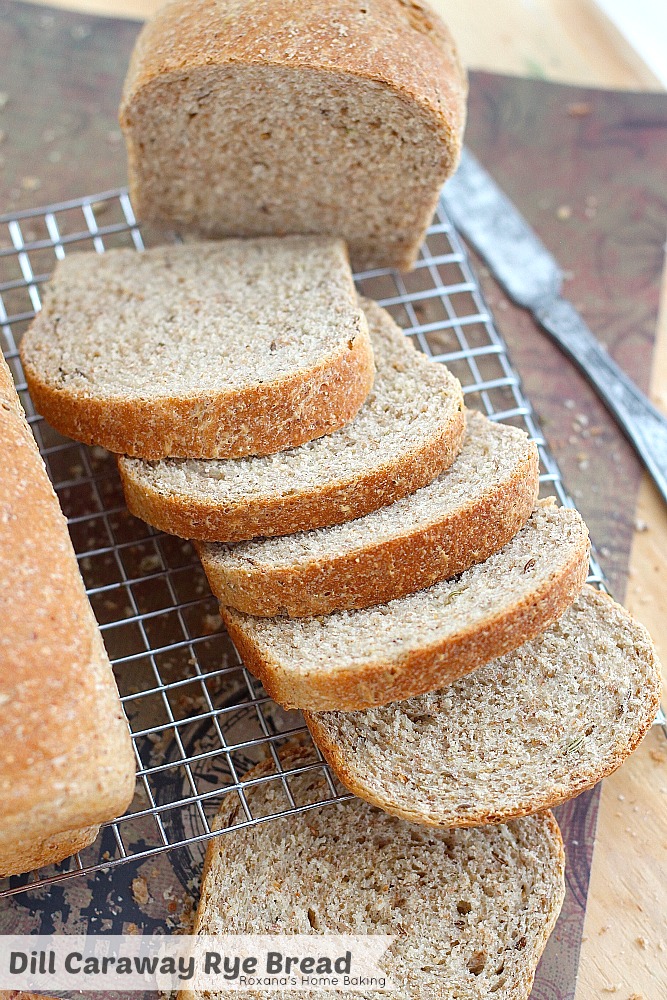 I'm a country girl but on weekends I'm a city girl all the way. Before coming to US, I've lived pretty much in the city, except for the summer vacations. Small shops everywhere, corner bakeries and lots of delis. No matter the time of the day there was at least one deli opened to make amazing sandwiches.
In my first year of college there was this small Mom & Pap Jewish deli just cross the street and there I had my first rye bread deli sandwich. It was an accident. Although my family roots are in the countryside, our land was mostly cultivated with wheat and corn. They may have had some rye, but I do not remember my grandma ever making rye bread.
With that first rye bread deli sandwich I knew I had discovered the mother of all sandwiches. Sure, you can make sandwiches on any bread, but if you want a deli sandwich, you gotta have rye bread, especially one that's easy to make, light and soft packed with dill and caraway seeds.
The recipe for this dill caraway rye bread comes from Red Star Yeast. As usual I didn't change much, actually just used butter instead of shortening and changed a little bit the directions. Instead of kneading the bread by hand I used my trusty stand up mixer, which does the job way better than me.
Even if you knead by hand or let the mixer do the job, you'll end up with two beautiful, soft and flavorful loaves. For best results you have to let the loaves cool before slicing them.
I usually slice mine all the way, place the slices in a freezer bag and just take them out as needed.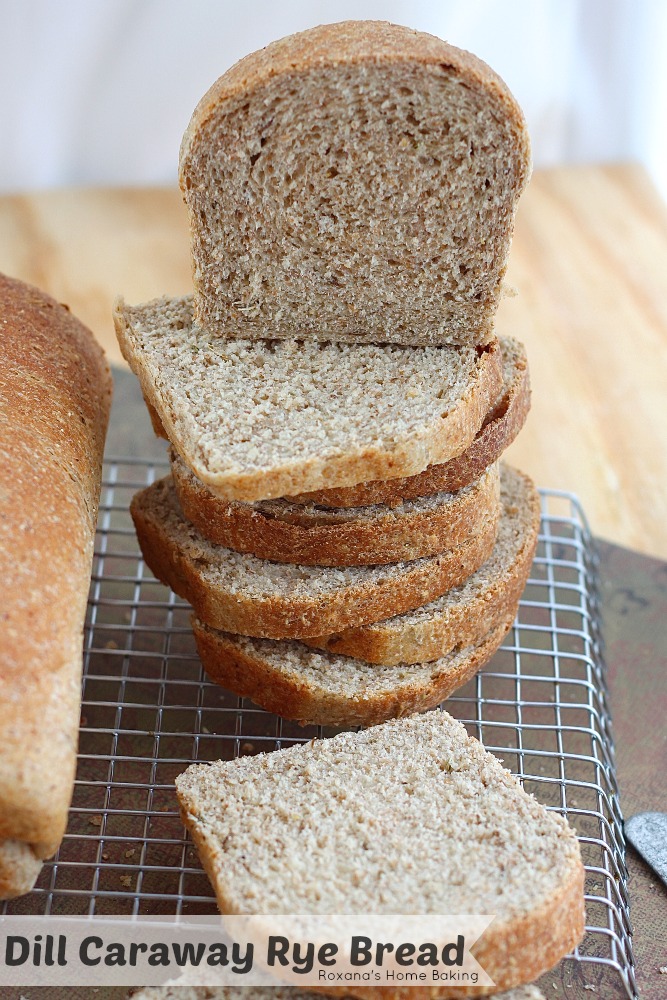 Dill caraway rye bread recipe
---
Yields 2 loaves
Light and airy, with a soft crust and filled with caraway and dill seeds, this egg free rye bread is just what you need to make delicious deli sandwiches.
15 minPrep Time
30 minCook Time
2 hr, 30 Total Time
Ingredients
1 3/4 cups (210 grams) bread flour
2 tsp active dry yeast
2 tbsp sugar
2 tsp salt
2 tsp caraway seeds
2 tsp dill seeds
1 cup milk
3/4 cup water
2 tbsp butter
1 1/2 cups (180 grams) bread flour
1 1/2 cups (180 grams) rye flour
Instructions
In a mixing bowl combine 1 3/4 cups bread flour, yeast, sugar, salt and seeds. Whisk to combine.
In a small saucepan heat the water, milk and butter until lukewarm.
Pour over the flour mixture and mix at low speed until combined.
Slowly, add the rye flour and enough bread flour to make a firm dough which cleans itself from the sides of the bowl.
Take the dough out and place it in a greased bowl and turn to grease top. Cover with plastic wrap and leave at room temperature until doubled in volume, about 1 hour.
When the dough is risen, punch it down and divide into two parts.
Shape each half into a rectangle and roll it to make a log. Place each loaf into a greased 8X4" bread pans.
Cover again with plastic wrap and leave at room temperature for 30 more minutes.
Meanwhile, heat the oven to 375F.
Bake the two loaves, in preheated oven, for 30 minutes or until golden brown.
Let cool in pans for 10 minutes before removing. Cool completely on wire racks before slicing.
Notes
7.6.8
459
https://atreatsaffair.com/dill-caraway-rye-bread-recipe-bakedwithlove/
Roxana Yawgel http://atreatsaffair.com/ All images and content are copyright protected. Please do not use my images without prior permission. If you want to republish this recipe, please re-write the recipe in your own words, or simply link back to this post for the recipe. Thank you.
Connect with Red Star Yeast
Facebook | Twitter | Pinterest | Google+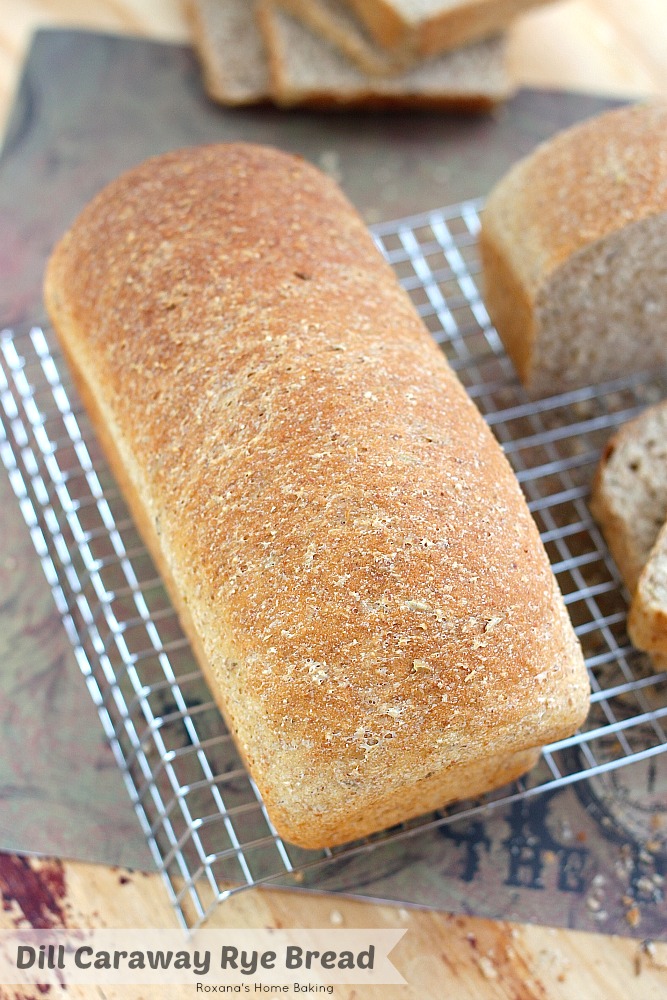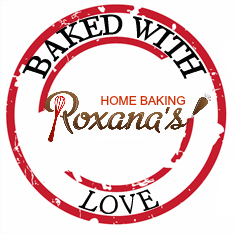 Do you love to bake? Share your baked with love treats below!
Everything that's baked with love, in your own kitchen can be linked. I can't wait to see your amazing goodies!!!
And to make things sort of organized, here are some simple rules.
How to participate (the rules):

1.) Bake something with love and blog about it. Anything, no matter the complexity, baked from scratch in your own kitchen. Or it could be an informative post, a tutorial or how-to post. Anything that will inspire us to bake more at home. If you don't have a blog and you'd like to participate, please email me a photo of your bread and the recipe and I will create a page for it.

2.) Include a link back to this post letting your readers know about this monthly event. Uploading the logo in your post or sidebar would be highly appreciated. 


3.)  Please link only posts from the current month. You can link as many as you want!
All submissions will be added to a Baked with love Pinterest board . Also I'll do my best to promote everyone's post on other social media channels. I'll be using the #bakedwithlove hashtag for Twitter and Google+ (feel free to use this to promote linked posts, as well)
Lets get baking!