Baba au Rhum – a bundt no knead rich yeast coffee cake with dried fruit, soaked in rum syrup and filled with whipped cream and fresh strawberries.
Thank you Red Star Yeast for sponsoring this recipe.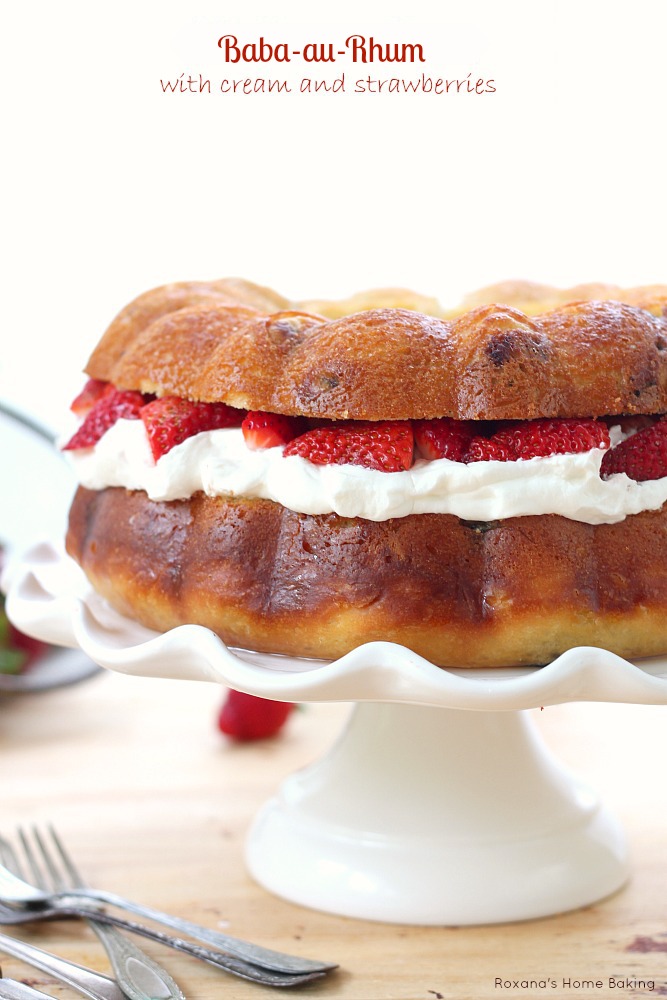 The first time I heard the name Baba-au-Rhum I was wondering what language is that and what on Earth is it. It took a small bite to make it clear for me it was something I would forever love and have probably eaten a fair amount of it throughout my childhood.
Baba-au-rhum is a rich cake, a no knead yeast cake, baked in a bundt form and soaked with a rum flavored sugar syrup. It is said that its origin are sometimes during the 18th century when the exiled king of Poland soaked a dried cake in an alcoholic drink.
A couple of years later, this soaked cake was beginning to make its appearance in French patisseries and slowly being introduced in other European cuisines as well.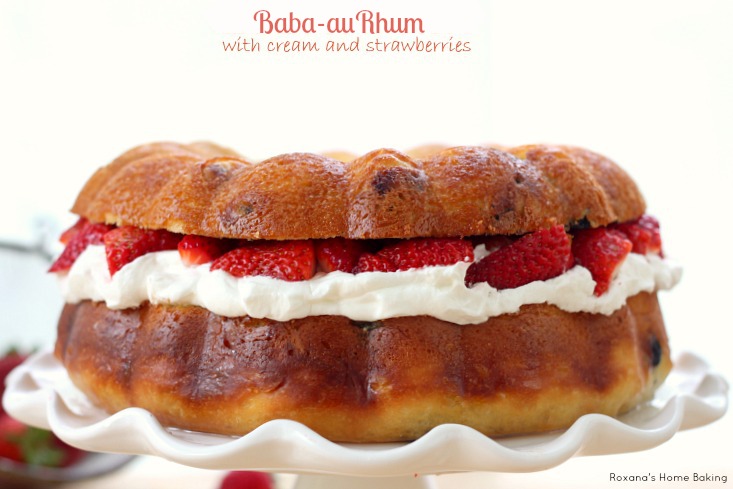 Growing up in Romania my mom made these small cakes soaked in sugar syrup and topped with whipped cream. Savarines.
While making this Baba-au-Rhum memories from the childhood rolled in front of my eyes. I saw the small kitchen in the tiny apartment I grew up with the stove right at the entrance and us, peeking through the window door until the cakes were done.
Then the waiting part. I was never a patient person and waiting for the cake to cool down, watching my mom slowly pouring syrup on top of the cake and, if we were behaving, we got to lick the beaters once the cream was whipped.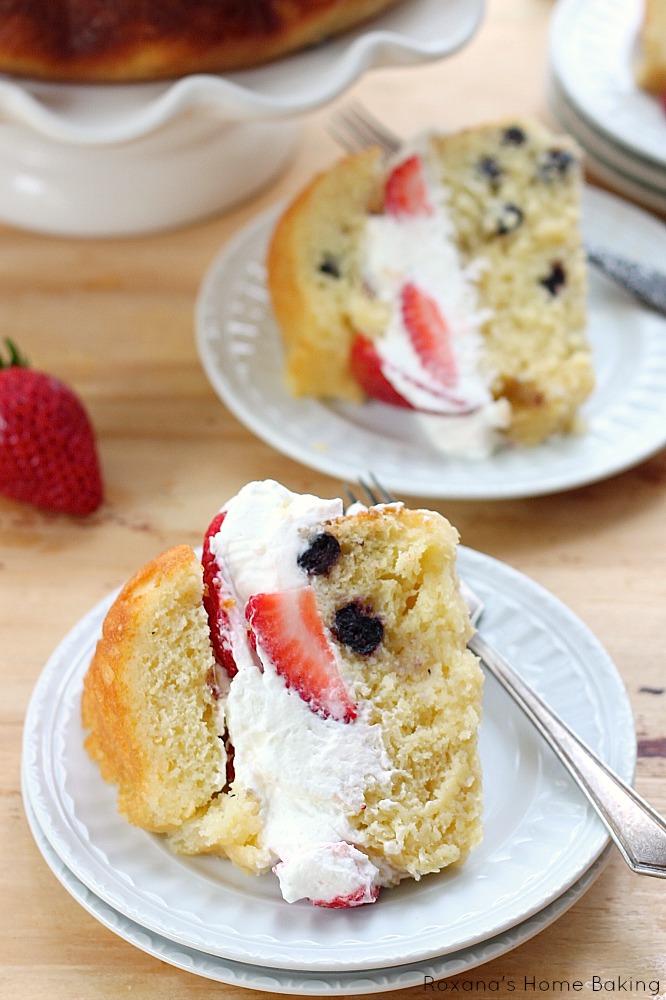 Once my baba au rhum was done and cooled I thought to myself, why not fill it with some cream, just like my Mom used to? I had some heavy cream and fresh strawberries in the fridge, no excuse not to make it even more irresistible.
The trick is not to overly soak the cake in syrup before slicing it, otherwise it will break into pieces. In the end mine was fully soaked, but I added poured some syrup over the sliced cake, making it easier to put it back together once the cream and strawberries were spread over the bottom layer.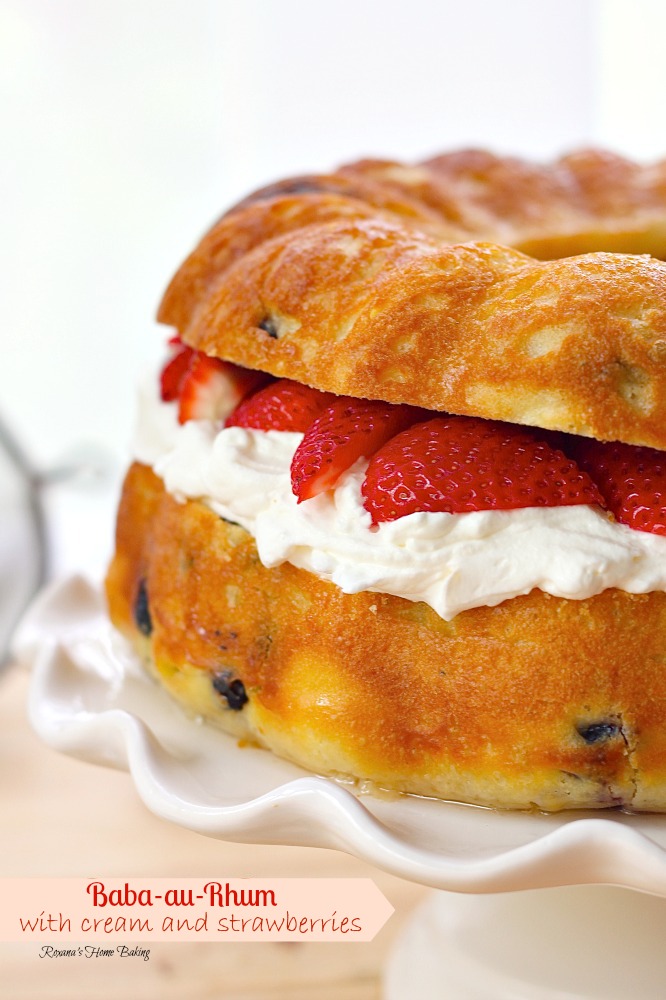 The recipe comes from Red Star Yeast. I didn't do many adaptations. As usual, I reduced the amount of yeast allowing my dough to rise and develop flavors over a longer period of time. Also added dried blueberries instead of currants and halved the rum sugar syrup, well halved the amount of sugar and water, not the rum.
Baba au Rhum with cream and strawberries
---
Yields 1 bundt cake
Baba au Rhum - a bundt no knead rich yeast cake with dried fruit, soaked in rum syrup and filled with whipped cream and fresh strawberries
30 minPrep Time
35 minCook Time
6 hrTotal Time
Ingredients
Cake

3 cups (360 grams) bread flour
1/2 tsp salt
2 tsp Red Star active dry yeast
1/4 cup water
1/2 cup milk
3/4 cup butter
1/4 cup sugar
4 eggs
1/2 cup dried blueberries

Syrup

1 cup sugar
2 cups water
4 tsp rum extarct
1 tsp lemon juice

Filling

1 cup heavy cream
1/4 cup sugar
~10 oz fresh strawberries, sliced or quartered
Instructions
Measure 1 3/4 cups of the flour into a large mixer bowl. Add the yeast and salt and whisk to combine.
In a sauce pan add the water, milk, butter and sugar. Heat until warm (120°-130°F), stirring constantly. Pour over the flour-yeast mixture and stir to combine.
Stir in the 4 eggs.
Beat 1/2 minute with electric mixer on low speed, scraping bowl. Beat 3 more minutes at high speed. STOP MIXER.
Blend in the rest of the flour and the dried blueberries.
Cover bowl with plastic wrap.
Let rise in warm place until doubled, about 2 hours.
When the dough is risen, turn it into a greased 12 cups bundt cake, cover again and let rest for one more hour.
Meanwhile, heat the oven to 350F.
Bake the cake for 25 minutes or until a toothpick comes out clean. Take the cake out of the oven.
Let the cake rest for about 10 minutes in the pan before inserting it on a wire rack to cool completely.
Once the cake is cooled, make the syrup.
In a small sauce pan add the sugar and water and boil, over medium heat, for 7-8 minutes.
Remove from the heat and stir in the rum extract and lemon juice.
With a spoon, gently pour about 1/3 cup syrup on top of the cake. Let the cake absorb the syrup before pouring another 1/3 cup.
Let the cake soak before pouring another 1/3 cup of syrup.
With a serated knife, cut the cake in half (about 1 inch thick the upper slice) Remove the top slice.
With a spoon pour 2/3 cup syrup over the bottom slice. Let the syrup soak in.
In a clean, grease free bowl, add the heavy cream and whisk, on low to medium speed until soft peaks form. Slowly add the sugar and keep mixing until firm peaks form.
With a spatula, spread the cream over the bottom slice.
Place the strawberries on top of the cream.
Gently, place the top cake slice over the strawberries. Pour the remaining syrup and let the cake soak for an hour or so.
Slice carefully and enjoy!
Notes
7.6.8
453
https://atreatsaffair.com/baba-au-rhum-with-cream-and-strawberries-recipe/
Roxana Yawgel http://atreatsaffair.com/ All images and content are copyright protected. Please do not use my images without prior permission. If you want to republish this recipe, please re-write the recipe in your own words, or simply link back to this post for the recipe. Thank you.
For similar recipes check our Red Star Yeast collection of recipes.

This recipe is sponsored by Red Star Yeast. Opinions are and always will be mine.