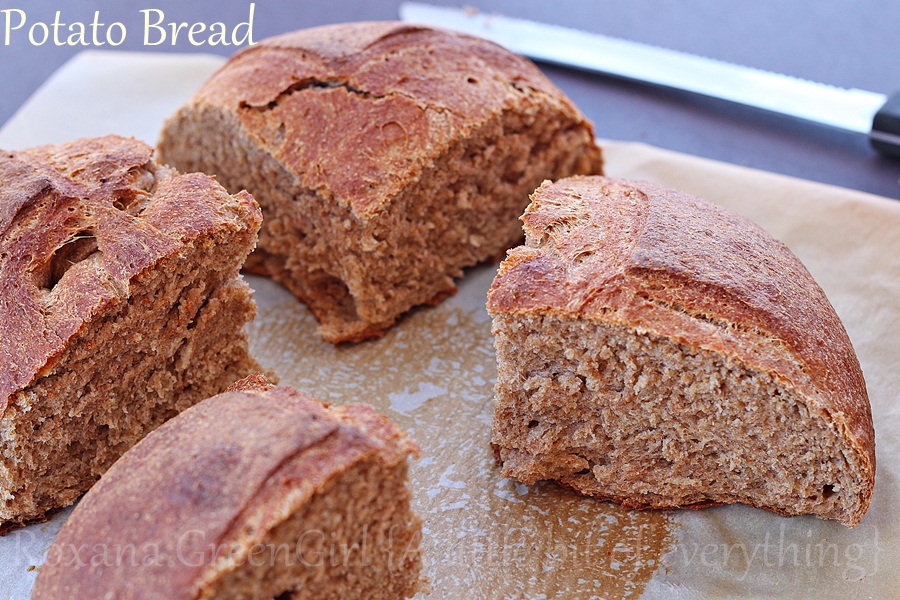 I'm not Irish but I like the green decorations spread throughout the stores and malls. I love the clover light my neighbors are having in front of the house. I wonder which one of them is Irish.
My favorite color is green, so it's no surprise I like St. Patrick. I'm not a big fan of the Bailey's, manly probably since I don't remember when I last had a sip of alcohol. It might have been almost a year ago when we went to Myrtle Beach. I can't wait to go again. We're hoping for late April or early May. Maybe this time we can visit Savannah again. There's something magical about Savannah.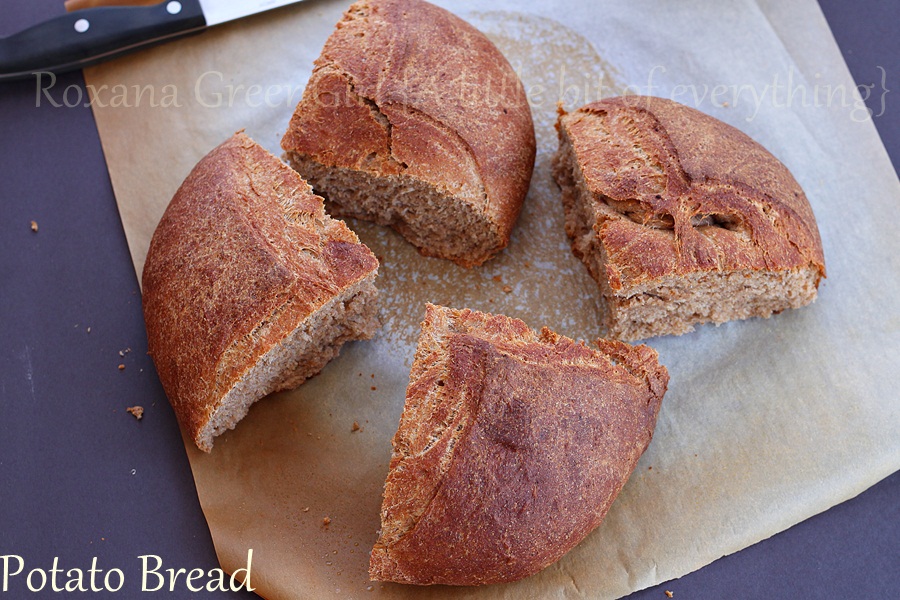 Are you planning on celebrating St. Patrick? What's your favorite Irish dish?
I still don't know what I'm going to cook. Maybe I'll make another potato bread, or a soda Irish bread, or maybe this Irish Barmbrack. We'll see.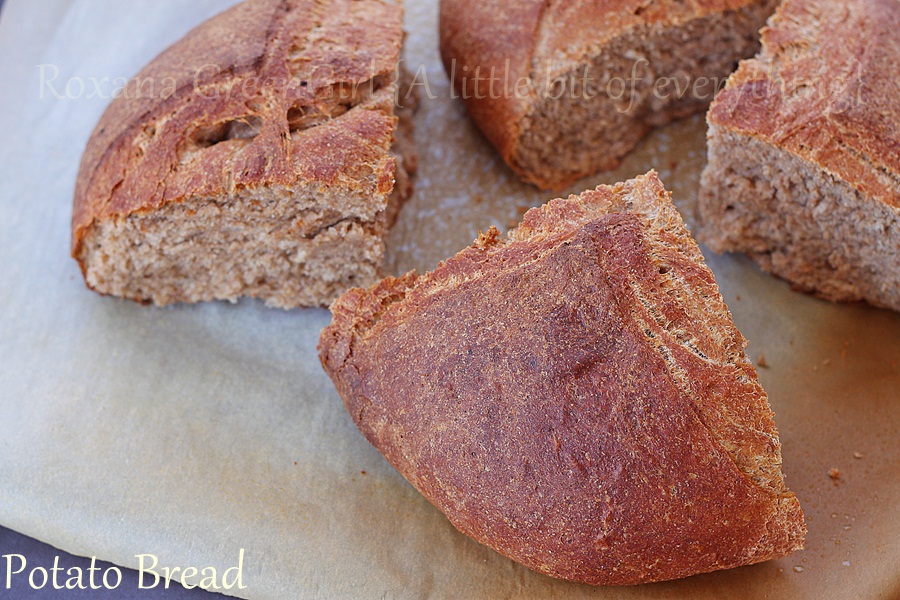 I've made several potato breads so far. Even used sweet potatoes.
This time I wanted a whole wheat potato bread. Potatoes keep the bread soft and moist longer. Whole wheat bread is usually heavy and dense.
Most of the recipes I used before were calling for just about 1 cup of mashed potatoes. I was afraid if I stick with one cup mashed potatoes and use only whole wheat flour, my bread will be heavy and far from being the soft and moist potato bread I wanted.
So I added more mashed potatoes. Little over a pound to be exact.
I was so pleased with the results. This is so far my favorite potato bread recipe.
Although this bread is 100% whole wheat, is so light and soft you can't tell I didn't use any enhancer like eggs, milk, butter or bread flour.
The pound of potatoes did the trick 🙂
Enjoy it with your dinner, slice it and spread some butter on top. You'll have a hard time saying no to another slice.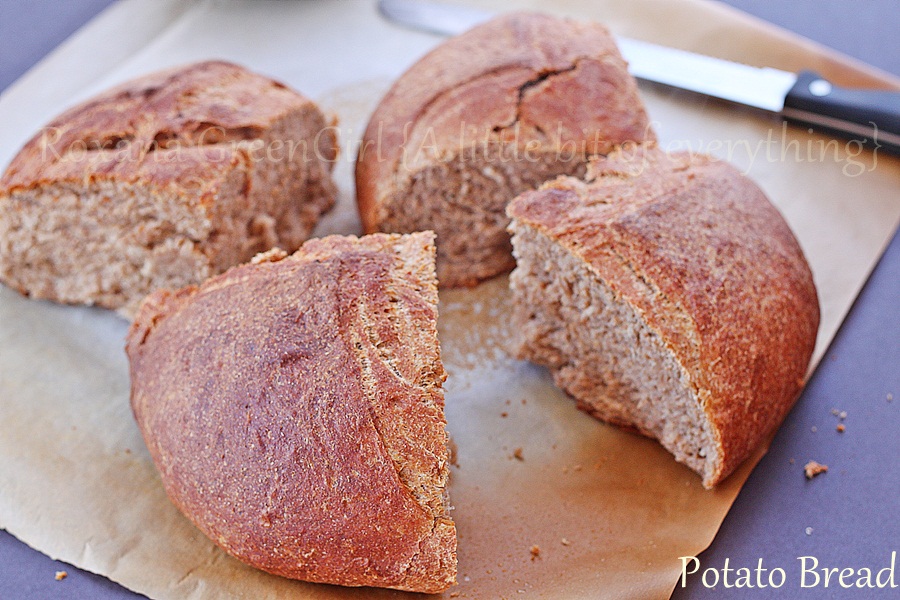 Potato Bread
---
Yields 1 round bread
Soft and moist whole wheat potato bread, good with any dinner or just with some butter spread on it.
20 minPrep Time
40 minCook Time
2 hr, 45 Total Time
Ingredients
17 oz / 470 grams cooked potatoes
1/4 cup (60 ml) vegetable/canola oil
1 1/2 tsp salt
2 cups (240 grams) whole wheat flour
1 1/2 tsp dry yeast
2/3 cup potato water lukewarm (the water in which the potatoes were boiled) - tap water or milk can be used instead
~ 2 cups whole wheat (240 grams) flour
Instructions
In a bowl mash the potatoes and mix with the oil and salt. Leave aside.
In a mixing bowl add 2 cups of flour, make a well in the middle, pour the potato water and sprinkle the yeast on top. Leave a couple of minutes until bubbles appear and the yeast is proofed.
Add the mashed potatoes and with the dough hook on start mixing slowly adding 1/4 cup flour at a time.
Depending on how watery are the potatoes, the humidity in the room you may have to add between 3 1/2 to 4 1/2 cups whole wheat flour. The dough should clean itself from the sides of the bowl.
Take the dough out and place it in a oiled bowl. Turn to grease all over, cover with plastic wrap or tea towel and leave until it had doubled in volume. The dough is done when it doesn't spring back when touched.
When doubled, knead it gently by hand for few seconds to 1 minute, shape it into a ball and place it on parchment paper.
Meanwhile place the pizza stone into the oven and heat it to 400F.
After 30-40 minutes place the bread (just slide the parchment paper) on top of the pizza stone and bake for 40 minutes.
Leave to cool slightly and enjoy!
7.6.8
333
http://atreatsaffair.com/whole-wheat-potato-bread-recipe/
Roxana Yawgel http://atreatsaffair.com/ All images and content are copyright protected. Please do not use my images without prior permission. If you want to republish this recipe, please re-write the recipe in your own words, or simply link back to this post for the recipe. Thank you.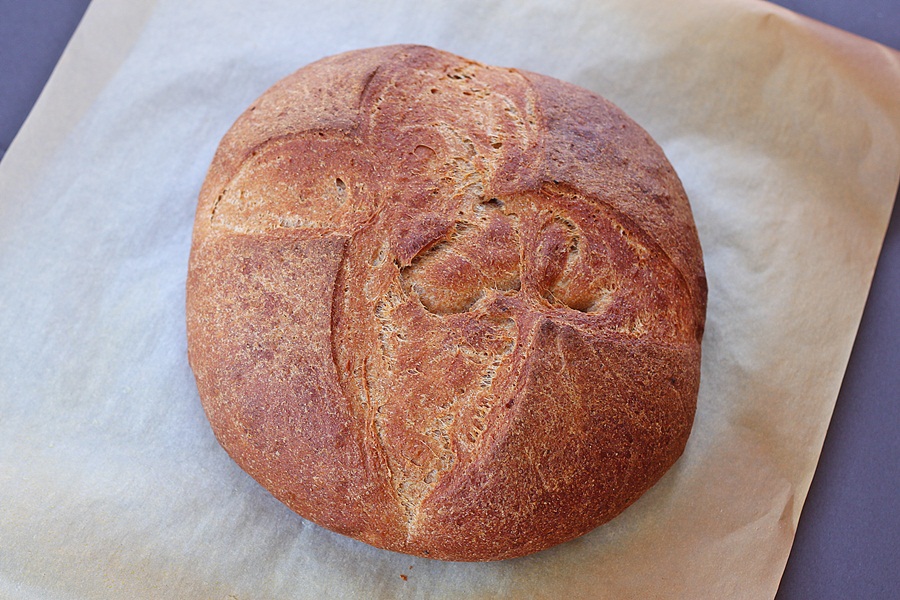 Sending love your way,
Roxana
Linking this recipe to
Jen' Kitchen Bootcamp Potatoes challenge
Heather's Bake your own bread round-up
Susan's Yeastspotting round-up