Just as easy as a making it from a cake mix, this made-from-scratch pumpkin poke cake is soaked in condensed milk and topped with homemade caramel frosting!
Today is the first day of fall and you know what that means – the pumpkin season it's officially opened. No more rolling eyes when you see pumpkin cheesecake or pumpkin pie showing up in your Pinterest feed or photos from a recent pumpkin patch trip on Instagram. Now, we're playing by the rules.
And this cake, well, this cake is definitely a fall sample! Full of pumpkin flavor, this easy to make pumpkin cake is left to absorb an entire can of condensed milk and if that didn't make it irresistible, a homemade caramel frosting is spread on top.
This, my friends, it's pumpkin poke cake supreme!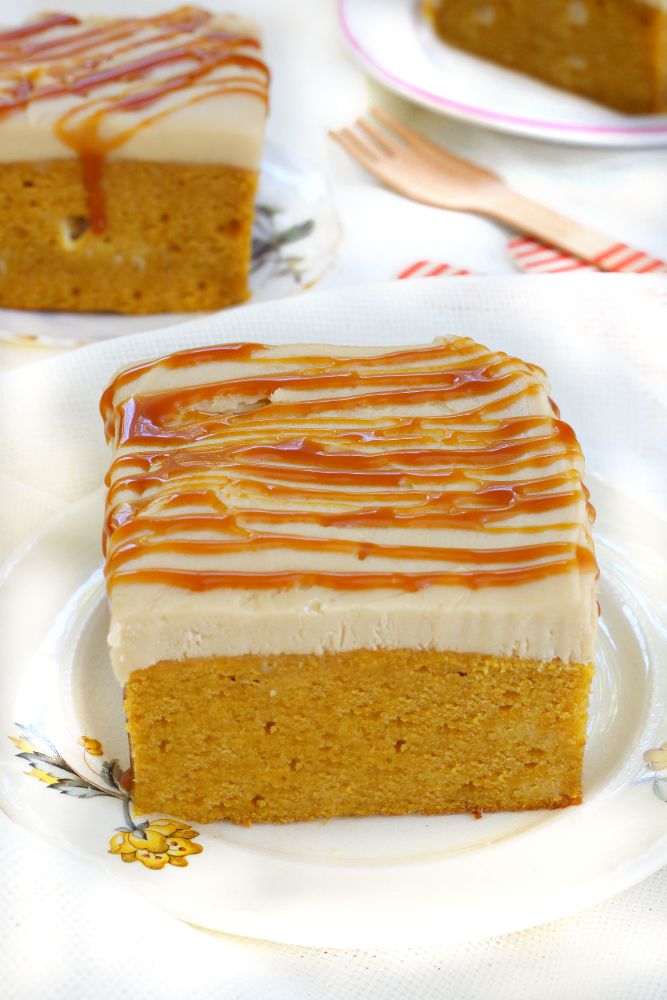 At first I wanted to go the boxed cake mix plus a can of pumpkin puree route, but after making the pumpkin cake from scratch (with an entire can of pumpkin puree in the cake batter) I decided it's worth the extra 3-5 minutes you put into making it.
Obviously, you need the basics – butter, sugar, eggs, flour, and what makes this cake incredibly moist in addition to the pumpkin puree is the buttermilk. You can hardly taste it, and it makes such a big difference!
A little bit of advice when you make this poke cake – let the cake soak for a couple of hours after you pour the condensed milk over it. It's the best!

The recipe for this pumpkin poke cake is part of my partnership with Imperial Sugar, so hop on over  to get the recipe and make it asap!
Craving more? Sign up for a trEATs affair email newsletter and get all the recipes sent right to your inbox!
Be sure to follow me on social media, so you never miss an update!
Facebook |  Pinterest   |    Instagram   |     Bloglovin'
Happy baking,
Roxana