Perfect for any occasion, this peanut butter and chocolate cake is so moist and delicious you'll be making it over and over again. Although it looks like you worked all day, this cake is a breeze to make.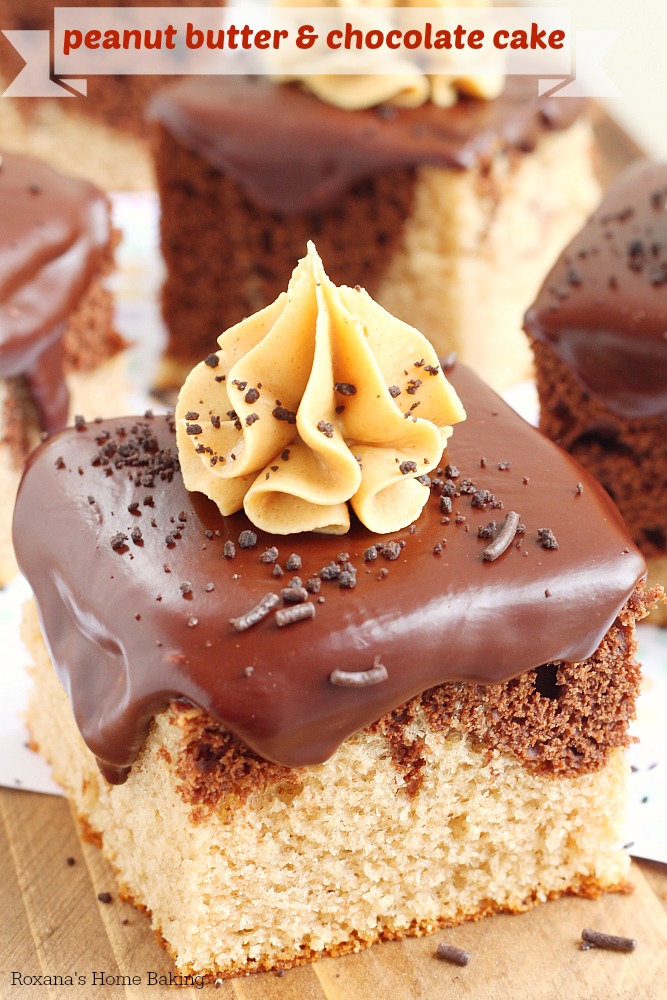 Few weeks ago, on a unexpected sunny days after a week of rain I decided to do some spring cleaning. It was time to declutter a little bit, out with the old, make room for the new.
I was doing so well, without a distraction until I found an old recipe binder. You know, the one post blog and pinterest. Old magazine clippings, printed recipes from various websites. That was the end of my spring cleaning. I made myself a big cup of coffee and browsed though all those yellowed pages, some of them with grease and batter stains on them. Others have hand written notes on the side, comments on how the recipe turned out. After a good 30 minutes of reading through the clippings and notes I found a recipe for a peanut butter and chocolate cake torn from an old Gold Medal Flour booklet.
I don't know how old the recipe may be or how it landed into my binder, but it sure sounded too good not to try it.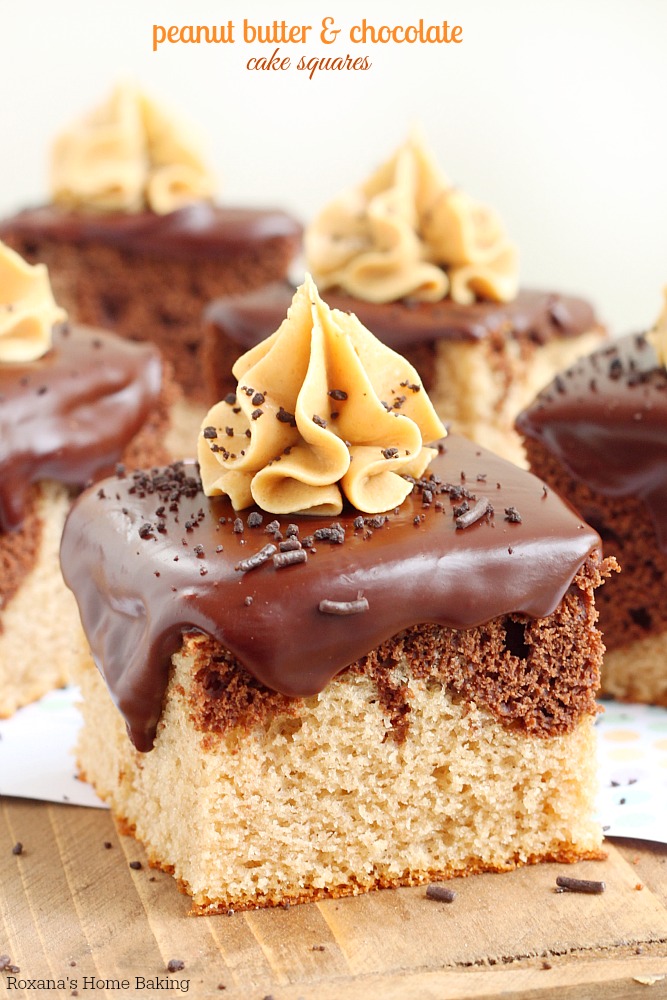 Few hours later, after somehow finishing my spring cleaning I found myself in the kitchen whipping up this one super easy peanut butter and chocolate cake. 5 minutes of prep time, top! Just perfect for this busy mama.
You start by dumping all the ingredients in a mixing bowl and mix for few seconds on low speed. With a spatula scrape the sides of the bowl and mix again, this time on high speed for 2-3 minutes.
That's it! I told you it's most likely the easiest cake I've shared on this blog.
To make the marble design, mix the cocoa powder with a little bit of the peanut butter batter and with a fork or butter knife make few swirls. Place it in the oven and bake for about 40 to 45 minutes.
Once the cake is done it's very important to let it cool completely before cutting it into squares, and decorate with chocolate ganache and peanut butter frosting. Now, of course I won't blame you if you don't want to do that and you dig right in. I'm totally on your side!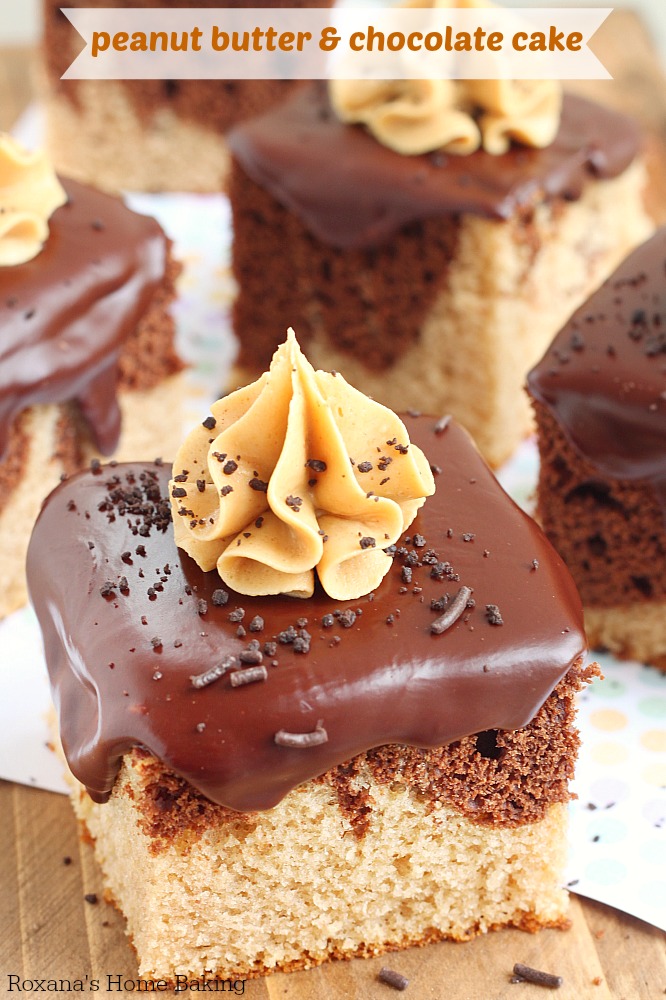 As much as I don't like to admit it, I've come to the conclusion that chocolate and peanut butter is one of the most frequent combo on this blog. After months and months of putting it away, I can't postpone it any longer! May is peanut butter and chocolate month.
And I'm not the only one thinking so. Not at all! My wonderful chocolate lovers party friends are all here with treats for everyone!
Peanut Butter Cup Brownies with a Peanut Butter Swirl from Life on Food
Peanut Butter Cup Pretzel Bonbons from It bakes me happy
Peanut Butter Chocolate Whirligigs from Karen's Kitchen Stories
Chocolate Peanut Butter Hot Fudge Sauce from Diethood
Peanut butter chocolate chip cookie cheesecake bars from You make that?
Monster Peanut Butter-Cheesecake Sandwich Cookies with Chocolate Drizzle from From Brazil to you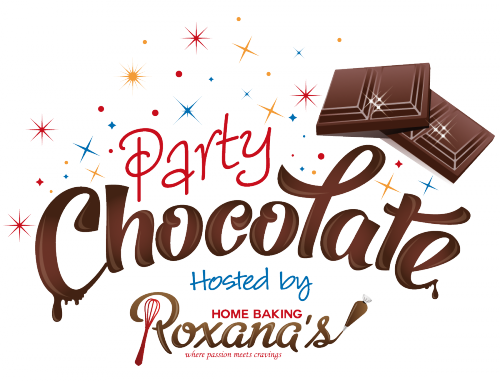 New to the chocolate party? Welcome! Happy to have you here. I hope you'll join us. Here's how
Each month I, along with some wonderful and very talented blogger friends, decide upon a secret ingredient to use in our chocolate sweets.
Our recipes will be shared on the first Monday of each month and you can add your own recipes until the end of the month when the party is over and a new one is opened. You can submit up to 3 recipes each month.
To make sure everyone is having fun, there are a few rules you'll have to follow.
1.) Blog about your chocolate treat. Your recipe must include the two ingredients we choose. It can be a simple no bake treat or a sophisticated layer cake, the complexity level of the recipe is totally up to you.

2.) Include a link back to a monthly round-up or the Chocolate party page.  Optional, add the Chocolate Party logo in your blog post or on your sidebar.

3.) Your recipe must be published during the current month. Please do not link old recipes.
Peanut butter and chocolate cake squares
---
Yields 20 cake squares
Perfect for any occasion, this peanut butter and chocolate cake is so moist and delicious you'll be making it over and over again. Although it looks like you worked all day, this cake is a breeze to make.
10 minPrep Time
45 minCook Time
3 hrTotal Time
Ingredients
2 1/4 cups (270 grams) Gold Medal all-purpose flour
1 1/2 cups (250 grams) granulated sugar
1/2 cup peanut butter
1 1/4 cups chocolate milk
3 1/2 teaspoons baking powder
1 teaspoon salt
1 teaspoon vanilla
3 eggs
3 tablespoons (15 grams) unsweetened baking cocoa

Ganache

1/4 cup chocolate chips
2 tablespoons heavy cream

Peanut butter frosting

1/4 cup soft butter
1/2 cup creamy peanut butter
1 cup (120 garms) powder sugar
Instructions
Heat oven to 350F. Line a 13x9-inch pan with parchment paper.
In large bowl add flour, sugar, peanut butter, chocolate milk, baking powder, salt, vanilla and eggs. With the paddle attachment on, beat on low speed 30 seconds.
Stop and scrape the sides of the bowl with a spatula.
Turn the mixer on again, increase the speed to high and beat for 2-3 more minutes, until the batter is combined and smooth.
Pour two-thirds of the batter into the prepared pan.
Stir cocoa into remaining batter. Drop chocolate batter onto peanut butter batter.
Pull a fork or butter knife through the cake batter to create the swirls.
Place the cake in the oven and bake for 43 minutes or until a toothpick inserted in the middle comes out clean.
When the cake is done, remove from the oven and cool completely.
When the cake is cooled, cut into 20 bars.
Remove each bar from the pan and place them on a board or large plate.
Make the ganache.
In a small saucepan, heat the heavy cream until it reaches boiling point. Pour over the chocolate. let rest for few seconds until the chocolate starts to melt. Stir to combine. The ganache should be smooth and shiny.
With a teaspoon, pour a little bit of chocolate ganache over each cake square.
Let the chocolate ganache set completely before making the peanut butter frosting.
In a mixing bowl beat the butter with peanut butter until light and fluffy. Gently beat in the powder sugar.
Once all the powder sugar is added, increase the mixer's speed to medium high and beat for 1 more minutes.
Spoon the frosting into a bag with a frosting tip on (I used 1M) and decorate each cake square.
Notes
Cake recipe slightly adapted from Gold Medal Flour and the frosting is adapted from my peanut butter cake
7.6.8
542
http://atreatsaffair.com/peanut-butter-and-chocolate-cake-squares-recipe/
Roxana Yawgel http://atreatsaffair.com/ All images and content are copyright protected. Please do not use my images without prior permission. If you want to republish this recipe, please re-write the recipe in your own words, or simply link back to this post for the recipe. Thank you.