Super moist and delicious fresh apple cake loaded with fresh apple chunks and flavored with warm fall spices. Top it off with a salted caramel glaze for a decadent treat!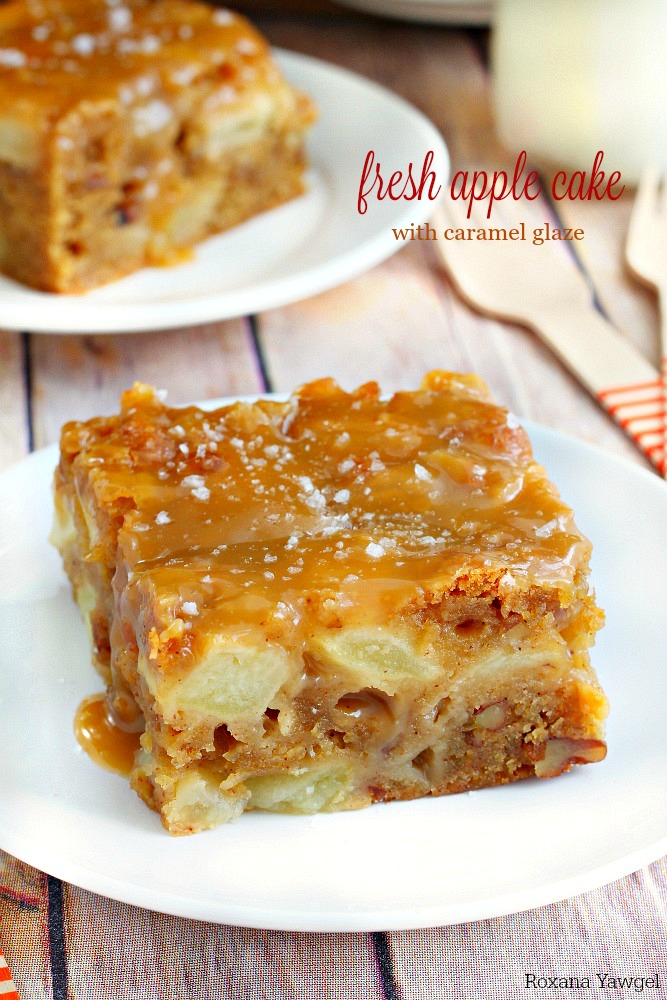 You know what your holiday menu needs? An apple cake. But not just any apple cake, but a cake so full of apples will leave you wondering where's the cake!!  And if all that apple goodness was not enough, once baked, you drench it in a salted caramel glaze.
Caramel apples are a mandatory fall treat and if you want my opinion, making this cake is easier than biting into a caramel covered apple. You and your dentist will thank me later 🙂
Now, seriously, this apple cake is amazing! It's packed with roughly chopped apples, scented with cinnamon and apple pie spices with just a couple of pecans thrown in for a little crunch and the cake is finished with a homemade salted caramel glaze.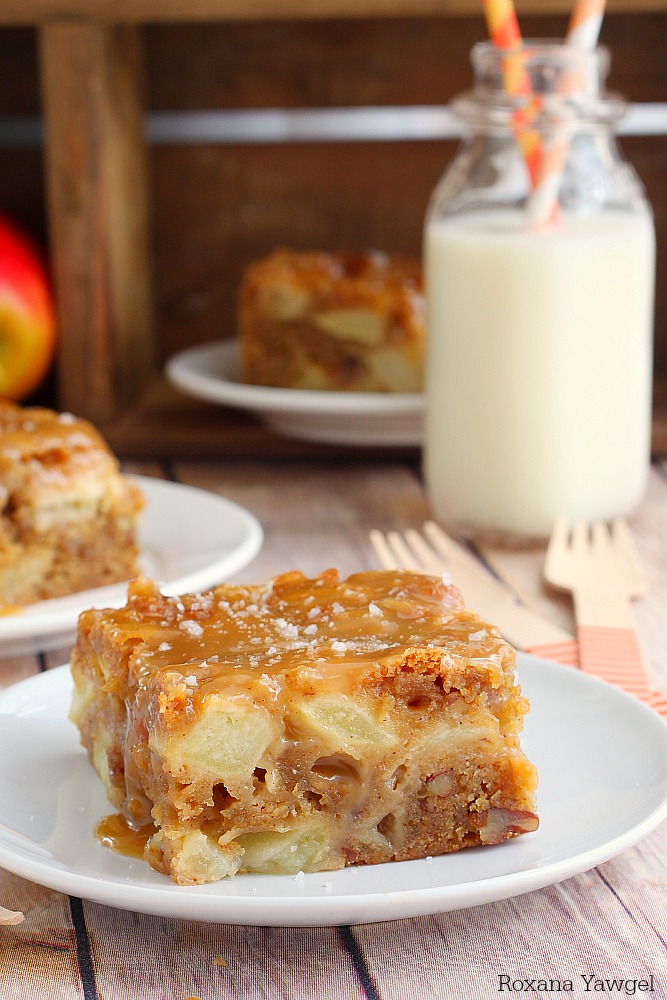 My little family has a bucket list for each season. Obviously some of the activities repeat themselves year after year. Jumping in the leaves, going to a pumpkin patch, carving a pumpkin, drinking apple cider and later hot cocoa are just a few from our fall bucket list.
Apple picking has been on the list this year like every other year. But between some sick days and traveling for a couple of weeks we just couldn't find the time to go apple picking.
Lucky for me the lovely people from Stemilt send me a case of their hand-picked apples. And not just any apples but pinata apples!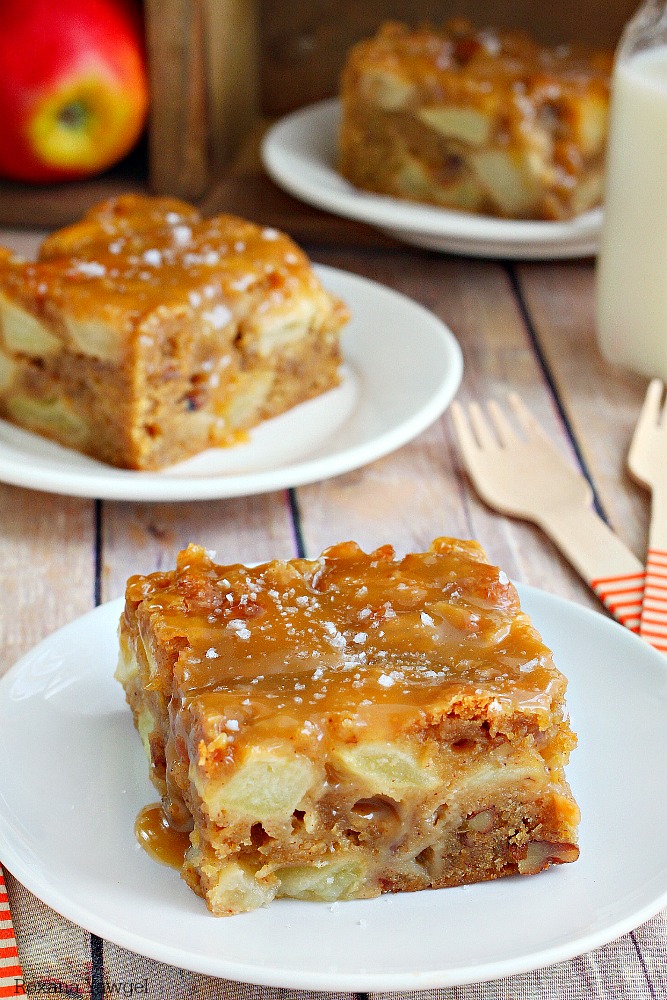 I had the pleasure of trying these apples the first time a few weeks ago while in Seattle for this year's International Food Blogger Conference. I have to admit that I was a little skeptic when I saw the apples.
What's so special about this apple, I asked? "It's crisp and juicy with tropical flavors"
The answer made me even more curious to give it a try. Surprise, surprise! This apple went to the Caribbean and came back full of flavor!
Now don't be upset that you don't have any pinata apples! I saw them a few weeks ago at Trader's Joe and even picked some the other day from Kroger's. Look for them in your grocery store 🙂
Craving more? Sign up for a trEATs affair email newsletter and get all the recipes sent right to your inbox!
Be sure to follow me on social media, so you never miss an update!
Facebook |  Pinterest   |    Instagram   |     Bloglovin'
Fresh apple cake with caramel graze recipe
---
Yields 16-20 pieces
Super moist and delicious fresh apple cake loaded with fresh apple chunks and flavored with warm fall spices. Top it off with a salted caramel glaze for a decadent treat!
30 minPrep Time
1 hr, 25 Cook Time
Ingredients
Fresh apple cake

3 eggs, room temperature
1 1/2 cups grapeseed or vegetable oil
1 cup (200 grams) brown sugar
1 cup (200 grams) granulated sugar
2 1/2 teaspoons vanilla extract
3 cups (360 grams) all purpose flour
1 teaspoon baking soda
1 teaspoon cinnamon
1/2 teaspoon salt
1 teaspoon apple pie spice
5 baking apples, peeled, cored and roughly chopped
1/2 cup chopped pecans

Caramel glaze

6 tablespoons (84 grams) butter, preferably salted
1/3 cup (65 grams) dark brown sugar
1/3 cup (65 grams) light brown sugar
1/2 cup heavy cream
Salt flakes
Instructions
Heat the oven to 325F.
Line a 13x9" baking pan with parchment paper. Set aside.
In a mixing bowl lightly whisk the eggs, just until combined.
Add the oil, sugars and vanilla extract to the eggs and beat until well blended.
Gradually stir in the flour, baking soda, cinnamon, apple pie spice and salt.
With a spatula fold in the apples and pecans. The batter will be thick and barely cover the apples.
Spoon the cake batter into the prepared baking pan, spreading it into an even layer.
Bake the cake in the preheated oven for 1 hour and 15 minutes or until a toothpick inserted in the center comes out clean.
Remove the cake from the oven and cool on a wire rack while preparing the caramel glaze.
Caramel glaze
In a medium saucepan melt the butter. Add the sugars, heavy cream and a pinch of salt.
Cook over low heat for 5 minutes, stirring constantly.
Increase the heat to high and boil for 2 minutes or until dime-size bubbles cover the surface of the glaze.
Remove from the heat and cool slightly until the glaze begins to thicken, about 5-7 minutes.
Spoon the glaze over warm cake.
Sprinkle salt flakes over the caramel glaze.
Cool the cake completely before cutting it with a sharp knife.
Notes
recipe adapted from Better Homes and Garden
7.6.8
623
http://atreatsaffair.com/fresh-apple-cake-with-salted-caramel-graze-recipe/
Roxana Yawgel http://atreatsaffair.com/ All images and content are copyright protected. Please do not use my images without prior permission. If you want to republish this recipe, please re-write the recipe in your own words, or simply link back to this post for the recipe. Thank you.
If you enjoyed this fresh apple cake with salted caramel glaze, you may also like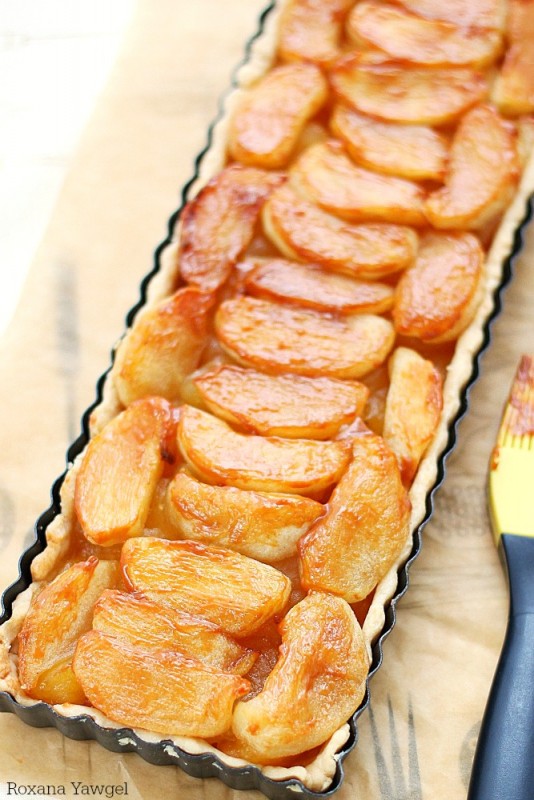 Apple cake with streusel topping
Happy baking,
Roxana