Sweet, soft and fluffy yeast dried fruit bread made with cream cheese and dusted with powder sugar for Christmas breakfast or brunch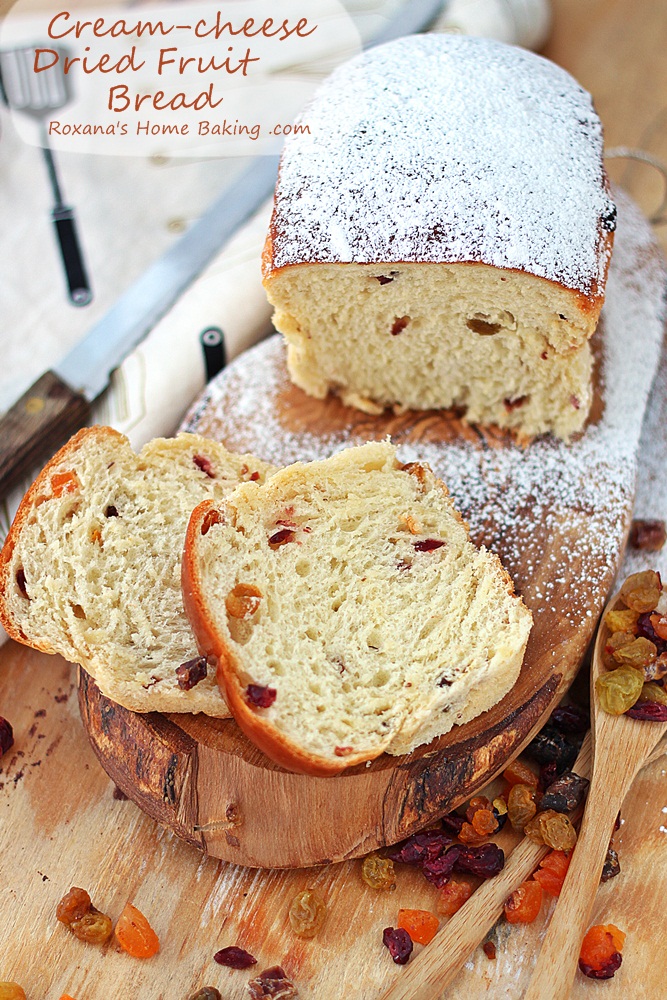 When I first had the #25recipestoXmas idea I thought I'd share a week filled with holiday loaves of bread. Nothing wrong with it, right? As the time was approaching I got to a conclusion, no matter how to name the holiday bread, they are very similar.
For example Romanian have they Christmas bread Cozonac most of the time filled with fried fruit, nuts, poppy seeds. Italian Panettone is packed with dried fruit. German Stollen is jam-packed with dried fruit and most of the times marzipan. Greek Christopsomo is made usually with walnuts and raisins. Finish Pulla has cardamon and dried fruit. Czech Vánočka  is filled with fried fruit. American holiday bread is usually packed with dried cranberries and nuts and let's not forget the fruit cake.
Do you see where I'm going? All of them have dried fruit and/or nuts and, except the Greek Christopsomo, they are all sweet.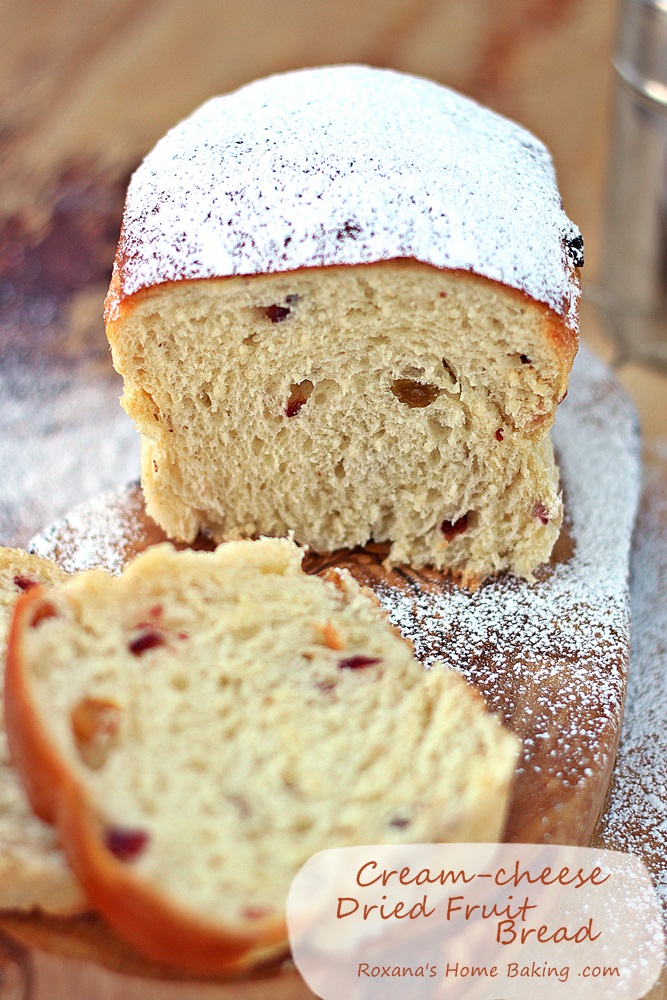 It was time to change things a little bit up. I wanted to make a sweet bread, filled with dried fruit but I wanted it light and fluffy, like a brioche without the extra eggs and butter. And I cam up with not one, but two amazing bread recipes that will stay soft even after few days. They are light, brioche like fluffy and just a little sweet but with the help of cream cheese and Greek yogurt.
Today we'll talk about the cream cheese bread recipe. I remembered the cheese buns I shared last year that the cheese gives the bread a little moisture and makes it pillow-y soft. With 4 packages of cream cheese in the fridge it was time to do some baking.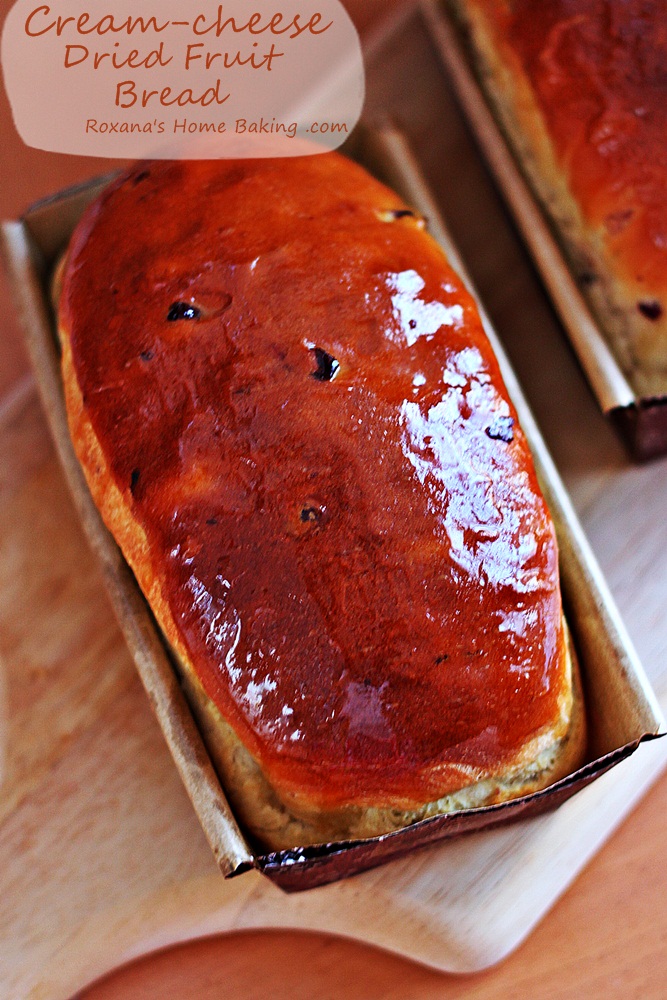 With a little patience after a couple of hours I pulled out of the oven three little loaves which I immediately brushed with butter. Who doesn't love a buttery crust?
The bread turned out way better than I hoped. And since I baked them in the bake-and-give loaf pans I received from King Arthur Flour they made a wonderful gifts for tow of my friends.
[mpprecipe-recipe:408]
For other Christmas treats check out #25recipestoXmas. You can also see the gallery on Pinterest or on Google+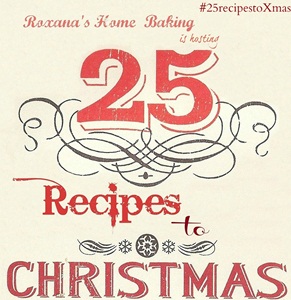 ~~~~~~~~~~~~~~~~~~~~~~~~~~~~~~~~~~~~~~~~~~~~~~~~~~~
King Arthur Flour didn't send me flour just for my holiday baking, but for your holiday baking as well! I love baking with King Arthur Flour, their bread flour is the best I've ever baked with. If you love bread baking as much as I do, than this giveaway is for you. You can also browse though their holiday gift ideas and take advantage of their $3 shipping and even get a $10 gift card when you spend $60 or more!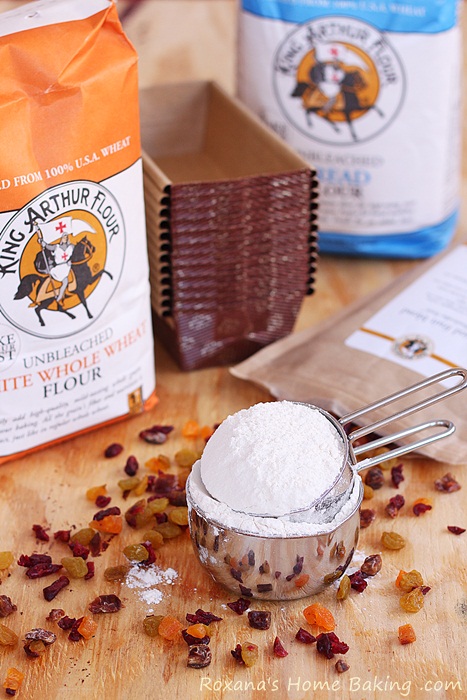 To enter the giveaway, use the rafflecopter form below. Please complete the mandatory entry, otherwise all other entries will not be valid.
The giveaway is sponsored by King Arthur Flour. I've received free products to use for my holiday baking but the opinions are all mine.
The giveaway is open until December 25th at 11:59 p.m. EST. The giveaway is only open to U.S. residents. Be sure a valid email address is included with your mandatory comment. Winner will be announced on this post. I will email the winner and if the winner doesn't respond in 48 hours, a new winner will be chosen. Good luck!
Sending love your way,
Roxana